A visit to Bangkok is an adventure like no other! There's so much to see, do, and experience. This vibrant city truly never sleeps!
Bangkok has something for everyone, including tantalizing street food that is truly a must-try. From the succulent dishes, you'll find in the markets and street corners to the iconic Chatuchak Weekend Market, where you can eat until you drop.
Fancy a bit of relaxation? Go ahead and treat yourself to a traditional Thai massage. You'll leave feeling as good as new! And if you're into shopping, Bangkok's got you covered with its sprawling shopping malls and bustling night markets.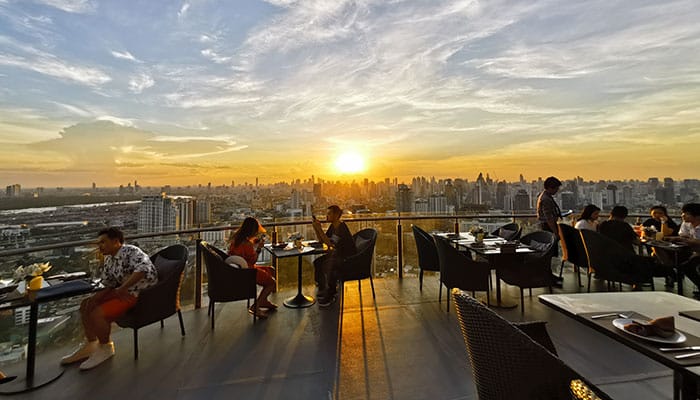 As the sun sets, the city comes alive with its nightlife. You'll find everything from laid-back bars on Khao San Road to swanky rooftop lounges. And if you're up for some excitement, why not catch a Thai boxing match?
Bangkok has an extensive mix of culture, history, cuisine, and entertainment, offering a unique experience for travelers. With its vibrant atmosphere and captivating attractions, Bangkok will leave you with memories that will last a lifetime.
Exploring Bangkok's Iconic Attractions
Wat Phra Kaew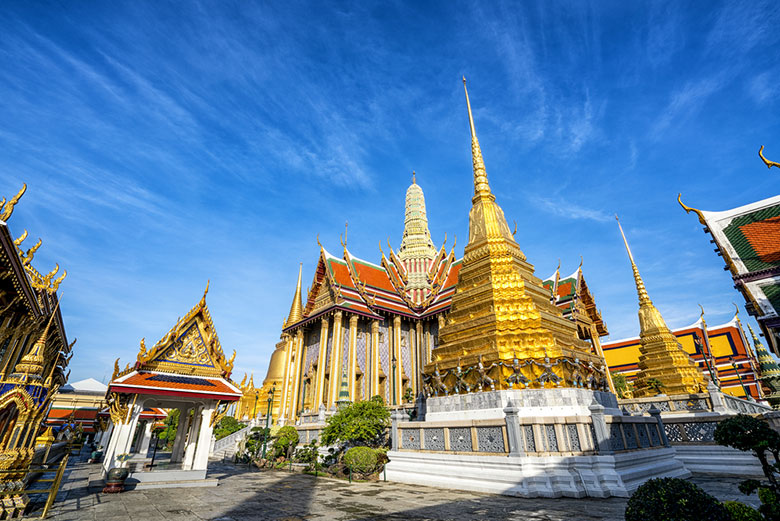 The renowned Wat Phra Kaew, or Temple of the Emerald Buddha, lies at the heart of Bangkok and is an integral part of Thai culture. It is revered for its Emerald Buddha statue which many believe brings good luck to those who visit. For more and up to date information on this magnificent temple, visit the Tourism Authority of Thailand's website.
Wat Phra Kaew is a stunning example of Thai architecture, with intricate carvings, beautiful gold-plated roofs and glittering mosaics. Visitors will be awestruck by the beauty of this temple and its rich cultural heritage. Whether you're a history buff or simply enjoy visiting unique and beautiful places, Wat Phra Kaew is definitely worth a visit.
Chatuchak Weekend Market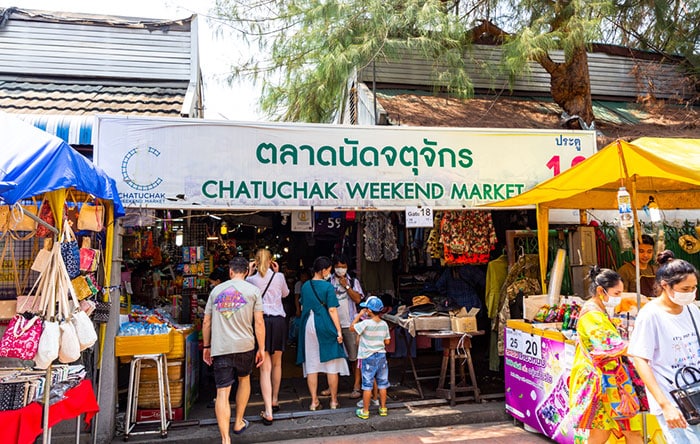 If you have been to some incredible markets, wait until you experience Bangkok's, Chatuchak Market. But be prepared: the size, heat, and crowds aren't for the faint of heart. Don't miss the chance to dive into this unique shopping experience!
Getting to Chatuchak Market is quite simple using public transportation, with the subway and Skytrain being the best options. Both have stations near the market, and you can follow the crowds to the entrance. Chatuchak Market is not only open on weekends but also has some sections open on weekdays.
What makes Chatuchak Market so special? Its size. It attracts about 200,000 visitors each weekend, 30% being foreign tourists. You can find anything from clothing and accessories to antiques, art, and even pets.
To make the most of your visit, be prepared to spend at least half a day exploring the market. Wear comfortable shoes and light clothing to stay cool in the heat, and don't forget cash for some bargaining.
For more details and tips, check out the full article: Chatuchak Market in Bangkok.
Wat Arun (The Temple of Dawn)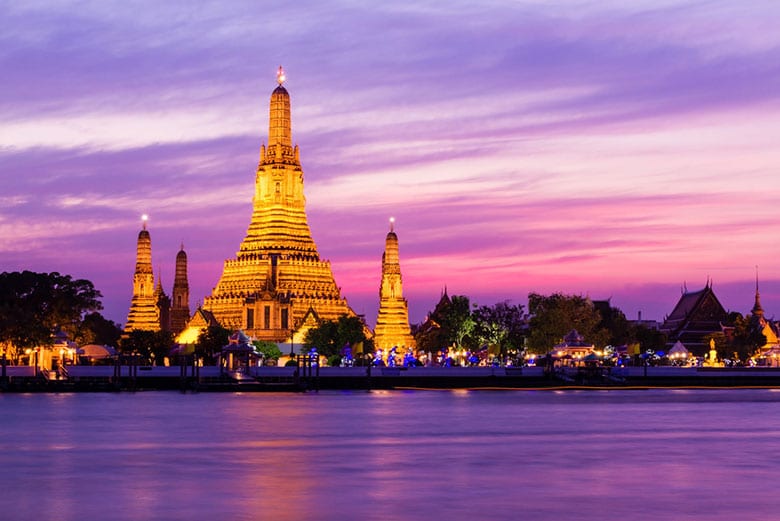 Wat Arun, also known as the Temple of Dawn, is a stunning temple located on the west bank of the Chao Phraya River in Bangkok. This temple is famous for its Khmer-style towers, which are decorated with colorful glass and Chinese porcelain. Visitors will be captivated by the beauty of this temple, especially as the sun rises and sets, casting a warm glow over the intricate carvings and sparkling mosaics.
Wat Arun is an important cultural and historical site, with a rich history dating back to the 17th century. Visitors will be able to explore the temple's many features, including its towering central prang, and learn about its significance in Thai culture. Whether you're a history buff or simply enjoy visiting unique and beautiful places, Wat Arun is a must-visit destination in Bangkok.
Things to do in Bangkok
Indulge in the Street Food Scene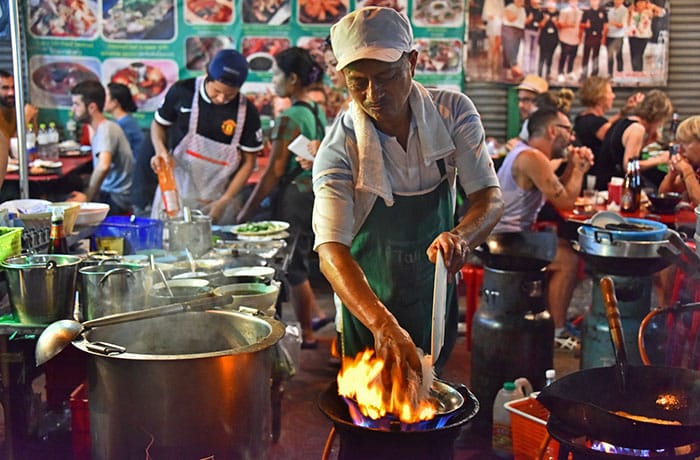 Bangkok is famous for its street food scene, and for good reason. From spicy curries to sweet mango sticky rice, there's something for everyone. Take a stroll through the city's many street food markets and sample some of the delicious local cuisine. You won't be disappointed!
Explore the City by Boat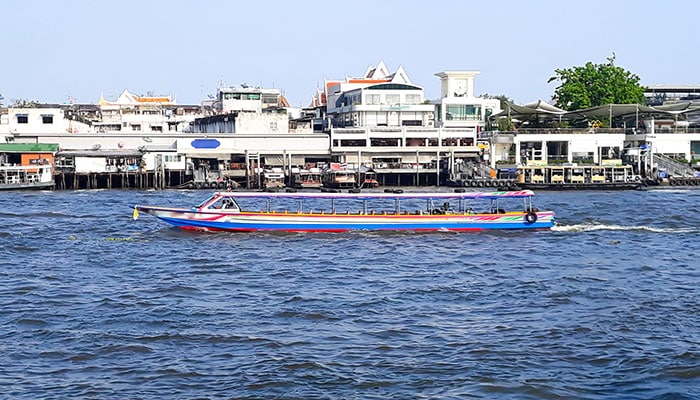 Cruising along the Chao Phraya River is a great way to explore Bangkok and quite the experience! Hop on a "long-tail boat" or river taxi, and you will be amazed by what you see. Glide past bustling riverbanks to catch glimpses of majestic temples like Wat Arun standing tall next to modern skyscrapers – an incredible mix of old and new. Exploring Bangkok by boat offers an unforgettable glimpse into its vibrant heart and soul – so come aboard and set sail on an adventure like no other!
Relax in Lumphini Park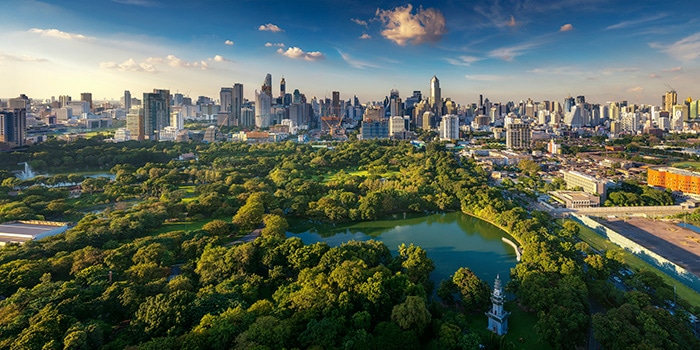 Need a break from the hustle and bustle of city life? Take a trip to Lumphini Park, Bangkok's lush escape from the urban jungle. Here you can find shady trees, tranquil ponds and winding paths that are perfect for strolling or simply lounging with a book while watching the world pass by. And if you're lucky, you may get to spot one of the park's resident monitor lizards – an unforgettable sight! Whether you're looking for a peaceful escape or just want to experience nature in the city, Lumphini Park is sure to please. So grab your sunhat and hit the trails – adventure awaits!
Getting to Bangkok
Phuket to Bangkok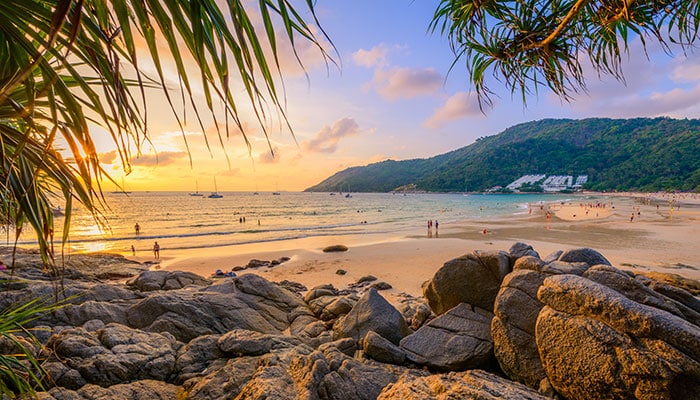 Traveling from Phuket to Bangkok is a journey of around 840 km (525 miles) and there are three options for travel: air, bus, or taxi. The quickest and most convenient option is by air with an air time of about an hour and frequent flights available from Phuket International Airport to either Don Mueang Airport or Suvarnabhumi Airport in Bangkok. However, this option tends to be more expensive compared to traveling by bus.
Phuket to Bangkok by bus is a good option for travelers on a budget. The bus seat includes luggage allowance, while airlines charge extra for checked baggage. Buses leave from the Phuket Bus Terminal and the journey takes around 12-14 hours. It's recommended to book the VIP bus for a more comfortable journey.
To save money on flights, it's best to be flexible and look for flights that are leaving at less popular times such as later in the day or first thing in the morning. It's also recommended to book the ticket in advance, avoid Thai holidays and weekends, and compare prices from different airlines.
Pattaya to Bangkok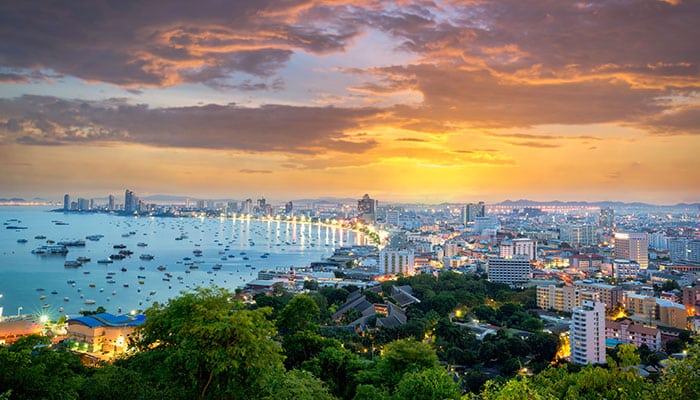 Heading to Pattaya from Bangkok is easy and convenient, as the popular resort city is just 149 kilometers (93 miles) away. Although flights are available, they aren't recommended due to the lack of direct connections and higher cost. Fortunately, there's a variety of transport options for all budgets that make getting between these two cities a breeze!
The most popular and sensible way to travel between Pattaya and Bangkok is by road, which includes buses, minivans, and taxis. Roong Reuang Coach operates buses between the two cities, with departures from both Pattaya Bus Station and Jomtien Bus Station. Alternatively, T-Tour and Pannipa Pattaya Tour offer minivan services with their own departure points within Pattaya. For a more personalized and comfortable experience, private taxis can be booked through various providers. To experience a unique and scenic journey, consider traveling by train.
For a more detailed information on each mode of transport read our full guide.
Chiang Mai to Bangkok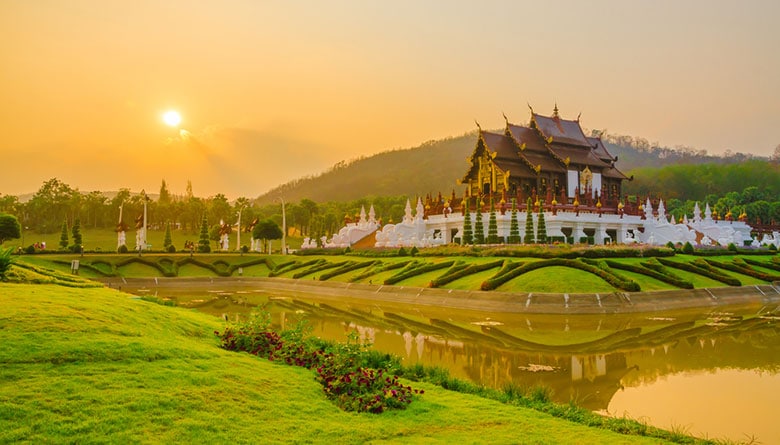 When traveling from Chiang Mai to Bangkok, you have three main options: bus, train, or plane. Buses are often the most affordable choice, covering the 690 kilometers (431 miles) between the cities. Read more in our post: Go by Bus from Chiang Mai to Bangkok – VIP or Express?
Trains offer a more comfortable experience, with prices comparable to buses. While not faster, they provide an opportunity to enjoy the scenery and immerse yourself in Thai culture.
For those who prioritize speed, flying is the quickest option, taking only 60 to 70 minutes. Surprisingly, low-cost airlines can be quite affordable, with prices similar to VIP bus seats. The downside to flying is missing out on the beautiful landscapes between Chiang Mai and Bangkok.
In summary, your choice of transportation will depend on your priorities and schedule. If you have time to spare and want to enjoy the journey, trains might be the best choice. For those in a hurry, flying is the fastest option. Budget-conscious travelers may prefer the bus. No matter how you decide to get to Bangkok, your amazing Thailand adventure is just around the corner!
Other routes to Bangkok
More travel Guides:
• Chiang Mai to Bangkok (Train)
• Chiang Mai to Bangkok
• Phuket to Bangkok
• Suvarnabhumi Airport to Bangkok
• Surat Thani to Bangkok
Traveling from Bangkok
After thoroughly exploring and experiencing Bangkok's rich culture, vibrant street life, and historical landmarks, you might be eager to venture out and discover your next destination. As you leave the bustling capital behind, countless possibilities await you in this diverse and fascinating country. Whether you're seeking serene natural landscapes, charming small towns, or pristine beaches, you'll find that Thailand offers a wealth of experiences to suit your interests and preferences. As you plan your onward journey, consider the various transportation options available, taking into account your budget, comfort, and time constraints, to ensure a smooth and enjoyable transition to the next chapter of your adventure.
Bangkok to Koh Samui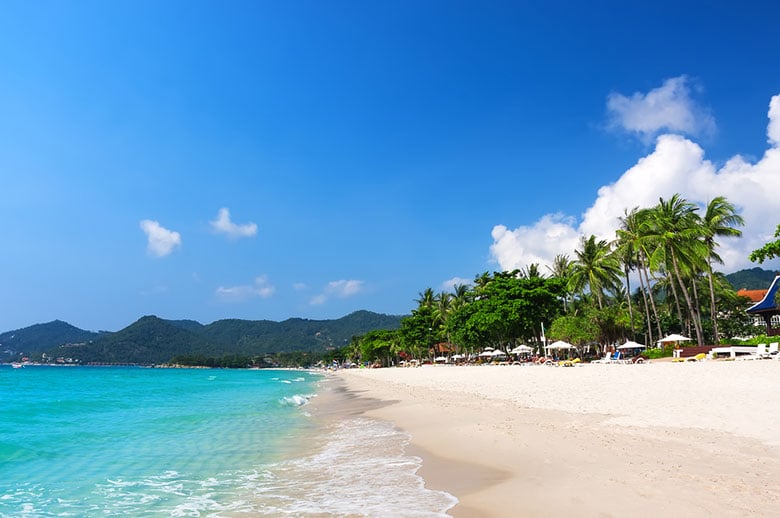 Going from Bangkok to Koh Samui is a great way to relax after spending time in the bustling capital city. Koh Samui is known for its idyllic beaches, mountainous rainforest interior, luxurious spas, vibrant nightlife, and affordable accommodation options. There are several ways to travel from Bangkok to Koh Samui including by flight, train, and ferry, or by bus and ferry.
Koh Samui is over 700 kilometers away from Bangkok and the quickest way to get there is by airplane. Bangkok Airways offers frequent direct flights, departing almost hourly, but they can be expensive by Thai standards. Alternatively, you can fly to Surat Thani or Chumphon airport and take a ferry across to the island. These options can be cheaper, but take longer.
An even more affordable option is to take the train and ferry from Bangkok to Koh Samui. You can catch a train from Bang Sue Train Station in Bangkok and travel overnight, arriving at Surat Thani Station in the morning. From here, you can take a shuttle bus to the Donsak Pier and take a conventional ferry or high-speed catamaran to Koh Samui. Combined train and ferry tickets can be purchased in advance or from Bang Sue Train Station. This option is slower but offers an exciting and interesting experience.
A final option is to travel from Bangkok to Koh Samui by bus and ferry. From Bangkok, you can take a bus to the ferry pier and take a ferry directly to Koh Samui. The journey takes around 12 hours and offers a more affordable option but is less convenient and not as comfortable as the other modes of transportation.
Bangkok to Chiang Mai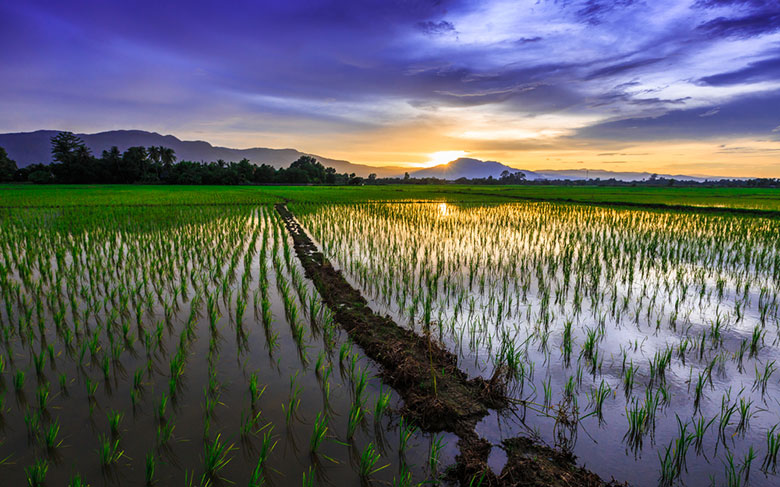 Discover the charm of Chiang Mai, known as the Rose of the North, and experience a stark contrast from the bustling city of Bangkok. Chiang Mai, rich in history and surrounded by mountains, is a must-visit destination for every traveler. To reach Chiang Mai, located 700 kilometers (435 miles) north of Bangkok, you have several options including flights, trains, or buses.
Opting for a flight can save you time, with a direct journey taking around 60 to 70 minutes. Most low-cost airlines operate from Don Muang International Airport, while some use Suvarnabhumi International Airport.
Alternatively, you can take a scenic train ride from Bangkok to Chiang Mai for a truly unforgettable experience. With prices ranging from 800 baht for second class without air conditioning to around 2,000 baht for a first-class sleeper, this budget-friendly option takes between 12 and 15 hours.
Buses are also affordable, with tickets starting at 450 baht for second class and up to 860 baht for VIP travel. You'll find both public and private buses traveling from various locations in Bangkok, taking 9 to 12 hours depending on the route chosen. Whichever choice you make, your journey will be an adventure!
For more information, read our full post Bangkok to Chiang Mai.
Bangkok to Pattaya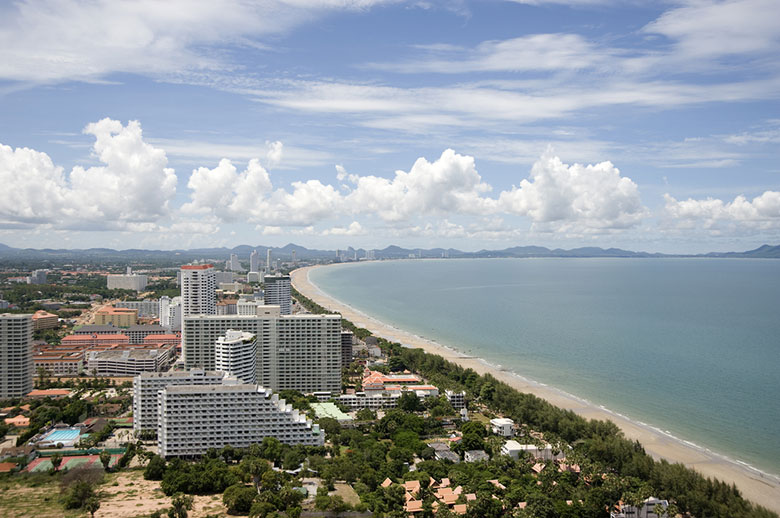 If you're looking to escape the bustling city of Bangkok and head to the beach, Pattaya is a popular destination for locals, expatriates and tourists alike. Getting from Bangkok to Pattaya can be done either by taxi or bus.
Bangkok to Pattaya by taxi is the option for door-to-door convenience. The trip is about 150 km and can take anywhere from 2 hours during off-peak times to longer during rush hour or Fridays when people flock to Pattaya for the weekend.
If coming from Suvarnabhumi Airport, the journey is shorter, but you may need to factor in highway tolls which will add 60 baht to the price. The official meter taxi price from the airport is 1050 baht. If taking a taxi from the center of Bangkok, the official meter taxi rate is 1500 baht, but the price can be negotiated.
The cheaper option is to take a bus from Bangkok to Pattaya. There are frequent and regular bus services available between the two cities, and the tickets are considerably cheaper than taxis. However, buses do not offer door-to-door service, so you'll have to get yourself to the bus station in Bangkok and from the bus station in Pattaya.
You can read more detailed information in the Bangkok to Pattaya Blog Post.
Bangkok to Krabi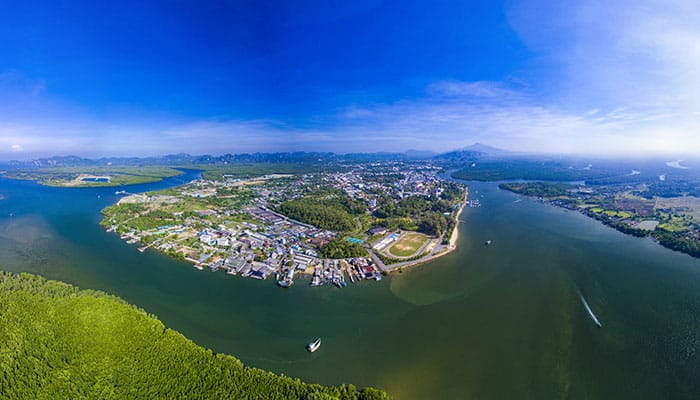 Getting from Bangkok to Krabi can be done by a variety of transportation methods including flight, train, or bus. The quickest and most convenient option is by flight with several airlines including Air Asia, Nok Air, Thai Lion Air, and Thai Airways offering regular daily schedules between the two cities.
Flights from Bangkok to Krabi take about 1.5 hours and leave from either Don Mueang International Airport or Suvarnabhumi Airport. The former is served by low-cost airlines such as Air Asia, Nok Air, and Thai Lion Air and is located north of Bangkok.
Suvarnabhumi Airport is a modern and well-equipped flight hub, perfect for those looking to fly out of Bangkok with Thai Airways, Vietjet Air, or Bangkok Airways. Transport options are plentiful here; an airport shuttle bus, public buses, and taxis are all available to help get you to Suvarnabhumi Airport.
There is no direct train route from Bangkok to Krabi, but the journey can be done by taking a train to Surat Thani and then transferring to a bus to Krabi. Finally, you can take the bus direct from Bangkok to Krabi but be prepared for a long journey.
Click here for a detailed post about Bangkok to Krabi transportation options.
Bangkok to Phuket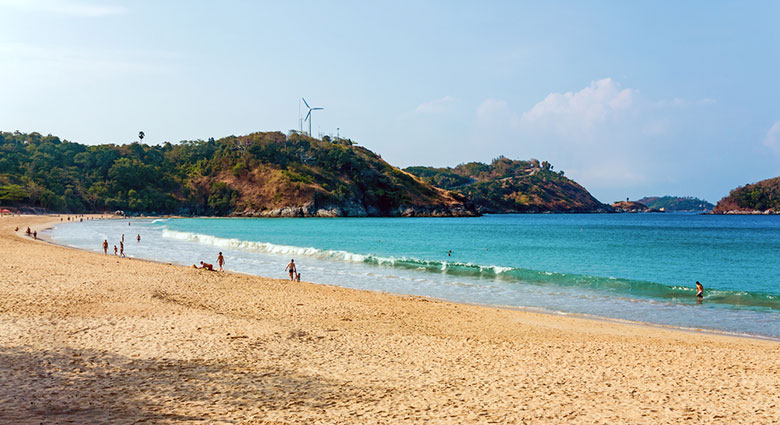 In this section, we explore the various ways to travel from Bangkok to Phuket, a popular island province in the south of Thailand. Phuket offers beautiful beaches, luxurious resorts, and a vibrant nightlife. With a distance of about 840 kilometers (525 miles) between the two destinations, there are multiple transport options available: flights, private car, train, and bus.
The quickest and most convenient option is flying, which takes around an hour and twenty minutes, but it can be the most expensive choice. With over 50 flights per day, there are ample options for finding a good deal. Travelers can choose between Bangkok Don Mueang Airport and Suvarnabhumi Airport for departures. However, if flying isn't an option, consider taking a train from Bangkok to Surat Thani and then a bus to Phuket. This journey takes longer, approximately 13 hours, but offers a more affordable alternative. Lastly, the cheapest option is to travel by bus directly from Bangkok to Phuket, which can take between 13 and 16 hours. Be cautious when purchasing bus tickets, and avoid companies operating out of Khao San Road.
Click here for a detailed post about Bangkok to Phuket transportation options.
More travel guides to Bangkok:
• Bangkok to Angkor Wat
• Bangkok to Cambodia
• Bangkok to Chiang Rai
• Bangkok to Chumphon
• Bangkok to Hat Yai
• Bangkok to Khao Lak
• Bangkok to Khon Kaen
• Bangkok to Koh Kood
• Bangkok to Phitsanulok
• Bangkok to Phnom Penh
• Bangkok to Prachuap Khiri Khan
• Bangkok to Rayong
• Bangkok to Koh Lanta
• Bangkok to Koh Phangan
• Bangkok to Koh Tao
• Bangkok to Nong Khai
• Bangkok to Ranong
• Bangkok to Sukhothai
• Bangkok to Surat Thani
• Bangkok to Trat
• Bangkok to Udon Thani
• Bangkok to Vientiane
• Bangkok to Yangon
Did you find this guide useful?
Click on a star to rate it!
Average rating: / 5. Vote count: