In Southern Thailand lies the town of Krabi, an ideal place from which to explore the beaches, forest and temples of the area. It's approximately 770 kilometres (482 miles) from Bangkok to Krabi, so it's not a short trip but it can certainly be worth it to see the white sand, experience the excellent scuba diving opportunities, and visit the top of Tiger Cave Temple.
Read about:
• Bangkok to Krabi by Flight
• Train to Krabi via Surat Thani
• Bus to Krabi from Bangkok
If you like the idea of a trip to the area there are Bangkok to Krabi flights available. If you're looking for a Bangkok to Krabi train there is no direct route, though you can do the journey by train and then bus. Of course you can also take the bus direct from Bangkok, but be prepared for a very time consuming journey.
Flights from Bangkok to Krabi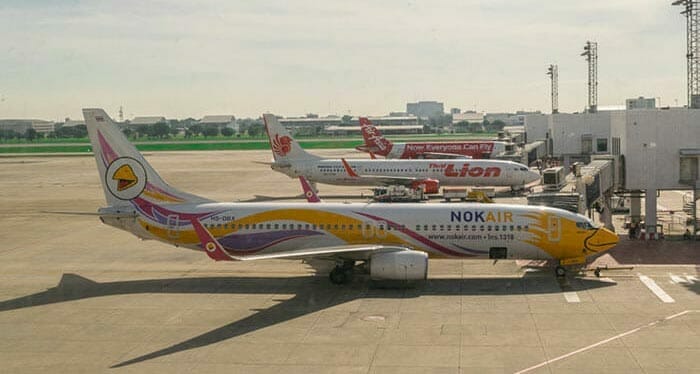 Due to the distance between the two cities, Bangkok to Krabi flights seems like the most sensible option and you shouldn't have any difficulty finding them; several domestic airlines have regular schedules operating between the two locations each day. Airlines covering the route include, Air Asia, Bangkok Airways, Thai Airways, Thai Lion Air and Nok Air. The average cost of a one-way ticket is 2,500 baht but there are often cheap flights to be had for as little as 1,700 baht. The flight time from Bangkok to Krabi is on average 1 hour and 30 minutes. You need to check in for your flight at least 1 hour before take-off and most check in desks close 40 minutes prior to take-off. It's important to note that at peak travel times it can take up to two hours to reach Bangkok's Suvarnabhumi Airport from riverside Bangkok hotels, so you need to allow yourself plenty of time to catch your flight.
Air Asia with most flights per day use the old airport Don Muang International Airport. Nok Air and Thai Lion Air are also using Don Muang International Airport.
Easiest way to get to Don Muang Airport is by taxi. It cost around 250-300 THB. It is about 23 KM from city center and takes about 30-60 min.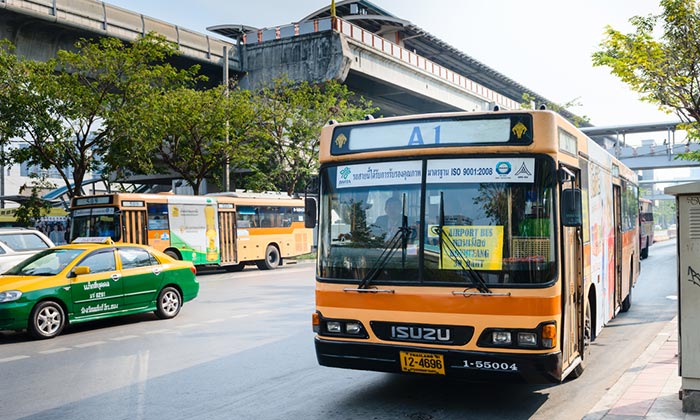 There is also a convenient bus A1 from skytrain station (BTS) Mo Chit to Don Muang Airport and Don Muang to BTS Mo Chit. It operates Air conditioned buses running between 8.30 am and 23.30. Pay by cash 30 THB on the bus. The ride take 30-45 min usually. Bus A2 take you a bit further to Victory Monument and a few other BTS-station stops on the way.Bangkok to Krabi flights with Thai Airways, Vietjet Air and Bangkok Airways leave from Suvarnabhumi Airport, a modern flight hub that only opened in 2006. There are plenty of useful facilities onsite, including an airport hotel where you may choose to stay the night before your flight for added convenience.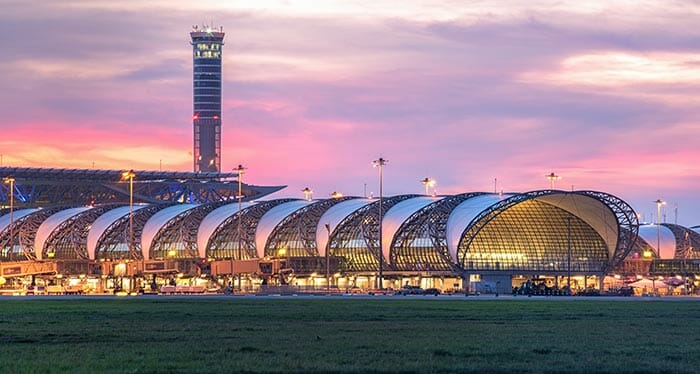 Suvarnabhumi Airport also has its own transportation system, including a shuttle bus which is free to use, and connects the passenger terminal with the car rental depot and the bus terminal. There are several public bus routes that provide a twenty-four hour service to various areas of the city. The fare for the journey is 35 baht. Buses to and from the airport stop at the transport centre from where you can board the shuttle bus.
If you prefer not to travel by bus you can travel to the airport by taxi. The fare will consist of the metered charge, plus expressway fees and the airport surcharge of 50 baht. The drop off point for taxi passengers is on level of level 4, and the pick-up point is on level 1.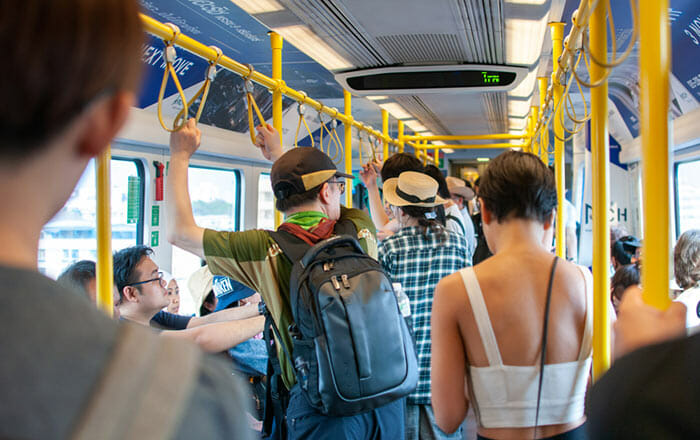 On the bottom floor there is also the Airport Rail Link running between Suvarnabhumi Airport and Phaya Thai Station and Makkasan Station plus 5 other less common stations. Phayathai Station is connecting to the BTS skytrain line. Makkasan Station is connected with the MRT subways line. Trains to Phaya Thai Station takes 26 minutes and cost 45 thai bath. Trains to Makkasan Station takes 22 minutes and cost 35 thai bath. Trains can be very crowded especially during morning and evening commuting hours. Makkasan Station and Phaya Thai Station is usually very busy in the afternoon to get on towards Suvarnabhumi Airport.
Don't miss our guide how to get from Krabi Airport to Krabi Town.
Train to Krabi via Surat Thani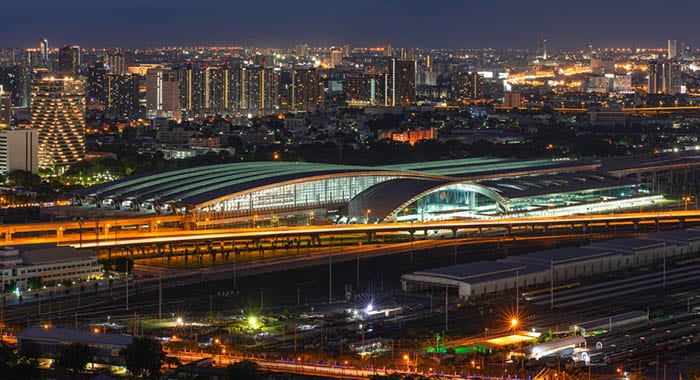 Technically there is no such thing as a Bangkok to Krabi train, as Krabi doesn't have a railway station. If you are travelling by train you need to board at Krung Thep Aphiwat station in Bangkok, and alight at Surat Thani station. From here you can travel by shuttle to the bus station in Surat Thani, and then by bus the remainder of the way to Krabi.
The new Krung Thep Aphiwat Central Terminal is in the Chatuchak area of Bangkok and connects to long-distance trains, SRT, MRT, airport, and bus links. With an elevated walkway to Mochit Bus Terminal and an underground passage to Bang Sue MRT Station, accessibility has been a major factor in its design.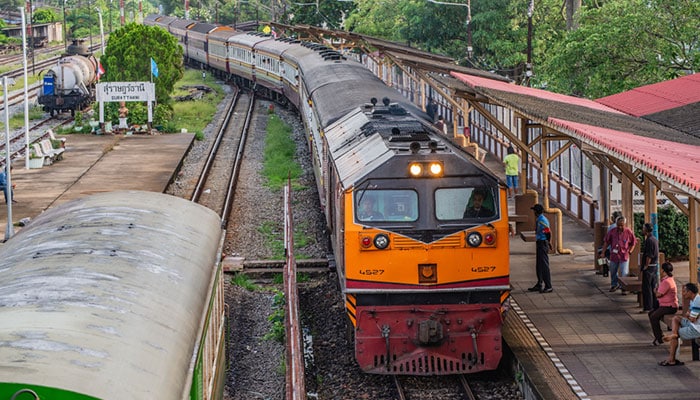 Krung Thep Aphiwat Central Terminal is also served by regular buses from all areas of Bangkok. The red buses run most frequently, and often through the night. These buses often get crowded and they don't have air conditioning, but they do have a fan on board. The red buses are operated by the Bangkok Mass Transit Authority (BMTA) which also operates the Orange (Euro II) bus which is air conditioned and more comfortable. There are also privately run buses available; you will usually pay more to travel on a private bus. Another option for getting to or from Krung Thep Aphiwat station is a taxi. It's convenient but is of course more expensive than other options. If you have arrived at Aphiwat station and want to go somewhere else within the city, there is a taxi rank on the eastern side of the station (take Exit 12). You should also make sure that the taxi driver turns on the meter in the taxi, and report him to the station authorities if he refuses to do so.
Krung Thep Aphiwat Central Terminal is the largest railway station in Southeast Asia. It features modern, spacious architecture and has a capacity for several hundred thousand daily passengers, which is quite a leap from the 60,000 that Hua Lamphong handled.
For a seamless travel experience, head directly to Gate 4. This is where you'll find the main ticket office, the food court, and the departure board. In addition to purchasing tickets at the station, you can conveniently buy train tickets online. Trains to Surat Thani (Southern Thailand) depart from Platforms 7 and 8.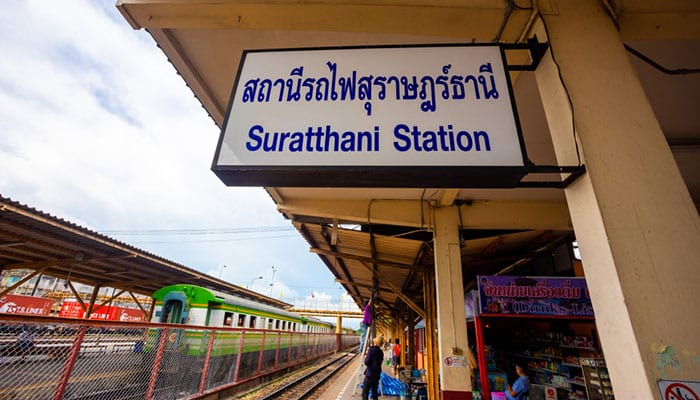 As we've already mentioned, it's not the Bangkok to Krabi train that you're booking a ticket for, but the train to Surat Thani and a bus ticket for the remainder of the journey. Trains to Surat Thani leave during the day and in the evening. The daytime express trains take approximately 8 hours 45 minutes to reach their destination. You can book second class seats on this air conditioned service and meals are included. The sleeper train takes approximately 11 hours 45 minutes to reach Surat Thani but you do have the benefit of being able to book a 1st class sleeper ticket for approximately 1,600 baht, or a 2nd class sleeper ticket for approximately 1,000 baht. Once you reach Surat Thani bus station you board an air conditioned bus for the three hour journey to Krabi.
Bus to Krabi from Bangkok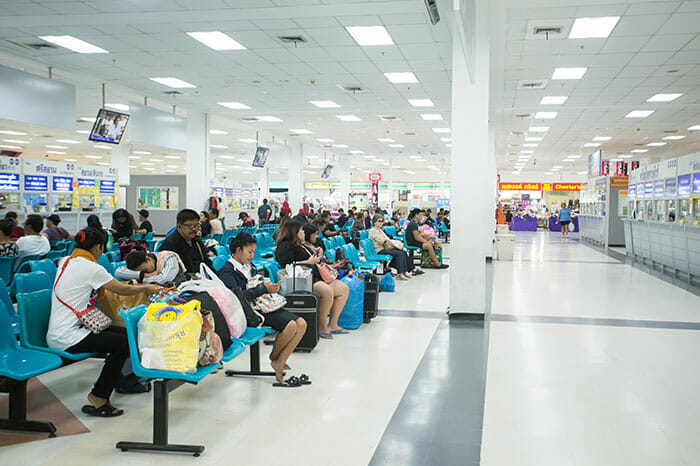 It is possible to travel all the way from Bangkok to Krabi by bus. Air conditioned buses leave the Southern Bus Terminal in the evening, and take approximately 12 hours to reach Krabi. The Southern Bus Terminal, also known as Sai Tai Mai, can be difficult to reach from Bangkok centre. The only easy way to get there from the old town is by taxi which costs around 120 baht. There are local buses from areas such as Sukhumvit which cost just a few baht. If you are travelling by bus from Bangkok to Krabi you can expect the journey to cost around 920 baht.
Whether you decide to try out Bangkok to Krabi flights, take the bus, or opt for the Bangkok to Krabi train and bus, it's certainly worth a trip to check out the beautiful views from Tiger Cave Temple, or walk along the white sand beaches of Krabi.
How do I get from Bangkok to Krabi?
The fastest way to get from Bangkok to Krabi is to fly, and if you book in advance through 12Go you can get some great deals on tickets that can be even cheaper than the bus. With flights from both Don Mueang and Suvarnabhumi there are lots of options. Buses have the advantage of departing from the heart of Bangkok, but adding the ferry, this takes around 15 hours.
How much is bus from Bangkok to Krabi?
Going by bus is the cheapest way to travel from Bangkok to Krabi, and there are lots of departures through the day, and traveling overnight, with several different bus companies. Check prices and book online at 12Go, where currently the cheapest bus ticket is with Lignite, starting at 682 baht for an Express, going up to 1,023 baht for a VIP24 bus.
How far is it from Bangkok to Krabi?
By road, the distance from Bangkok to Krabi is about 780kms (487mi) and numerous bus companies offer this route. Travel times vary between 12.5 to 15 hours but buses are affordable if you're on a budget. Check 12Go for buses, as well as direct flights from Suvarnabhumi and Don Mueang. You can find cheap flights that get you there in 90 minutes, making it worthwhile spending the extra.
Did you find this guide useful?
Click on a star to rate it!
Average rating: / 5. Vote count: