Renowned for its superb scuba diving, the small island of Koh Tao is the perfect destination for anyone looking for an escape from the busy streets of Bangkok. Meaning Turtle Island, Koh Tao is filled with perfect beaches and barely any currents, making it ideal for scuba diving and swimming, or just simply as a place to unwind and relax before heading home.
Read about:
• Bangkok to Koh Tao by Flight
• Bangkok to Koh Tao by Bus
• Bangkok to Koh Tao by Train
Situated close to the western shore of the Gulf of Thailand, Koh Tao is set to the north of Koh Samui and is part of the Chumphon Archipelago. As the crow flies, the island is about 410 kilometers (256 miles) south of the Thai capital, so expect a fairly lengthy journey from Bangkok to Koh Tao. Options include flights, buses, trains and ferries, though you'll have to take a ferry at some point in your journey, whichever way you choose to travel!
Flights to Koh Tao from Bangkok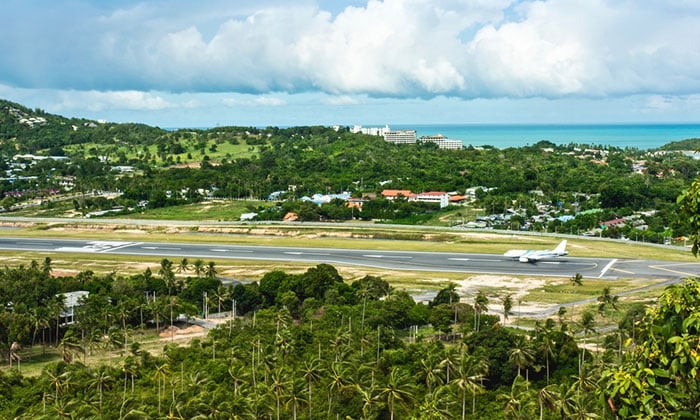 When it comes to flying from Bangkok to Koh Tao there are actually three different options and several different airlines within those options to choose from. As always, your choice will likely come down to your budget and any time constraints you may have, but when looking at flights to Koh Tao you should also consider whether you want to visit any of the other gorgeous Thai islands at the same time as this will influence which route you pick.
The first option is a flight Koh Samui and then a ferry to Koh Tao. The advantage with this route is that it is easily the quickest and most convenient way to travel, with minimal transfers involved. Of course, the problem is the cost as this is the most expensive way to get from Bangkok to Koh Tao. However, if you're planning to visit Koh Samui anyway, this could be a good opportunity to make the most of the flight costs and spend a few days on that island before setting off to Koh Tao. Bangkok Airways and Thai Airways both offer flights from Bangkok Suvarnbhumi Airport to Koh Samui.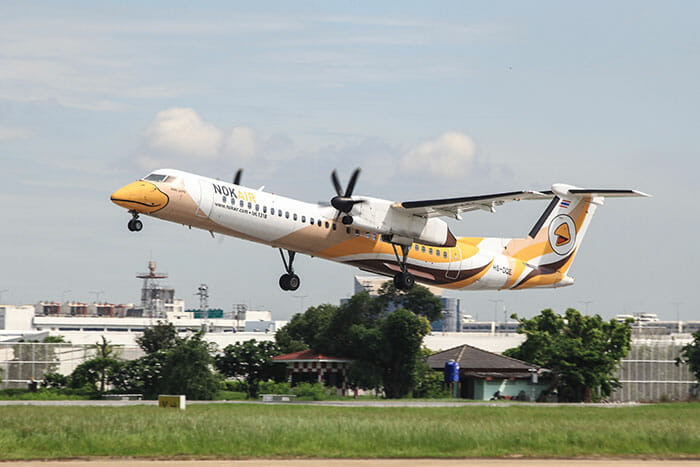 The second flight option is to Chumphon. This small airport only handles flights with Nok Air from Bangkok's Don Mueang Airport, and from Chumphon Airport you will then need to take a bus to the pier to catch your ferry to Koh Tao. The good thing about this route is that it's relatively fast and you can often buy a combination ticket that will cover all the different modes of transport for your journey.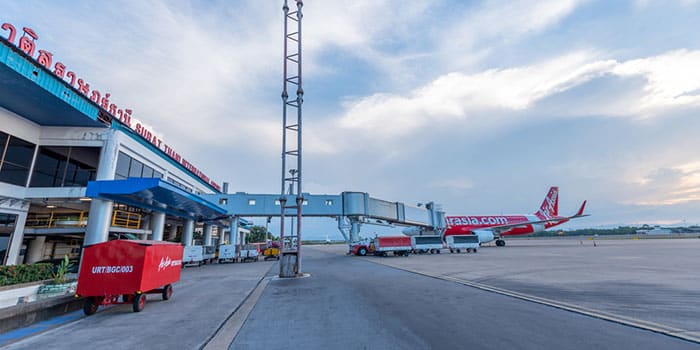 Thirdly, there's the option to fly to Surat Thani then a ferry. You'll have the choice of a few more airlines for this route: Thai Airways (operated by Thai Smile) fly from Suvarnabhumi, while Nok Air, Thai AirAsia, and Thai Lion Air all fly from Don Mueang. Although you have more flight options this is not the best way to get from Bangkok to Koh Tao because of flight arrival times and a longer ferry journey.
The Bus and Ferry from Bangkok to Koh Tao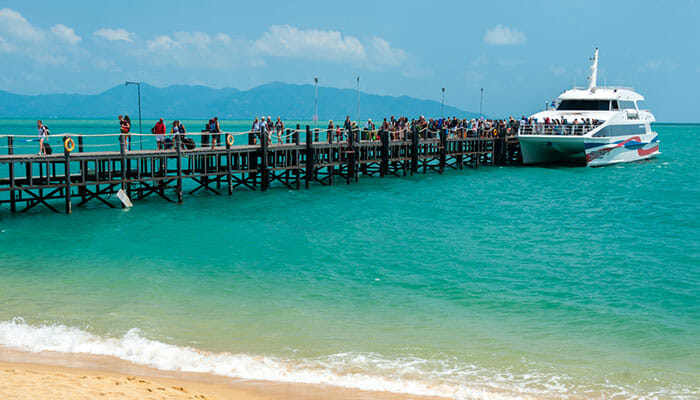 When flights are too expensive, the bus provides a very affordable alternative, however, it will take an entire day to make the trip from Bangkok to Koh Tao. It's good that you can buy a combined bus and boat ticket, and you will enjoy quite a high level of service if you choose either of the two private companies who operate out of Khao San Road. Lomprayah Catamaran and Songsern Express have air-conditioned buses that will take you right down to Chumphon Pier. This leg of the journey will be around 8 hours. You then transfer onto a high speed catamaran which will take between 1.5 to 2 hours depending on conditions, and this goes all the way to Koh Tao. Or you'll get on a ferry, depending on the operator, and this will take a little longer – up to 3 hours.
Trains to Koh Tao from Bangkok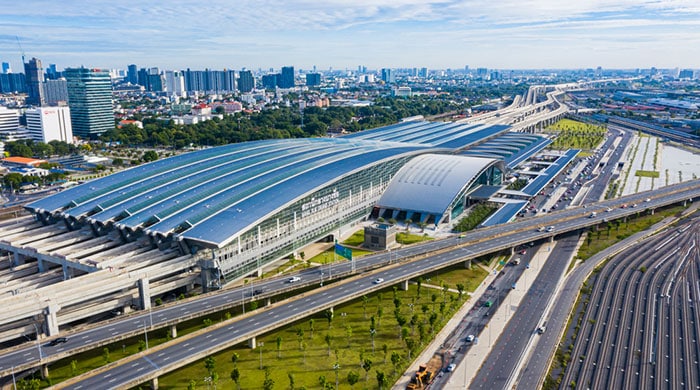 If you know anything about trains in Thailand, you'll know that they take a long time, and the train from Bangkok to Koh Tao is no exception! This is the longest journey time, taking somewhere around 13 hours, but, putting any time constraints aside, trains are very affordable and can actually save you money in other ways.
By choosing a sleeper train you can do the majority of your traveling overnight. You may not get to enjoy the scenery as you're traveling but sleeper trains are safe and reliable and allow you to get to Koh Tao without using up an entire day of your holiday. You could also argue that you're getting a night's accommodation thrown in, so you don't have to pay extra for a night in a hotel!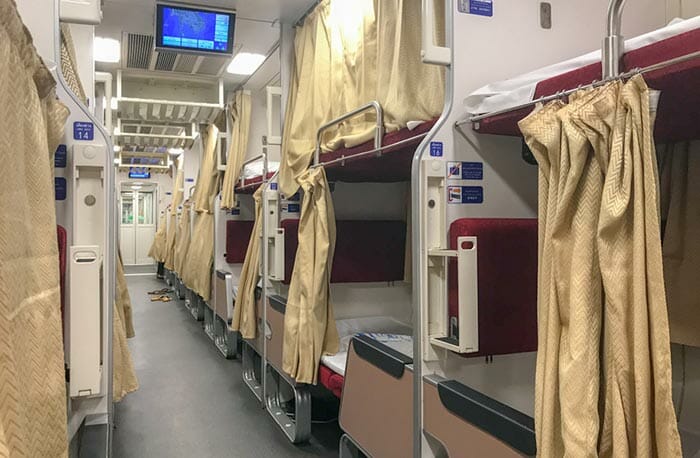 Travel by train from Bangkok to Koh Tao and you can also take advantage of a combined ticket. Get your ticket at the brand new train station Krung Thep Aphiwat where you can choose from several different options – a 1st or 2nd class seat, or a sleeper – which is what we would recommend. The combination ticket for the night train gives you a bus transfer from Chumphon railway station to the ferry pier, and an express ferry ticket to Koh Tao, all in one price.
There is also a second option for a train to Koh Tao, and that's to travel via Surat Thani instead of Chumphon. This is a longer way around because you're traveling further south and then heading back to the north, and it involves an additional ferry journey from Koh Samui to Koh Tao but some tourists prefer the slightly better schedules for these trains and ferries.
So, there are actually many different options you can choose from for this trip; as for the best way to get from Bangkok to Koh Tao… that depends on your budget and schedule!
How do I get from Bangkok to Koh Tao?
There are lots of options from Bangkok to Koh Tao, depending on your budget. Flying is most expensive – fly to Koh Samui, Chumphon or Surat Thani and then take a ferry. The cheapest option is a bus then ferry, or trains are also possible to Chumphon or Surat Thani. You can buy combined tickets (for the whole journey) for all different transport options if you book online through 12Go.
How long does it take from Bangkok to Koh Tao?
Flights to Chumphon, Koh Samui or Surat Thani won't save you any time or money with transfers added on, so bus or train travel makes more sense. The bus portion takes around 8 hours plus 1.5 to 3 hours on the ferry. Trains to Chumphon take about 13 hours plus bus and ferry. For convenience, buy a combined ticket from 12Go for all legs of your journey.
Is Koh Tao worth visiting?
Koh Tao is a small but beautiful island that's famous for its amazing diving and snorkeling. Quieter than some of Thailand's other islands, it's also a great destination for relaxing days on the beach, or get more active and hike to a viewpoint, go kayaking or paddle boarding. By evening, enjoy its laid-back nightlife vibe. Check travel schedules and book tickets to Koh Tao on travel website, 12Go.
Where do you fly into for Koh Tao?
You can fly into Samui Airport or Chumphon Airport to get to Koh Tao. Koh Samui is a good idea if you're planning to see that island as well anyway, but if you're just heading to Koh Tao, look at flights to Chumphon Airport as this will likely save you money and time. You can book transfers to Koh Tao from both Samui and Chumphon through 12Go.
How do you fly to Koh Tao?
As there's no airport on Koh Tao you cannot fly directly there. Your best bet is to fly to Chumphon, Krabi or Surat Thani airports who all have flights from Bangkok. You'd then have to transfer to the ferry pier by bus. Some of these routes are more convenient than others, so check online at 12Go to search and book your combined tickets for flight, bus and ferry.
How do you get to Koh Tao?
Koh Tao is a small island so does not have an airport, but ferries are plentiful. You can catch a ferry from nearby islands of Koh Samui and Koh Phangan, or come direct from the mainland either from Surat Thani or Chumphon. With several ferry companies offering multiple departures you should easily find something if you check online at 12Go where you can compare journeys and book tickets.
How do I get to Koh Tao?
This depends on where you're starting from, but being an island without an airport, you'll have to take a ferry! Traveling down from Bangkok, you can arrive to Chumphon or Surat Thani and take a ferry from either of these. For all the different options, take a look at travel website 12Go where you can search for transport to Koh Tao from all over Thailand and book your tickets.
Did you find this guide useful?
Click on a star to rate it!
Average rating: / 5. Vote count: