If you've already spent some time in Thailand's bustling capital city, Bangkok, then you may be looking for a relaxing atmosphere in which to spend a few days or more, unwinding. With many beach resorts and picture perfect islands to choose from you may have trouble deciding, but Koh Samui is definitely one that we'd recommend.
Read about:
• Bangkok to Koh Samui by Flight
• Bangkok to Koh Samui by Train & Ferry
• Bangkok to Koh Samui by Bus & Ferry
This island in the Gulf of Thailand is renowned for its idyllic beaches and for its mountainous rainforest interior. With its luxurious spas it attracts visitors from around the world but also has a vibrant nightlife scene and cheap places to stay that draw the backpacking crowd. If you're wondering how to travel from Bangkok to Koh Samui, read on for our guide.
Flights from Bangkok to Koh Samui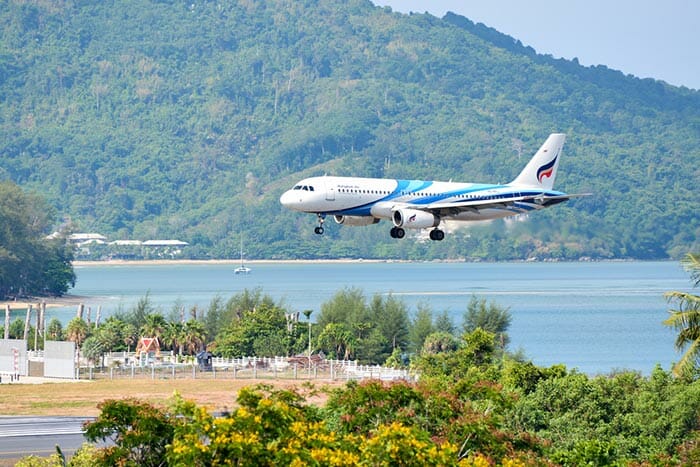 Koh Samui is over 700 kilometers from Bangkok, so easily the quickest way to get here is by airplane, but flights from Bangkok to Koh Samui can be expensive meaning that flying will not be for everyone. Putting the cost aside for a moment, Koh Samui does have its own airport, situated in the north east of the island, which was originally built by Bangkok Airways as a private airport solely for their use, giving this airline a monopoly on direct flights between the two destinations. If you want to fly direct, Bangkok Airways is the only airline available but the good news is they have frequent flights, departing almost hourly.
With so many daily flights offered by Bangkok Airways it's usually pretty easy to find a seat on a plane, though this won't always be the case around Thai holiday periods. Airfares can vary substantially depending on when you book your ticket; it's always advisable to book as far in advance as you can for the best deals as you're likely to have to pay as much as double if you try to buy a ticket on the day of departure. Either way, flights with Bangkok Airways are considered to be expensive by Thai standards.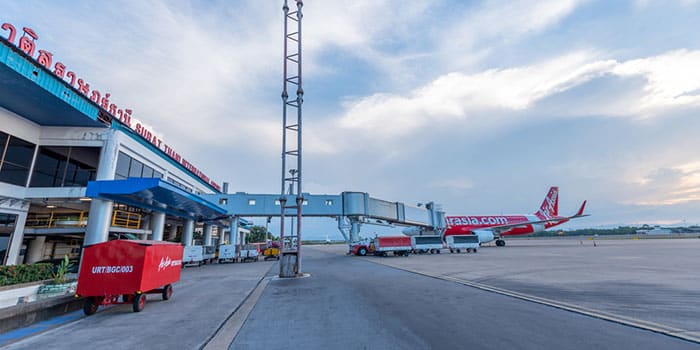 There are a couple of other options for flights between Bangkok and Koh Samui. You could actually fly to Surat Thani Airport or Chumphon Airport. Both are on the mainland and so both of these options will also require you to take a ferry across to the island. Ferry connections are good though, and with low cost air carriers providing flights to both airports, you could save yourself a significant amount of money traveling this way.
Once you arrive at Koh Samui Airport (if you're catching a direct flight from Bangkok to Koh Samui) there's plenty of ground transportation to get you on your way to a hotel or resort. Minibuses and private minibuses are a good option, but there are not usually many taxis available at the airport.
Bangkok to Koh Samui by Train and Ferry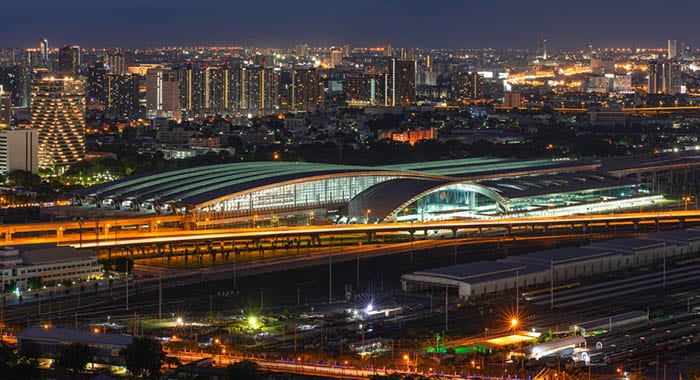 An even cheaper option than the low cast airlines is to take the train and ferry from Bangkok to Koh Samui. The biggest disadvantage to traveling by train and ferry is the time that it takes, though you could argue that if you travel on a sleeper train overnight, you're not actually losing much time out of your vacation. From Bangkok's new Krung Thep Aphiwat Train Terminal you can catch a train in the evening, travel overnight, then wake up the next morning as you arrive at Surat Thani station. At Surat Thani you'll get off the train and board a special shuttle bus which will take you to the coast and the Donsak Pier.
Once you've arrived at Donsak Pier your trip from Bangkok to Koh Samui becomes even more interesting and exciting! You have the option to take a conventional ferry if you want to sit back and enjoy the journey. It takes around 90 minutes by conventional ferry, or you can take the faster option and travel by high-speed catamaran. This takes just 45 minutes to get to Koh Samui so if you're eager to hit the beaches and the bars this would be the best option. You could also look at ferries from Ban Don Pier which are operated by Seatran Ferries whereas those from Donsak Pier are operated by Raja Ferry.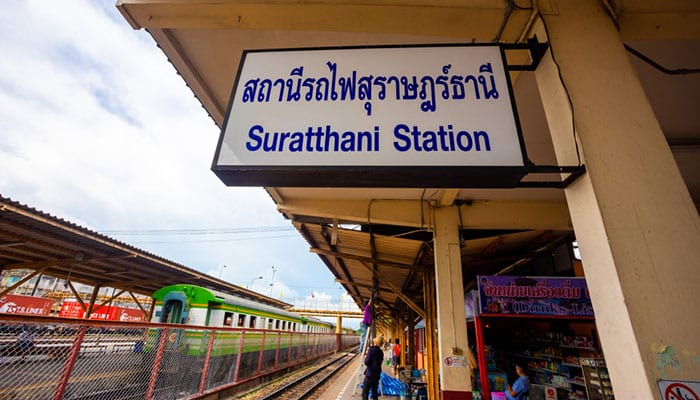 Combined train and boat tickets can be bought from Krung Thep Aphiwat Train Terminal in Bangkok so you don't have to buy separate tickets for each leg of the journey, or you can buy in advance online. However you choose to buy your tickets you really should buy them before your day of travel as these trains do get fully booked.
Bus and Ferry from Bangkok to Koh Samui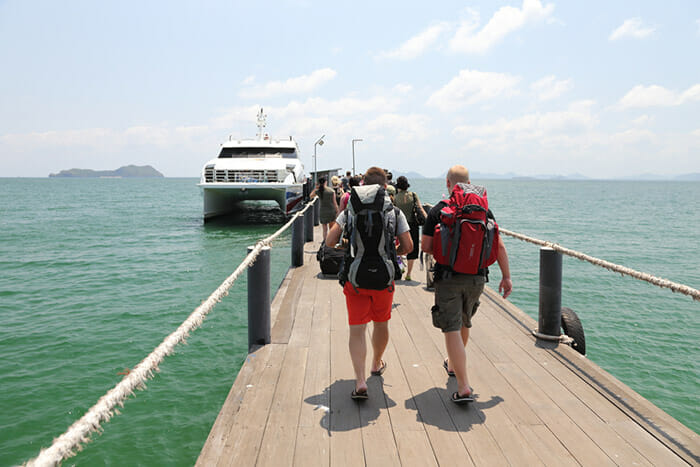 One final option for traveling from Bangkok to Koh Samui involves a bus and ferry ride. With this option you'll take a bus from Bangkok to Chumphon (stopping for a little in Hua Hin). At Chumphon you then get on the high speed catamaran which travels via the islands of Ko Nang Yuan, Ko Tao and Ko Pha Ngan. Going this route is scenic as you'll get to see more islands along the way but it does take time – the entire journey is around 11 hours of which half of this will be on the boat.
So there are three different options for travel from Bangkok to Koh Samui. Which one you choose is going to depend firstly on your budget, then on how quickly you'd like to get to the island. Flights are great, but they are expensive if you're traveling on a budget, but we'll leave that decision up to you.
How far is Koh Samui from Bangkok?
When you travel by ferry and road, the distance from Koh Samui to Bangkok is around 760kms (475mi) which will take anywhere between 12 and 16 hours, depending on ferry connections. Buses are the cheapest way to travel, while ferry, bus and train is another affordable option. Flights are fastest (around 75 minutes) and most expensive, but you should compare all the prices and book tickets online.
How do you get from Bangkok to Koh Samui?
To avoid a lengthy journey by road and then ferry, the easiest and fastest way to get from Bangkok to Koh Samui is a flight with Bangkok Airways, but, if you want to save money and don't mind taking all day traveling, buy a ticket that covers both the bus and the ferry.
How do you get to Koh Samui?
Thailand's second largest island has its own airport, so getting to Koh Samui is really easy from cities like Bangkok, Singapore, Chiang Mai etc. Flights can be pricey though, so you can save money by catching a ferry from the mainland or one of the neighboring islands. If you look at 12Go, they give search results for flights and ferries as well as transfers from multiple departure points.
How long is the ferry from Bangkok to Koh Samui?
You cannot catch a ferry direct from Bangkok to Koh Samui. You would have to take a bus or train to the south first, and then a ferry across to the island. The good news is you can buy combined tickets for the entire journey through 12Go, with connections guaranteed. Total journey time will range from 10hrs 40 by bus and ferry, to over 17hrs by train and ferry.
How many piers are there in Koh Samui?
There are four main ferry piers on Koh Samui, staggered at different points around the coast of the island: Pralan Pier, Nathon Pier, Lipa Noi Pier, and Big Buddha Pier, plus there are many smaller piers for charters and tour boats. Research where your ferry will arrive and choose your accommodation accordingly to avoid a long transfer, then book your ferry tickets at 12Go.
Where is the ferry port in Koh Samui?
Being a large and very popular island, Koh Samui has several ferry ports, usually called piers. Which one you use will depend on where you're coming from or going to. The four main ones are: Pralan Pier, Nathon Pier, Lipa Pier, and Big Buddha Pier, which is closest to the airport. Book ferry tickets online through 12Go and their search results will show you which pier you need.
Did you find this guide useful?
Click on a star to rate it!
Average rating: / 5. Vote count: