Home to the famous Full Moon Party, the island of Koh Phangan is one of Thailand's top backpacker destinations and is situated just 15 kilometers (9 miles) north of the larger island of Koh Samui. This idyllic location, near the western shore of the Gulf of Thailand, graces Koh Phangan with beautiful beaches and, more recently, the facilities and attractions for family visitors too. A popular place to spend a few days of sun and sand away from Bangkok, you can get to Koh Phangan by air, road, train and ferry.
Read about:
• Bangkok to Koh Phangan by Flight
• Bangkok to Koh Phangan by Bus
• Bangkok to Koh Phangan by Train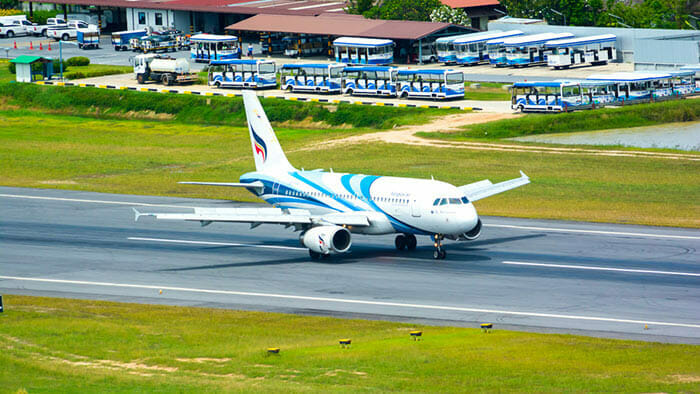 The Quickest Way to Travel from Bangkok to Koh Phangan
As you would probably expect, the quickest way to travel from Bangkok to Koh Phangan is by air, however, even this method has some drawbacks… first of all, there is no airport on Koh Phangan itself, so you will actually be flying to Koh Samui and then taking a ferry across to Koh Phangan. Despite this, the total journey time is still significantly faster than any other form of transport from Bangkok. The second drawback is the cost; for the speed and convenience of taking a plane you will have to pay far more than trains or buses will cost you, so, if you have the luxury of time then you can save yourself a heap of money by avoiding the airlines.
Sometimes it's nice to get to your destination quickly though, so if the cost has not already dissuaded you, you can get a flight from Bangkok to Koh Phangan (arriving in Koh Samui) with Bangkok Airways. It is the only airline available to Koh Samui but the good news is they have frequent flights, departing almost hourly from Bangkok's Suvarnabhumi Airport. Once you've landed in Koh Samui the Big Buddha Pier is close by for catching a ferry over to Koh Phangan. The fast ferries take about 30 minutes and usually the last one of the day will depart at 6.30pm except for during the Full Moon Party when they run all night.
Bus and Ferry Combined from Bangkok to Koh Phangan

If you'd like to save money on the costly airline tickets then the next best thing is to take the bus and ferry with one of two private companies: Lomprayah and Seatran. Both are very good options because you can buy a combined ticket that covers your entire journey from Bangkok to Koh Phangan, leaving you with very little to worry about. The tickets are affordable and the services are reliable, plus the buses and ferries are very comfortable, well maintained and clean. The only downside is the length of time the total journey takes, but if you opt for an overnight bus you can sleep on the way and will not waste a day out of your vacation.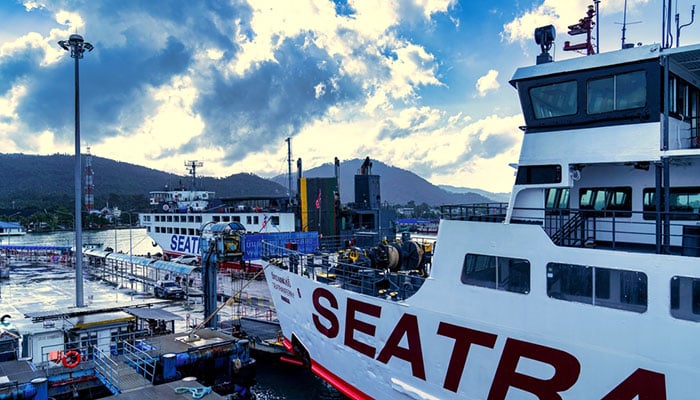 Depending on which bus and ferry you end up taking, the total journey time from Bangkok will be somewhere between 10 and 14 hours because it's a long drive and then the ferry takes another 1.5 hours. The good news is that the bus takes you right to the ferry terminal, and, because the ferry is operated by the same company, you can be sure there will be no problems getting on the ferry.
Trains from Bangkok to Koh Phangan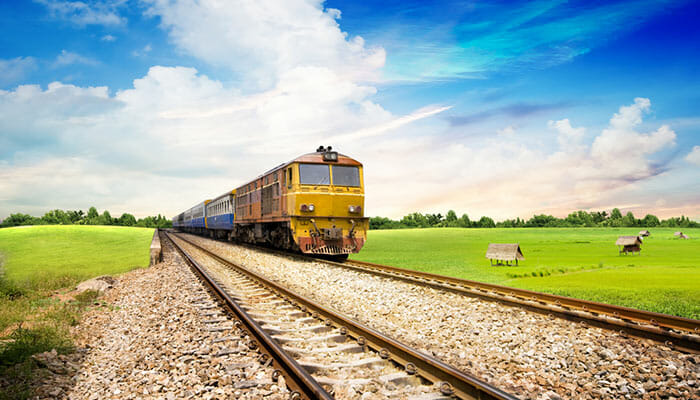 As with the buses from Bangkok to Koh Phangan, traveling by train is a far cheaper option over flying, but, it does take a long time. In addition to the train, you will need to take a bus from the railway station to the ferry pier, and then a ferry across to Koh Phangan. You can buy individual tickets for each leg of this journey, however, combined tickets are available and are arguably less hassle when you don't have to worry about how and when to buy tickets all the time!
We would recommend that you take the night train from Bangkok down to Surat Thani, and there are several reasons for this. The journey takes a long time, so if you can travel overnight and get some sleep you're not wasting an entire day out of your vacation. And, if you think about it you're actually saving yourself the cost of a hotel for one night! Sleeper tickets are best, and are available in both first and second class, so you actually get a bed to lie on. Obviously the levels of comfort are a little better if you opt for a first class sleep ticket as here you will get double bunks and a sink in your room. Second class sleeper cabins have a table and sofa which convert into a lower bed plus there's a narrower bunk above.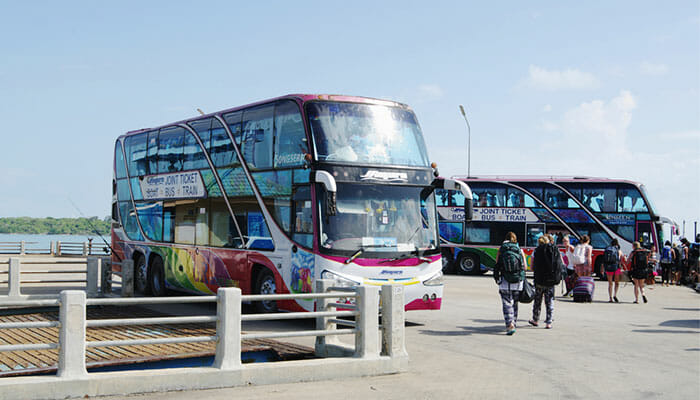 Trains depart from Bangkok and arrive at Surat Thani railway station. With your combined train, bus and ferry ticket you will then be driven by bus to the ferry port which is about an hour's drive away, then you'll have the final leg of your journey from Bangkok to Koh Phangan, by ferry.
Other Ways to Travel from Bangkok to Koh Phangan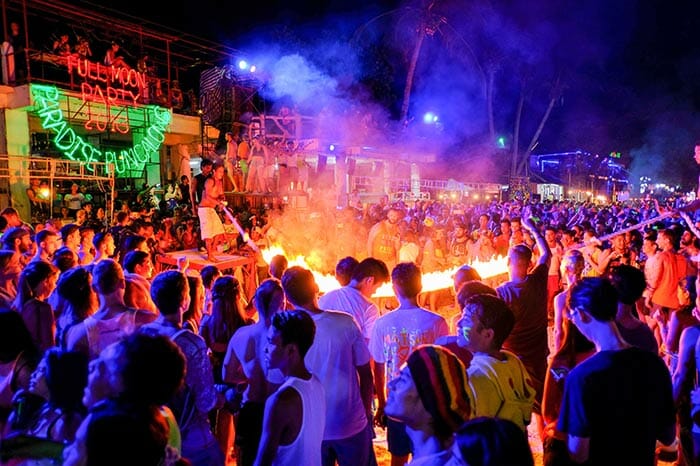 Above are the most convenient, and some would argue the safest, ways to get from Bangkok to Koh Phangan but there are also a couple of other options if you're really hoping to save money. Visit one of the many travel agents around Khoa San Road and there are usually lots of deals on bus and ferry tickets. However, beware of the cheapest ones as there are often reports of luggage going missing, and of buses not being properly maintained. They can also take a notoriously long time to travel from Bangkok to Koh Phangan, so weigh up the advantages of saving money against all these disadvantages before booking your tickets.
However, you choose to travel, it's best to book your tickets at least a couple of days in advance because buses, trains and ferries do become full, and, if you're visiting Koh Phangan around the Full Moon Party you should book even further in advance and be prepared for travel delays because of the sheer volume of people traveling between Bangkok and Koh Phangan.
Can you fly from Bangkok to Koh Phangan?
As there is no airport on Koh Phangan, you cannot fly all the way from Bangkok, but there are other flight options. Do a search on the travel website, 12Go, and they will show you flights to Koh Samui, Surat Thani Airport, or Nakhon Si Thammarat Airport, making it easy to book a combined ticket for the flight and then the bus and ferry transfer over to Koh Phangan.
How do I get from Bangkok to Koh Phangan?
There are many different ways to travel from Bangkok to Koh Phangan, and you can see all the available options for your date of travel on the website, 12Go. Here, you can compare the different options: flight and ferry; bus and ferry; train, bus and ferry; or taxi and ferry, and book tickets for the entire journey, including transfers, through their website.
How do you get from Bangkok to Koh Phangan Full Moon Party?
If you're heading for the Full Moon Party, book your tickets early to ensure you can get there. Search through the website, 12Go as they give details of all transport options and sell combined tickets that cover the whole journey, whether you fly to Nakhon Si Thammarat, take a train to Chumphon, or get a bus, they also include connections and the ferry crossing to Koh Phangan.
Is there an airport on Koh Phangan?
Koh Phangan does not have its own airport, but if you want to fly, there are options. Koh Samui is the closest airport and it's just a 30-minute ferry ride from there. You can also fly to Chumphon Airport or Surat Thani Airport, which may be cheaper but will involve a longer ferry ride. It's worth checking 12Go, as they sell combined tickets for flights and ferry.
How do you get to Koh Phangan Full Moon Party?
Koh Phangan's monthly Full Moon Party attracts hundreds of extra visitors to the island, making it challenging at times to find boats. Because of this, it's best to book your seat in advance, and you can do this at 12Go. They sell tickets for many different ferry companies, from numerous departure points, including pickups from hotels or airports on joint tickets, so your whole journey is taken care of.
How do you get to Koh Phangan?
Being such a popular island, it's easy to get to Koh Phangan. You can take a ferry from Koh Samui, or there are loads of ferries departing from the mainland (Surat Thani or Chumphon). Visit 12Go and enter your departure point for detailed search results and the opportunity to buy combined tickets for your entire journey, including the ferry with transfers by trains, buses, flights from places like Bangkok.
Did you find this guide useful?
Click on a star to rate it!
Average rating: / 5. Vote count: