Set in the Gulf of Thailand, Koh Samui is the second largest island of Thailand. Like many Thai islands, it's known for its gorgeous palm-fringed beaches and mountainous, dense rainforest inland. Luxury resorts and spas line the beaches while there are still plenty of cheaper accommodation options for the budget traveler. Koh Samui is also perfect for beach parties and nightlife, as is the larger of the Phi Phi Islands where you can relax in the turquoise waters by day and party all night. In contrast to Koh Samui, Koh Phi Phi features striking limestone cliffs and stunning bays with amazing jungle interiors, so there's definitely some differences to explore between these two popular Thai destinations.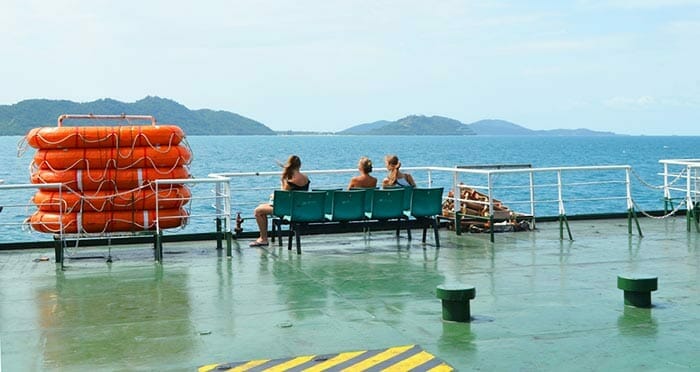 Options for Travel from Koh Samui to Koh Phi Phi
In a straight line, it's about 240 kilometers (150 miles) from Koh Samui to Koh Phi Phi, which doesn't sound too bad, except you will need to cross land and water to get there. Koh Samui is set in the Gulf of Thailand, which is on the east side of the Kra Isthmus, while Koh Phi Phi is right on the other side (to the west) of the isthmus. While Koh Samui has its own airport, Koh Phi Phi is too small to have an airport of its own so you cannot fly directly from Koh Samui to Koh Phi Phi. However, you can get a lot closer to Koh Phi Phi if you fly to Krabi and then get a van and a boat from Krabi to Phi Phi. The other option is just to stick to land and water by catching a ferry from Koh Samui, then a bus or van across land, then another ferry to Koh Phi Phi. Luckily you can buy combined tickets to cover this entire journey, but with so many changes, it does take a long time to travel this way.
Koh Samui to Koh Phi Phi by Flight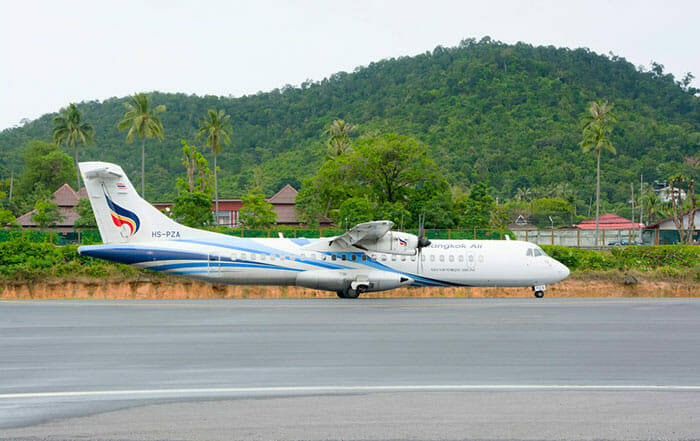 As mentioned above, Koh Phi Phi does not have an airport but this doesn't mean you should ignore the options for flying from Koh Samui to Koh Phi Phi. You can catch a flight to Krabi, which brings you much closer to Koh Phi Phi in record time, compared to the ferry and a van or bus that you would have to take as an alternative.
A flight from Koh Samui to Krabi takes only 55 minutes, but there some major drawbacks. First there's the cost – you may be able to find some better deals if you book in advance and you're flexible with your travel days, but generally, a ticket from Koh Samui to Krabi can be very expensive. One reason for this is that only Bangkok Airways offers this route and there's just one flight per day, so they are able to charge more as the only flight option.
When you arrive at Krabi International Airport you will need to find a way to Koh Phi Phi. You can buy combined van and ferry tickets to take you there, and these are available on the travel website 12Go.asia. The problem is, although you will have saved time by flying to Krabi, the van and ferry can add another 4 to 5 hours to your entire journey. Add the cost of the van and ferry to the cost of the flight, and you will probably come to the conclusion that traveling this way from Koh Samui to Koh Phi Phi just isn't worth the cost.
Koh Samui to Koh Phi Phi by Bus or Van and Ferry

Once you dig deeper into flying from Koh Samui to Koh Phi Phi you realize that the journey is not as simple or cost effective as it first seemed. But, if you get a van or bus and ferry combination ticket through 12Go, you'll save yourself a lot of money, and some hassle, and potentially even a little time.
It depends on where in Koh Samui you're traveling from, and where you want to end up on Koh Phi Phi, but journey times range from 7.5 to 10.5 hours for the entire journey. The benefit of buying a combined ticket upfront is that you're getting all sections of the journey covered and you don't have to worry about changing onto the ferries or the buses independently because there will be people to assist you. This can take a lot of stress out of traveling in a foreign country!

There are four different companies offering services from Koh Samui to Koh Phi Phi: Lomprayah, Seatran Discovery, Phantip 1970 and Raja Ferry. Prices do vary a little across the different companies as the type of ferry they use can impact the price and the speed. Raja Ferry, for example, uses a more standard ferry while Lomprayah operates a catamaran, and Seatran a high-speed ferry.
There are options for where you start from, such as a hotel pickup from Koh Samui which adds to the convenience of a combined ticket even further. You could also choose to depart from Na Thon, or from the Bangrak Seatran Pier (if traveling with Seatran Discovery) on the northern coast of Koh Samui. Between the four different tour companies there's a little variety in departure times too, but they all leave from Koh Samui to Koh Phi Phi in the morning, traveling through the day so that you arrive at Koh Phi Phi in the afternoon or evening.
If you want to get to Koh Phi Phi in the afternoon, you'll have to settle for an early morning departure. The exact travel time does vary. If you go with Raja Ferry, for example, you'll be picked up from your hotel around 6am, and won't arrive at Koh Phi Phi until 4:30pm, so with them it takes 10.5 hours. On the other hand, you could depart from Na Thon with Phantip at 7:30am and arrive 8 hours later at 3:30pm.
The good thing about booking through 12Go is that their search results will show you all of the options for all four of these companies, so you can easily compare prices and schedules, and book instantly through their website. If you choose to fly from Koh Samui to Koh Phi Phi, traveling via Krabi, you'll need to book the flights yourself and then arrange the van and ferry transfer. With the added cost and inconvenience of flying, we would recommend opting for the van or bus and ferry combined ticket instead.
How useful was this post?
Click on a star to rate it!
Average rating / 5. Vote count: