Quieter, more laid-back, and extremely welcoming, the Cambodian capital of Phnom Penh is quite a contrast to the stark busyness of Bangkok. Known as one of the friendliest capitals in Asia, this attractive city still retains a more traditional Asian feel with less of the bright lights and glitz that parts of Bangkok are famous for, giving tourists a more authentic look at the real South East Asia through its beautiful architecture of palaces and wats.
Read about:
• Bangkok to Phnom Penh by Flight
• Bangkok to Phnom Penh by Bus
• Bangkok to Phnom Penh by Train
There are ten flights a day between Bangkok and Phnom Penh, but you could also consider making the journey by train, bus, and boat. Read on to find out more about each of these different options.
Flying from Bangkok to Phnom Penh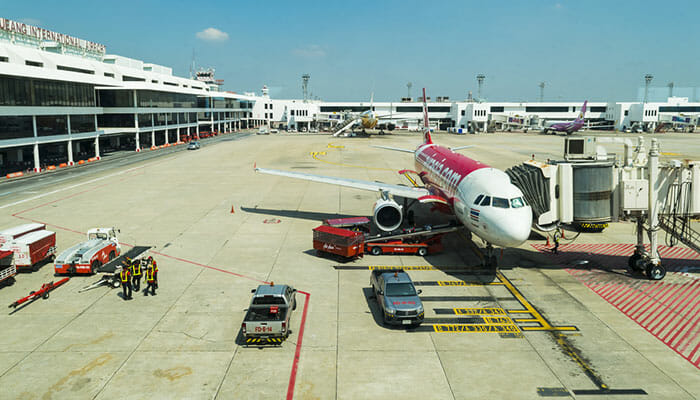 Flights between Bangkok and Phnom Penh are always the quickest way to travel between these two cities but also the most expensive. Direct flights take just over an hour so you cannot beat flying for the speed and convenience though airline tickets are usually way out of budget for many of the money-conscious travelers who are touring Thailand and Cambodia!
If a flight from Bangkok to Phnom Penh is within your budget, there are four different airlines offering direct routes from the Thai capital. Bangkok Airways, Thai Airways (operated by Thai Smile) and a straight Thai Airways flight go from Bangkok Suvarnabhumi Airport while Thai AirAsia fly from the Don Mueang Airport in Bangkok. You'll arrive at the Phnom Penh International Airport, Cambodia's largest, and it's located about 10 kilometers (6 miles) outside of the city.
Once at the airport you can get into Phnom Penh by public city buses, taxis and tuk-tuks, with the public buses being the cheapest and some might argue most comfortable option, as they are air conditioned!
Bangkok to Phnom Penh by Bus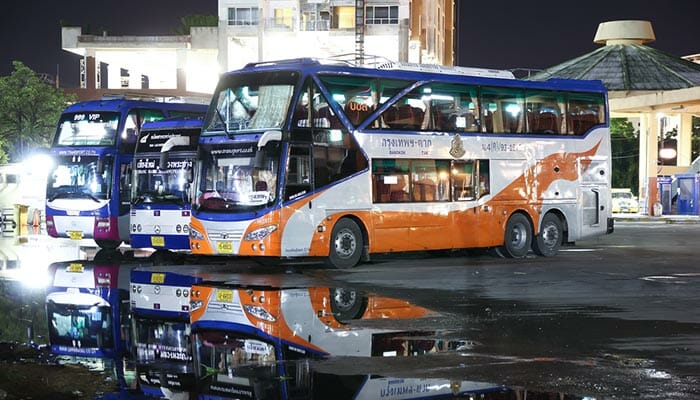 There are several different options available to you if you decide to travel from Bangkok to Phnom Penh by bus. With a good number of buses operating between Bangkok and Siem Reap – the gateway to Angkor Wat – this is one option, but if you are planning to head directly to Cambodia's capital city, then the direct bus from Bangkok to Phnom Penh would be the best and most convenient option.
Run by the government-operated, Transport Co Intl, this direct bus to Phnom Penh is far more affordable than catching a flight between the two cities but, as you would expect, it takes a lot longer. Buses depart from Bangkok's Mo Chit bus terminal. Once at the border with Cambodia you will need to leave the bus and go through immigration – this process can be sped up if you've applied for your tourist visa online in advance, rather than having to fill out the paperwork and pay the fee at the border. However, this is a possibility and bus employees will assist you if you need help. Once you've gone through immigration, the same bus that you came on will be waiting for you, so get back on and continue your journey. The direct bus takes around 13 hours though the exact timing could be shorter or longer depending on how much time is taken at the border. The departure time from Bangkok is not great, leaving at 5am every morning and you'll arrive in Phnom Penh by 6pm.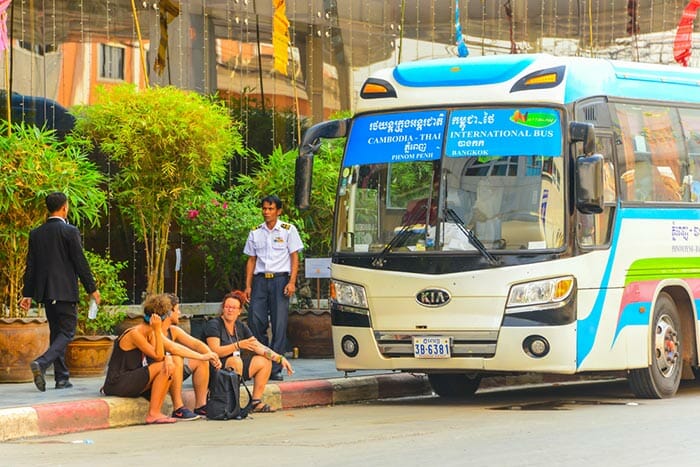 Private bus companies, such as Travel Mart, also have buses from Bangkok to Phnom Penh. You'll pay just a little more for a slightly more luxurious bus, departing from Khao San Road, but you do not travel on the same bus for the entire journey. These buses travel via Siem Reap where you will get on a different bus for the remainder of your drive to Phnom Penh.
The advantage with indirect buses is that you may actually prefer to spend a night in Siem Reap and have a break from sitting on the bus for so long!
The Train and Bus or Speedboat to Phnom Penh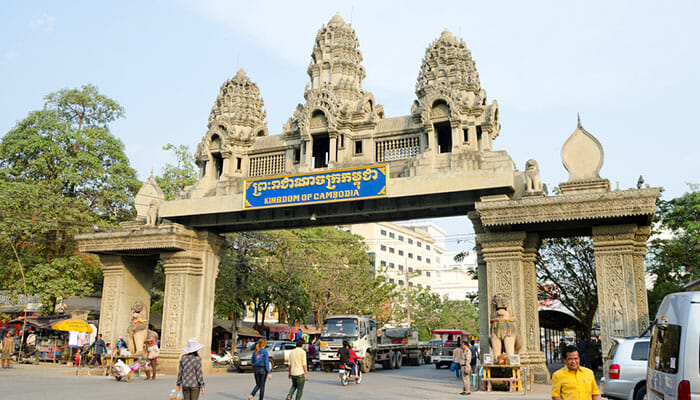 Another option to get from Bangkok to Phnom Penh is the train. Unfortunately, there are no trains that operate all the way from city to city so if you do opt for the train you will then need to take an alternate form of transport for the remainder of the journey. The train takes you almost to the border with Cambodia, stopping at Aranyaprathet train station and from here you will need to make your way to Poipet and the border crossing by tuk-tuk. Once through the border catch a bus, taxi or minivan to the city of Siem Reap which will take between 2.5 to 3 hours.
Now comes the fun part; once in Siem Reap you can either take another bus onwards to Phnom Penh or go for the more exciting option which is a speedboat! It's more expensive than a bus but it's a lot of fun and gives you an entirely different view of Cambodia from the water. This is not a small speedboat but quite a sizeable one with bus-like seating inside and spaces to sit outside as well if you want to catch some sun and fresh air. You'll have to be up early for this leg of the trip from Bangkok to Phnom Penh as the boat leaves at 6.30am and arrives in Phnom Penh at 1pm.
From Siem Reap you could also take a bus. Surprisingly, it's about an hour faster if you go by road and it's also about half the price of the speedboat. The buses are offered through several different companies and have varying levels of comfort such as a toilet and refreshments available on some.
How useful was this post?
Click on a star to rate it!
Average rating / 5. Vote count: