Koh Tao, nestled in Thailand's breathtaking Chumphon Archipelago, is a destination worth exploring. Its captivating beauty, lush tropical landscapes, and popularity among adventure enthusiasts make it a must-visit location.
Koh Tao is renowned for its spectacular diving and snorkeling, with its clear waters teeming with vibrant coral, diverse marine life, and an abundance of colourful tropical fish.
Visitors can relax on the stunning Sairee Beach or enjoy a peaceful swim in Shark Bay. Both offer spectacular ocean views and are perfect spots to soak up the sun and island vibes.
For those seeking an island-hopping experience, Koh Tao serves as the perfect base. A range of accommodations are available to suit all preferences and budgets, from cozy guesthouses to upscale resorts. This ensures a comfortable stay for everyone during their island escapade.
In summary, if you desire an unforgettable holiday surrounded by stunning natural wonders and filled with thrilling adventures, Koh Tao is the ultimate destination to explore!
Famous places
Sairee Beach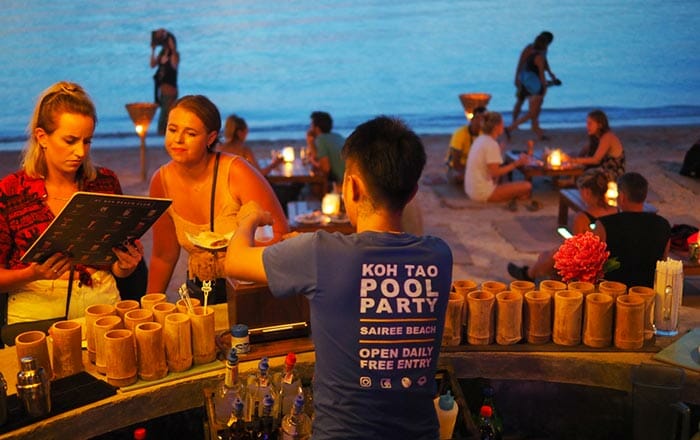 Sairee Beach, a renowned and popular destination on Koh Tao island, provides the perfect setting for visitors to unwind, bask in the sun, swim, and relish the laid-back island atmosphere. Its pristine white sands and crystal-clear waters make it one of Thailand's most stunning beaches.
Besides its appeal as a relaxation haven, Sairee Beach is also celebrated for its lively nightlife. With an array of beachfront bars and local restaurants offering delectable dishes, there's ample entertainment to keep you engaged well into the night. Whether you prefer a tranquil evening admiring the breathtaking scenery or an exhilarating night exploring the bars, Sairee Beach caters to a diverse range of preferences.
Shark Bay
Shark Bay is a mesmerizingly gorgeous bay famous for its spectacular scenery, crystal-clear waters, and abundant marine life. This makes it a favorite among tourists and a must-see destination for anyone visiting Koh Tao. Whether you're an experienced diver or simply enjoy snorkeling and swimming, Shark Bay provides the perfect setting to discover the vibrant underwater world.
Enjoy tranquil beachfront accommodations, local eateries and a laid-back atmosphere, all whilst soaking up the breathtaking views. So come to Shark Bay and explore its peaceful charm!
Turtle Bay
Turtle Bay, nestled on Koh Tao island, is a tranquil and picturesque bay celebrated for its awe-inspiring scenery and abundant marine life. This popular tourist spot is a must-visit for anyone keen on scuba diving or snorkeling. Thanks to its shallow waters and diverse marine life, Turtle Bay offers an ideal setting to discover the vibrant underwater world.
Apart from its natural charm, Turtle Bay is also renowned for its beachfront accommodations, catering to various budgets and travel preferences. Whether you're seeking a calm and relaxed island getaway or an exhilarating adventure, Turtle Bay has something to offer everyone. If you're in search of a unique vacation experience surrounded by stunning natural beauty, Turtle Bay is the ultimate destination.
Things to do in Koh Tao
Koh Tao is an island packed with adventure and excitement, offering a wide range of activities to suit any traveler's interests. Here are three must-try activities on your next visit to Koh Tao:
Scuba Diving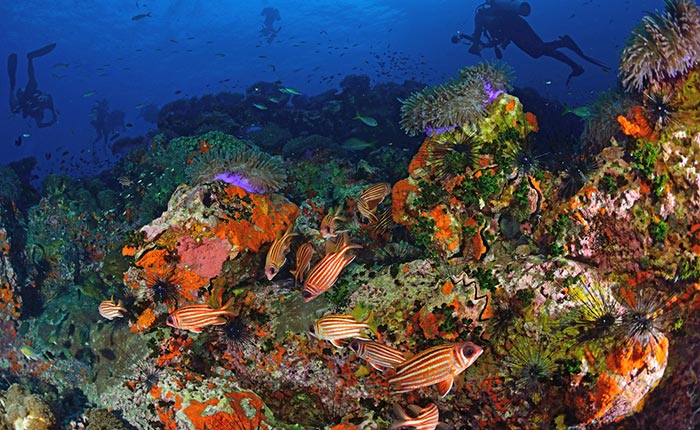 Koh Tao is a must-visit destination for scuba divers, boasting stunning diving spots and an abundance of marine life. From experienced divers to beginners, there are plenty of courses and excursions to suit everyone's skillset. The crystal-clear waters make it a truly mesmerizing experience, with colorful coral and tropical fish creating a vibrant underwater wonderland.
Rock Climbing
Koh Tao is the perfect destination for thrill-seekers looking to indulge in the ultimate rock climbing experience. With a wide array of routes suited to climbers of all levels, from beginner to expert, you'll be challenged and rewarded with stunning views as you ascend the rocks. With experienced instructors on hand at various schools around the island, Koh Tao is the ideal place to hone your skills and reach new heights.
Island-Hopping
Koh Tao is a good starting point for an island-hopping journey and exploring Chumphon Archipelago. Take a boat ride, relax on tranquil beaches, and enjoy lush greenery – discover the beauty of this region and get closer to its culture. Whether traveling alone or with friends, island-hopping from Koh Tao to neighboring islands is an adventure not to be missed.
Getting to Koh Tao
Bangkok to Koh Tao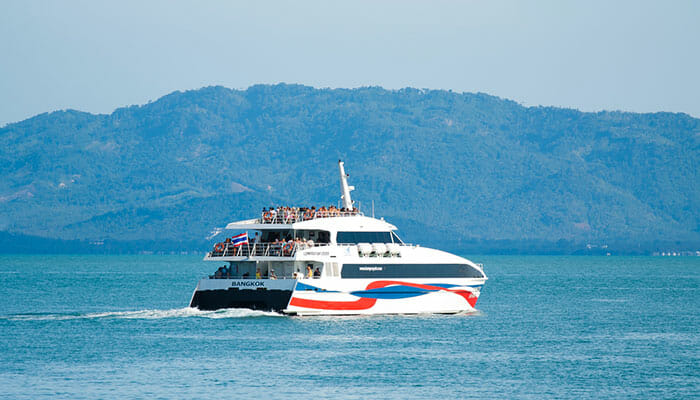 Bangkok to Koh Tao is a 410 km (256 mi) journey from the Thai capital to the small island renowned for its scuba diving. There are several options to get to Koh Tao from Bangkok, including flights, buses, trains, and ferries.
The quickest and most convenient way to travel is by flight to Koh Samui and then taking a ferry to Koh Tao, however, this is also the most expensive option. Another flight option is to Chumphon and then taking a bus to the pier to catch a ferry to Koh Tao. The third option is to fly to Surat Thani and then take a ferry to Koh Tao.
The bus and ferry option is an affordable alternative to flights, but it takes an entire day to complete the journey. There are two private companies, Lomprayah Catamaran and Songsern Express, that offer air-conditioned buses from Khao San Road in Bangkok to Chumphon Pier, which is around 8 hours away. From there, travelers can transfer to a high-speed catamaran or ferry to Koh Tao.
Read more about the different modes of transportation from Bangkok to Koh Tao.
Koh Samui to Koh Tao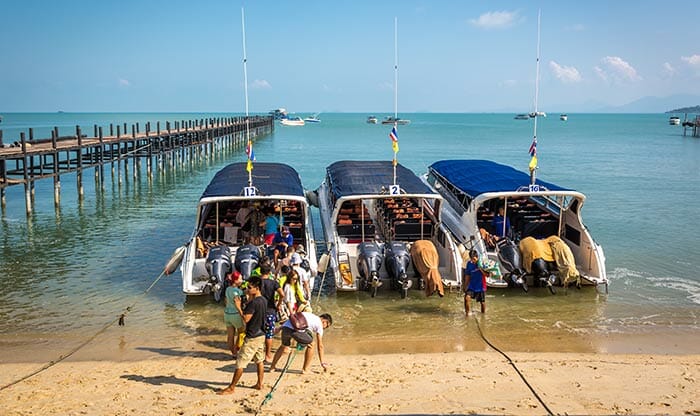 Traveling from Koh Samui to Koh Tao is possible only by ferry or speedboat as Koh Tao is too small to have an airport. The journey takes 1.5 to 2.5 hours and arrives at Mae Haad Pier, the only ferry pier on the island. Ferries are operated by companies such as Lomprayah and Songserm, with multiple departures from various locations on Koh Samui. The main difference between the ferry companies is the type of boats used, with some operating high-speed ferries and others operating standard ferries.
Lomprayah uses a high-speed catamaran ferry with two daily departures from Paralan Pier and two from Na Thon Pier. The journey time is 1.5 hours. Seatran ferry is a bit slower, taking 2 hours, and departs from Bangrak Pier.
Read more about the different ferry options from Koh Samui to Koh Tao.
Chumphon to Koh Tao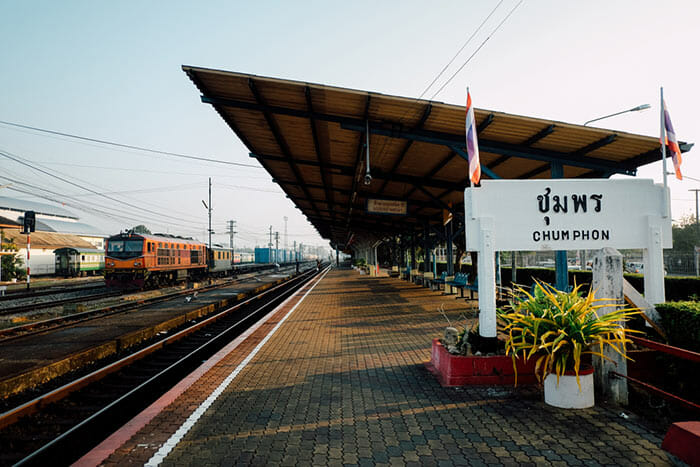 Getting to Koh Tao from Chumphon is possible via boat, with several options available to suit different budgets and schedules.
Traveling from Chumphon town to Koh Tao via minivan and ferry, the total journey time is between 3 to 8 hours depending on the time of departure and type of ferry. The fastest option is taking a minivan and high-speed ferry, which takes around 3 hours, while the slower option is the overnight ferry which takes around 8 hours.
From the Chumphon train station, travel time to Koh Tao is between 3 to 9 hours, again, depending on the type of ferry you choose. If you opt for a high-speed ferry, the journey takes around 3 hours, while the overnight ferry takes around 9 hours.
From Chumphon airport, transfer services take you directly to the ferry, with the total travel time being around 3 hours if you take a high-speed ferry.
In conclusion, there are several options available to get from Chumphon to Koh Tao, including minivan and ferry services, combined tickets from the train station, and transfer services from the airport. You can choose the option that best suits your budget and schedule.
Read more detailed information: Chumphon to Koh Tao – Which Ferry is the Best?
Other Destinations to Koh Tao
Traveling from Koh Tao
Koh Tao to Koh Phangan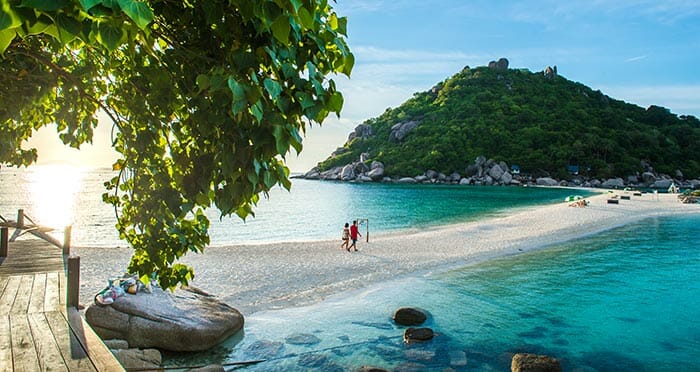 There are three ferry options for travel from Koh Tao to Koh Phangan. These ferries vary in terms of price, speed, comfort, and schedules, so travelers can choose the option that best suits their budget and itinerary.
The cheapest option is Songserm, which operates one ferry per day, departing from Koh Tao at 9:30 am and arriving at 11:30 am. Although this option is slower than the other two, it offers safe, comfortable, and relatively high-speed ferries with washrooms, TV's, and the option to sit inside or on the outer deck.
Lomprayah's High-Speed Catamaran is the fastest option and takes only about 1 hour and 15 minutes to travel from Koh Tao to Koh Phangan. There are several departure times to choose from, with at least two departures per day and sometimes three during high season, with two in the morning and one in the afternoon. It is also spacious with comfortable seats inside and outer decks, as well as a snack service and washrooms on board.
Seatran Discovery is the middle option in terms of price and speed, with a scheduled journey time of 1 hour and 30 minutes. This option offers flexible departure times, with several departures per day, and the ferry is equipped with air-conditioning, comfortable seating, and washrooms.
Read about the ferries available to take you from Koh Tao to Koh Phangan here.
Koh Tao to Phuket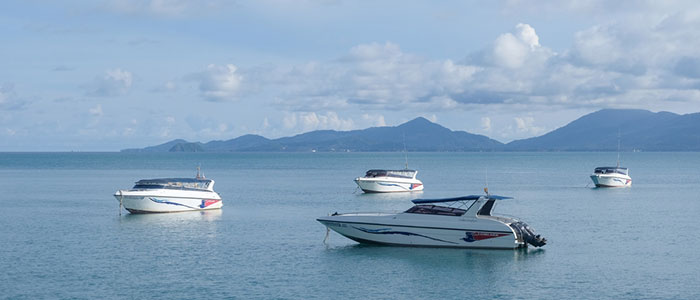 Travel between Koh Tao and Phuket is limited due to Koh Tao being a small island. There are only a few options for travel, which include taking a flight from Koh Tao to Phuket via Koh Samui or traveling by ferry and bus.
The flight from Koh Tao to Phuket via Koh Samui is quick and comfortable, but it will cost considerably more than a bus. Bangkok Airways has three daily departures and is the only airline flying between Koh Samui and Phuket. The ferry part of the journey can be done through either Lomprayah or Marine Passion Speedboat.
Taking the ferry and bus from Koh Tao to Phuket is affordable and the most popular way to travel. Several transport providers offer this as a complete package, with one ticket covering the ferry and bus journey. The journey by ferry and bus is a slower option, but it's a great way to see more of Thailand.
To read the detailed guide, click here
Koh Tao to Koh Phi Phi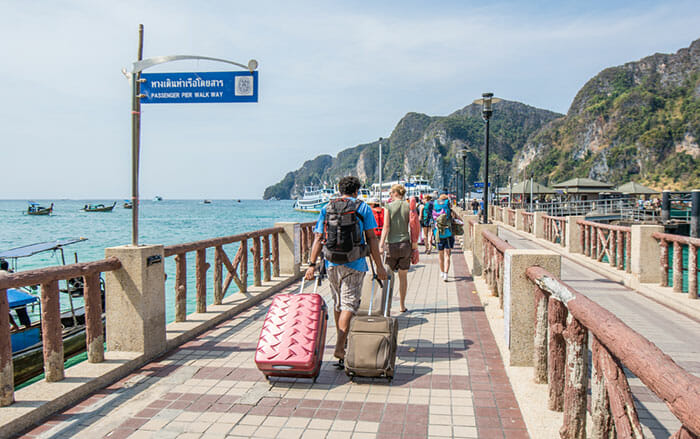 Koh Tao and Koh Phi Phi are two of Thailand's popular islands that offer great diving opportunities and tropical paradise. While Koh Tao is a more relaxed and quieter destination, Koh Phi Phi is famous for its stunning limestone cliffs and gorgeous beaches in sheltered bays.
To travel from Koh Tao to Koh Phi Phi, you can take a ferry and bus which is the most convenient, affordable and popular way to travel between the two islands. The journey takes around 10 hours and can be booked in advance.
There are two major companies offering services between the two islands, Seatran Discovery and Lomprayah, both of which have a good reputation for safety and reliability. Seatran Discovery departs at 6:30 am while Lomprayah departs at 6:00 am.
Click here to learn more about traveling from Koh Tao to Koh Phi Phi.
Did you find this guide useful?
Click on a star to rate it!
Average rating: / 5. Vote count: