When visiting Southeast Asia, there are many cities to explore but two of the best are Bangkok and Yangon. Bangkok, the capital of Thailand, is a city that never sleeps. Its vibrant street life includes markets and food stalls and it's adorned with many incredible temples, parks and palaces. Although a little smaller than Bangkok, Yangon is also a large and bustling city. Formerly known as Rangoon, and serving as the administrative capital of Myanmar up until 2006, Yangon is today the commercial capital of the country. It too is adorned with spectacular pagodas, and its colonial center is beautifully preserved with the largest number of colonial-era buildings in Southeast Asia. Both cities have similarities, but both cities are well deserving of a visit to experience their landmarks and their cultures first-hand.
Read about:
• Bangkok to Yangon by Taxi
• Bangkok to Yangon by Bus
• Bangkok to Yangon by Flight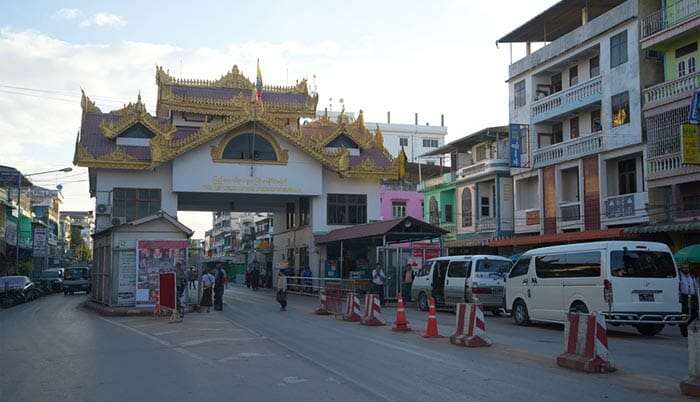 Options for Travel from Bangkok to Yangon
Traveling by land, the shortest road route from Bangkok to Yangon is around 830 kilometers (520 miles), so it is quite a distance between these two cities. While you can get from Bangkok to Yangon by road, you do need to bear in mind that you will be crossing an international border from Thailand into Myanmar (more details on this below), which, while not remarkably difficult, can add time and hassle to your journey. Perhaps a better option is to catch a flight from Bangkok to Yangon. It is certainly much faster than driving, and you can get plane tickets for a very reasonable cost.
Bangkok to Yangon by Taxi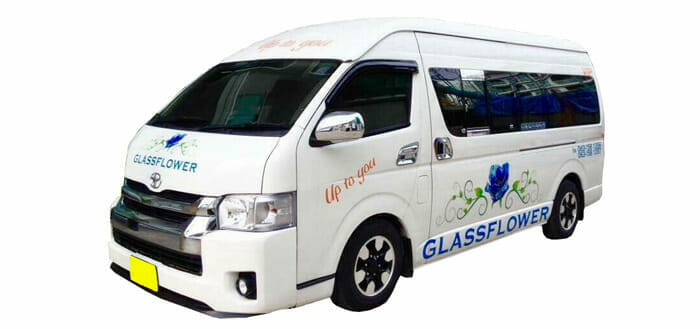 It may sound strange to be considering a taxi for a journey of about 830 kilometers, but it's not actually as insane as it sounds! You can book a private taxi through the travel website, 12Go.asia, traveling with taxi company Glassflower. They offer a 9-passenger van which will pick you up from your hotel in Bangkok and take you all the way to your hotel in Yangon. Convenience-wise, this is easily the best way to travel as you don't have to worry about anything – no transfers to a bus station or airport at either end, just a nice and simple door to door service!
So, what about the cost? Well, it is expensive as you're paying for the entire van, but the point is if you're traveling with family or friends you will split the cost per passenger. If there are nine of you traveling by taxi from Bangkok to Yangon it works out even cheaper than the cost of many airline tickets, so it's actually an affordable option for a group traveling together.
Of course, the main drawback is the time it takes. The scheduled journey time is around 15 hours. This will include a few short stops for using washrooms, getting something to eat, and stretching your legs, and it will take some time to get through the border crossing. As regards crossing the border, please do your research before starting your journey as policies change all the time. You will be responsible for making sure you're allowed entry into Myanmar, and depending on your home country you may be able to get a tourist e-visa in advance.
The great thing about traveling by road is that you will get to see plenty of amazing scenery. Along the way you will pass through several national parks, and when you travel through smaller cities and town you get to catch a glimpse of local life in both Thailand and Myanmar, something that you cannot do from the air!
Bangkok to Yangon by Bus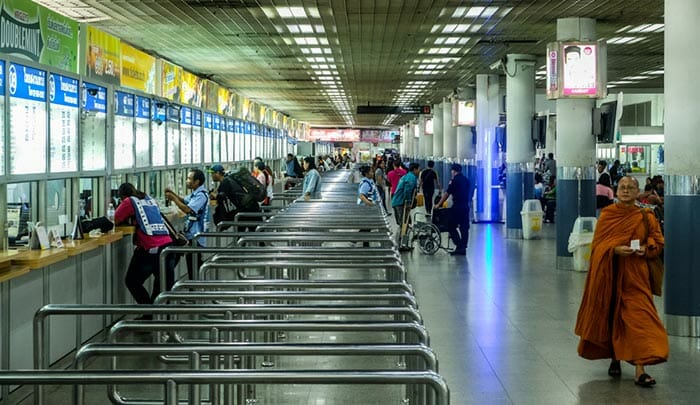 If you like the idea of traveling by road and you're not afraid to be a little more independent with your travel plans, you could also consider traveling from Bangkok to Yangon by bus. This is far less convenient than the direct taxi option, but it is considerably cheaper. You would first have to get to Bangkok's Northern Bus Terminal, at Morchit, then get on a bus to Mae Sot, the border town on the Thai side. VIP buses are your best bet, getting you there as fast as 8 hours but slower standard buses sometimes take as long as 11 hours.
From the bus terminal at Mae Sot, it's about 4 kilometers to the border and you can make that trip by motorbike or tuk-tuk. Once you've crossed the border to the town of Myawaddy you'll have a short walk or drive to the bus station, then onto a bus again. The roads are in better shape than they used to be so this isn't quite as uncomfortable ride as you ay have heard, but still, it takes a very long time – about another 12 hours altogether. Add this to the time it took to get to the border, and you can see this is a very long and arduous journey that's not for the faint-hearted!
Flight from Bangkok to Yangon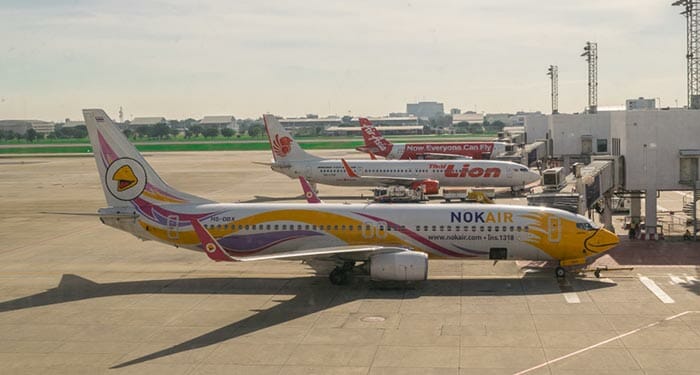 Because traveling by road takes so long, the preferred way to travel from Bangkok to Yangon for many tourists is to fly. There are ample flights each day departing from both of Bangkok's airports, Suvarnabhumi and Don Mueang, and with a number of different airlines to choose from there is good competition between them which always helps to keep the prices lower.
If you're looking for the cheapest options then it would be best to fly out of Don Mueang as the budget-friendly airlines tend to use this airport. Nok Air, Thai Lion Air, and Thai AirAsia offer multiple flights from Bangkok to Yangon each day, with a scheduled flight time of between 45 minutes to 1 hour and 20 minutes.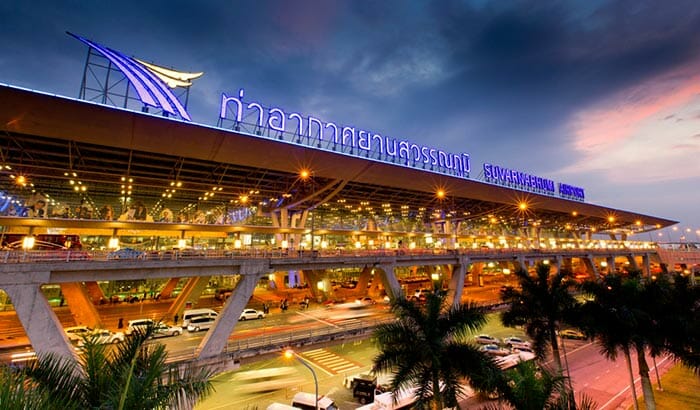 If you want a more comfortable seat on a plane, opt for a flight out of Suvarnabhumi. Not only are their planes a little more spacious, but tickets will include 20kg of baggage allowance – something that the budget airlines do not give you. From Suvarnabhumi you can choose to fly with Thai Smile, Myanmar national Airlines, Bangkok Air, or Thai Airways. Tickets will cost more, but book as far in advance as you can and be flexible with your travel day and time for the bets savings.
Did you find this guide useful?
Click on a star to rate it!
Average rating: / 5. Vote count: