Whether you've been staying in Surat Thani itself, or you're just passing through after visiting some of Thailand's most popular island destinations, you will probably be traveling from Surat Thani to Bangkok next. Surat Thani is the town on mainland Thailand that is used as a jumping-off point to islands like Koh Samui, Koh Tao and Koh Phangan, so thousands of tourists pass through the city every year. This means that one of the most traveled routes in Thailand is Bangkok to Surat Thani and vice versa, as people often return to the capital city after experiencing the Thai beach life. If you're planning a trip back to the capital, here are the different ways you can get there.
Read about:
• Options for Travel from Surat Thani to Bangkok
• Flights from Surat Thani to Bangkok
• Trains from Surat Thani to Bangkok
• Bus from Surat Thani to Bangkok
• Taxi from Surat Thani to Bangkok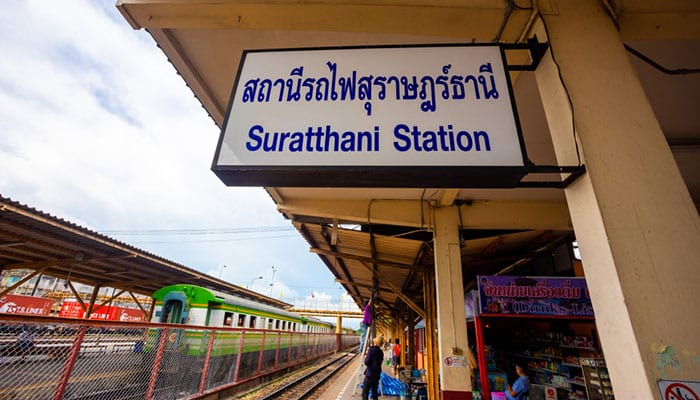 Options for Travel from Surat Thani to Bangkok
By road, Surat Thani lies about 640 kilometers (400 miles) south of Bangkok, right in the heart of Southern Thailand. As a major city for the area, transport links are good to Bangkok and to other towns and resorts in the region, so it's easy to find transportation for an onward journey. With its own international airport, you can catch a flight to Bangkok and many other destinations from Surat Thani. There is also a good railway link with Bangkok as Surat Thani is one of the main stations on the Southern Line, and of course there are road links too if you would like to travel by bus or even by private taxi.
Flights from Surat Thani to Bangkok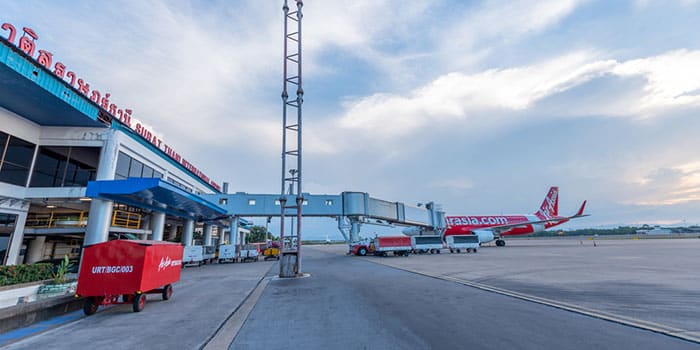 With travel by road and rail usually taking a long time in Thailand, flying can be a great option if you're only visiting for a limited stay and need to make the most of your time. A flight from Surat Thani to Bangkok is by far the quickest way to travel between these cities. The scheduled flight time is around 1 hour and 10 minutes, and with a bunch of different airlines offering this route, competition between them means that tickets are actually more affordable than you might think.
When buying a ticket for a flight from Surat Thani to Bangkok, the first thing you will need to decide on is which Bangkok airport you want to fly to. There are daily flights to both Suvarnabhumi and Don Mueang, so which one of these you choose will probably be dictated by where you are headed once you reach Bangkok. Connections from both airports into the city are very good so if you're going to be staying in Bangkok, maybe choose the airport which is closest to where you will be staying.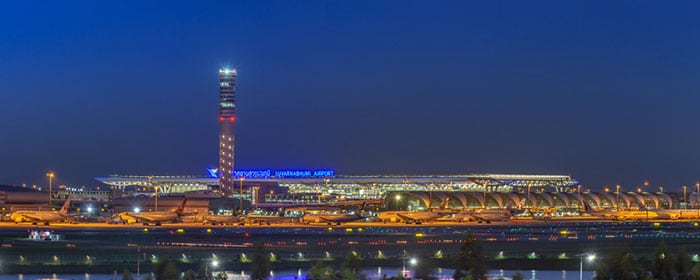 Going to Suvarnabhumi Airport you can fly with Thai Vietjet, Thai Airways and Thai Smile. Each of these three airlines has a couple of flights per day, spread across the day so that there's a good choice of flight times to choose from. And of these three airlines, Thai Vietjet tends to be the cheapest although do check for offers before booking and remember that the earlier you book, the better the price usually is. You can compare all of these airlines, and book your tickets through 12Go.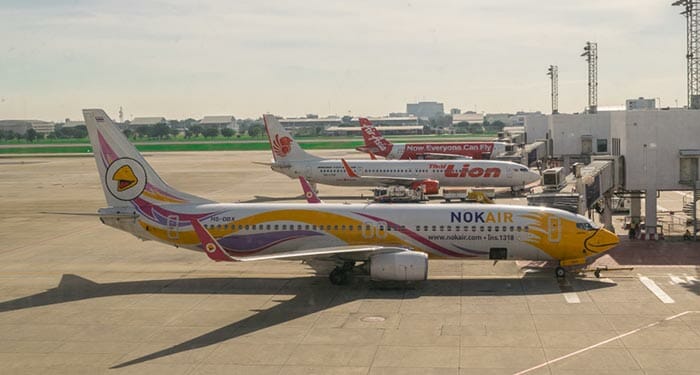 Flights from Surat Thani to Bangkok Don Mueang are available with three different airlines also. These are Thai AirAsia, Nok Air and Thai Lion Air, and are spread across the day. Prices tend to be comparable with flights to Suvarnabhumi, so you won't necessarily be saving any money by flying to Don Mueang.
Trains from Surat Thani to Bangkok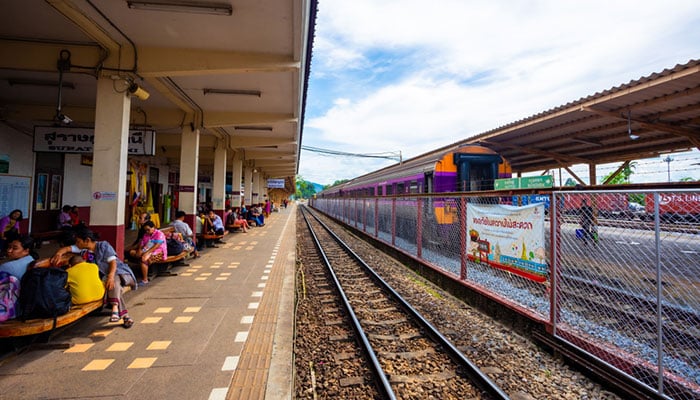 You might expect a train from Surat Thani to Bangkok to be cheaper than a flight, but with some low-cost airlines flying between these two cities, traveling by train is not actually much cheaper. So, you wouldn't take a train to save money and you certainly wouldn't take a train to get to Bangkok faster because the trains are the slowest way to travel! So why would you consider a train at all?
Trains may be slow in Thailand, but if you're traveling around this beautiful country and want to see as much of it as possible, trains allow you to do this. Their slow speed means you can sit and look out the window and, rather than seeing the scenery flashing past, you can enjoy it at a slow pace and really get to see the countryside and the towns in far greater detail than you would on a plane, or in a bus. But, it is a long trip, taking somewhere around 12 to 13 hours.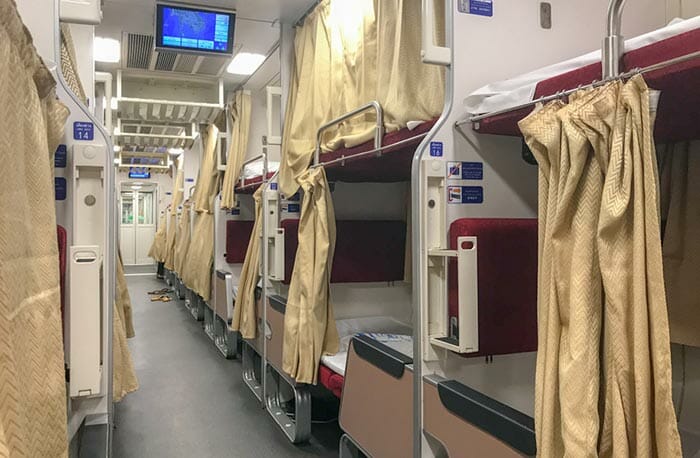 Surat Thani Train Station is one of the main stations along the Southern Line of the State Railway of Thailand, so this means that many trains pass through the city on their way to the far south of Thailand and back north to Bangkok. The only slight inconvenience with catching a train from Surat Thani is that the railway station is not right in the city. It is actually located in a smaller town just 10 kilometers (6 miles) west of the city, called Phunphin. There are public buses and taxis traveling between the city and Phunphin though, so getting to the train station is not a problem.
There are numerous trains from Surat Thani to Bangkok every day, but when booking tickets, you should check the timetable to see what type of train is operating as this can make a big difference to the time the journey takes. There are Rapid Trains, Express Trains and Special Express Trains, and on these trains there will be a few different ticket options too, including 1st Class and 2nd Class Sleepers as well as non-sleeper tickets. Sleeper tickets are more expensive but they give you a lot more space and are air conditioned. Certainly if you're traveling overnight then a sleeper is the way to go, but even consider sleeper seats if you're traveling through the day and want more comfort.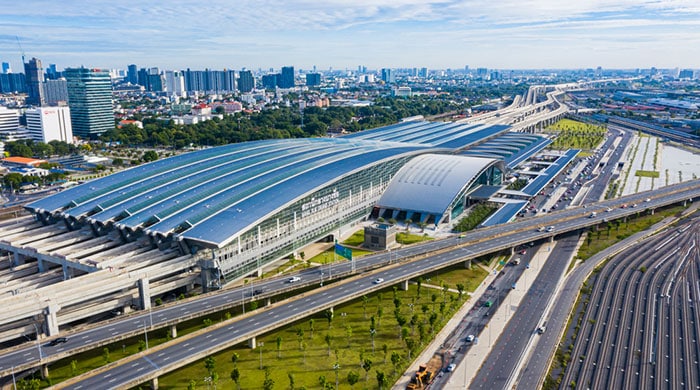 Be aware that sleeper seats get booked up much faster than regular seats, so while you can buy your tickets on the day of travel from the train station, it's best to book them in advance to make sure you get what you want. You can do this online at 12Go.
Trains from Surat Thani to Bangkok arrive at the new Krung Thep Aphiwat Central Terminal in the Chatuchak area of Bangkok. It has connections with the mass transport lines: SRT, MRT, airport links, and bus links. With an elevated walkway to Mochit Bus Terminal and an underground passage to Bang Sue MRT Station it is very accessible to get all over Bangkok.
Bus from Surat Thani to Bangkok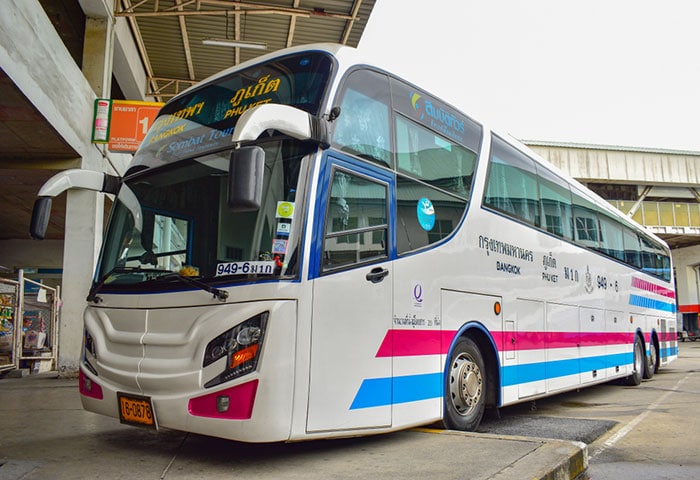 Buses are a popular way to travel because they are cheap, and being affordable means that demand is high so there are always plenty of buses from Surat Thani to Bangkok. When looking at booking tickets for your bus, consider that there are several different bus companies serving this route and of these there are often a few different bus types. Ticket prices increase with better levels of comfort, as you would expect, so if you opted for a more luxurious bus ride you will actually be paying close to the same price as a train ticket. For a more standard bus you can save money though, great if you are traveling around Thailand on a tight budget and want to watch what you're spending.
Most buses from Surat Thani to Bangkok leave in the evening so that they travel overnight. The benefit with this is that it will be cooler overnight, although this usually isn't a problem on the buses as they tend to have their air conditioning cranked up and end up being too cold for many passengers. For this reason, you may want to consider having a blanket or a few sweaters with you, just in case!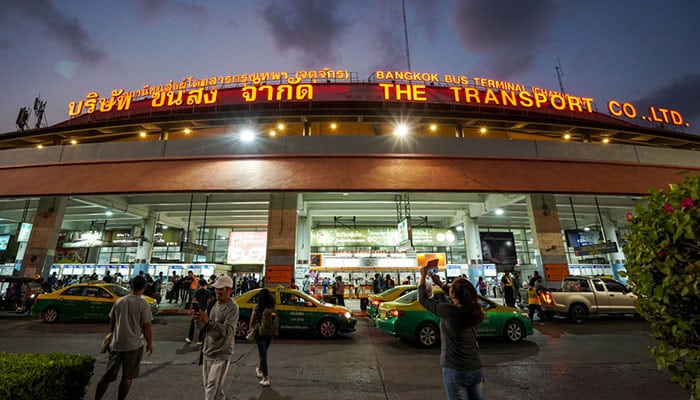 Through travel website, 12Go you can compare tickets, availability and facilities, and book online which saves an extra trip to the bus station. They have tickets available with Bangkok Busline, Montanatip, ChokeAnan Tour, Krungsiam Tour and Sombat Tour. All of these bus companies, except for Montanatip, depart from Surat Thani Bus Terminal, near the edge of town. Montanatip departs from Surat Thani Bus Station 1, which is the original bus station centrally located within the town. The buses have a variety of arrival points in Bangkok too, so do check this when booking as you will find it most convenient to arrive somewhere close to where you're staying in Bangkok. Arrival points include Khao San Road, Ratchadamnoen Avenue, Mochit Bus Terminal and Southern Bus Terminal.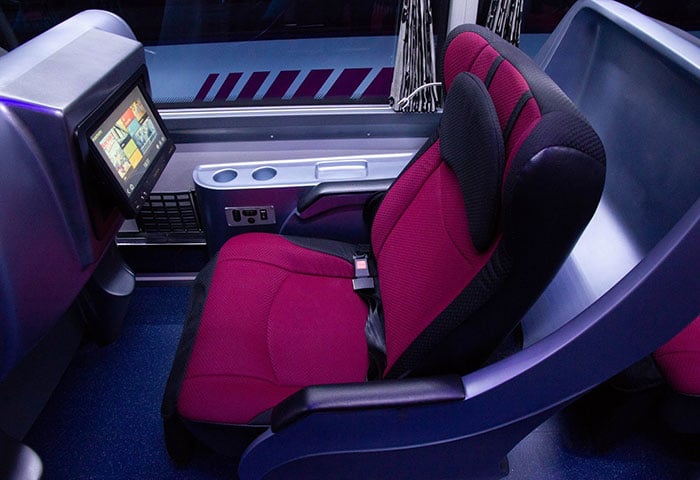 You can book Express, which is similar to a regular bus, or there are VIP options which are more expensive. VIP buses have fewer seats in them which means you get more space and the seats recline a long way, giving you a more comfortable ride and the chance to sleep. Journey time for the buses varies too, depending on where in Bangkok your bus is going, from 9 hours to 11 hours.
Taxi from Surat Thani to Bangkok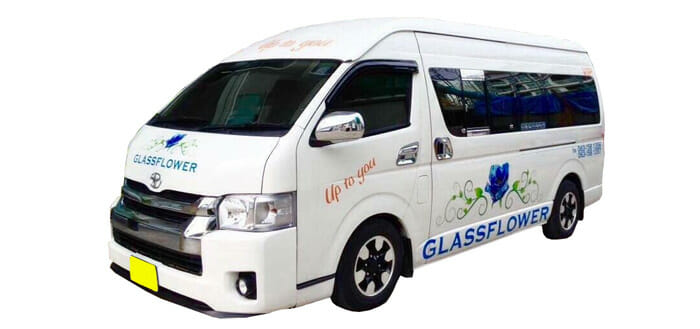 One final way to travel from Surat Thani to Bangkok is by private taxi. Because it is a long way to travel, a private taxi is the most expensive way to get to Bangkok, but it is also a convenient option. It is a long journey by road, with advertised travel times ranging from 8.5 hours to 13 hours, depending on the operator, so if you do travel this way make sure you pick a vehicle that you know you will be comfortable in. There are sedans and 9-passenger vans from Surat Thani to Bangkok, but when you book a vehicle, you are getting the entire vehicle to yourself. 9-passenger vans are the most expensive but can work out the most affordable if you are splitting the cost between yourself and up to 8 other passengers, so these can work out a great solution if you're traveling with your family or you have a group of friends with you.
Booking is available through 12Go with Glassflower, Andaman Taxis and Mr. Toon and there are a few different options when it comes to pick up and drop off. For example, you could take a taxi to Suvarnabhumi or Don Mueang Airports, or opt for a Bangkok transfer service.
So, as you can see, traveling from Surat Thani to Bangkok is easy with so many different transport options to choose from. Aside from the most expensive option, a private taxi (which varies depending on how many people you are traveling with), flights, trains and buses are priced fairly comparably. This means you can compare schedules and decide which one works best for you.
Surat Thani - Bangkok
฿ 722–1,044
8h 20m – 11h 45m
→

2nd Class AC seats only

11:10, 11:25

→

Class 3 AC

19:50, 20:05, 21:10

→

2nd Class Sleeper AC

17:15, 17:25, 18:15, 19:15, 21:40
Did you find this guide useful?
Click on a star to rate it!
Average rating: / 5. Vote count: