You certainly won't be stuck for things to see and do when you visit Bangkok but you should allow at least a day in your busy itinerary to get out of the city and explore some of the close-by attractions. For many travellers the dilemma is whether to take a day trip from Bangkok to the beach or to the impressive Ayutthaya temples, or to any of the other popular destinations for that matter. We take a look at some of the best places you can visit on a day trip from Bangkok.
Ayutthaya and Its Impressive Temples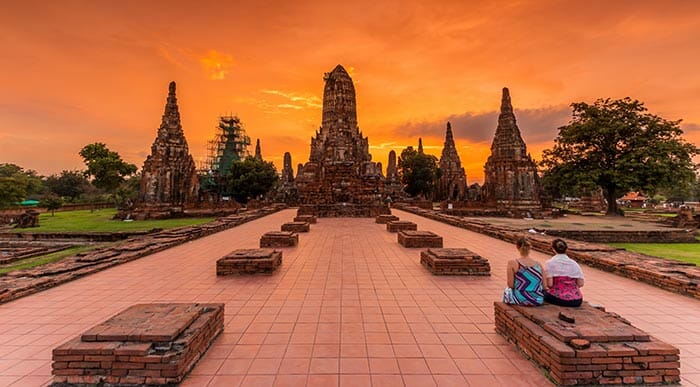 If you've already seen a long list of beautiful temples in Bangkok you may feel templed-out and not want to see any more. The fact is, the temples in the old city of Ayutthaya are really nothing like those in Bangkok and a day trip to this remarkable city is highly recommended.
Only 80 kilometres (50 miles) north of the busy streets of the city centre, Ayutthaya is the perfect distance for a day trip from Bangkok. The city was founded in 1350 by King U Thong who came here to escape a smallpox outbreak, and when he decided to declare it the capital of his kingdom, Ayutthaya became the second capital of Siam. The city really blossomed with estimates putting the population as high as 1 million around the year 1700 which would have made it one of the largest cities in the world at that time. Unfortunately this is all changed in 1767 when the Burmese army destroyed the city.
Luckily for us some of the ruins still stand today and have been preserved as the Ayutthaya historical park, a UNESCO World Heritage Site where you can see impressive remains of temples and monasteries.
Take a day trip from Bangkok and enjoy the remains of this historic city. The atmosphere here is completely different to that of the present-day capital, and wandering around between the ruined temples and monasteries makes for a relaxing day. The characteristic towers, called "prang", are still present on a selection of buildings, the most impressive being Wat Ratchaburana, Wat Chaiwatthanaram, and Wat Yai Chai Mongkhon while Wat Phanan Choeng is not ruined at all so you are able to go inside this Buddhist temple.
There are many tour companies that offer day trips from Bangkok to the temples of Ayutthaya so you shouldn't have any trouble finding a guide to take you. If you arrange your trip through a large tour operator then you'll usually be joining a group of other tourists, travelling to Ayutthaya on a coach. This can be a good way to visit the old city but no doubt you will get more from the experience by hiring a personal tour guide who will arrange transportation and visit the old city with you, providing a wealth of information and answering any questions you might have.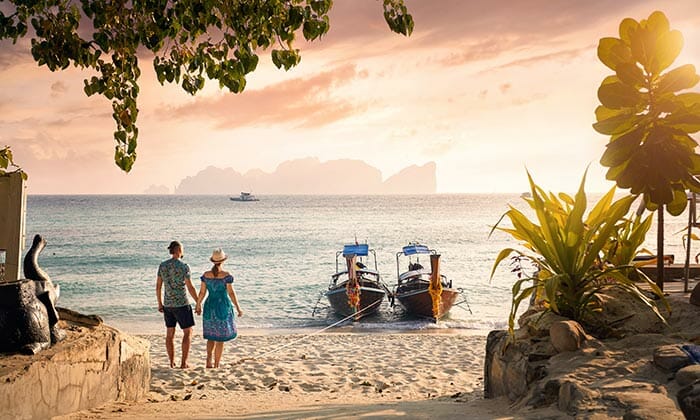 Thailand is renowned for many things and its beaches are one of them. When you've spent several days among the crowds and the noise of Bangkok it's always nice to get away from the city, get some fresh air, and relax for a day, and the beach can be a great place to do this.
If you're looking for one of those beautiful beaches with soft white sand and palm trees – what we think of as the typical Thai beach – you're going to have to spend a few hours travelling from the big city to find it. This means that visiting a beach on a day trip from Bangkok can be a bit of a challenge. You can do it, but in order to actually spend a day on the beach you'd be better off planning to spend a couple of nights there.
So what are the options?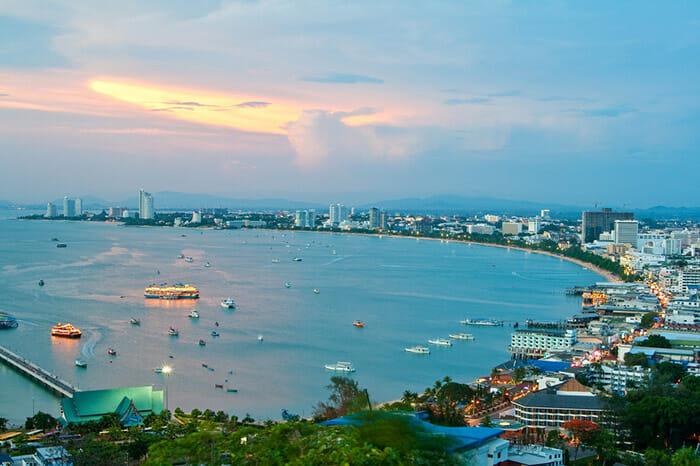 Pattaya is like a smaller version of Bangkok but on the beach. It has the naughty side to tourism thanks to its go-go bars and quite the reputation as being a rambunctious destination. So if you enjoyed the atmosphere of Bangkok's go-go bars and want to replicate this on the beach, Pattaya would be the place to go. The benefit is that this is pretty much the closest beach destination for a day trip from Bangkok so if you were happy to leave Bangkok early morning and return late night, you could do it.
The party-like atmosphere isn't for everyone though – Pattaya is not what you'd think of as a typical beach destination and despite being just a couple of hours from Bangkok this isn't the ideal place to come for a relaxing day on the beach.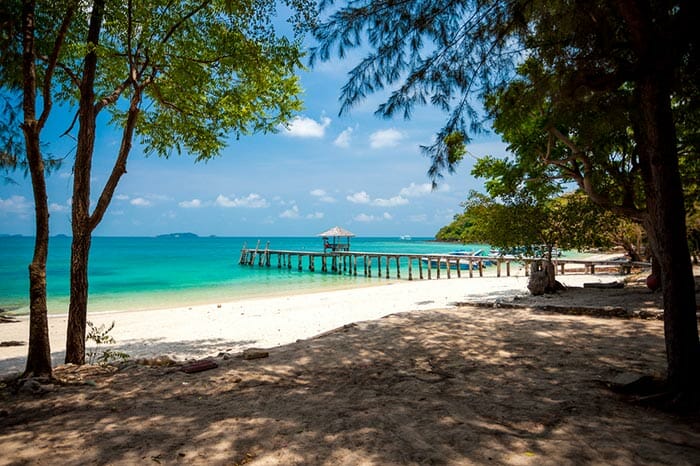 Koh Samet is more like it though. Between 2 and 3 hours from the city the journey is nice by bus, albeit a little slow as they seem to take a number of side roads. Once you reach Rayong it's then a short ferry ride over to the island. Even so, a day trip from Bangkok is possible.
Koh Samet is the closest island to Bangkok that has white sand beaches, and it has long been popular with locals looking to get away from the city for a weekend. Ironically the proximity to Bangkok has not made this into an over-developed destination and it still offers serenity and relaxation plus water-based activities like snorkelling, windsurfing and diving, as well as a nice nightlife. Accommodation options on the island are reasonably priced if you'd like to stay for more than just a day.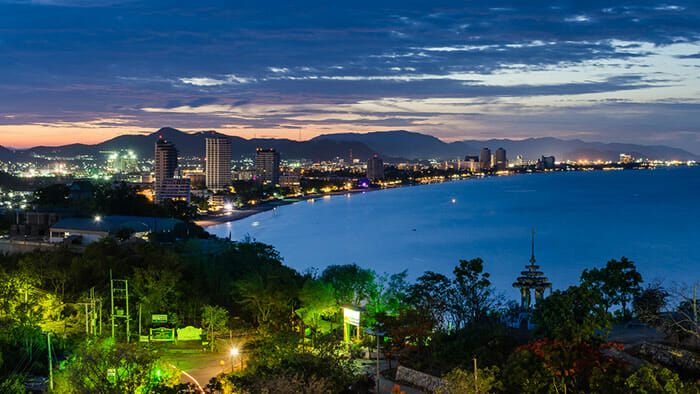 After Pattaya, Hua Hin is the best known beach destination that you can reach on a day trip from Bangkok. Located about 200 kilometres (125 miles) south of Bangkok this coastal resort city is also popular with Thais and has a far more trendy atmosphere than Pattaya. Hua Hin has been attracting fashionable and wealthy Thais since the 1920s and the town has grown rapidly, however, local officials are determined to keep it nice so although there are plenty of hotels and resorts lining the beaches it's not over the top. The beach, by the way, is about 5 kilometres (3 miles) long though not especially wide. Filled with soft white sand you can sunbathe, swim, and snorkel from here.
There are a couple of transportation options for getting to Hua Hin on day trips from Bangkok. The bus takes about 3.5 hours so it's a fairly long drive, or if you rent a car you'll get there quicker. There's also a train but because it has to go so slowly getting out of Bangkok the journey ends up taking around 5 hours.
Hua Hin has many accommodation options if you plan on staying for more than just a day, from the upmarket resort style hotels such as the Hyatt Regency Hua Hin to the affordable guest houses.
Other Day Trips from Bangkok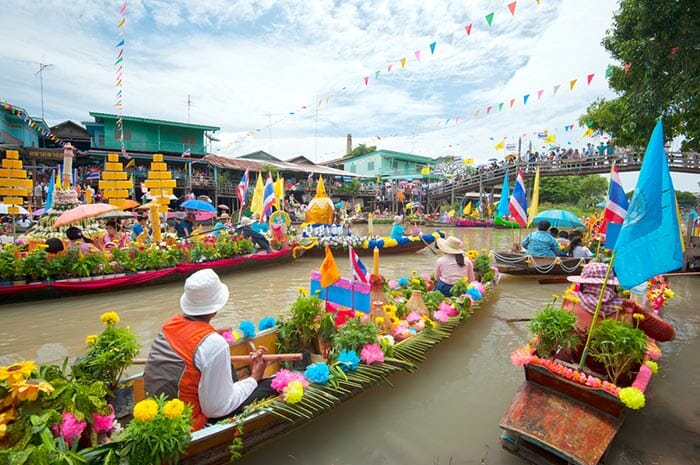 Ayutthaya's temples and Thailand's beaches are not the only places you can visit on day trips from Bangkok. The Floating Markets are a popular excursion out of the city, as are the selection of elephant attractions and tigers that you can visit and interact with, face-to-face, or take a ride on an elephant. Kanchanaburi, the Death Railway and the Bridge on the River Kwai can all be seen in a day trip from Bangkok too.
It all depends on whether you want to spend the day on the beach relaxing after all the sightseeing you've done, or spend a day doing even more sightseeing. The choice is yours!