You certainly won't be stuck for things to see and do when you visit Bangkok, but allow at least a day in your busy itinerary to get out of the city and explore the nearby attractions.
The dilemma is whether to take a day trip from Bangkok to the beach, the impressive Ayutthaya temples, or any other popular destination. We will guide you and look closer at the best places to visit on a day trip from Bangkok.
Read about:
• The Hidden Gem Koh Kret Island
• Visit the Green Lung of Bangkok: Bang Krachao
• A River Cruise on Chao Phraya River
• Get the Waterside Experience in a Floating Market
• Thai Wake Park an Escape From the Hectic City
• Dream World, Bangkok's Themed Amusement Park
• Ayutthaya and Its Impressive Temples
• A Day Trip to the Beach:
• Pattaya, Koh Samet, Hua Hin
The Hidden Gem Koh Kret Island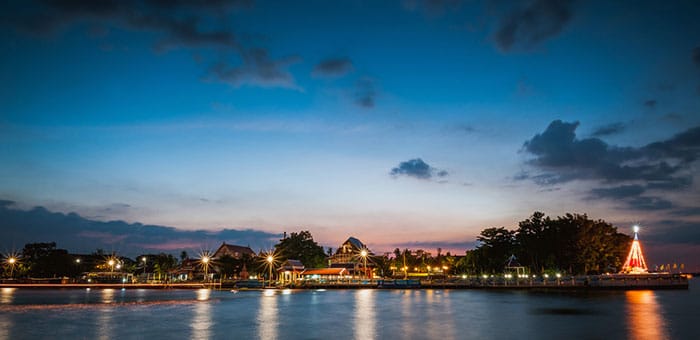 When you think of islands in Thailand, beaches and palm trees are what you envision. Koh Kret Island is different though! This hidden gem is a small island on the Chao Phraya River and lies just north of Bangkok. For tourists, Koh Kret Island is a great cultural attraction, famous for its pottery that is made by the resident Thai-Mon people, and although small, the island has an impressive six temples, the most notable of which is Wat Paramai Yikawat, on the banks of the Chao Phraya River. Come by ferry for a day trip from Bangkok on weekends and holidays and watch pottery being made, buy some finished pieces, sample some of the lesser known Mon foods that you won't find anywhere else in Bangkok, and rent a bicycle if you want to see the island in full.
Visit the Green Lung of Bangkok: Bang Krachao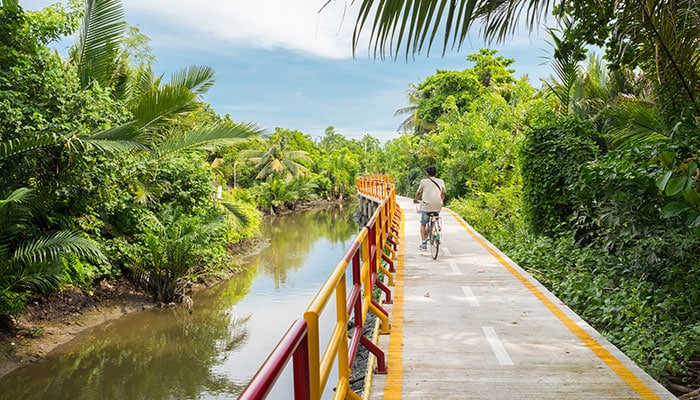 Known as the Green Lung of Bangkok, Bang Krachao is an urban oasis that, although situated just south of Bangkok center and west of Suvarnabhumi Airport, has not yet been discovered by mainstream tourists. This man-made island, formed when a canal was cut, is within a big bend of the Chao Phraya River and is really quite an unexpected sight to see, this close to central Bangkok! The jungle-like interior of this 16 square kilometer island gives visitors a taste of the rainforest without even leaving Bangkok, and is great to explore on foot or by bicycle. If you enjoy visiting specific attractions, Bang Krachao is home to the Bang Nam Phueng Floating Market, set on the water, and as you explore through the mangrove trees you'll also find the Bang Krachao Treehouse and lots of little places for a drink or a bite to eat.
A River Cruise on Chao Phraya River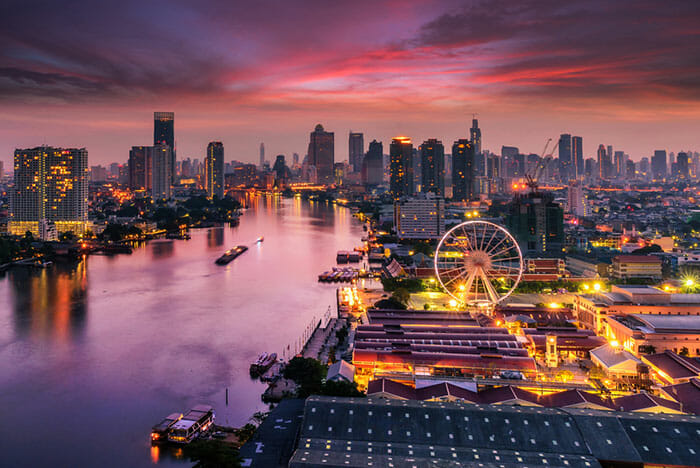 Many of the world's greatest cities were built on the banks of rivers, and here in Bangkok it is the Chao Phraya River that runs right through the heart of the city on its way to the Gulf of Thailand. Providing a scenic backdrop to many of the city's temples and palaces, the river has always been an important part of city life, with ferries darting around to get commuters to and from work, and cruises taking tourists up and down to see the sights. A river cruise is a wonderful way to see the city, or take a longtail boat and tour around some of Bangkok's floating markets. There are dinner cruises too, if you'd like to spend a romantic evening on the water, or head for some of the newer attractions like Asiatique The Riverfront or Yodpiman Riverwalk to get out of the hustle and bustle of the city streets.
Get the Waterside Experience in a Floating Market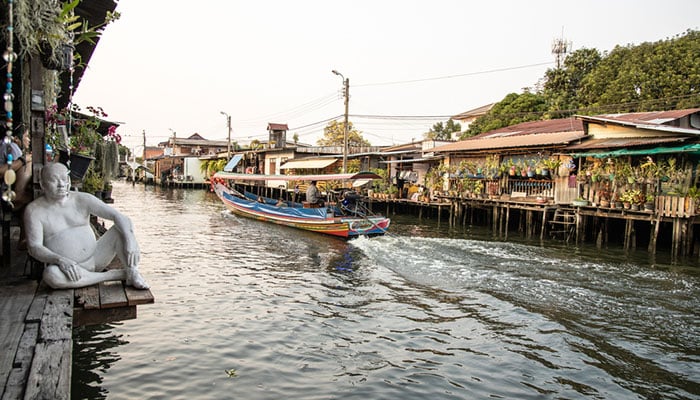 Within the center of Bangkok there are numerous different floating markets along the river and on the many canals that cut through and alongside city streets, so you can usually get to these on foot or join a floating market boat tour. Some of the best markets are outside of the main city, so you can hop on a longtail boat or go by road and enjoy a day trip from Bangkok. Khlong Bang Luang Floating Market is particularly pretty with its old wooden buildings, walkways and Artist's House. And there's Taling Chan, one of the most famous floating markets in Bangkok, which has several other markets close by so you can visit many and make a full day of it. Although not all of the floating markets are actually floating these days, they are set right on the water so you get the waterside experience and the convenience of being able to amble around them on foot!
Thai Wake Park an Escape From the Hectic City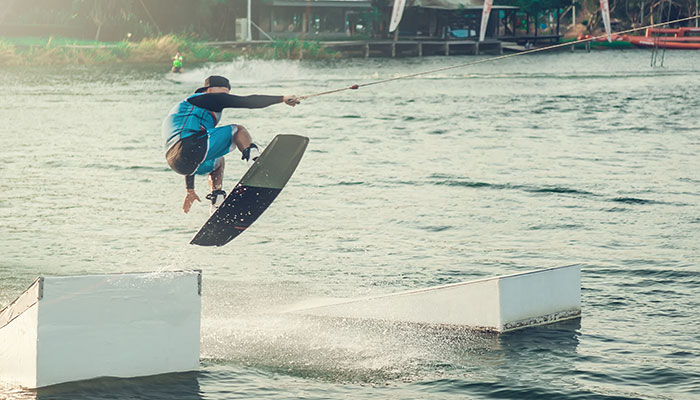 When you need a break from the temples, shopping and sightseeing and want to do something active, take a day trip from Bangkok to the Thai Wake Park. Situated north east of Bangkok, near Don Mueang Airport, the Thai Wake Park is a place where adults and children can come to escape the hectic city, get out on the water and learn wakeboarding or wakeskating. They provide everything you need to get started, including basic training if you've never done this before, and a fun course with boxes, pipes, frames, kickers and rails. And, if you feel that a day isn't enough and want to master your skills on the water, there's even accommodation at the Thai Wake Park, and a restaurant and bar when you need to refuel your energy levels before getting out and hitting the water again!
Dream World, Bangkok's Themed Amusement Park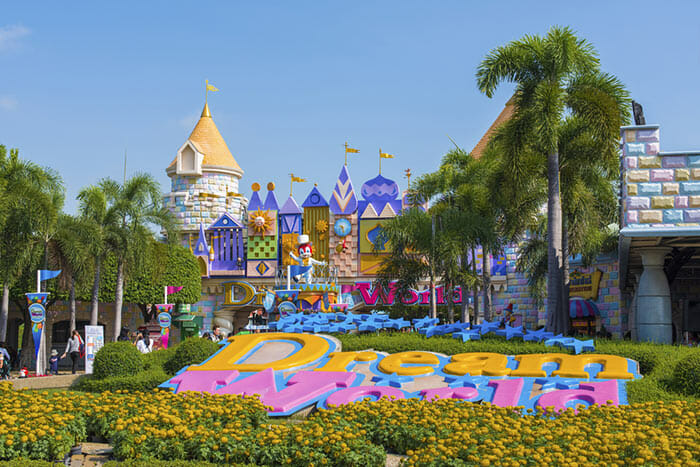 If you're young at heart, or you're visiting Bangkok with kids and want to do something completely different for a day, take a day trip to Dream World, Thailand's answer to a themed amusement park. You'll find it north east of Bangkok, near Don Mueang Airport, and you'll definitely want to set aside a whole day to make the most of Dream World. There are three main roller coasters here, along with many other rides for adults and children (about 40 rides in total), set within four different themed zones of Dream World Plaza, Dream Garden, Fantasy Land and Adventure Land. There are some quite unique attractions like an indoor sledding hill on snow, and a river rafting attraction based around a model of the Grand Canyon. When your tummy needs a rest from the rides, watch one of the shows or a parade.
Ayutthaya and Its Impressive Temples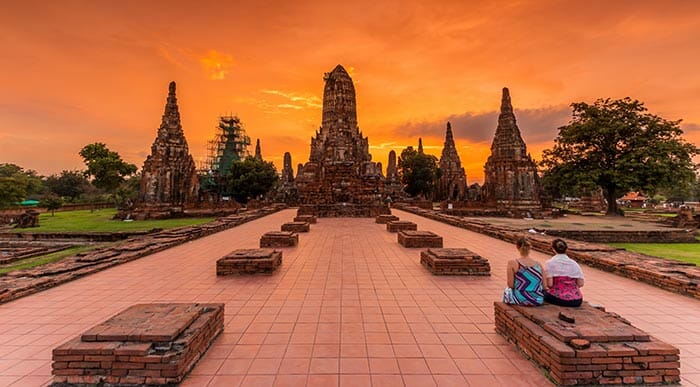 If you've already seen a long list of beautiful temples in Bangkok you may feel templed-out and not want to see any more. The fact is, the temples in the old city of Ayutthaya are really nothing like those in Bangkok and a day trip to this remarkable city is highly recommended.
Only 80 kilometres (50 miles) north of the busy streets of the city centre, Ayutthaya is the perfect distance for a day trip from Bangkok. The city was founded in 1350 by King U Thong who came here to escape a smallpox outbreak, and when he decided to declare it the capital of his kingdom, Ayutthaya became the second capital of Siam. The city really blossomed with estimates putting the population as high as 1 million around the year 1700 which would have made it one of the largest cities in the world at that time. Unfortunately this is all changed in 1767 when the Burmese army destroyed the city.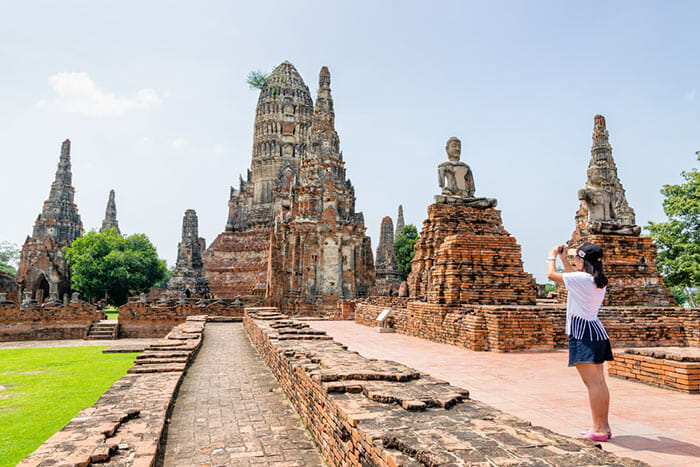 Luckily for us some of the ruins still stand today and have been preserved as the Ayutthaya historical park, a UNESCO World Heritage Site where you can see impressive remains of temples and monasteries.
Take a day trip from Bangkok and enjoy the remains of this historic city. The atmosphere here is completely different to that of the present-day capital, and wandering around between the ruined temples and monasteries makes for a relaxing day. The characteristic towers, called "prang", are still present on a selection of buildings, the most impressive being Wat Ratchaburana, Wat Chaiwatthanaram, and Wat Yai Chai Mongkhon while Wat Phanan Choeng is not ruined at all so you are able to go inside this Buddhist temple.
There are many tour companies that offer day trips from Bangkok to the temples of Ayutthaya so you shouldn't have any trouble finding a guide to take you. If you arrange your trip through a large tour operator then you'll usually be joining a group of other tourists, travelling to Ayutthaya on a coach. This can be a good way to visit the old city but no doubt you will get more from the experience by hiring a personal tour guide who will arrange transportation and visit the old city with you, providing a wealth of information and answering any questions you might have.
A Day Trip to the Beach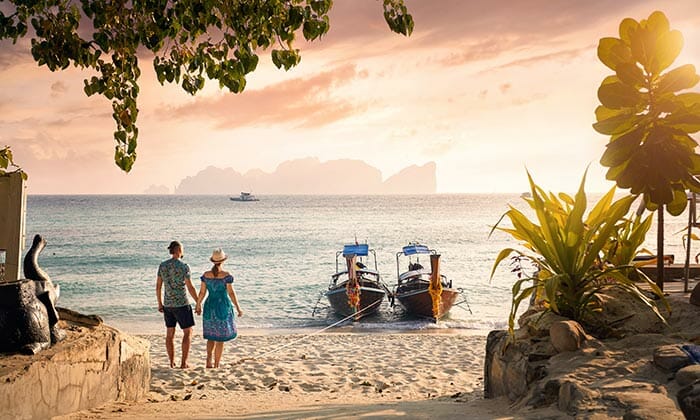 Thailand is renowned for many things and its beaches are one of them. When you've spent several days among the crowds and the noise of Bangkok it's always nice to get away from the city, get some fresh air, and relax for a day, and the beach can be a great place to do this.
If you're looking for one of those beautiful beaches with soft white sand and palm trees – what we think of as the typical Thai beach – you're going to have to spend a few hours travelling from the big city to find it. This means that visiting a beach on a day trip from Bangkok can be a bit of a challenge. You can do it, but in order to actually spend a day on the beach you'd be better off planning to spend a couple of nights there.
So what are the options?
Pattaya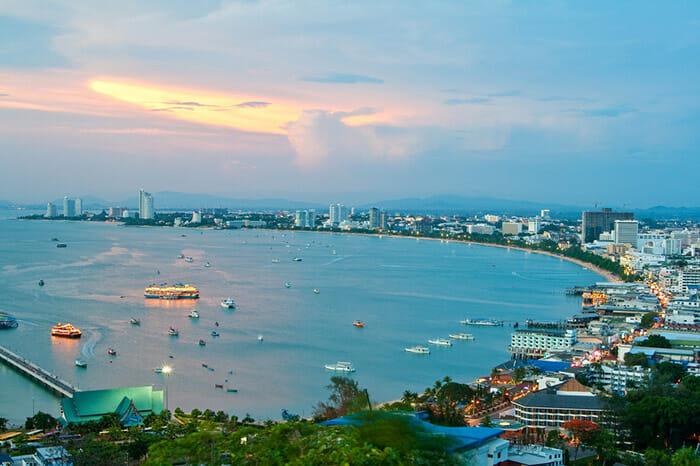 Pattaya is like a smaller version of Bangkok but on the beach. It has the naughty side to tourism thanks to its go-go bars and quite the reputation as being a rambunctious destination. So if you enjoyed the atmosphere of Bangkok's go-go bars and want to replicate this on the beach, Pattaya would be the place to go. The benefit is that this is pretty much the closest beach destination for a day trip from Bangkok so if you were happy to leave Bangkok early morning and return late night, you could do it.
The party-like atmosphere isn't for everyone though – Pattaya is not what you'd think of as a typical beach destination and despite being just a couple of hours from Bangkok this isn't the ideal place to come for a relaxing day on the beach.
Koh Samet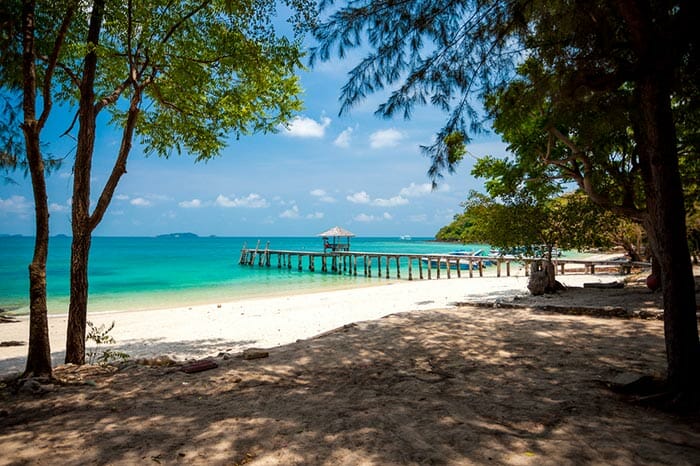 Koh Samet is more like it though. Between 2 and 3 hours from the city the journey is nice by bus, albeit a little slow as they seem to take a number of side roads. Once you reach Rayong it's then a short ferry ride over to the island. Even so, a day trip from Bangkok is possible.
Koh Samet is the closest island to Bangkok that has white sand beaches, and it has long been popular with locals looking to get away from the city for a weekend. Ironically the proximity to Bangkok has not made this into an over-developed destination and it still offers serenity and relaxation plus water-based activities like snorkelling, windsurfing and diving, as well as a nice nightlife. Accommodation options on the island are reasonably priced if you'd like to stay for more than just a day.
Hua Hin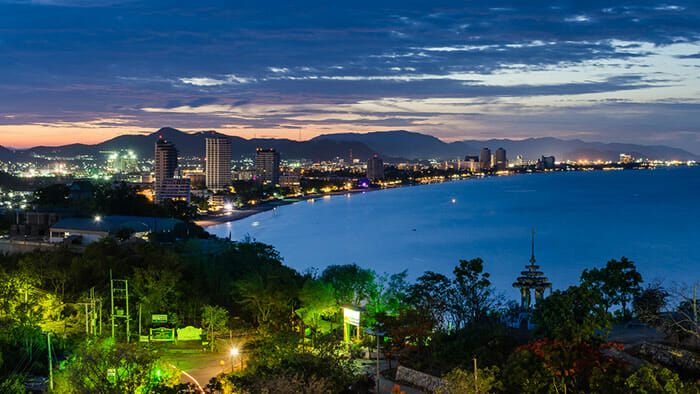 After Pattaya, Hua Hin is the best known beach destination that you can reach on a day trip from Bangkok. Located about 200 kilometres (125 miles) south of Bangkok this coastal resort city is also popular with Thais and has a far more trendy atmosphere than Pattaya. Hua Hin has been attracting fashionable and wealthy Thais since the 1920s and the town has grown rapidly, however, local officials are determined to keep it nice so although there are plenty of hotels and resorts lining the beaches it's not over the top. The beach, by the way, is about 5 kilometres (3 miles) long though not especially wide. Filled with soft white sand you can sunbathe, swim, and snorkel from here.
There are a couple of transportation options for getting to Hua Hin on day trips from Bangkok. The bus takes about 3.5 hours so it's a fairly long drive, or if you rent a car you'll get there quicker. There's also a train but because it has to go so slowly getting out of Bangkok the journey ends up taking around 5 hours.
Hua Hin has many accommodation options if you plan on staying for more than just a day, from the upmarket resort style hotels such as the Hyatt Regency Hua Hin to the affordable guest houses.
Other Day Trips from Bangkok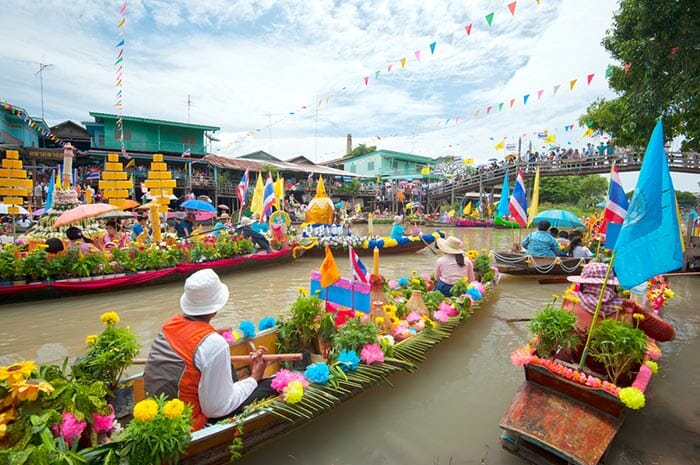 Ayutthaya's temples and Thailand's beaches are not the only places you can visit on day trips from Bangkok. The Floating Markets are a popular excursion out of the city, as are the selection of elephant attractions and tigers that you can visit and interact with, face-to-face, or take a ride on an elephant. Kanchanaburi, the Death Railway and the Bridge on the River Kwai can all be seen in a day trip from Bangkok too. It all depends on whether you want to spend the day on the beach relaxing after all the sightseeing you've done, or spend a day doing even more sightseeing. The choice is yours!