Rayong is not as well known among Thailand's city tourist destinations, but don't let that fool you! Within easy distance of Bangkok, Rayong is a popular place for locals and expats who want to escape the city but don't want the same hustle and bustle of nearby major tourist destinations like Pattaya. Rayong is a little more down to earth, yet still has some amazing beaches and is famous for its seafood, served in its many beachside restaurants and eateries. It offers a more authentic look at Thai life and is also great as a departure point for the nearby island of Koh Samet. If you're staying in Bangkok and are looking for an appealing place to visit for a few days to get away from the big city, traveling from Bangkok to Rayong will hit the mark.
Read about:
• Options for Travel from Bangkok to Rayong
• Bus from Bangkok to Rayong
• Bangkok to Rayong by Van
• Taxi from Bangkok to Rayong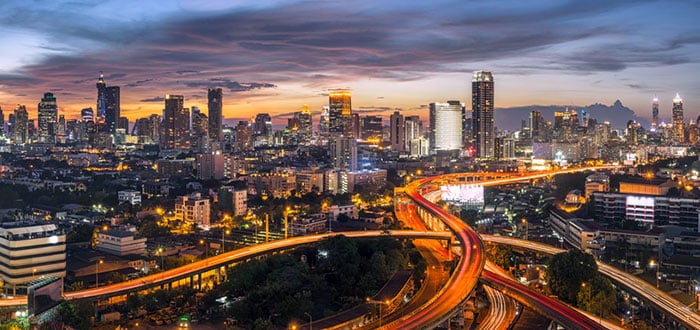 Options for Travel from Bangkok to Rayong
Only 177 kilometers (110 miles) of road separates Bangkok from Rayong, which is why this city is such a popular weekend and short break getaway destination for locals and expats. Traveling by road is the best option as the journey can be made in around 2.5 hours when the traffic is light, and with plenty of buses and vans to choose from, it's a very cheap trip as well. Private taxis could be a good option also, and although flights are given as a way of getting from Bangkok to Rayong, this is not a feasible option for several reasons – first, the distance between Bangkok and Rayong is not enough to warrant a flight; second, because of this there are no direct flights so you would have to fly via Koh Samui, which is pointless due to the time the journey would take; thirdly, if you could save money traveling this way it may be worth considering, but a flight is the most expensive way to travel from Bangkok to Rayong, so we will not be recommending this as a valid option!
Bus from Bangkok to Rayong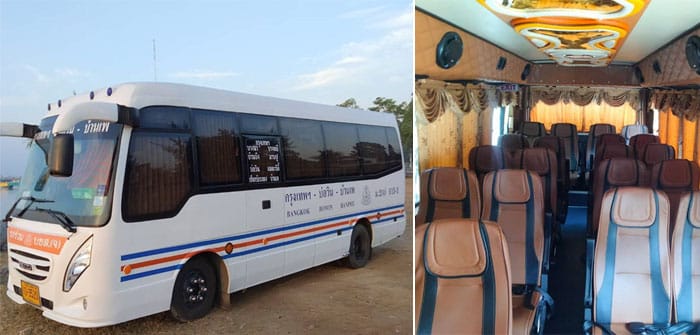 Because traveling from Bangkok to Rayong is so popular, you will never be short of buses or vans to take, and the good news is that this is a very affordable way to travel. There are dozens of buses departing for Rayong every day, starting early morning, right through until the evening. This means it is not essential to book your bus tickets in advance because with buses departing so frequently, you should be able to find a seat unless you're traveling at a very busy time.
There are buses and vans available, but there's not really a distinction between the two as most of the 'buses' are mini-buses, not full-sized ones, while the vans could be smaller 12 or 14-passenger minibuses.
Choice of Departure Points for Bangkok to Rayong Bus Services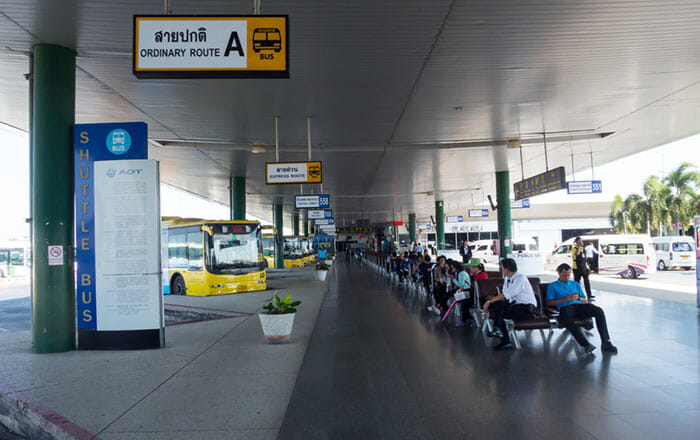 If you do want to travel using a full-sized bus, look for buses operated by the Transport Co Ltd. This company is actually run by the Thai state and is known by several names, including 999 Bus and Government Bus. They have services around the country including buses from Bangkok to Rayong, leaving from either Suvarnabhumi Airport or from one of Bangkok's bus terminals. There are multiple buses from Suvarnabhumi, leaving the airport at 05:40, 08:40, 09:10, 10:40, 13:40, 16:00 and 18:40 and the scheduled travel time is advertised as being 5 hours, so this is not a particularly fast way to travel. The Transport Co also has a bus at 07:30 leaving from Mo Chit Bus Terminal, or at 07:45 leaving from Ekkamai Bus Station.
Bangkok to Rayong by Van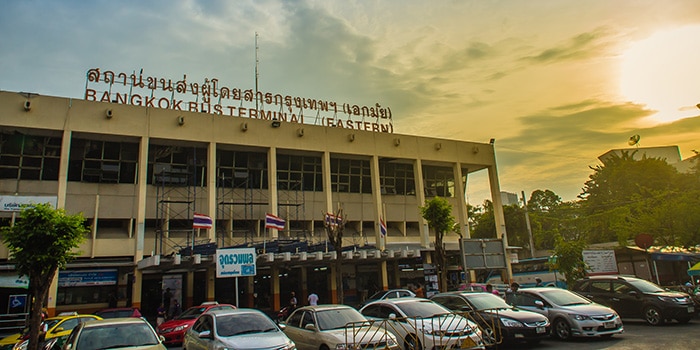 There are many more choices when it comes to traveling by van from Bangkok to Rayong as there are multiple operators traveling this route every day, providing dozens of different departure times. As mentioned above, you should not have a problem finding a van around the time you would like to depart, but if you already know your plans, it never hurts to book in advance anyway, just to be sure you get a seat. This is especially true during busier times when locals are traveling across the country too. Holiday and festival periods can be extremely busy, so booking in advance is always recommended at these times of the year.
Bangkok to Rayong with Rayong Tour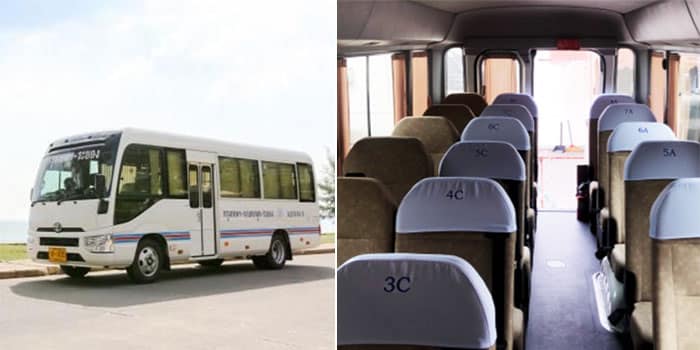 You can book online using travel website, 12Go where you will see many different vans leaving Bangkok for Rayong. One of the top van operators is Rayong Tour. They have 14-passenger vans so they are a little larger than standard vans, giving you a bit more space, but not as large as a standard bus.
Rayong Tour Offers departures from 3 Different Bangkok Bus Terminals
Rayong Tour has so many departures every day, starting at 6am and usually leaving Bangkok every half hour until the last departure at 20:30. There are several different departure points too, so this means you can choose to leave from whichever is the most convenient terminal in Bangkok; Mo Chit Bus Terminal, Ekkamai Bus Station or the Southern Terminal. Mo Chit has the most departures per day, followed by Ekkamai and then the Southern Terminal.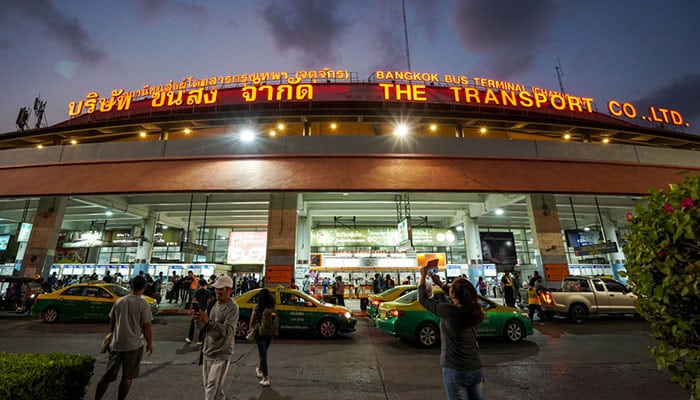 Rayong Tour arrives in Rayong Bus Terminal 2, Rayong Tour Office + 3 other
There are also a few choices when it comes to arrival in Rayong. Take a look at the arrival points on 12Go to see which is best for where you are heading. When you click on a particular journey it will open another page and show a link to the arrival (and departure) point on Google maps, which is a very helpful feature.
Journey times vary with the vans, mainly because of the different departure and arrival points. The drive could be as fast as 2 hours 15 minutes, or as long as 4 hours.
Taxi from Bangkok to Rayong

You can also book private taxis from Bangkok to Rayong at 12Go. Traveling by taxi is the fastest way to get between these two cities but also the most expensive if you are traveling alone. The good thing about a taxi is that you can share it with a few other people and divide the cost between everyone, therefore reducing the per person price. Even with this divided cost, buses will still be the cheapest way to travel from Bangkok to Rayong, but if you're looking for convenience, you cannot beat the private taxis.
There are absolutely loads of different taxi rides available to book through 12Go. Look at the different departure and arrival options first to see which one suits you best. You could choose a Bangkok hotel pickup, an airport pickup (either Don Mueang or Suvarnabhumi) or a Bangkok transfer, while arrival points include U-Tapao Airport, Ban Phe (for the pier and ferries to Koh Samet), Ban Chang, and hotels in Rayong, so you can essentially be dropped off to any of the major places in Rayong.
Choice Between Most Convenient or Cheapest Car Option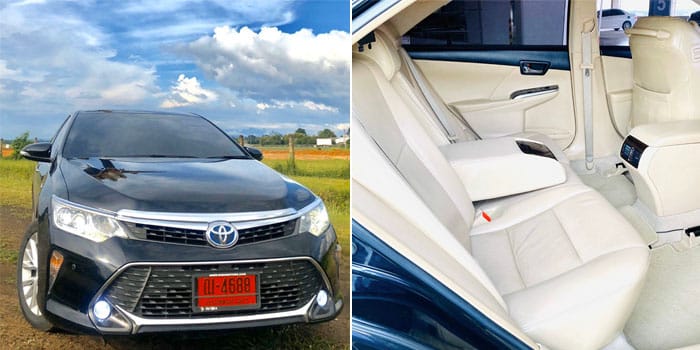 Next you need to decide what kind of vehicle you prefer. This will probably depend upon how many people you are traveling with. Economy cars are the cheapest type of taxis usually, suitable for 2 to 3 passengers. Next up is Comfort – a little more space and little more comfort equals a slightly higher price. Not all companies offer the same types of taxi from Bangkok to Rayong, but some other examples include an SUV for 4 passengers, or a 9-passenger van, and the 9-passenger van will usually offer the best value for money when the overall cost (which doesn't vary whether you have one passenger or nine) is split between everyone.
So, with buses, vans and private taxis all readily available to take you from Bangkok to Rayong, you should easily be able to find a mode of transport to suit your schedule and your budget.
Bangkok to Rayong Bus price ?
Ticket Prices from Bangkok starts at around 250 THB and can be booked online.
How much is a taxi from Bangkok to Rayong?
Taxi prices from Bangkok to Rayong starts at around 1900 THB and can be booked online.
What is the driving distance from Bangkok to Rayong?
Only 177 kilometers (110 miles) of road separates Bangkok from Rayong, which is why Mueang Rayong District is such a popular choice for visitors on a weekend and short break getaway destination.
Did you find this guide useful?
Click on a star to rate it!
Average rating: / 5. Vote count: