Hoi An is a hidden treasure on Vietnam's middle coast! This picturesque town is a must-see, and I'll tell you why. Stepping into Hoi An Ancient Town is like entering a time capsule, with its beautifully preserved architecture and charming streets adorned with colorful lanterns. Speaking of which, you won't want to miss the enchanting Lantern Festival, where hundreds of glowing lanterns are set adrift on the Thu Bon River, creating a magical atmosphere.
Hoi An's culinary scene is another highlight, boasting tasty Vietnamese cuisine that's sure to excite your taste buds. From street food tours to local markets, there's a feast for the senses waiting around every corner. And if you're keen on learning the art of Vietnamese cooking, numerous cooking classes are available to help you master those delectable dishes.
But there's more! The town is famed for its tailor-made clothing, with skilled artisans ready to craft bespoke garments just for you. Hoi An is also home to the iconic Japanese Covered Bridge, a historical symbol of the town's rich heritage. For a change of scenery, head to the pristine An Bang Beach, perfect for soaking up the sun and taking a dip in the turquoise waters.
History buffs won't be disappointed either, as the nearby My Son Sanctuary offers a fascinating glimpse into the ancient Champa civilization. And for a touch of local craftsmanship, traditional pottery workshops provide an immersive, hands-on experience. Trust me, Hoi An is a destination that'll leave you with memories to cherish for a lifetime!
Famous Places
Hoi An Ancient Town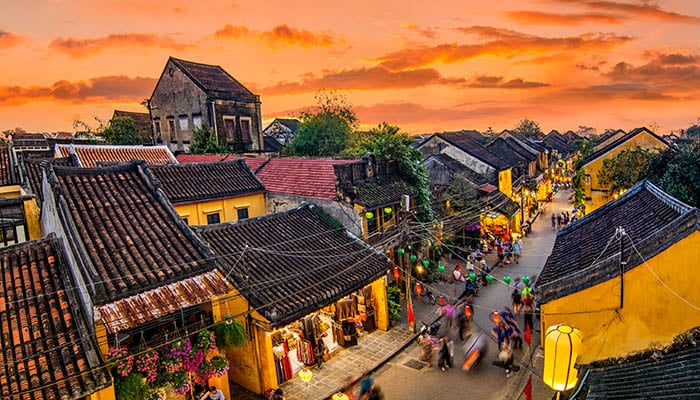 Hoi An Ancient Town is the beating heart of this charming destination, showcasing its rich history and vibrant culture. As you wander through the narrow streets, you'll be greeted by stunning architecture that reflects the town's diverse influences, from Chinese to French colonial styles. Be sure to visit during the evening, when the streets come alive with glowing lanterns, adding a touch of magic to the atmosphere.
The Ancient Town is also a hub for experiencing Hoi An's bustling local markets, where you can indulge in mouthwatering Vietnamese cuisine and shop for unique souvenirs. Don't forget to join a street food tour to savor authentic local dishes while learning about the town's culinary traditions. It's a feast for both sight and taste!
The Japanese Covered Bridge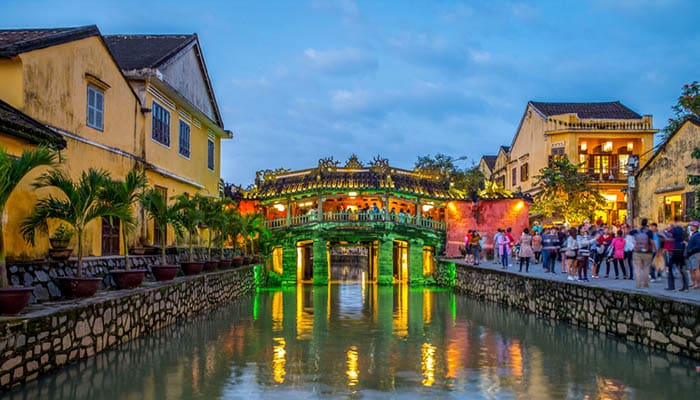 An iconic symbol of Hoi An, the Japanese Covered Bridge stands as a testament to the town's vibrant history and multicultural heritage. Constructed in the 16th century by Japanese merchants, this charming bridge connects the Chinese and Japanese quarters, reflecting the harmonious blending of these two cultures. The intricate carvings and ornate details are a sight to behold, making it a must-visit landmark.
As you stroll across the bridge, take a moment to appreciate its architectural beauty, and don't miss the small shrine within, dedicated to the Taoist god of weather. A visit to the Japanese Covered Bridge is a chance to immerse yourself in Hoi An's fascinating past and experience the town's unique charm.
An Bang Beach
Just a stone's throw away from the bustling streets of Hoi An lies the idyllic paradise of An Bang Beach. Here, golden sands stretch along the crystal-clear waters as palm trees sway gently in the breeze, creating an oasis of tranquil beauty. Enjoy some relaxation by lounging on the beach with a good book or take a refreshing dip in the inviting sea; either way, An Bang provides an escape from daily life into a world of peace and serenity.
For dinner, indulge in some of Vietnam's freshest seafood offerings at one of many beachside restaurants. As night falls and lights come up, enjoy sipping on a tropical cocktail as you dance your worries away to a laidback yet festive atmosphere. An Bang Beach is the perfect place to unwind and enjoy a memorable holiday experience.
Things to do
Cooking Classes
Hoi An's mouthwatering cuisine is a major draw for visitors, and what better way to immerse yourself in the local food culture than by learning how to prepare these delectable dishes yourself? Enroll in a cooking class and discover the secrets behind the town's most famous recipes, from fragrant bowls of pho to flavorful banh xeo pancakes. Many classes also include a trip to the local market, where you can handpick the freshest ingredients and learn about Vietnam's diverse array of herbs and spices.
Cycling Tours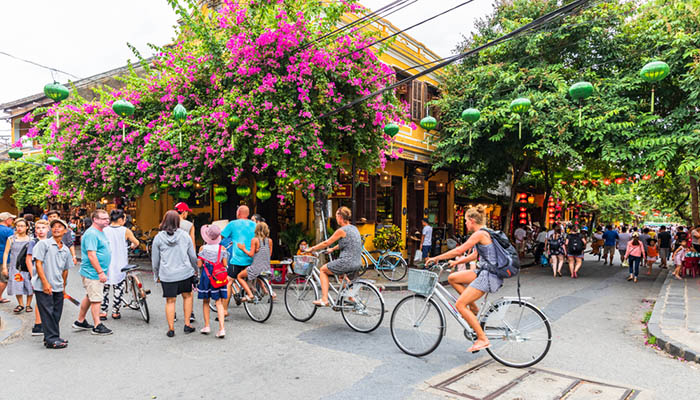 Cycling is the ideal way to explore the picturesque countryside of Hoi An and experience its authentic charm. Pedal through lush rice paddies, quaint villages, and serene waterways as you get some exercise, meet local farmers and artisans, and gain an insight into traditional practices. A cycling tour in Hoi An is a fun and rewarding experience not to be missed. So grab your bike and discover all this unique region has to offer!
Traditional Pottery Workshops
Hoi An is home to a rich tradition of pottery making, and taking part in a hands-on workshop is a fantastic way to experience this ancient craft. Learn the art of shaping clay and applying intricate glazes under the guidance of skilled local potters. You'll have the chance to create your own unique pottery piece, which can serve as a wonderful keepsake of your time in Hoi An. Plus, you'll gain a deeper appreciation for the town's vibrant artisan culture and the dedication required to master this beautiful craft.
Riverboat Cruises
Exploring Hoi An from the water offers a unique perspective on this charming town, and a leisurely riverboat cruise on the Thu Bon River is a delightful way to spend an afternoon or evening. Glide past the colorful lanterns of the Ancient Town, and admire the stunning architecture that lines the riverbanks. Some cruises even include a traditional music performance or a lantern-making workshop, adding an extra touch of cultural immersion to your journey. As you watch the sun set over Hoi An, you'll no doubt be captivated by the town's enchanting beauty.
Traveling to Hoi An
Da Nang to Hoi An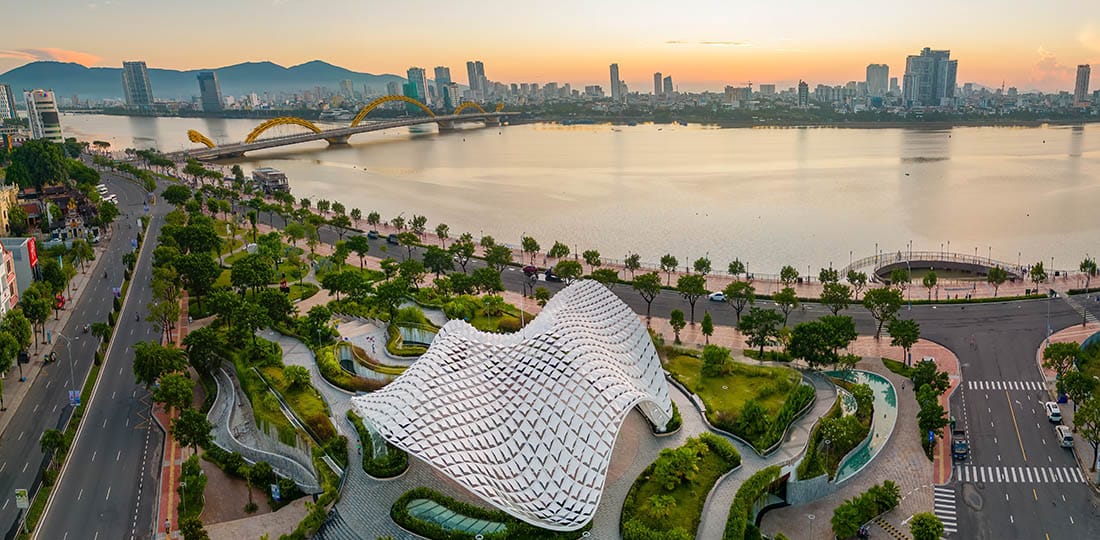 The journey from Da Nang to Hoi An is a quick and easy one, with the two cities being only around 30 kilometers (19 miles) apart. There are several transportation options available, including public buses, tour company buses, private or shared taxis, and even direct transfers from Da Nang Airport to Hoi An.
Public buses are the cheapest option and offer a cultural experience, with frequent departures from Da Nang to Hoi An. The journey takes around 70 to 80 minutes. For a slightly higher price, you can opt for a tour company bus like The Sinh Tourist Bus, which offers air conditioning and comfier seats, taking around 90 minutes to reach Hoi An.
For those who prefer a more luxurious travel experience, private or shared taxis can be arranged from Da Nang Airport or the city center. Companies like Dichung Taxi and Tiim Charter offer pick-ups from various locations and provide a range of vehicle types. The journey time is typically about an hour, although it can vary depending on pick-ups and the starting point in Da Nang. Another option for those arriving at Da Nang Airport is the Hoi An Express, which offers shared minivans for a safe and affordable transfer to Hoi An.
Hue to Hoi An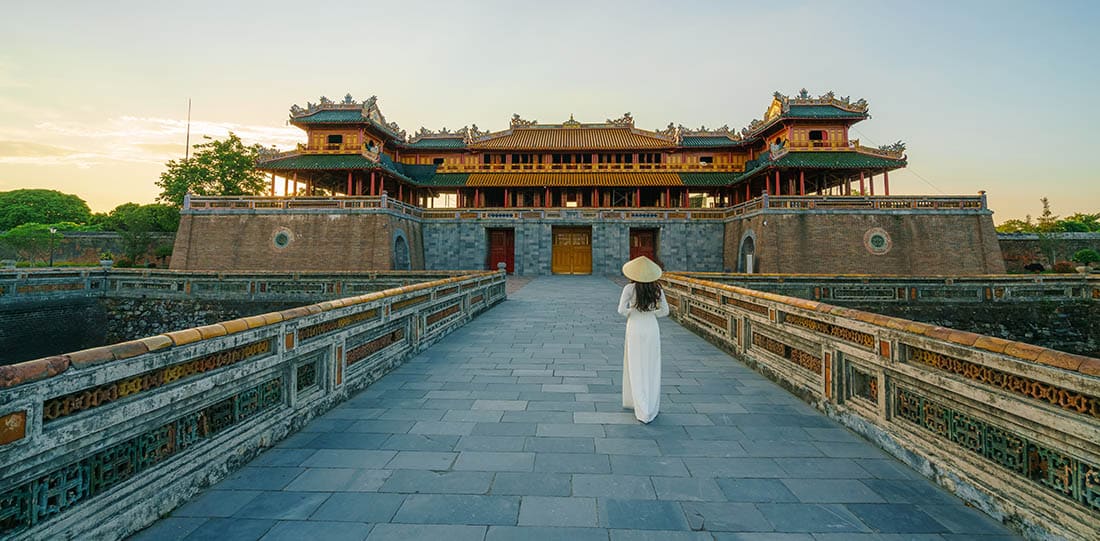 Traveling from Hue to Hoi An offers a scenic and culturally enriching experience. The two cities, both boasting UNESCO World Heritage Sites, are separated by approximately 122 kilometers (76 miles) of road, with various transportation options available to suit different preferences and budgets.
For those who prefer a combination of train and bus, the journey offers a unique perspective of Vietnam's landscapes, with beautiful coastal scenery along the way. This option, however, can be time-consuming, taking up to 4.5 hours between the train and bus rides. Alternatively, you can choose to travel by bus the entire way, which is the cheapest option and takes around 4-5 hours. Some buses even offer a scenic route over the Hai Van Pass, allowing for photo opportunities and stops at various locations. For a more personalized and flexible journey, a private taxi service can be booked, taking between 2 and 3 hours to travel between the cities. This option is more expensive but offers the freedom to choose your route and stops along the way. Read more about Hue to Hoi An transportation options here.
Hanoi to Hoi An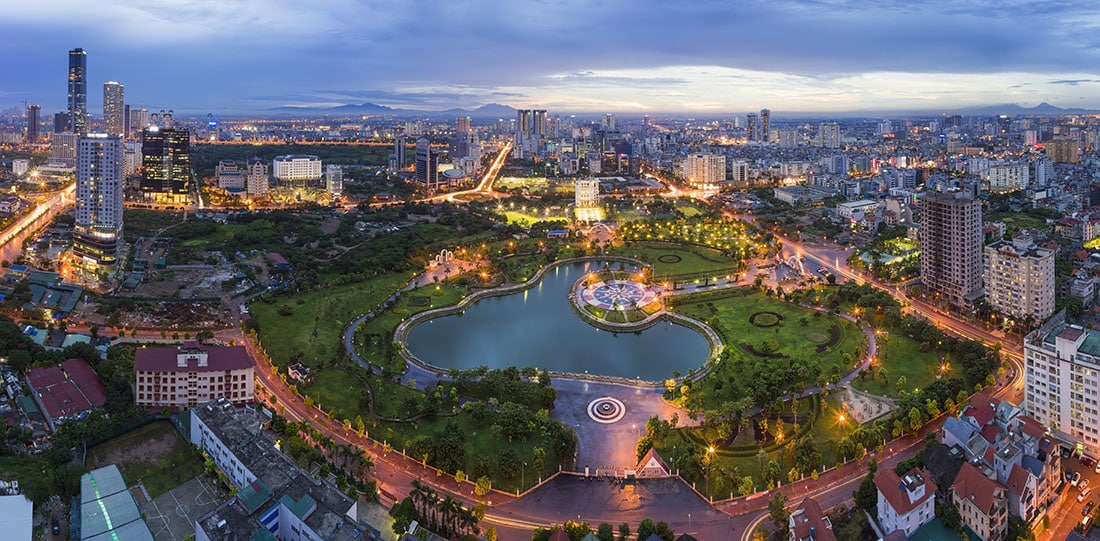 From Hanoi to Hoi An, there are various transportation options available to suit different preferences and budgets. For those wanting the quickest journey, taking a flight is the ideal choice, with a flight time of around 1 hour and 20 minutes (plus transfer time from Da Nang International Airport). Vietnam Airlines, Jetstar Pacific, and VietJet Air are the main airlines serving this route.
Alternatively, you can take the bus for a more budget-friendly option; however this may take up to 19.5 hours. Taking the train is another option – while it doesn't go directly to Hoi An, it offers more comfort than buses and takes approximately 15 hours. Once in Da Nang, you can then transfer to Hoi An via bus or another form of transportation. For more information on how to make this journey in the most enjoyable and convenient way, click here.
Ho Chi Minh to Hoi An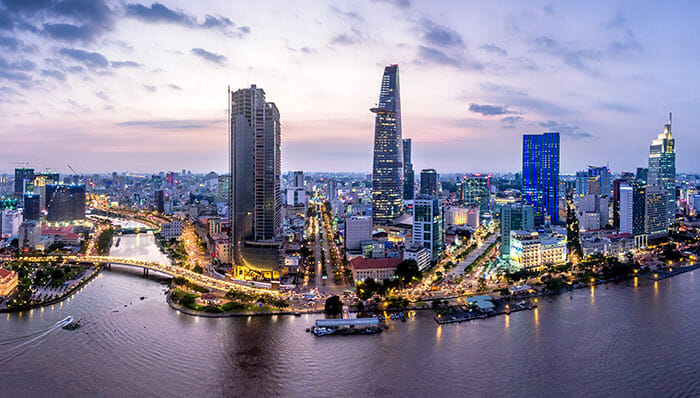 Traveling from the bustling city of Ho Chi Minh to the laid-back atmosphere of Hoi An offers a range of transportation options to suit different preferences and budgets. Ho Chi Minh to Hoi An highlights three main options: flying, taking the train, and traveling by bus.
Flying is the fastest option and can be surprisingly affordable when choosing budget airlines like VietJet Air or Jetstar Pacific. However, note that flights will land in Da Nang Airport, about 30 kilometers (19 miles) north of Hoi An, so an additional transfer is necessary. For those who prefer a slower pace and want to enjoy the scenery, the train is a great choice. Vietnam Railways offers various classes and you'll get to experience the local culture, but the train also arrives in Da Nang, requiring a transfer to Hoi An. Lastly, taking the bus is the least recommended option due to the long journey and cramped conditions, but it can be a cost-effective choice for budget-conscious travelers.
Read more about the different options in our guide: Ho Chi Minh to Hoi An – Go by Flight, Train or Bus?
Dalat to Hoi An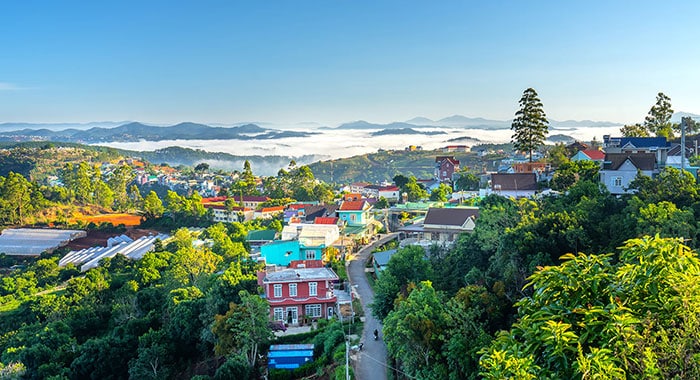 Dalat, the capital of Lam Dong Province in Vietnam, is known for its temperate climate, picturesque landscapes, and French-inspired architecture. If you're planning to visit the coastal city of Hoi An from Dalat, there are a few travel options to consider: flight, bus, or a combination of bus and train.
Flying from Dalat to Hoi An is the fastest method, but it can be more expensive due to the limited service on this route. Vietnam Airlines is currently the only airline offering direct flights, with one service per day. The flight takes about an hour, and both departure and arrival airports are approximately 30 kilometers away from the respective city centers.
Alternatively, taking a bus from Dalat to Hoi An can save you money. However, there is only one bus company, Hanh Café, offering a direct service, which means limited availability. The bus journey takes about 15 hours, departing at 1 pm and arriving at 4 am the following day.
For those seeking adventure, you can combine bus and train travel, starting with a bus from Dalat to Nha Trang, followed by a train to Da Nang, and finally a bus to Hoi An. This option is not necessarily faster or cheaper, but it offers a unique experience for travelers with time to spare.
Read more about the different options in our guide: Dalat to Hoi An – Go by Flight, Bus or Train?
Traveling from Hoi An
Once you've fully immersed yourself in Hoi An's wonders, it's time to embark on a new exploration into Vietnam's varied landscapes and rich cultural heritage. Think of the transportation choices and routes that most appeal to your interests and preferences as you set out on this journey. Prepare for breathtaking views, vibrant local markets, and intriguing historical sites. Don't miss the opportunity to interact with locals, sample regional delicacies, and create memories that will leave a lasting impression of your travel experience. With so many untold treasures all over Vietnam, no matter where your adventure takes you, a new discovery awaits! Get ready to explore!
Hoi An to Ninh Binh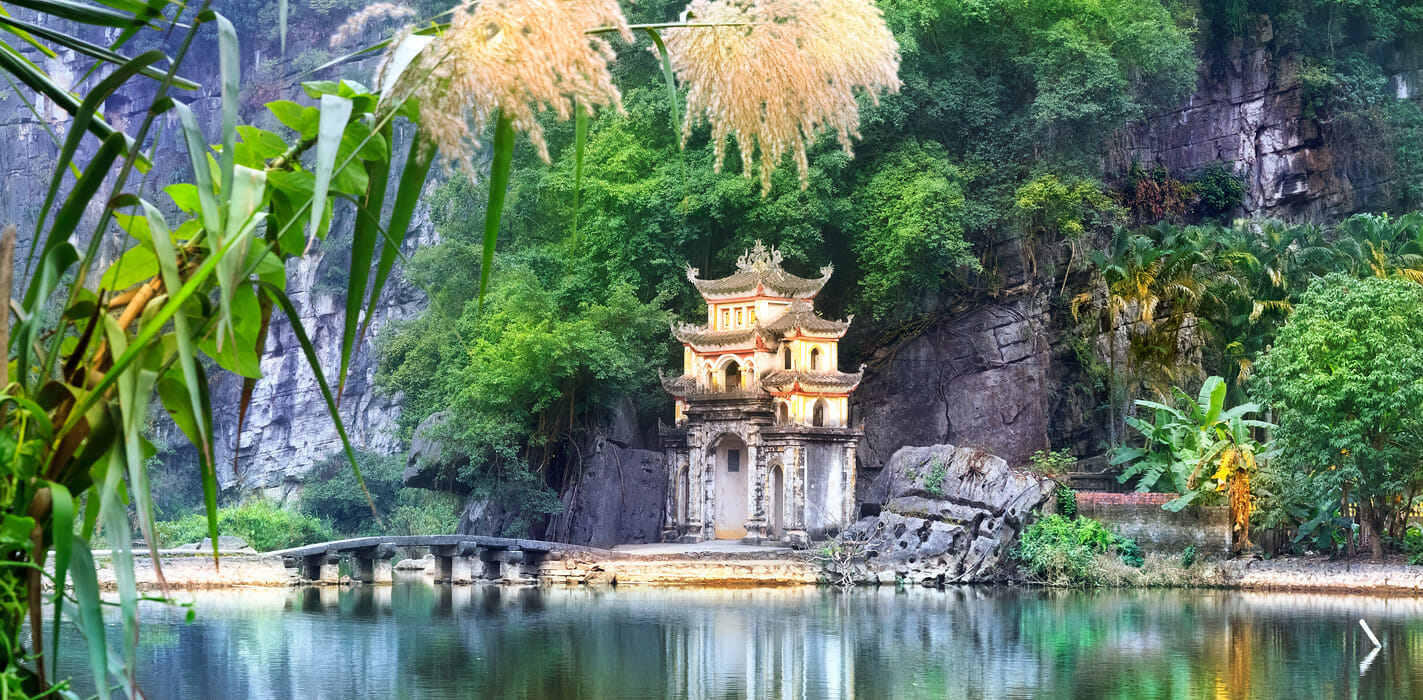 Traveling from Hoi An to Ninh Binh allows you to experience the incredible beauty and charm of Vietnam's countryside. Both destinations are well-known for their unique landscapes and cultural attractions, making this journey a must-do for any traveler. There are several transportation options available to get from Hoi An to Ninh Binh, including flights, trains, and buses, allowing you to choose the best option based on your preferences and budget.
You can choose between a train or a bus to Ninh Binh. Traveling by train offers a relaxing and scenic ride, while buses are generally faster and more budget-friendly. Regardless of your choice, you'll get to enjoy the captivating views of Vietnam's lush countryside as you make your way to Ninh Binh.
Did you find this guide useful?
Click on a star to rate it!
Average rating: / 5. Vote count: