Two of the most popular city destinations in Thailand are Bangkok and the northern city of Chiang Mai. On the surface there are plenty of similarities between these two places – both are capitals, both have rivers meandering through their hearts, and both are places that really should be on your bucket list!
Despite being the largest city in Northern Thailand, Chiang Mai is dwarfed by the ever-bustling streets of Bangkok and hence offers a more relaxed atmosphere than the country's capital city Bangkok. Filled with magnificent stupas and wats, and surrounded by lush green scenery, Chiang Mai makes for an excellent city to start your Thai adventure in, before heading to Bangkok.
Read about:
• Flight from Chiang Mai to Bangkok
• The Train from Chiang Mai to Bangkok
• Chiang Mai to Bangkok by Bus

Options for Travel From Chiang Mai to Bangkok
By road, the distance from Chiang Mai to Bangkok is a depressing 690 kilometers (431 miles), which any seasoned traveler will tell you will take a long time to cover! Despite this, traveling by bus is extremely popular because it's so affordable, but luckily this is not your only travel option.
Trains from Chiang Mai to Bangkok are also a very feasible option; they're not going to get you there any faster, but prices are comparable to buses, or a little more, and you could argue that a train would be more comfortable.
For the non-budget conscious travelers there's always flying, however, catching a flight might not be nearly as expensive as you might think, and it's easily the fastest way to get to Bangkok. Confused by your options? Don't be…. We'll explain the pros and cons to each of these below.
Flight from Chiang Mai to Bangkok
We'll start with the fastest way to get from Chiang Mai to Bangkok, flying. There's a little variation in the quoted journey times between the different airlines, but roughly speaking the actual flying time will be around 60 to 70 minutes.
While this is by far the quickest way to travel between cities, there are however two main drawbacks to Bangkok flights. The first is that you'll be missing all the spectacular scenery that you would be passing through if you were on the road or on a train. To some travelers, this may not matter, or it's a sacrifice you're willing to make in order to get to Bangkok quickly.
Of course, if you're pushed for time and want to see as much as possible during your time in Thailand, taking a direct flight could be the only answer for you.
Direct Flight From Chiang Mai International Airport to Bangkok
The second drawback is the cost; at least, you would expect it to be! Usually flying is so much more expensive than buses or trains that a flight is immediately ruled out by anyone traveling on a budget. For flights from Chiang Mai to Bangkok though, this simply isn't the case. You can get a seat on one of the low-cost airlines for about the same price as a seat on a VIP bus!
Cheap Flights From Chiang Mai to Bangkok
Use a reputable travel website such as 12Go and you can easily compare all of the airlines at once, as well as seeing search results from both of Bangkok's airports: Suvarnabhumi and Don Mueang. Flying time is about the same to both airports, with quoted times for Suvarnabhumi being ten or so minutes longer in general, but there's really not a great difference. And you can get cheap flights from Chiang Mai to both of these airports too.
When deciding which airport you want to fly to, the best way to decide is to first figure out where in Bangkok you are heading to and then see which airport is better positioned for your destination. Looking at a map, they don't appear too far apart but it can make a big difference to your onward journey. Don Mueang Airport is more to the north east of central Bangkok, while Suvarnabhumi Airport is to the south east of central Bangkok.
Flying from Chiang Mai to Bangkok's Suvarnabhumi Airport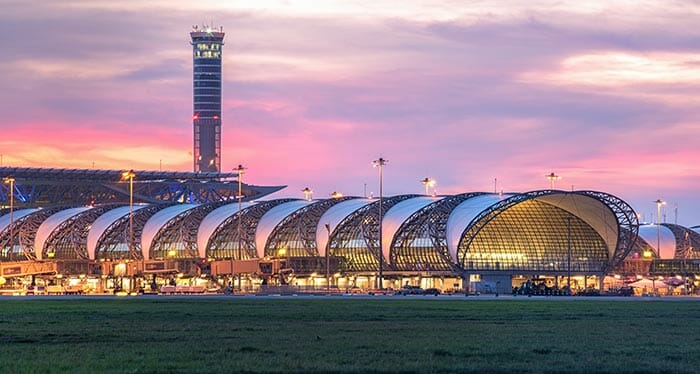 Flying from Chiang Mai to Bangkok's Suvarnabhumi Airport, you can choose from airlines: Thai Smiles, Bangkok Air, Thai Vietjet, and Thai Airways. Thai Vietjet tends to offer the cheapest flights, but be aware that their standard ticket prices do not include a luggage allowance, whereas the other mentioned airlines do.
Flying from Chiang Mai to Don Mueang Airport
To Don Mueang Airport your options are Thai Airasia, Thai Lion Air and Nok Air, and neither of these airlines include baggage allowances so you'll have to pay extra if checking bags into the hold. Be sure to check the different prices depending on the time of day as often early morning flights will be the cheapest, or those that leave later in the evening.
The Train from Chiang Mai to Bangkok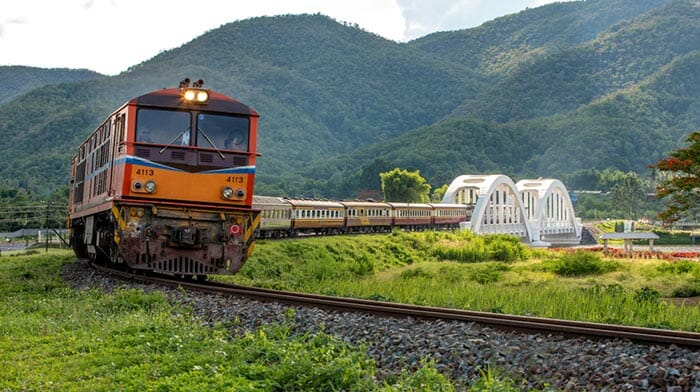 While we've proved that flying from Chiang Mai to Bangkok is really quite cheap, nothing beats the train if you want to enjoy the scenery and immerse yourself in some Thai culture along the way! Trains in Thailand are renowned for being slow, but if you can set aside your clock-watching for a day, you're going to really enjoy traveling this way.
Train Options From Chiang Mai to Bangkok
There are several different seat and carriage options for trains from Chiang Mai to Bangkok, and the prices vary accordingly. Most expensive is a first class sleeper, ideal if you want to travel overnight rather than wasting a whole day of traveling. These overnight trains take around 13 hours and should allow you to get some sleep as well as the opportunity to see some scenery when it's daylight. There are daytime trains as well though, ranging from 10.5 hours travel time to almost 15 hours, depending on the train, but you'll see everything from Chiang Mai to Bangkok when traveling in the daytime. Trains are also a great way to experience Thai culture as they're a popular way for local people to travel!
Chiang Mai to Bangkok by Bus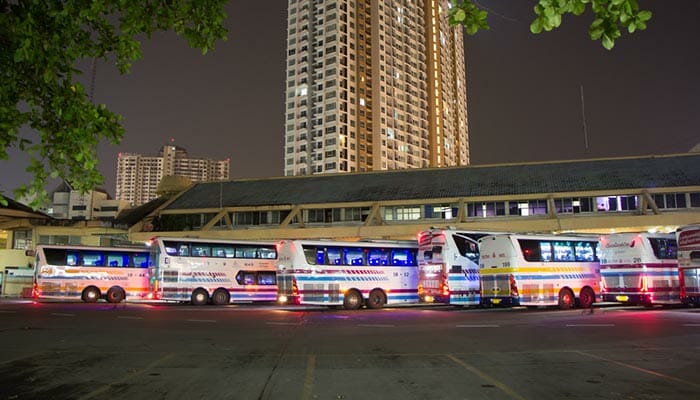 Now to the cheapest way to travel from Chiang Mai to Bangkok: by bus. As with the trains, you have the option to travel through the night, or by day, and there are advantages and disadvantages to both. Generally, you won't find any sleeper buses, so you'll be on a bus with regular seats, however, there are differences between the bus companies so if comfort is important to you, compare the different seats that are available.

On 12Go's website they clearly explain what type of bus it is, and there are photos of the types of seats. Many do recline, especially on the VIP buses where you have more space around you. On Express buses the comfort isn't quite as good, but you'll usually pay a little less for seats on an express bus. Quoted travel times from Chiang Mai to Bangkok by bus are between 10 and 11 hours, and there are many different bus companies to choose from including Bangkok Busline, Budsarakham Tour, Lignite Tour PK, and Sombat Tour.
Best option for Chiang Mai to Bangkok
So, with ticket prices not being wildly different between these three options, planes, trains, and buses, which way you choose to travel will likely come down to your schedule. If you have plenty of time to spare and like to take things slow, go by train from Chiang Mai to Bangkok, but if you need to get there in record time, flying is the best option, and if you do need to save as much money as possible, take the bus!
Can you take a train from Chiang Mai to Bangkok?
Yes, Thai Railways operates trains through the day from Chiang Mai to Bangkok's Krung Thep Aphiwat Central Terminal. It's a long journey, but you can book sleeper berths and travel overnight, saving yourself the cost of another night in a hotel, and it's a very scenic journey when traveling in daylight. Compare ticket prices and berth options, then book the train online through 12Go.
How long is the bus ride from Chiang Mai to Bangkok?
It's about 700kms (435mi) from Chiang Mai to Bangkok so traveling by bus takes a long time but you'll see plenty of beautiful scenery along the way. Schedules show a shortest journey time of 9.5 hours, up to 12 hours for some bus companies. Travel website, 12Go, sells tickets for Sombat Tour, Bangkok Busline, Lignite Tour, Budsarakham Tour, and Tara Tour, and you can choose from VIP or Express buses.
How much is the train from Chiang Mai to Bangkok?
The train journey from Chiang Mai to Bangkok is an amazing experience, providing you choose your tickets wisely! The cheapest are 2nd class seats for around 900 baht, but it's worth spending more and getting a Sleeper, to travel overnight and sleep. These tickets cost from around 1,000 baht to over 1,700 baht for a 1st class sleeper. Compare all prices and trains, and book online at 12Go.
How far is Chiang Mai from Bangkok?
It's about 700kms (435mi) from Bangkok to Chiang Mai, in Northern Thailand. By road or rail it's a long journey, with buses taking around 10 to 12 hours, while trains can take as much as 14 hours, both with overnight options. Book tickets through 12Go and compare all the prices; flights are much faster and can actually cost less than the train, while buses are usually cheapest.
Did you find this guide useful?
Click on a star to rate it!
Average rating: / 5. Vote count: