Myanmar is an intriguing destination with a unique mix of culture and natural beauty. Explore its vibrant culture, ancient temples, and stunning scenery for an unforgettable experience. Buddhism does play an important role in this country's identity and it makes Myanmar a memorable experience.
Read about:
• When is the Best Time to Visit?
• Top Places to Visit in Myanmar
• Getting around between cities
• Travel Inside the cities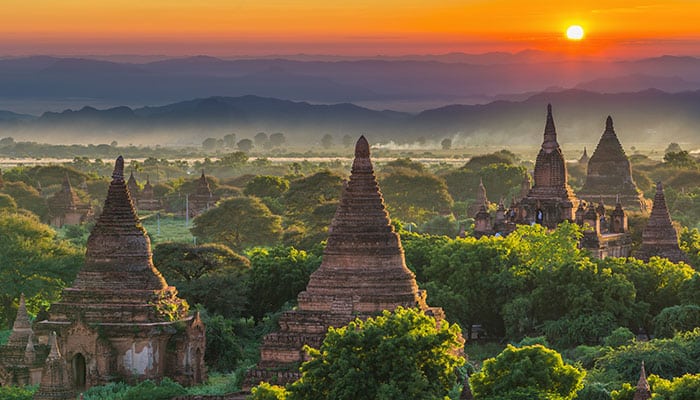 Myanmar has a rich culture that goes back thousands of years. Visitors can experience this in person by visiting the country's beautiful temples, pagodas, and bustling markets. Exploring these cultural sites is a great way to learn about the vibrant Burmese way of life.
Nature enthusiasts will appreciate Myanmar for its stunning landscapes that leave you in awe. The Golden Rock at Kyaiktiyo is a perfect example; this spectacular rock formation sits atop a Buddhist shrine that has drawn pilgrims for centuries. Inle Lake is another must-see natural wonder – crystal clear waters surrounded by verdant hillsides make this one of Myanmar's most picturesque spots.
Foodies can also delight in the array of delicious dishes on offer in Myanmar – from fragrant curries and spicy noodles to sweet treats, there's something for every palate.
Finally, you'll be delighted by the warmth of the locals in Myanmar – known for their hospitality and friendly disposition, they will make sure your stay is as comfortable and enjoyable as possible!
It's no surprise that this incredible country has become so popular amongst travelers – all these elements combine to create an unforgettable experience that you won't find anywhere else! So if you're looking for an exotic destination full of culture, natural beauty, and warm hospitality, then Myanmar should be on your list of places to visit!
When is the Best Time to Visit Myanmar?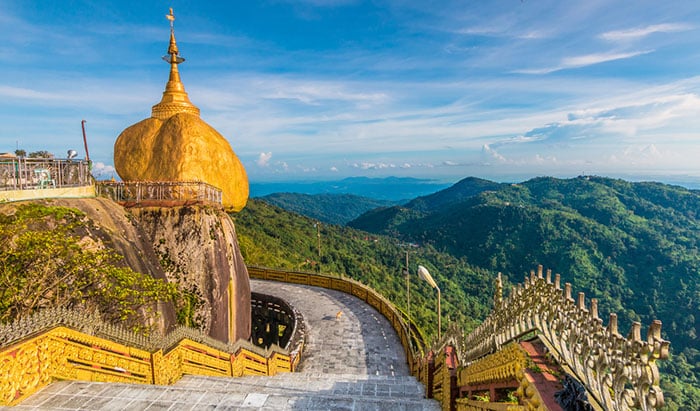 When deciding when to book your trip to Myanmar, it's good to consider what type of vacation you're looking for. Here are a few things that can help you choose the best time for your trip:
If you're looking for the perfect weather, the best time to visit is between November and February. This period offers cooler temperatures and less rain, making outdoor activities more comfortable.
If you're interested in experiencing one of Myanmar's local festivals or events, you'll need to plan your itinerary accordingly. For instance, the Cherry Blossom Festival takes place in March while Thingyan (the Water Festival) happens in April. Additionally, there are numerous other cultural celebrations throughout the year like the Full Moon Festival in September and Shwedagon Pagoda Festival in December.
It is important to note that Myanmar has a tropical monsoon climate with distinct wet and dry seasons – the wet season lasting from May until October when much of the country experiences heavy rainfall. This may make certain areas inaccessible but can also be an opportune moment to visit as there will be fewer tourists and cheaper prices.
In conclusion, determining when is best to visit Myanmar depends on personal preferences and what type of experience you wish for. If flexibility allows it, then visiting during the shoulder seasons (March-April or October-November) could be a great option. Weather conditions are pleasant but without excessive amounts of tourists.
Top Places to Visit in Myanmar
Bagan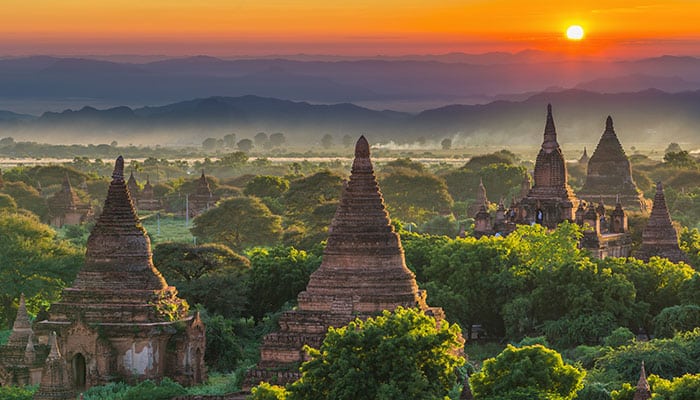 Bagan is an unforgettable destination for tourists in Myanmar. Located in the center of the country, this ancient city is home to a plethora of temples and pagodas that date back as far as the 9th century. Visitors to Bagan can explore and experience the city's rich history and culture in multiple ways, from taking a leisurely horse and cart rides through its streets to participating in hot air balloon rides at sunrise over majestic structures.
Mandalay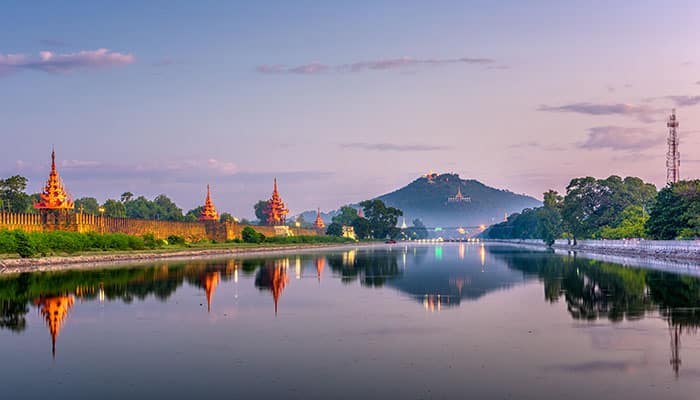 Mandalay is Myanmar's second largest city and is renowned for its considerable influence on religion, politics, and culture throughout its long history. Situated centrally in the country, Mandalay attracts tourists to its noteworthy Buddhist monasteries and temples like the iconic Mahamuni Pagoda. Its bustling markets also provide a unique insight into local life whilst boat trips along the Irrawaddy River showcase some of nature's most spectacular sights.
Yangon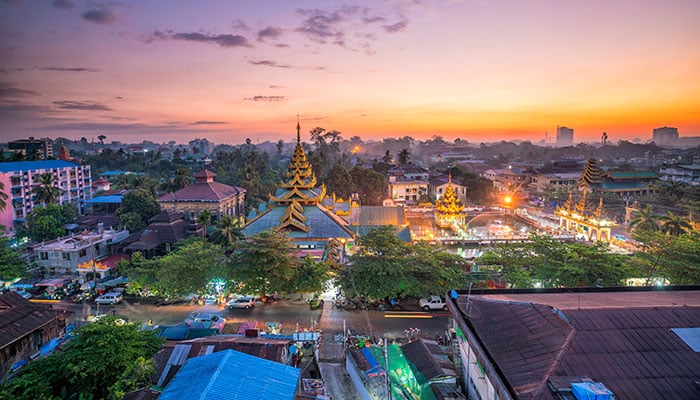 Yangon was formerly known as Rangoon before it became Myanmar's biggest city – a popular tourist spot with its vibrant street food scene, colonial-era architecture, and iconic Shwedagon Pagoda (which stands tall at 300 feet high). At the Chauk Htat Gyi Pagoda, visitors can also go on boat trips along the Yangon River, making it a must-see attraction.
Inle Lake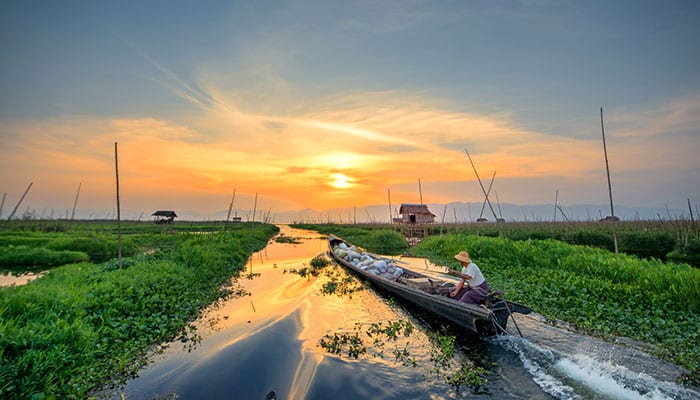 Inle Lake, situated in central Myanmar, is a beautiful natural location featuring floating gardens, stilt houses, traditional fishing villages, and numerous chances to immerse oneself in local culture. There are plenty of ways to explore Inle Lake. We recommend taking boat rides through its waters or visiting nearby markets and workshops. Taking some time out at one of Inle Lake's many resorts may be just what you need after a day of exploring!
Naypyidaw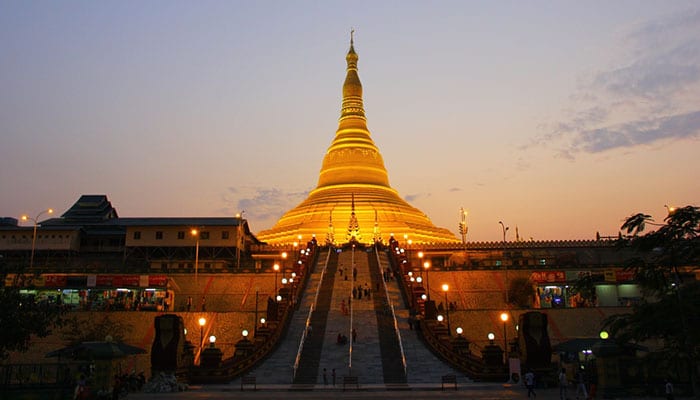 Naypyidaw is Myanmar's capital city. It makes quite an impression on travelers with its modern infrastructure, wide tree-lined roads, impressive government buildings, embassies, and cultural attractions like Uppatasanti Pagoda & National Museum plus local markets to visit. Tourists can also take tours around nearby temples or pagodas or even enjoy nature reserves close by for some extra relaxation away from all the hustle & bustle!
Taunggyi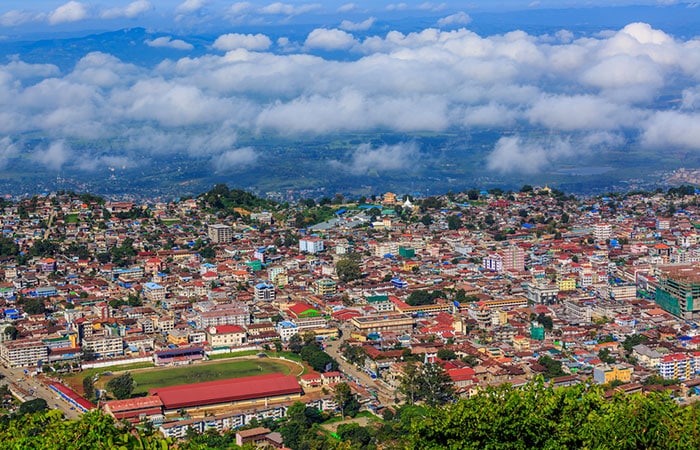 Finally, Taunggyi is Shan State's capital city, located at the foothills of Shan Hills with its mix of cool climate & beautiful natural surroundings that captivate visitors. Tourists can find plenty to do here. Start exploring exciting local markets & visiting religious sites like temples & monasteries. Later take a trip towards Pindaya Caves, home to thousands of Buddha images!
Getting Around Inside Myanmar
Myanmar offers a variety of options for getting around the country, including via train, minivan, and bus.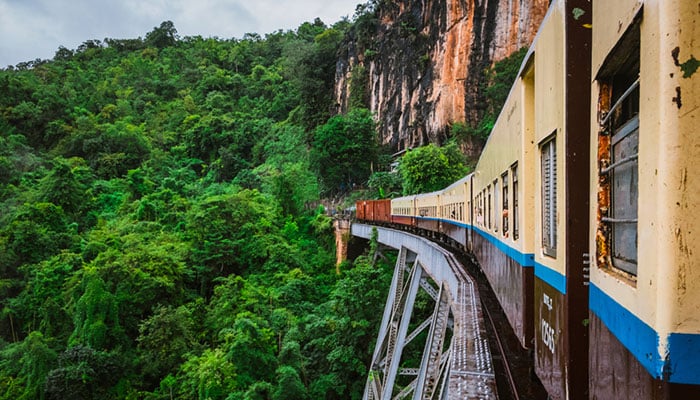 Train travel is one of the most popular forms of transportation in the country. The rail network runs through many major cities and towns, making it an efficient way to get around. Traveling by train allows you to take in Myanmar's stunning landscapes while experiencing the local way of life. However, it can be a bit slow compared to other transportation methods.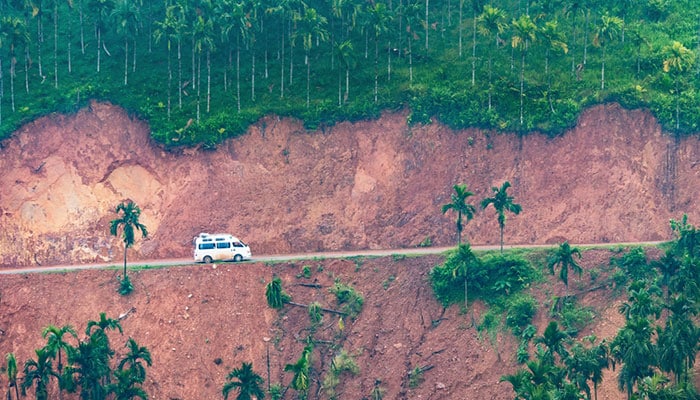 Minivans are also widely available and offer more comfort than buses. Private minivans can be hired for short or long-distance travel which allows for greater flexibility and a personalized experience. Although hiring a minivan will cost more than taking the bus, it may be worth it for travelers who want convenience and comfort over lowest cost.
For those on a tighter budget, buses could be a good option. The bus network covers most cities and towns across the country. While buses may not be as comfortable as other modes of transport, they are certainly economical if you don't mind sacrificing some comforts during your journey.
Ultimately which mode of transport is best for you depends on your budget, comfort level, and travel itinerary. No matter which you choose, every type of transportation in Myanmar offers unique benefits that make exploring this beautiful country easy and enjoyable.
Travel Inside the cities
Traveling around Myanmar's bustling cities is a breeze. Taxis, buses, and trishaws are the primary modes of transport available to those wishing to explore the country.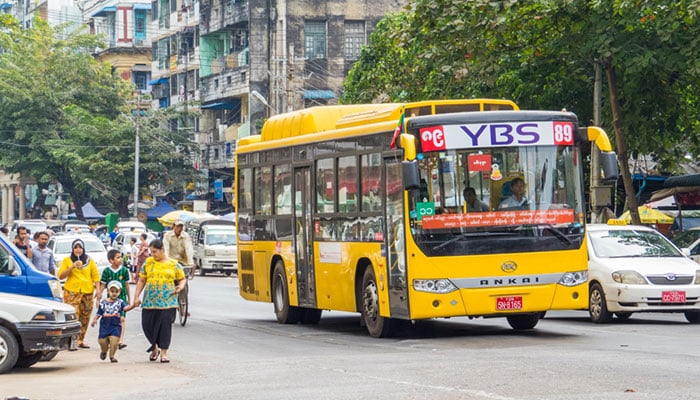 Taxi travel is a popular choice, providing a convenient and hassle-free way of getting around. Taxis can be hailed on the street or booked in advance using ride-hailing apps like Grab, and fares are usually metered. However, it's always wise to agree on a fare before setting off, to avoid any potential disagreements further down the line!
Catching a bus is another great option for budget-minded travelers. Local bus networks serve most downtown areas and surrounding neighborhoods, with fares usually very cheap and affordable. That said, buses can often be overcrowded and uncomfortable – plus it can be tricky to make sense of routes if you don't speak the local language!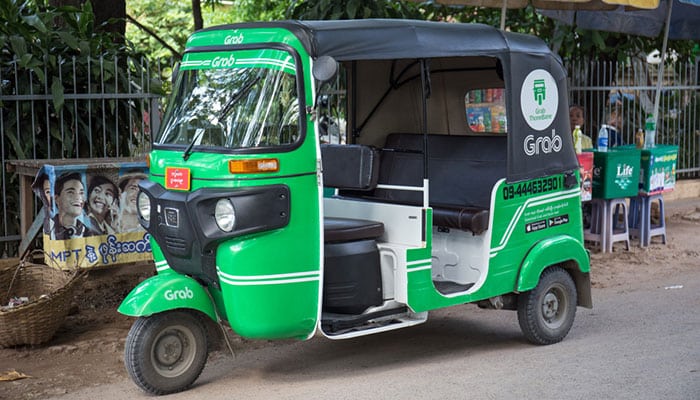 Trishaws offer an alternative method of traveling through Myanmar's cities – these are three-wheeled minicabs either powered by motorcycles or small engines. They're widely available in Yangon and Mandalay, for example, and tend to be more expensive than buses but provide a more personalized experience as well as an opportunity to get a feel for the local culture.
Did you find this guide useful?
Click on a star to rate it!
Average rating: / 5. Vote count: