No visit to Thailand is complete without spending some time in the country's top beach resort destination, followed by a visit to the capital city. Phuket has long been a favorite among tourists, its beautiful beaches contrasting against its mountainous and rainforested interior. Nightlife, dining, shopping, and culture are all on offer here. While Thailand's capital Bangkok has something for everyone too. With these two being the country's most visited destinations, it's no surprise that traveling from one to the other is a popular route. And the majority of people opt to take the bus from Phuket to Bangkok. Wondering whether the bus is a good idea? Read on to discover more information about this popular route.
Read about:
• Why Take a Bus from Phuket to Bangkok?
• Phuket to Bangkok Bus Times
• Bus Schedule From Phuket to Bangkok
• Express or VIP Bus from Phuket to Bangkok?
• Phuket to Bangkok Bus Tickets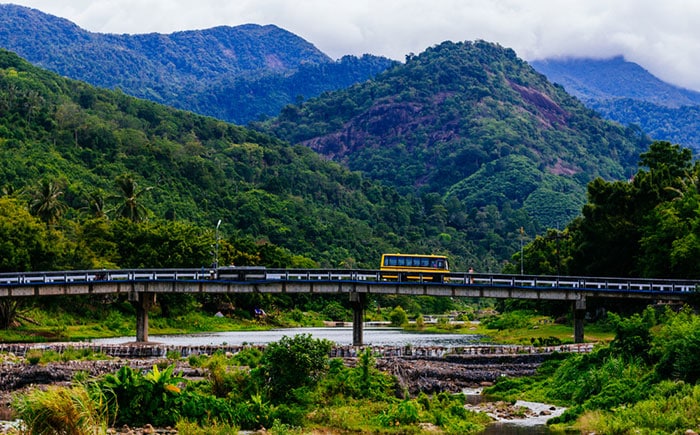 Why Take a Bus from Phuket to Bangkok?
As Phuket to Bangkok is such a popular route, there are multiple ways that you can travel, catering to all budgets. Phuket to Bangkok is not a short journey – going by road, the distance is around 850 kilometers (530 miles). So, traveling by bus does take a long time. Direct flights from Phuket to Bangkok will get you to the capital city much faster. The flight time is only a little over an hour, but tickets are more than double the price of a standard bus ticket. Private taxis are also an option, although these can be very costly. Taxis are the best if you want a tailored service, but they are expensive even when divided between several people. Goin by train is only possible between Surat Thani and Bangkok the rest has to be done by bus. Read more about train here: Traveling by Train between Bangkok and Phuket.
Despite the alternatives, a bus from Phuket to Bangkok is popular for several reasons – first is the affordability, as this is the cheapest way to go. Second is the flexibility with many buses to choose from every single day. The third is the experience that bus travel offers, giving you views of the Thai countryside that you don't get to see from thousands of feet in the sky. And it's also a part of Thai culture, traveling by bus, as this is not just a service for tourists, it is popular with locals too.
Phuket to Bangkok Bus Times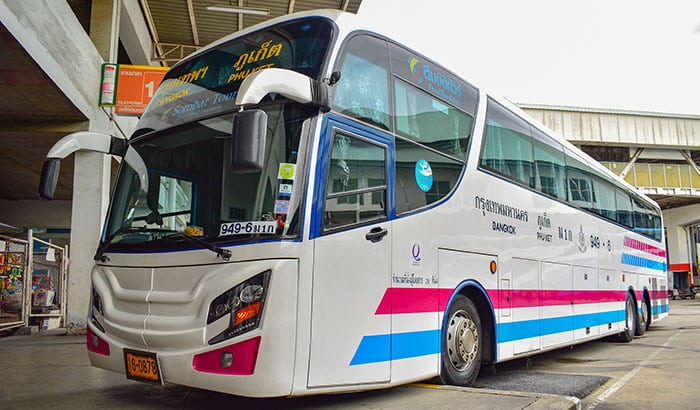 With three bus companies to choose from for bus travel between Phuket and Bangkok, this opens up your options for schedules and types of buses to travel on. This route has two bus types – Express and VIP buses, which we'll give more details on below. The three bus companies are Lignite, Sombat Tour, and Transport Co. The Transport Co is actually owned and operated by the Thai state. You will find that they offer the cheapest bus tickets. But their bus from Phuket to Bangkok take longer than the other buses as they stop along the way besides a planned meal stop. The ticket price includes a free meal, which is a nice bonus for travelers on a tight budget.
Bus Schedule From Phuket to Bangkok
| COMPANY | BUS TYPE | DEPART / ARRIVE | TIME | ARRIVE POINT |
| --- | --- | --- | --- | --- |
| Transport Co | Express | 15:30 to 05:57 (+1) | 14.5 hrs | Mo Chit Terminal |
| Lignite | VIP or Express | 15:30 to 12:09 (+1) | 20.5 hrs | Southern Terminal |
| Sombat Tour | VIP | 15:40 to 04:25 (+1) | 13 hrs | Southern Terminal |
| Transport Co | Express | 17:00 to 07:27 (+1) | 14.5 hrs | Mo Chit Terminal |
| Lignite | VIP | 17:00 to 13:39 (+1) | 20.5 hrs | Southern Terminal |
| Transport Co | Express | 18:00 to 08:27 (+1) | 14.5 hrs | Mo Chit Terminal |
You will notice that all these buses depart from Phuket in the afternoon and travel overnight, hence the +1 on the table indicating that it arrives the following day. This is good because it means you are not traveling right at the hottest time of the day. It also saves you the cost of a night's accommodation. However, Thailand's buses are notoriously cold because the air conditioning is cranked up so high. Be sure to bring some warm and cozy clothes with you so you can sleep!
Express or VIP Bus from Phuket to Bangkok?

If you're looking for the cheapest way to travel from Phuket to Bangkok, opt for an Express bus operated by Transport Co. These will save you a few dollars over the other options. There is also an Express bus operated by Lignite, which is slightly more money.
An Express service is a regular bus with standard seating, with a walkway down the middle of the bus and a row of two seats on either side. There's a reasonable amount of legroom on these, and the seats are comfortable, but can start feeling a little hard on longer journeys.
You benefit from more space on a VIP bus from Phuket to Bangkok. These are often (but not always) double-decker buses. Meaning that each level offers fewer seats than a standard bus. With 3 on each row rather than 4, it gives more legroom and space between the seats.

VIP buses allow you to recline your seat a long way – great for sleeping. And there are usually additional features such as a leg rest, a personal screen, and a charging port. VIP buses are more expensive, but if you want a more comfortable ride and like to sleep on the bus, these are the better option.
Phuket to Bangkok Bus Tickets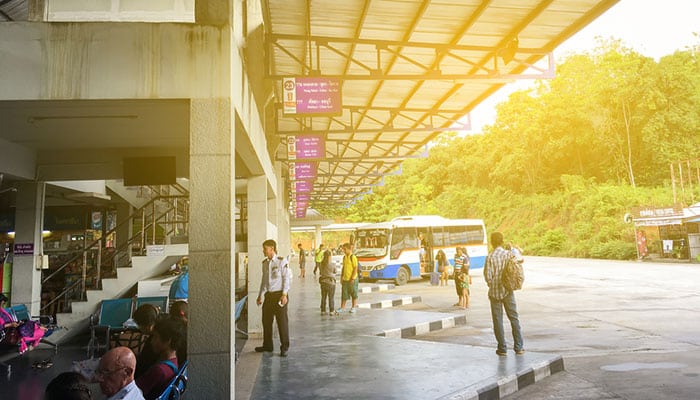 While it's not essential to book bus tickets in advance, it is always recommended to be sure you will get a seat on the bus you want. You can buy tickets right at Phuket Bus Terminal 2 – where all of the Phuket to Bangkok buses depart from. The best is to buy at least a day or so in advance. Online booking is also possible, and we recommend using the travel website 12Go. They sell tickets for all the bus companies and bus types. It's easy to compare the prices on their website and book the bus you want, with most of the departures giving instant confirmation, or at least confirmation within 24 hours.
We do recommend booking as early in advance as possible if you already know your travel plans. This is especially important if you're traveling across Thailand during their busy holiday and festival times. As all modes of transportation get booked up very quickly during these holidays. Without an advance booking, you may have to wait a long time to find a bus with a seat available. There is a small booking fee for booking online with 12Go, but even if you book directly with the bus company you would have to pay an advance booking fee. With the fee included, bus tickets from Phuket to Bangkok are currently priced as follows:
Ticket Prices Buses
Phuket to Bangkok
| BUS COMPANY | BUS TYPE | PRICE PER ADULT |
| --- | --- | --- |
| Transport Co | Express Bus | 698 THB |
| Lignite | Express Bus | 727 THB |
| Lignite | VIP Bus | 1,081 THB |
| Sombat Tour | VIP Bus | 1,223 THB |
Cheapest Bus Tickets Phuket to Bangkok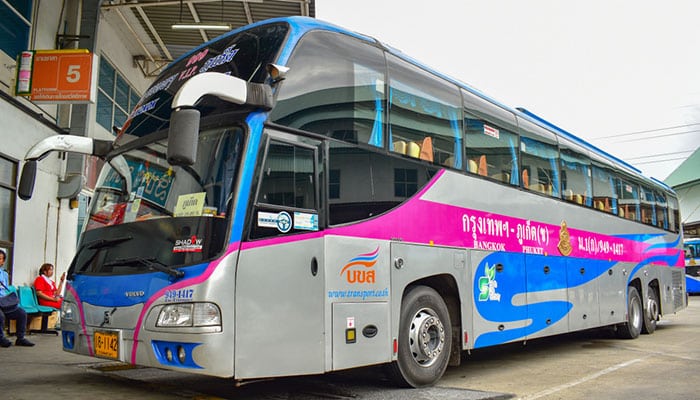 As you can see, the Express bus with Transport Co is easily the cheapest. You could also consider an Express service with Lignite, but remember that you get a free meal included in the price of the Transport Co ticket. The VIP buses give you more comfort and services onboard. So these are the best alternative if you want to feel as comfortable as possible and arrive refreshed in Bangkok the next day.
Did you find this guide useful?
Click on a star to rate it!
Average rating: / 5. Vote count: