Known primarily as a border town for its proximity to Myanmar, the city of Ranong deserves a closer look by explorers who are seeking a destination not vastly impacted by Western tourism. Waterfalls, wildlife sanctuaries, beaches, and access to plenty of offshore islands, plus an easy way into Myanmar, make Ranong an appealing destination for someone looking for a change of pace from Bangkok.
Read about:
• Bangkok to Ranong by Flight
• Bangkok to Ranong by Bus
• Bangkok to Ranong by Taxi
Transport Options from Bangkok to Ranong
It's about 585 kilometers (365 miles) from Bangkok to Ranong, so if you're traveling by car this would take roughly 7.5 hours. Most tourists don't rent cars for journeys like this in Thailand though, instead opting to let someone else do the driving while sitting back and watching the world go by! Buses are certainly a popular and very affordable way to travel long distances, and the route between Bangkok and Ranong is no exception, with ample buses departing every day. But for travelers who prefer to get to Ranong quickly, a flight would be a better option. Continue reading to find out more about the buses and flights, and even private taxis.
Flights from Bangkok to Ranong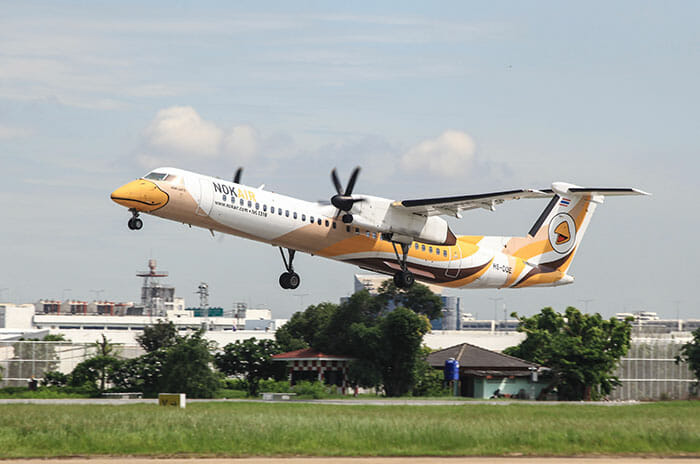 Although Ranong is just a small town it does have its own airport. Admittedly, Ranong Airport is tiny and right now just has service with one airline. Nok Air flies three times per day, with slightly varying schedules depending on the time of year and day of the week you're traveling. Often there will be two flights in the morning, and one in the afternoon, and it's just a short hop, taking around 1 hour and 25 minutes for the flight from Bangkok. These flights depart from the Don Mueang Airport in Bangkok, and the ticket prices can vary quite substantially depend on which flight you catch. It's a good idea, therefore, to look into the cost savings of traveling at a less sociable time as you can save a lot of money by doing this, and of course, booking as far as you can in advance can also save you some money.
Once you arrive at Ranong Airport you will be about 23 kilometers (14 miles) outside of Ranong itself. The good news is that there are usually plenty of taxis waiting for passengers arriving from Bangkok, so you can easily get into the town. Another good thing about flying, is the approach to Ranong Airport. Get yourself a window seat if possible and you'll be treated to some amazing views as you fly over the mountains and islands!
Bangkok to Ranong by Bus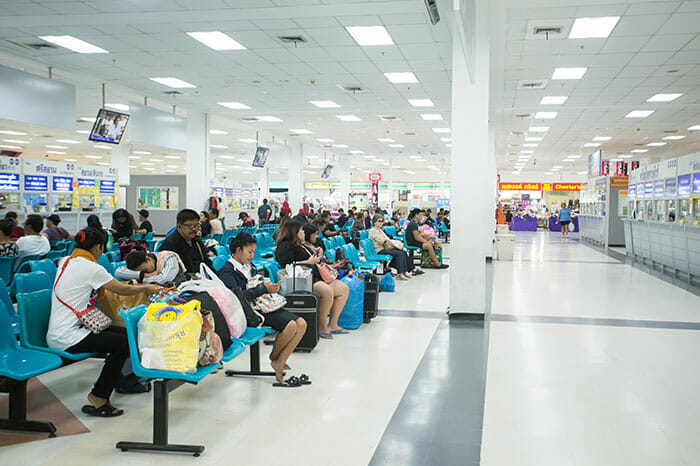 If you're happy to spend around 10 hours in a bus, getting from Bangkok to Ranong by bus is very economical. As is often the case with long distance bus services in Thailand, there are three different comfort levels available to you: Express, VIP, and VIP24. There is not a vast difference in the service from one to the other, but there is of course a difference in price with Express being the cheapest, and VIP24 being the most expensive. Having said this, it's still very cheap when compared to the price of flying.
All buses traveling from Bangkok to Ranong have air conditioning onboard, and, very often the inside of the bus is not warm but far too cold. Blankets are provided but it's advisable to bring a warm sweater with you to fend off the cold air. VIP and Express buses both have food and toilets on the bus, while the VIP24 bus has these services and provides extra space because there are only 3 seats across as opposed to the standard 4 seats, plus TV, stewards, and snacks onboard to give you an even better journey.

ChokeAnan Tour and Niomit Tour are two of the tour operators providing buses from Bangkok to Ranong, and both companies depart from the Southern Bus Terminal, also known as Sai Tai Mai. Most of the departures are in the evening, leaving Bangkok at 9pm and traveling overnight to reach Ranong around 7 the next morning. If you prefer to travel during the daytime though, so you can at least get to see some of the passing scenery, there are buses that leave Bangkok at 9am, arriving in Ranong in time for dinner.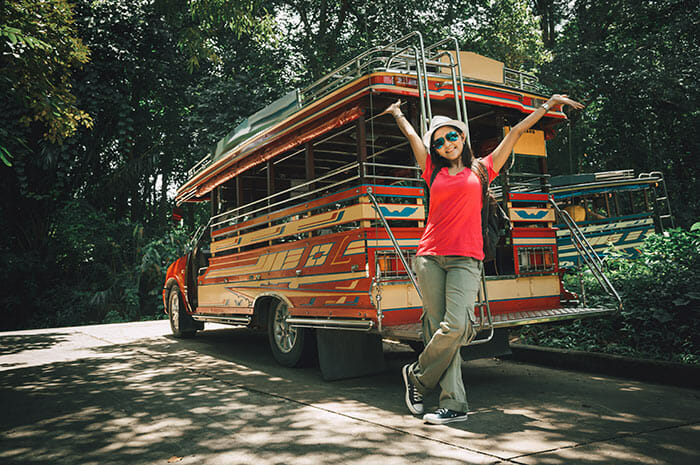 Ranong Bus Station is located about 2 kilometers (1.25 miles) to the southeast of downtown Ranong, off Route 4 – the main highway. The best way to get into town from the bus station is by songthaew – they are usually readily available to transport you where you need to go.
From Bangkok to Ranong by Private Taxi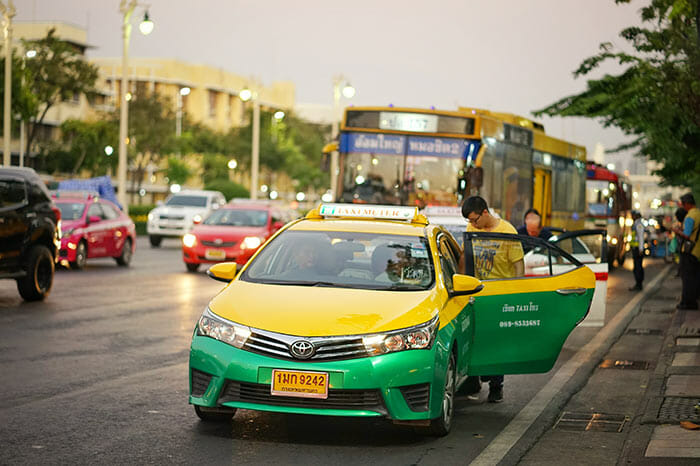 Private taxi is the most expensive way to get from Bangkok to Ranong, costing even more than a flight. However, if you're traveling with 2 or more additional people a private taxi can actually work out cheaper than flying if you're sharing the cost between you. Bangkok Taxi 24 offers plenty of options depending upon the size of your travel party – from a standard sedan type car, to an SUV for 4 passengers, a premium van, 7-person minivan, and 8 and 9-person VIP vans. Obviously the bigger the vehicle, the more it will cost but if you're with a group of friends or you have a larger family, you'll definitely be saving money on the cost of buying individual airline seats for everyone.
The main advantage with a private taxi is that it's a door-to-door service, picking you up from wherever you are in Bangkok, and dropping you exactly where you want to go in Ranong. And it's fairly fast too – the scheduled travel time is around 7 hours and 45 minutes and, when you don't have to worry about transfers to and from the airport or bus stations, private taxis could save you time. Finally, there's the independence of being able to go from Bangkok to Ranong at whatever time of the day or night you want.
Did you find this guide useful?
Click on a star to rate it!
Average rating: / 5. Vote count: