Nestled along the picturesque Perfume River, Hue once served as the imperial capital of the Nguyen Dynasty, giving it a rich tapestry of heritage sites to explore. The Imperial City, with its majestic Citadel, transports visitors back in time, offering a glimpse into the regal past of Vietnam.
But wait, there's more! As you meander through the city, you'll stumble upon fascinating royal tombs, like the ones of Minh Mang, Khai Dinh, and Tu Duc. The Thien Mu Pagoda, standing tall and proud, is an iconic symbol of Hue, and its tranquil grounds make for a perfect escape from the bustling city.
Hungry? Hue has plenty of options. The local food is delicious, with dishes like the well-known Bun Bo Hue and Banh Khoai. Believe me, your taste buds will be grateful. And if you're up for a bit of adventure, hop on a bicycle or motorbike and explore the lush countryside, where you'll be greeted by rice paddies, quaint villages, and friendly locals.
To top it all off, Hue's vibrant arts scene, with traditional crafts and mesmerizing performances, will leave you spellbound. So, pack your bags and get ready for an unforgettable journey through the enchanting city of Hue!
Famous Places
Thien Mu Pagoda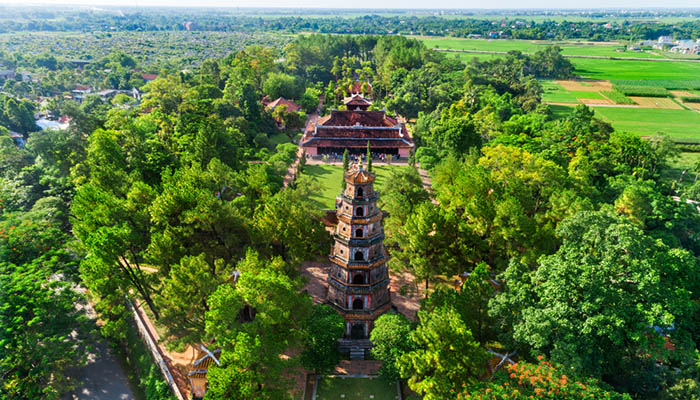 Thien Mu Pagoda is a majestic sight to behold, standing tall since the 17th century on the banks of the Perfume River in Hue. With its lush gardens and tranquil atmosphere, Thien Mu Pagoda serves as an idyllic retreat for those seeking solace and spiritual enlightenment. Here, you can explore its fascinating stories of Buddhism and how it has shaped local culture.
Imperial City
Ah, the Imperial City – a place where history lives on! Here lies the heart and soul of Hue, such grandeur befitting the Nguyen Dynasty. Step through its gates and palaces to be transported back in time; marvel at the opulence and intrigue preserved within. Every artifact reveals snippets of a bygone era, allowing you an insight into the lives of emperors and their families. And don't miss out on visiting the Forbidden Purple City – once restricted to just those close to power, now open for all to explore this captivating testament to the past.
Minh Mang Tomb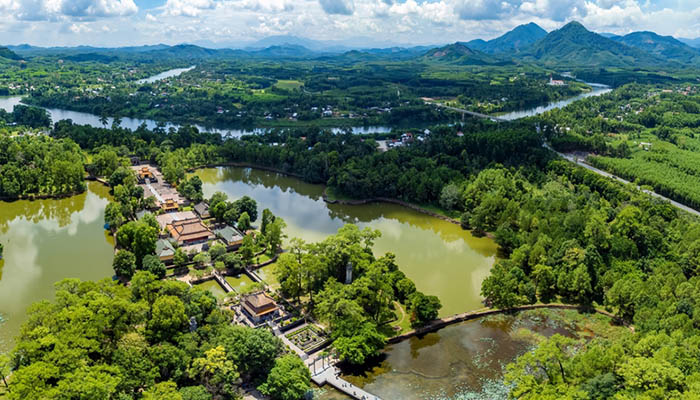 In contrast, Minh Mang Tomb stands as a testament to the perfect balance between architecture and nature. Dedicated to Emperor Minh Mang, this royal mausoleum is renowned for its exquisite traditional Vietnamese design set against the beautiful backdrop of Hue's countryside. As you wander through its pavilion courtyards and gardens, you'll be entranced by its peaceful ambience and stunning beauty. A captivating experience for any art and history enthusiast, Minh Mang Tomb is a must-visit destination.
Things to do
Dragon Boat Cruise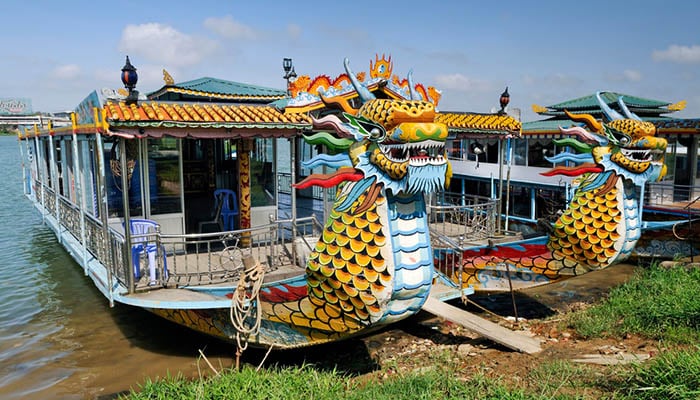 Embark on a leisurely dragon boat cruise along the meandering Perfume River for an unforgettable experience. Marvel at the lush greenery, historical sites and local villages which line the banks as you breeze through the waters. Appreciate Hue's rich culture and unwind at a relaxed pace while taking in the stunning natural beauty of the city.
Traditional Art Performances
Experience traditional art performances to immerse yourself in Hue's cultural identity – UNESCO has recognized Hue Royal Court Music as an Intangible Cultural Heritage. These captivating shows will transport you back in time, offering insight into customs and traditions that have shaped this vibrant region.
Hands-on Craft Workshops
Unleash your inner artist by participating in hands-on craft workshops where you can learn time-honored skills. Learn how to make traditional conical hats or craft intricate paper flowers from skilled artisans, and leave with a unique souvenir to remember your time in Hue. These workshops offer an enjoyable way for you to connect with the city's artistic heritage and create lasting memories.
Enjoy a dragon boat cruise on the Perfume River, attend mesmerizing art performances, and participate in hands-on craft workshops – all of these activities will allow you to appreciate Hue's rich culture and natural beauty as well as create unforgettable memories. So book your trip today!
Traveling to Hue
Ninh Binh to Hue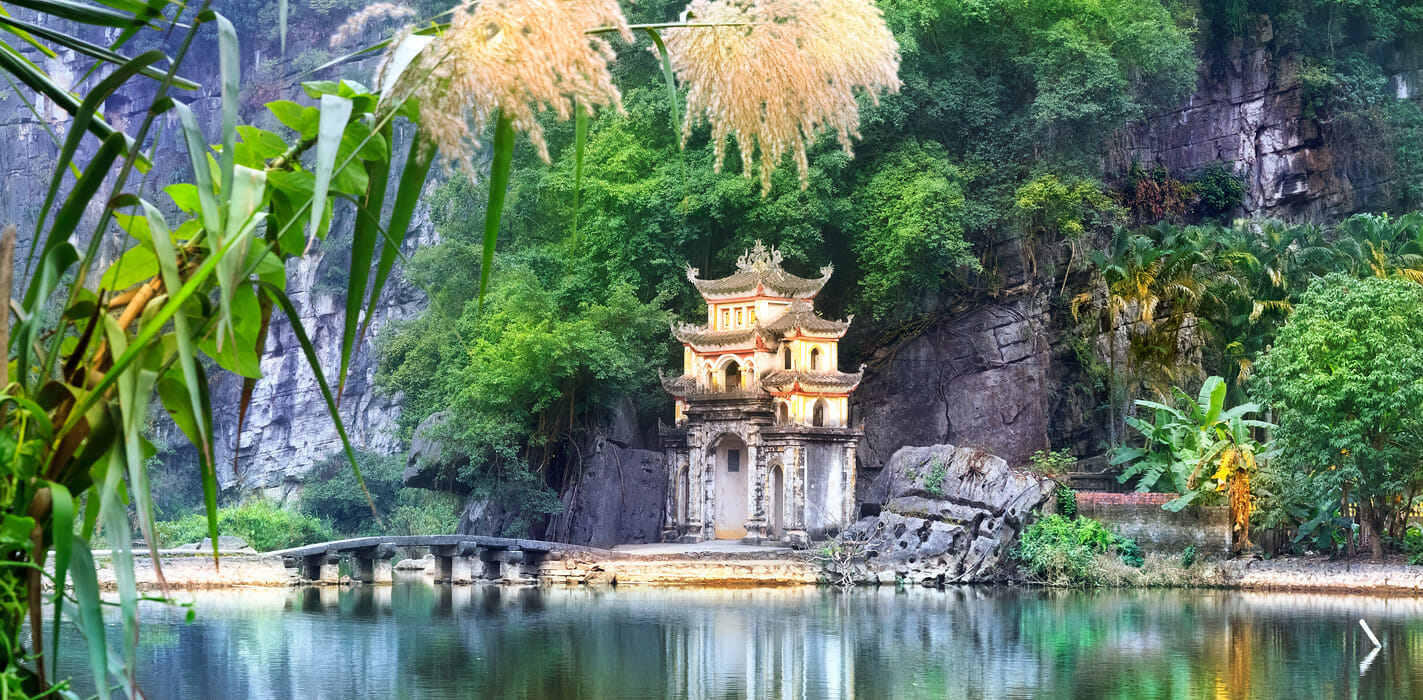 Leaving the serene landscapes of Ninh Binh for the historic city of Hue will give you a journey full of unforgettable memories. Although these two cities lie 575 kilometers (359 miles) apart by road, they offer a window into Vietnam's rich culture, history and natural beauty. To make your travel as effortless and comfortable as possible, you have several options: buses, trains and flights (which require first a trip back to Hanoi). Each mode has its own cost and level of comfort — choose one that best suits your needs. With plenty to explore in both locations, don't wait any longer – start planning your Ninh Binh to Hue journey today!
To gain a greater understanding of the different transportation options available when traveling from Ninh Binh to Hue, such as flights, buses and trains, please take some time to read our comprehensive travel guide: Ninh Binh to Hue – Go by Flight, Bus or Train? on the subject. This post will outline all the pros and cons of each form of transportation.
Hanoi to Hue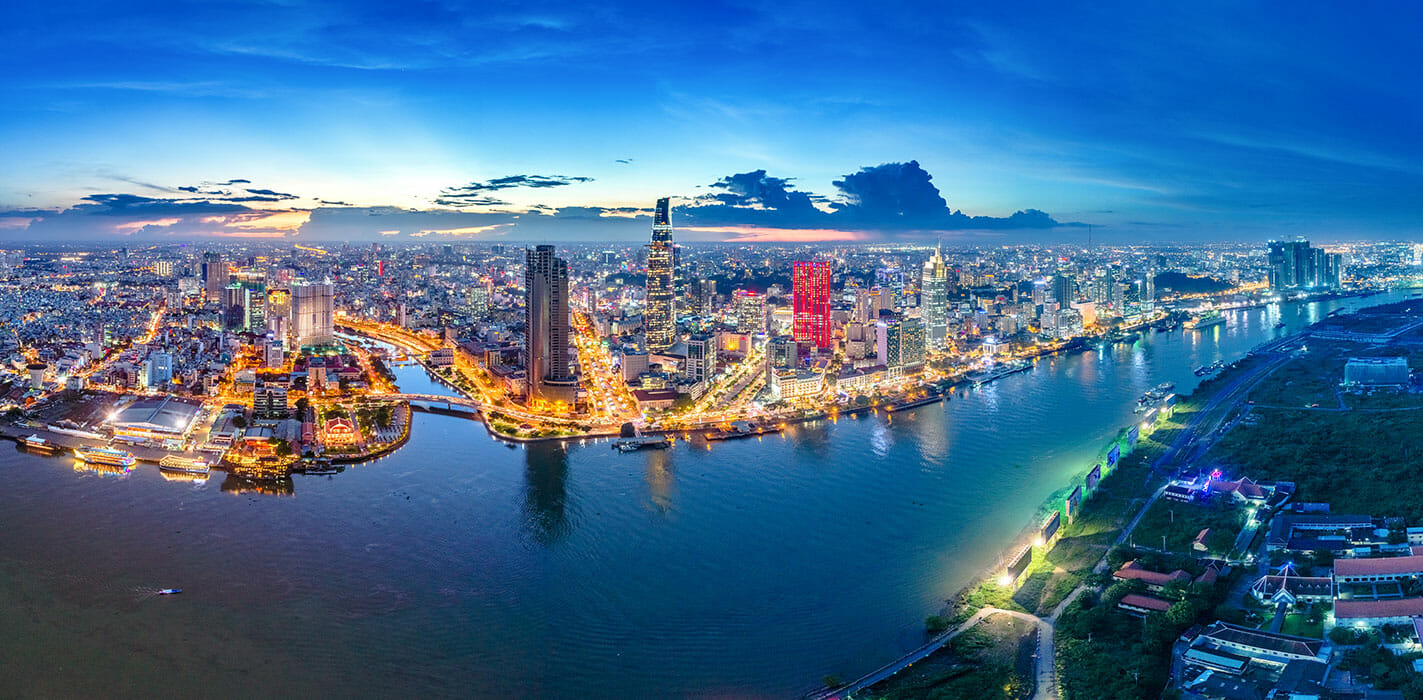 Hanoi, Vietnam's capital city, offers rich architecture and culture, making it an excellent starting point for a journey to Hue. To travel the approximately 670 kilometers (420 miles) between the two cities, there are several options available: by flight, bus, or train.
Flying from Hanoi's Noi Bai International Airport to Hue's Phu Bai International Airport is the quickest option, taking around an hour. Flying can be quite economical, depending on the airline you choose, with VietJet Air being more affordable than Vietnam Airlines.
For budget-conscious travelers, buses from Hanoi to Hue are the cheapest option, but the 12.5-hour journey can be a challenge for those who need personal space and the ability to walk around. VIP sleeper buses offer amenities such as washrooms, TVs, and snack services, making the trip more comfortable.
Trains from Hanoi to Hue provide a good compromise between cost and comfort. With options ranging from affordable to expensive, you can find a train ticket that suits your budget. Traveling by train allows you to walk around and enjoy the passing scenery, and sleeper cabins can save you a night's accommodation cost. Vietnam Railways operates the trains, with private companies offering more luxurious sleeper cabins for a higher price. Train journeys can take from 12.5 to 14.5 hours.
Read more about the different options in our guide: Hanoi to Hue – Go by Flight, Bus or Train?
Other destinations to Hue
Traveling from Hue
Hue to Hoi An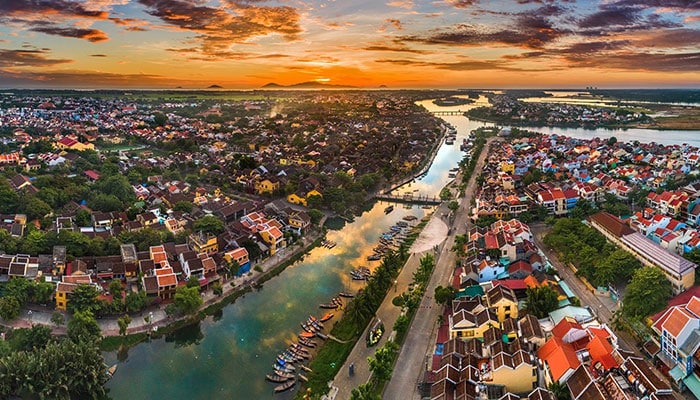 If you're visiting Hue and looking to explore further, a trip to the nearby city of Hoi An is an absolute must. At only 122 kilometers (76 miles) away, getting there can take a bit longer due to Vietnam's road conditions. But fortunately, a tunnel through Hai Van Pass has been recently constructed that makes the journey faster and more comfortable. There are several ways of getting from Hue to Hoi An including trains, buses, and taxis. The most cost-effective option would be taking the bus all the way, but for increased flexibility and comfort private taxis may be preferable despite the higher cost. If you'd like to take in some stunning coastal scenery, consider combining a train ride from Hue to Da Nang with a bus journey to Hoi An, although it will be a more time-consuming option. When booking your tickets, make sure to check which route the bus will take as some buses go through the tunnel while others give you an opportunity to tour the Hai Van Pass.
Read more about the different options in our guide: Hue to Hoi An – Go by Train+Bus, Bus or Taxi?
Hue to Phong Nha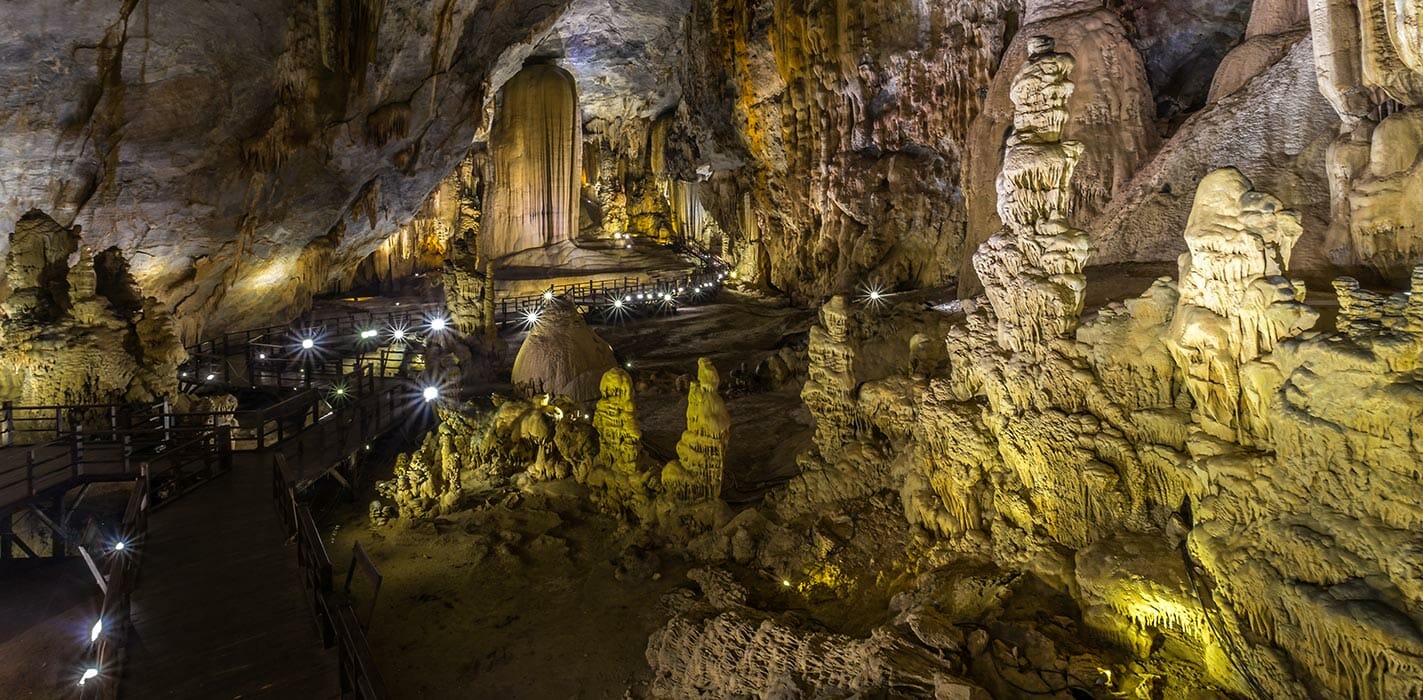 Phong Nha – Ke Bang National Park, a UNESCO World Heritage Site, is one of the top tourist destinations in Vietnam, famous for its stunning caves. It's relatively easy to reach Phong Nha from Hue, with options for travel by road, train, and bus. By road, it's about 210 kilometers (131 miles) and takes between 4 to 5 hours if you're going by bus. For convenience and affordability, taking the bus is usually the best option.
When traveling by train from Hue to Phong Nha, you can take the sleeper train that departs from Hue to Minh Le or get off the train at Dong Hoi. However, since there is no direct train to Phong Nha, you'll have to take a bus or a taxi into the national park. The train journey is a great experience, but it takes longer and costs more than the bus.
While the bus is the most convenient option, trains add an element of adventure to your trip, especially if you're not pressed for time. However, you need to factor in the extra cost and time of getting from the railway station to Phong Nha. In contrast, the bus takes you from the center of Hue all the way to Phong Nha without any exchanges along the way.
Did you find this guide useful?
Click on a star to rate it!
Average rating: / 5. Vote count: