In contrast to the large island of Koh Samui, Koh Tao is a small island of about 21 square kilometers. Koh Tao offers quite a different experience to the bustling beaches, high-class spas, and big resorts of Koh Samui. Meaning Turtle Island, Koh Tao is renowned for its scuba diving. It is less of a backpacker destination than some other Thai islands, with a good mix of accommodations to offer. From the more budget-friendly to the expensive and luxurious villas with private swimming pools. Koh Tao is without the big nightlife scene that you may have come to expect from Thai islands. So, if you've been enjoying the nightlife and beaches of Koh Samui, head to Koh Tao for some excellent scuba diving and a quieter pace of life.
Read about:
• Ferries from Koh Samui to Koh Tao
• Diving Trip from Koh Samui to Koh Tao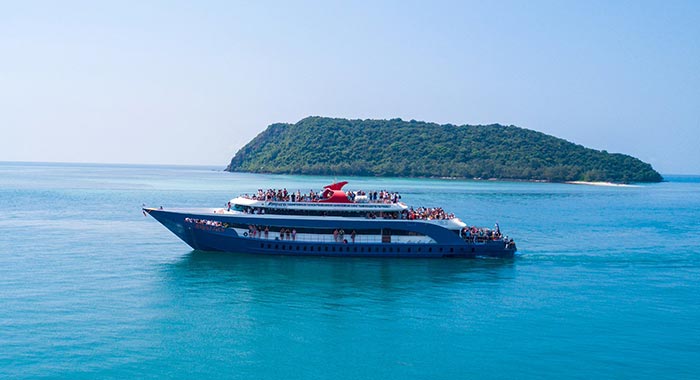 It's about 67 kilometers (42 miles) from Koh Samui to Koh Tao. Koh Tao is too small to have an airport, so the only way to make the trip between these two islands is by ferry or speedboat. Ferries are operated by companies such as Lomprayah and Songserm. They depart from various locations on Koh Samui, the most popular are Paralan Pier and the Na Thon Pier. The journey by ferry takes about 1.5-2.5 hours and arrives at the Mae Haad Pier on Koh Tao – the only ferry pier on the island. Aside from the public ferries and private speedboat charters, you could also take an inclusive diving tour from Koh Samui to Koh Tao. A diving tour is a good option if you're planning to dive for a day without staying on the island overnight. Read on to find out more about all these different options.
Ferries from Koh Samui to Koh Tao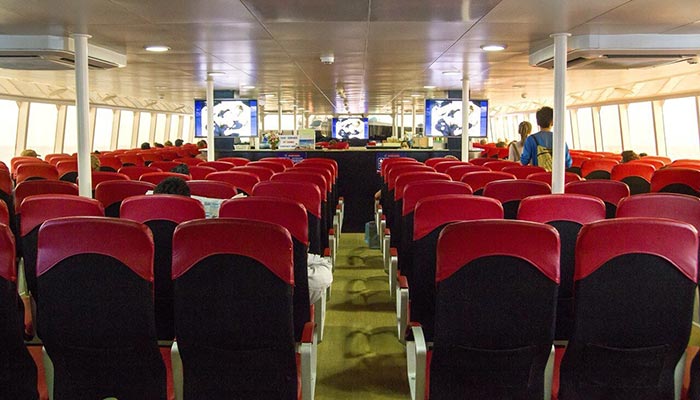 Traveling from island to island across the sea of Thailand is affordable by public ferry. The same three or four ferry companies offer all the different ferry routes, connecting Thailand's islands for tourists and locals alike. And when each company offers several crossings per day, there are always plenty of ferries to choose from, including the route from Koh Samui to Koh Tao.
The main difference between the ferry companies is the type of boats they use. Some use high-speed ferries or catamarans, while others operate standard ferries that add a half hour or more to your journey time. Bizarrely enough, high-speed ferries are not usually much more expensive than standard ferries. So, if you're not bothered about saving a few hundred baht, you can choose the most convenient ferry company, depending on your departure point.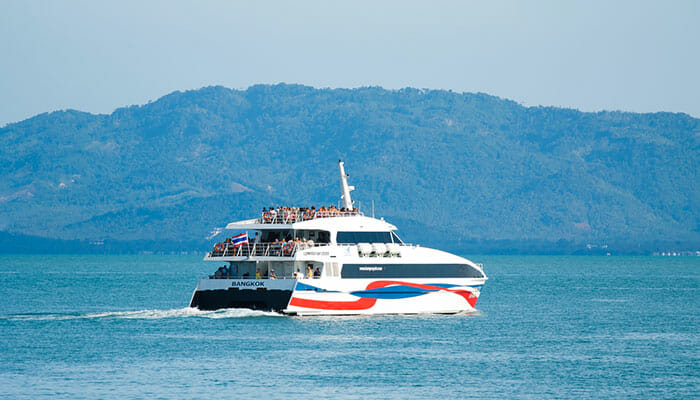 Lomprayah
(Updated May 2023) The 12:15 PM departure (Na Thon Pier) is operated by a smaller speedboat. The 2:30 PM departure from Paralan Pier at Maenam is serviced by a speedboat.
Lomprayah uses high-speed catamaran ferries. It is the quickest way to get from Koh Samui to Koh Tao, with a travel duration of 1.5 hours. Lomprayah has three daily departures at 8:30 AM, 12:30 PM and 2:30 PM (speedboat), from the Paralan Pier at Maenam in Koh Samui. From Na Thon Pier in Koh Samui, they have another two daily departures at 12:15 PM (speedboat) and 3:30 PM. Both boats arrive at the Mae Haad Pier on the west coast of Koh Tao – the only ferry pier on the island.
With its newer boats, this high-speed catamaran ferry from Koh Samui to Koh Tao is nicely equipped. It has comfortable seating both inside and out, and a shop where you can buy snacks. There are also plenty of toilets onboard and even TVs playing movies, but you'll want to enjoy the scenery, not watch movies!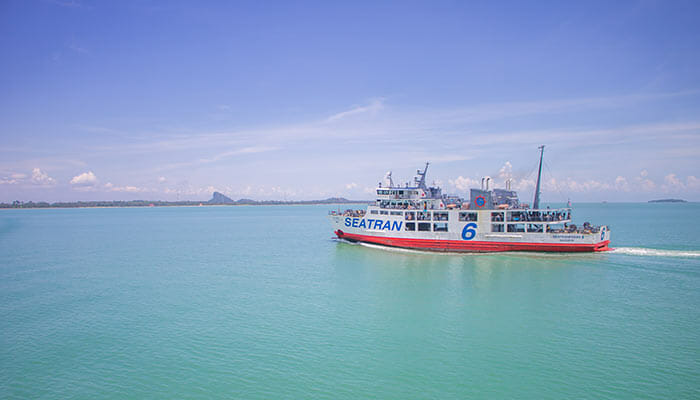 Seatran
(Updated May 2023) Since the pandemic, the Seatran Ferry has not been operating the route to Koh Tao, only the route between neighboring islands Koh Phangan and Koh Samui.
The Seatran ferry from Koh Samui to Koh Tao is a little bit slower than Lomprayah's catamarans, but only slightly. The journey time on these high-speed ferries is around 2 hours. Seatran ferries depart from the Bangrak pier on Koh Samui, arriving at Mae Haad pier on Koh Tao. If you suffer from motion sickness, you may find that a Seatran ferry is better than the Lomprayah catamaran. In choppy waters, the ferries tend to be a little more stable. Bear this in mind when buying your tickets.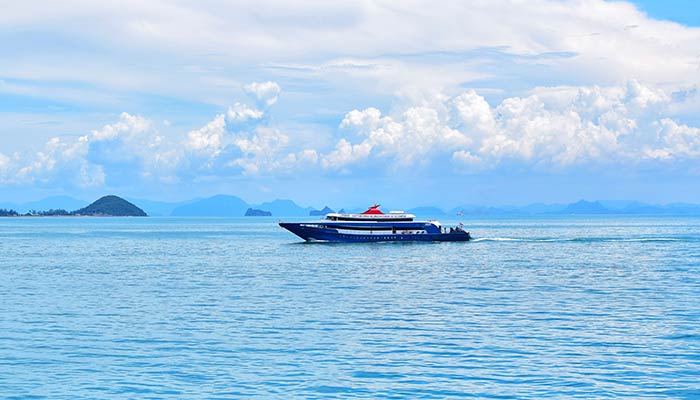 Songserm
(Updated May 2023) Since the pandemic, the Songserm Ferry currently has one daily ferry to Koh Tao. The ferry departs at 10:30 AM from Koh Samui and arrives at 2:30 PM at Koh Tao.
Songserm is another ferry company offering trips from Koh Samui to Koh Tao. Tickets for Songserm ferries are cheaper than the other two because their ferries are a little older and slower. Journey times are around 2.5 hours, and the facilities onboard are not as good as the others.
Private charter speedboats are another option. Great for groups of travelers who like to split the cost of everything between them. The speedboats are fast and flexible as you can be picked up right from your beachfront hotel and dropped off at the beach on Koh Tao.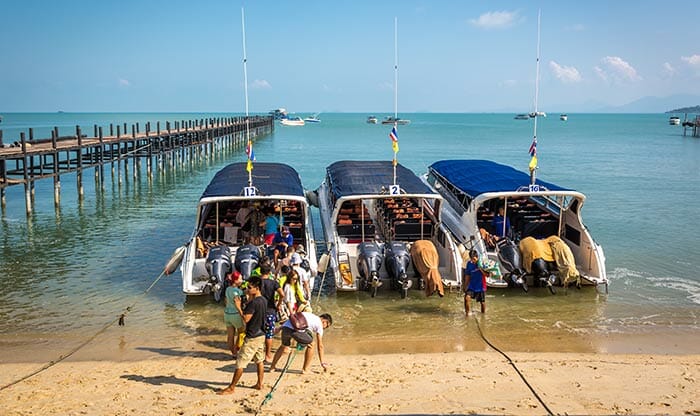 Diving Trip from Koh Samui to Koh Tao
If you're planning to spend more than just a day on Koh Tao, then the ferries are a great option. But if you're pushed for time, and would love to get there just for a day to experience the island's fantastic diving, then an organized diving trip from Koh Samui to Koh Tao could be the answer.
Different tours will be available depending on who you book through. It is possible to book a trip without needing any former diving knowledge or certification if you're a beginner. You should expect a full day with an early start. Most tours will include pickup at your hotel in Koh Samui and transfer to the ferry. Instructions and safety briefing, dive equipment all included, several supervised dives, lunch, and of course the ferry ride back to Koh Samui ending with drop-off at your hotel.
Compared to taking a ferry independently, a diving trip from Koh Samui to Koh Tao is considerably more expensive. But if you want a day trip to Turtle Island and considering all that's included in the price, it's a pretty good deal!
How do you get from Koh Samui to Koh Tao?
Traveling from Koh Samui to Koh Tao is a popular route. There are high-speed and regular ferries, with the high-speed ferries costing more but getting you there in as little as 1.5 hours. Or book a private diving tour if you're going for the diving. Book ferry tickets or combined tickets with hotel pickups at 12Go.
How long does it take from Koh Samui to Koh Tao?
To go from Koh Samui to Koh Tao, you have to travel by ferry unless you use a private speedboat charter or take a diving tour. The fastest is the Lomprayah catamaran, taking around 1.5 hours. Seatran ferries are about 2 hours, and Songserm takes 2.5 hours. There are plenty of ferries available at a reasonable cost, and you can compare the schedules and prices at 12Go.
How do you get to Koh Tao?
Koh Tao is a small island without an airport, but ferries are plentiful. You can catch a ferry from the nearby islands of Koh Samui and Koh Phangan. From the mainland go via Surat Thani or Chumphon, both have ferry connections with Koh Tao. There are many daily departures. You should easily find something if you check online at 12Go where you can compare journeys and book tickets.
How do I get to Koh Tao?
This depends on where you're starting from. Koh Tao is an island without an airport, so you'll have to take a ferry! Traveling down from Bangkok, you can arrive in Surat Thani or Chumphon and take a ferry. You can also catch a ferry from the nearby islands of Koh Samui and Koh Phangan.
How many piers are there in Koh Samui?
There are four main ferry piers on Koh Samui. They are staggered at different points around the island: Pralan Pier, Nathon Pier, Lipa Noi Pier, and Big Buddha Pier. There are also many smaller piers for charters and tour boats. Research where your ferry will arrive and choose your accommodation accordingly to avoid a long transfer, then book your ferry tickets at 12Go.
Is Koh Tao worth visiting?
Koh Tao is a small but beautiful island. It is famous for diving with whale sharks and shallow water coral reefs to snorkel in. Quieter than some of Thailand's other islands, it's also a great destination for relaxing days on the beach. In Koh Tao, it is also possible to get more active and hike to a viewpoint, kayak, or paddle boarding. By evening, enjoy its laid-back nightlife vibe. Check travel schedules and book tickets to Koh Tao on the travel website, 12Go.
Where is the ferry port in Koh Samui?
Being a large and highly visited island, Koh Samui has several ferry ports, usually called piers. Which one you use will depend on where you're coming from or where you're going. The four main ones are Pralan Pier, Nathon Pier, Lipa Pier, and Big Buddha Pier, which is closest to the airport. Book ferry tickets online through 12Go, and the search results will show you which pier you need.
Did you find this guide useful?
Click on a star to rate it!
Average rating: / 5. Vote count: