Small, yet perfectly formed, the island of Koh Tao is one of Thailand's most popular island destinations, sitting a little north of its bigger siblings, Koh Samui and Koh Phangan, yet no less desirable. Filled with inland jungles, stunning little bays, and some of the world's most stunning beaches, Koh Tao offers a quiet retreat if that's what you're looking for, but also has a great nightlife scene when you want to party the night away, and some of the best diving you could wish for.
After relaxing on its beaches, and getting a taste for Thailand's diverse cuisine and nightlife, head north to the country's capital and find out why everyone raves about Bangkok. An incredible change of pace from life on Koh Tao, Bangkok never sleeps. Entertainment and nightlife are ubiquitous, but don't miss out on Bangkok's temples and palaces, parks and river, and not to mention shopping – whether in majestic modern malls or pulsating markets.
Read about:
• Flights from Koh Tao to Bangkok
• Koh Tao to Bangkok by Ferry and Bus
• Koh Tao to Bangkok by Train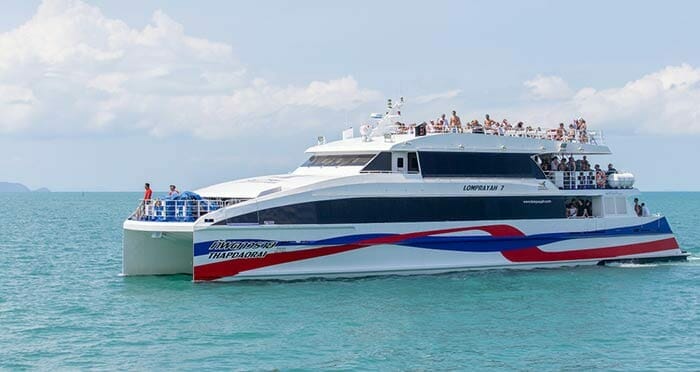 Options for Travel from Koh Tao to Bangkok
If you could fly in a straight line from Koh Tao to Bangkok, the journey would not be particularly long. It's around 410 kilometers (256 miles) in a straight line, traveling north from Koh Tao, across the Gulf of Thailand. Unfortunately, you cannot fly directly from Koh Tao to Bangkok though, as there is no airport on Koh Tao. Flying is an option, however, despite there being no airport, as you can easily fly from one of the nearby islands instead, taking a ferry from Koh Tao first, or even catch a ferry to the mainland and fly from one of the nearby cities there. A ferry ride at some point in your journey is essential, and the ferry portion of your trip will vary in time and cost depending on which route you choose to travel. Aside from flying, once you reach the mainland, you could travel by bus or taxi to Bangkok.
Flights from Koh Tao to Bangkok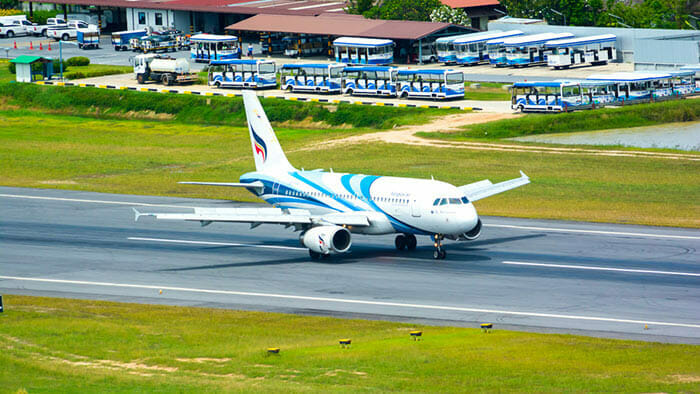 Flying from Koh Tao to Bangkok is expensive, but can be the fastest way to travel. That's not to say that a flight from Koh Tao to Bangkok will get you there in record time; it's still a long journey, but flying can get you there hours quicker than any other form of transport.
So, what are your options for flying? Well, as we mentioned above, there's no airport right on Koh Tao as it's only a small island, so you will first need to catch a ferry to another destination. You have four different options here. Ferries to Koh Samui, Chumphon, Surat Thani or Nahkon Si Thammarat, then a flight.
All four options have their own advantages and disadvantages. If you're not too keen on ferry rides, the shortest route would be the ferry from Koh Tao to Koh Samui. Once on Koh Samui you would need to transfer to the airport and then catch your flight with Bangkok Airways to Bangkok's Suvarnabhumi Airport. This would generally be the most expensive way to travel from Koh Tao to Bangkok as flights with Bangkok Airways are more expensive than other airlines, yet this is the only airline that flies this route. The additional cost does mean the shortest journey time though, so this may be a compromise you'd be happy with.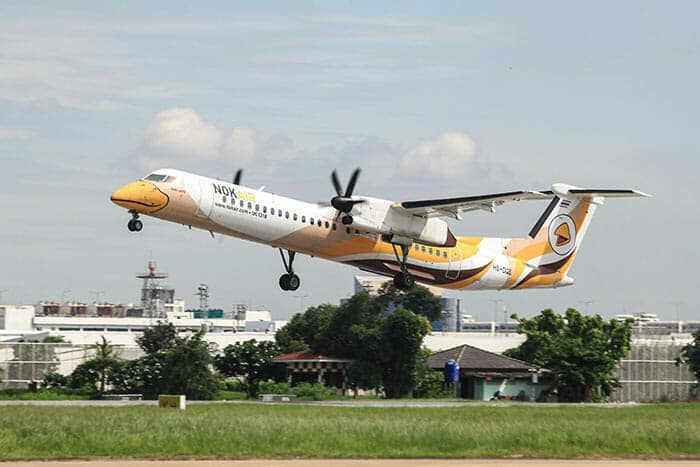 After Koh Samui, the next closest is Chumphon. Traveling from Koh Tao to Bangkok via Chumphon is actually a really good option because it's not a bad price, and it's quite fast.
You can book tickets for this route, and some of the other options, through 12Go.asia, where you can compare the routes and the prices then book online. The great thing about booking through 12Go is that you can book the entire trip with them, for one price, making the whole trip easy to book and giving you peace of mind should one part of the journey be delayed. Traveling this route from Koh Tao to Bangkok you will depart from Mae Haad Pier on Koh Tao using Lomprayah's high-speed catamaran. You then arrive at Chumphon and board a bus to the Chumphon Airport where you catch a flight with Nok Air to Bangkok's Don Mueang Airport. This whole trip only takes 5 hours.
You can also fly to Don Mueang Airport with Thai Lion Air via Surat Thani International Airport. This option includes a high-speed ferry with Seatran Discovery, and connection to the airport by bus. This way would take 9 hours and 45 minutes, or if you chose to fly with Air Asia there are two different flight departures making this an almost 11 hour journey or 8.5 hours. The final flight from Koh Tao to Bangkok is from Nahkon Si Thammarat Airport. This involves the longest ferry ride (with Seatran), of around 6 hours, then a flight with Nok Air to Don Mueang Airport.
Koh Tao to Bangkok by Ferry and Bus

You would think that flying from Koh Tao to Bangkok would save you a lot of time, but when you add in the ferry ride, transfers, and waiting at the airport, the entire journey adds up. This is probably a big reason why so many travelers decide to go by ferry and bus instead. Traveling this way is about half the cost of flying, and not necessarily that much slower.
Booking through 12Go is also possible for the ferry and bus combinations from Koh Tao to Bangkok, and you can compare each of the different ferry companies and see which ones are quickest and which are the most expensive. To be honest, they're all very similarly priced, with Songserm usually coming out a little cheaper than the others because they take the longest with schedules suggesting an overall travel time of 14 hours. With Lomprayah it's faster – taking around 10 hours, which, as you can see from above, is about the same amount of time as some of the flight options.

You could also travel from Koh Tao to Bangkok by ferry and taxi. This is worth considering if you're traveling as part of a group because it's convenient. The private taxi will drive you right to the door of your chosen hotel in Bangkok which saves you transfer times, but it's the most expensive way to get from Koh Tao to Bangkok, and it still takes around 10 hours.
Koh Tao to Bangkok by Train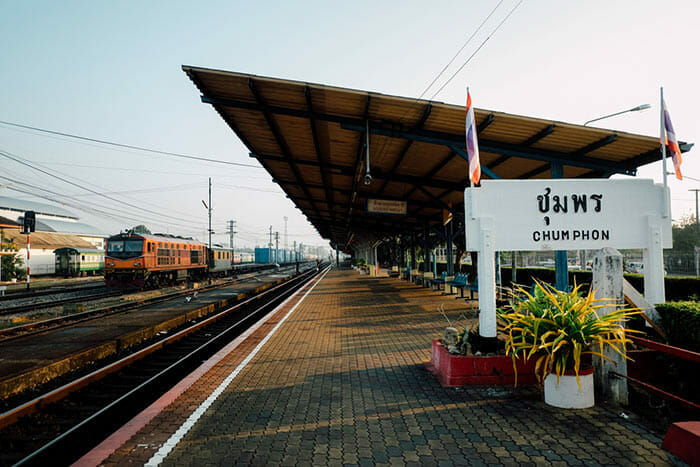 Traveling from Koh Tao to Bangkok by train is possible although the journey is quite convoluted and time consuming, as you might expect when traveling by train in Thailand! Even so, we wanted to give this as another option because some tourists enjoy traveling by train, and there are some advantages to it.
The first thing to consider is that obviously you cannot travel from Koh Tao to Bangkok just by train as you will need to take a ferry to the mainland first. There are two railway options: Chumphon or Surat Thani, but the latter of these will add even more time to your journey so we would recommend the Chumphon route. After catching the ferry from Koh Tao to Chumphon, you will need to take a bus to Chumphon Railway Station and board a train for Bangkok. With the ferry and the transfer times, then the actual train ride of around 7 hours, you could be looking at a 10 or more hour trip. So, in reality, it may not take much longer than getting from Koh Tao to Bangkok by ferry and bus, and because trains are affordable in Thailand, it's not going to break the bank.
When looking at this option, consider traveling on an overnight train and buying a ticket for a sleeper berth. This means you can travel overnight and (hopefully) sleep, which actually saves you the cost of another night in a hotel, making this quite an economical way to travel.
When deciding which way you want to go from Koh Tao to Bangkok, the benefit with buses, trains and taxis is that they do take you right into the heart of the city, whereas when you fly, you do still have to make your way from the airport, adding time and cost to your trip. For this reason, and the overall cost savings, we would recommend booking a ferry and bus combined ticket through 12Go, or perhaps taking the train.
How do I get from Koh Tao to Bangkok?
There are lots of options from Koh Tao to Bangkok, depending on your budget. Flying is most expensive – take a ferry and then fly from Koh Samui, Chumphon or Surat Thani. The cheapest option is a ferry then bus, or trains are also possible from Chumphon or Surat Thani. You can buy combined tickets (for the whole journey) for all different transport options if you book online through 12Go.
How long does it take from Koh Tao to Bangkok?
Flights to Chumphon, Koh Samui or Surat Thani won't save you any time or money with transfers added on, so bus or train travel makes more sense. The bus portion takes around 8 hours plus 1.5 to 3 hours on the ferry. Trains to Chumphon take about 13 hours plus bus and ferry. For convenience, buy a combined ticket from 12Go for all legs of your journey.
How do you fly to Koh Tao?
As there's no airport on Koh Tao you cannot fly directly there. Your best bet is to fly to Chumphon, Krabi or Surat Thani airports who all have flights from Bangkok. You'd then have to transfer to the ferry pier by bus. Some of these routes are more convenient than others, so check online at 12Go to search and book your combined tickets for flight, bus and ferry.
Did you find this guide useful?
Click on a star to rate it!
Average rating: / 5. Vote count: