Phuket, the largest island in Thailand, is also one of the country's best known and most popular tourist destinations. Home to amazing beaches, resorts, spas, rainforests and mountains, Phuket is somewhere you could easily spend weeks relaxing on the beach, or being active and exploring, but if you're yearning for the bigger city, no visit to Thailand would be complete without seeing its capital and largest city, Bangkok. Although there are some bustling towns on Phuket, nothing compares to the atmosphere of Bangkok. With around 8 million people, Bangkok barrages your senses and is an amazing place with its temples and palaces. If you'd like to travel from Phuket to Bangkok, our guide should tell you everything you'll need to know.
Read about:
• Catch a Flight from Phuket to Bangkok
• Phuket to Bangkok by Bus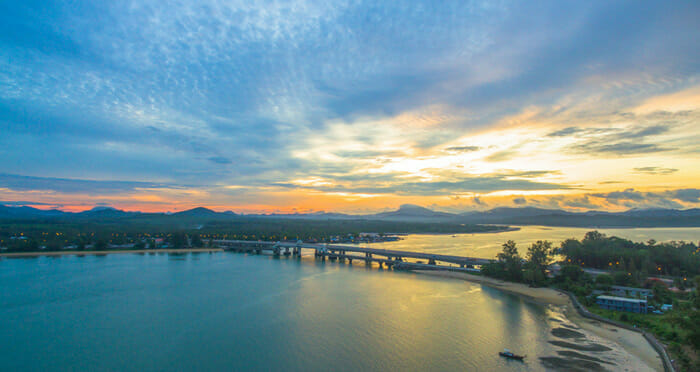 Options for Travel from Phuket to Bangkok
Phuket is situated off the west coast of Thailand, in the Andaman Sea, and although it is an island, it's very close to the mainland and is connected via a bridge, so this makes travel to and from Phuket quite easy. Having said this, if you're hoping to travel from Phuket to Bangkok, it is a long way between these places: about 840 kilometers (525 miles) to be precise, so it's a lengthy journey. Luckily there are three different options when it comes to traveling this route: air, bus, or taxi; providing something for all budgets and timescales.
Catch a Flight from Phuket to Bangkok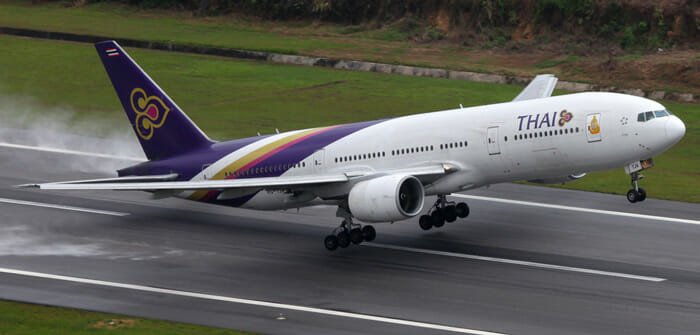 Flying from Phuket to Bangkok definitely seems like the most sensible way to travel, especially if you're pushed for time and you want to get to the big city as fast as possible. Actual flying time is not much more than an hour, and, even when you add in the time it takes to get to and from the airport at either end, it still beats buses and trains by some considerable amount. But, there is a catch; speed equals more expense, and flying is usually the most expensive way to travel from Phuket to Bangkok, meaning this this is not such a good option for anyone traveling on a budget.
Having said this, on the surface, a seat on the cheapest airplanes is actually not that much more expensive than a seat on a VIP bus, but you should look for hidden costs when comparing ticket prices. The bus seat will include luggage allowance, whereas the cheapest airlines charge extra to check your suitcase in. If you're a light traveler this shouldn't be an issue as you can get away with your carry-on bag alone, but if you're staying in Thailand for a while you're going to have bigger bags and more personal belongings with you, so do check on this when making your booking.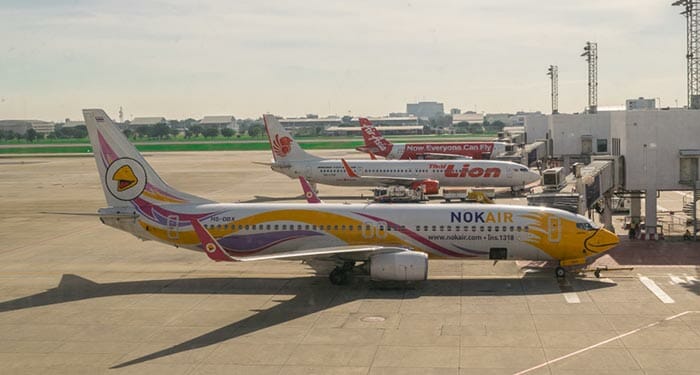 Flying from Phuket International Airport there are around 50 flights per day to Bangkok, arriving at either one of its airports – Don Mueang Airport, or Suvarnabhumi. Generally, the lower cost airlines use Don Mueang, so this will include Nok Air, Thai Lion Air and Thai AirAsia. The airlines going from Phuket to Bangkok's Suvarnabhumi Airport will tend to be more expensive and these include Bangkok Air, Thai Vietjet, Thai Airways, and Thai Smile, and most of these will include checked baggage allowance – although do double check on this to be sure.
If you're hoping to catch a flight from Phuket to Bangkok without it costing the earth, there are a couple of other travel tips we can give you. Being flexible is the best way to save yourself money – look for flights that are leaving later in the day or first thing in the morning. Flying at these less sociable times can be a lot cheaper. The day of travel makes a difference too… Phuket is very popular not just with foreign tourists, but with Thai people as well. Many Thai people fly down for weekends, returning on a Sunday which means that airfares from Phuket to Bangkok are usually higher on a Sunday. You should also try to avoid Thai holidays as well because tickets will be far more expensive at these times, and more difficult to find. And finally, try to book your ticket as far in advance as possible because if you leave it until the last minute fares are usually more, and you risk not being able to find a seat.
We recommend using a travel website such as 12Go because they provide options for both Bangkok airports and give you prices for all the airlines, making it easy to compare.
Phuket to Bangkok by Bus

Buses from Phuket to Bangkok have the advantage of being cheaper than flying, although remember what we said above about cheap air tickets and how some can cost only a little more than the expensive bus tickets! At the cheapest end though – so that's the Express buses – this is easily the most affordable way to travel from Phuket to Bangkok, making this the ideal choice for budget-conscious travelers.
Covering roughly 840 kilometers by road alone does have its drawbacks though. The main disadvantage is the amount of time it takes to travel by bus. From Phuket to Bangkok by bus you're looking at a journey time of somewhere between 12 and 14.5 hours, and that's a long time to be cooped up on a bus! The good news is that there are stops along the way, so you can get out and stretch your legs, and the buses used by private tour companies all have air conditioning so you shouldn't get too hot – if anything you might get cold as the a/c is often cranked too high!
So, if you're looking to save the most money, opt for a seat on an Express bus. These are comfortable buses operated by private companies, and they usually include toilets onboard, as well as a steward service and snacks. Express buses will consist of two rows of two seats, as you typically find on a large bus.

If you want a higher level of comfort and more space, pay more and buy a seat on a VIP bus from Phuket to Bangkok. These do cost a fair bit more, but the luxury level is really amped up. There will only be three seats per row (2 plus 1), and the bus includes a TV, either a communal TV or on the most expensive service, a TV for each seat. The most reputable companies include Bus Express, Phuket Travel, and Sombat Tour, with the first two exclusively operating between Phuket and Bangkok.
We recommend buying your tickets through 12Go for peace of mind. We do not recommend buying your tickets through a travel agent in Phuket Town as these are renowned for being problematic. Book your seats as early as you can, especially if you want to travel overnight, as these services get booked up first.
Flying or taking the bus from Phuket to Bangkok is what we would recommend, but you can also travel by private taxi, or you can take a bus to Surat Thani and then a train from there to Bangkok, but really this does not provide any extra benefit over the direct bus service. Taxis are very expensive, but if you're in a group and you book a larger vehicle, it could work out to be a little more cost effective than flying, and private taxis can also be booked through the travel website 12Go if you're interested in comparing the costs.
Can you get a boat from Phuket to Bangkok?
It's not possible to get a boat from Phuket to Bangkok, but there are plenty of other transport options. Search on 12Go and you'll find numerous ways to get from Phuket to Bangkok to suit all budgets, from the cheap buses, to a bus and train combination, to the more expensive flights; which might cost you more, but will save a lot of time.
Is there a train from Phuket to Bangkok?
There is not a train that will take you all the way from Phuket to Bangkok, but you can travel most of the way. Take a bus to Surat Thani, then transfer onto a train (about an 11.5-hour journey) for the remainder of the trip to Bangkok. You can buy tickets separately through travel website, 12Go, but getting combined tickets is usually less hassle.
How far is Phuket from Bangkok?
By air, it's about 680kms (423 miles) from Phuket to Bangkok and there are around 50 flights per day, taking 1.5 hours. You can travel cheaper by bus but it's a long journey, adding 165kms, so buses take between 12 to 15 hours. If you book a flight early through 12Go, you can get some great deals that don't cost much more than a VIP bus.
Did you find this guide useful?
Click on a star to rate it!
Average rating: / 5. Vote count: