With many of Bangkok's tourist attractions steeped in history and tradition, it's sometimes nice to experience some of Thailand's more recent history, and Kanchanaburi provides a chance to do just that. Kanchanaburi is a small town about 125 kilometers (78 miles) west of Bangkok, best known as the site of the 'Bridge over the River Kwai' which was made famous by the book and film of the same name. The bridge is part of the Death Railway constructed by prisoners of war and enslaved workers during the Second World War. Following that theme, the town is also home to several World War II related museums and cemeteries. The best of these is the Thailand-Burma Railway Centre which gives good insight into the building of the railway and what it would have been like to be one of the enslaved workers.
Read about:
• Bangkok to Kanchanaburi by Train
• Bangkok to Kanchanaburi by Bus
• Bangkok to Kanchanaburi by Taxi
Another reason to visit and stay in Kanchanaburi is to explore the surrounding Kanchanaburi province, known for its great natural beauty, with many national parks, lakes, caves and waterfalls. The Erawan falls in Erawan National Park is a highlight of the area. So what's the best way to travel from Bangkok to Kanchanaburi? Read on to find out.
Flights to Kanchanburi from Bangkok
Many of Thailand's popular tourist destinations can be reached by taking a flight from Bangkok, but Kanchanaburi is not one of those places. Situated just a few hours by road from the Thai capital, Kanchanaburi is best reached by road or train as this relatively small town does not have its own airport.
Trains from Bangkok to Kanchanaburi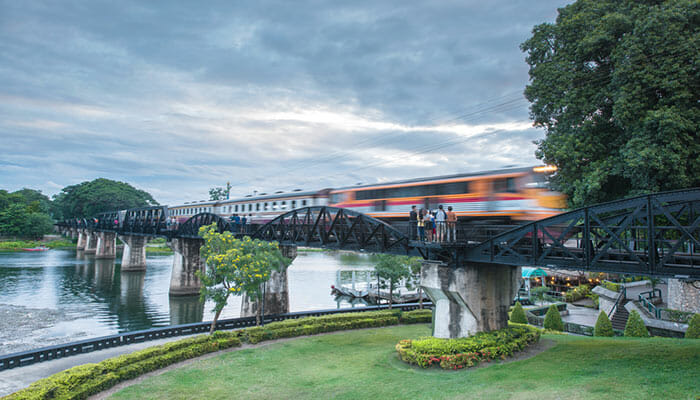 While not the fastest way to travel from Bangkok to Kanchanaburi, many visitors will tell you that the train journey is the best way to go. Travel in relative comfort while watching the stunning scenery pass you by as the outskirts of Bangkok fade behind you making way for the lush green countryside of the Kanchanaburi province.
There are two trains a day, leaving at 07:50 and at 13:55. The train ride to Kanchanaburi is scheduled to take about 2.5 hours but is often closer to 3 hours because of the usual delays. There are also two trains a day going the other way, from Kanchanaburi to Bangkok, departing at 07:19 and 14:48.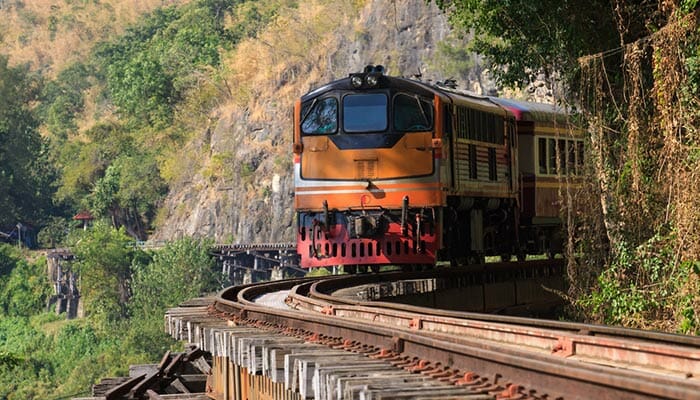 The trains do go over the River Kwai, but the bridge is about 3 kilometers (nearly 2 miles) further along the railway line from Kanchanaburi, so you'll need to get an additional ticket beyond Kanchanaburi to experience going over the bridge itself by train. However, you can buy a ticket in Bangkok to take you all the way so there's no need to get off the train. The terminus of the Death Railway is at Nam Tok which is another 80 kilometers (50 miles) on the train.
The trains from Bangkok to Kanchanaburi are not from the main Bangkok train station but go from the small Thonburi station which can be a bit tricky to get to. Starting at Khao San Road, your best option is to go to the Phra Arthit pier, get on the passenger river boat and connect to the cross-river ferry to the Thonburi Railway pier. It is then a short walk or minibus ride from the pier to the station.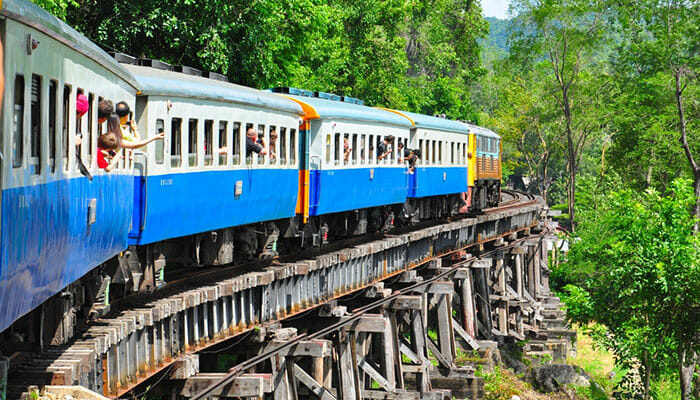 Taking the train is cheap, reasonably comfortable and it allows you to see plenty of scenery once outside Bangkok. We recommend this as one of the best ways to travel from Bangkok to Kanchanaburi, but there are other options to consider as well.
Taking the Bus from Bangkok to Kanchanaburi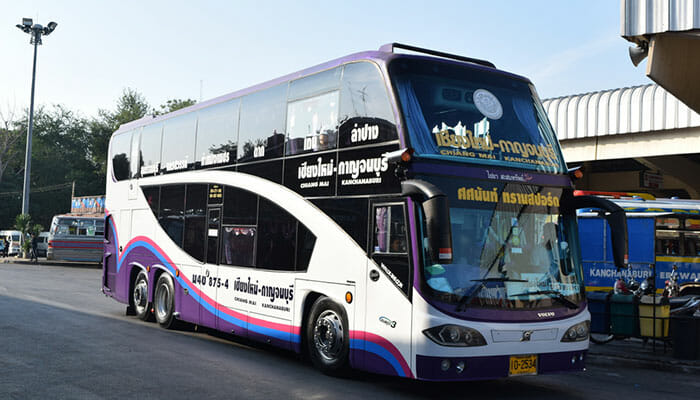 Buses to Kanchanaburi from Bangkok depart from multiple locations around Bangkok – Bangkok Southern Bus Terminal (Sai Tai Mai) and the Northern Mo Chit bus terminal. There are 1st class buses (with toilet and air-conditioning) and 2nd class buses. First class tickets are only about 15% more expensive than second class, so if you can spare the extra in your budget it's worth spending for the extra comfort. The travel time varies between 3 and 4 hours depending on the type of bus and the route the bus takes.
Only a little more expensive than the train and buses, minivans to Kanchanaburi also go from the Northern and Southern bus terminals and are always leaving frequently, making this an affordable and convenient option.
Tourist minibuses from Bangkok to Kanchanaburi
A little different to the regular minivans mentioned above, there are also tourist minibuses operating between Bangkok and Kanchanaburi. If you go to one of the many travel agents or tour operators on Khao San Road you will find plenty of options, and this is where many of the services will depart from. However, for added convenience and peace of mind, you can get your hotel in Bangkok to book a tour van for you and doing it this way they should be able to come to the hotel to pick you up and drop you back at your hotel when you return.
Taxi from Bangkok to Kanchanaburi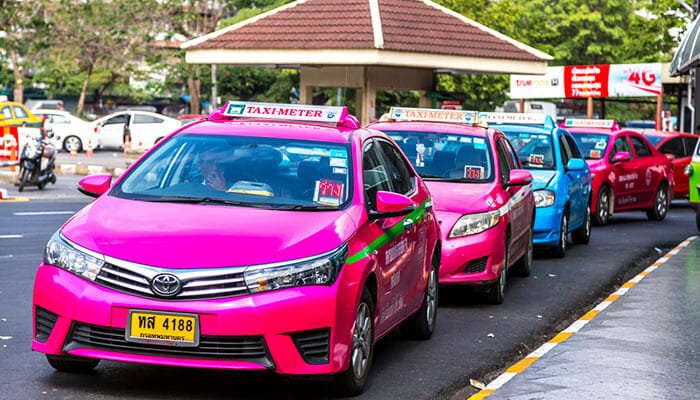 A taxi from Bangkok to Kanchanaburi is obviously the most expensive option but also the most flexible. The drive from Bangkok to Kanchanaburi is likely to take around 3 hours. Traveling by taxi can allow you to stop and visit at various sites of interest along the way, before continuing your journey, provided that you make it clear to the driver that he should wait.
Did you find this guide useful?
Click on a star to rate it!
Average rating: / 5. Vote count: