Ah, Dalat! The City of Eternal Spring is nestled in the Central Highlands of Vietnam and offers oodles of charm. Its French colonial architecture will transport you to a bygone era – perfect for taking unforgettable holiday snaps.
Caffeine-lovers, rejoice! This area is full of coffee plantations that promise delicious freshly brewed cups with stunning lush landscapes as your backdrop. What could be better? It's simply divine!
But it's not just about the coffee – Dalat is also known for its stunning flower gardens, bursting with vibrant colors that will take your breath away. Plus, the Elephant and Pongour waterfalls are like something out of a fairy tale!
When the sun sets, the night market comes alive with its delightful street food and vibrant souvenirs. If you want a special treat, don't miss the strawberry farms, where you can pick fresh berries yourself!
Once you've experienced the magic of Dalat, you'll be itching to come back for more!
Famous places:
Xuan Huong Lake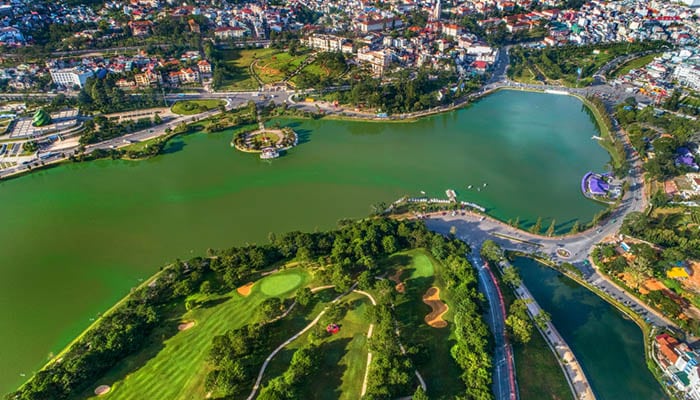 Xuan Huong Lake, the sparkling jewel of Dalat! This picturesque little lake is in the heart of Dalat and it provides an idyllic setting for leisurely strolls or romantic boat rides. With lush gardens and French colonial architecture around every bend, you'll find yourself constantly reaching for your camera to capture the magic.
As the day turns to night, the lake takes on a new persona, reflecting the dazzling lights of the surrounding city. It's the perfect spot to unwind after a day of exploring. Time to soak in the atmosphere as you sample local delicacies from nearby street vendors. Trust me, Xuan Huong Lake is a must-visit in Dalat!
Crazy House
You'll be hard-pressed to find a place as unique and whimsical as Dalat's Crazy House. This architectural wonder, designed by Vietnamese architect Dang Viet Nga, looks like it's been plucked straight from a surreal dream. The building's labyrinth of organic shapes, unexpected nooks, and colorful mosaics is sure to leave you in awe.
And here's a little secret – the Crazy House isn't just a quirky attraction, it's also a fully functioning guesthouse! If you're up for a one-of-a-kind experience, why not spend a night in this fantastical abode, nestled amidst the Central Highlands? I guarantee you won't forget your stay at the Crazy House anytime soon!
Datanla Waterfall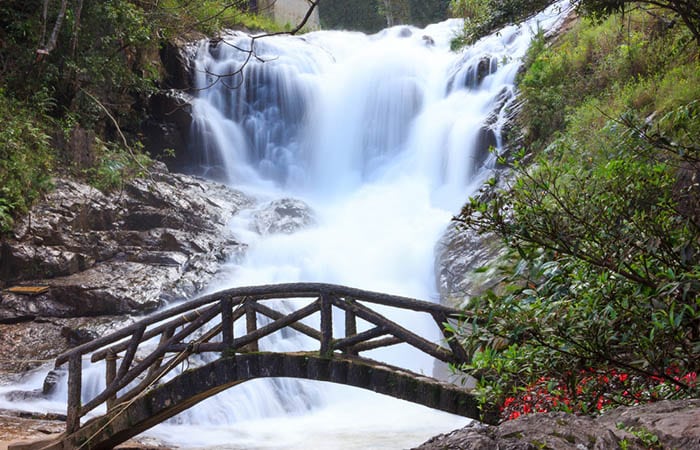 If there's one thing Dalat's known for, it's the breathtaking waterfalls that grace the Central Highlands. And Datanla Waterfall is undoubtedly a standout. The cascading waters, surrounded by lush greenery, create a stunning, postcard-worthy scene that'll leave you mesmerized.
But Datanla isn't just about admiring the view – it's also an adventurer's paradise! Get your adrenaline pumping with activities like the alpine coaster, which whizzes you through the forest, or the thrilling canyoning experience. If you're looking for a mix of natural beauty and heart-pounding fun, Datanla Waterfall is the place to be!
Things to do in Dalat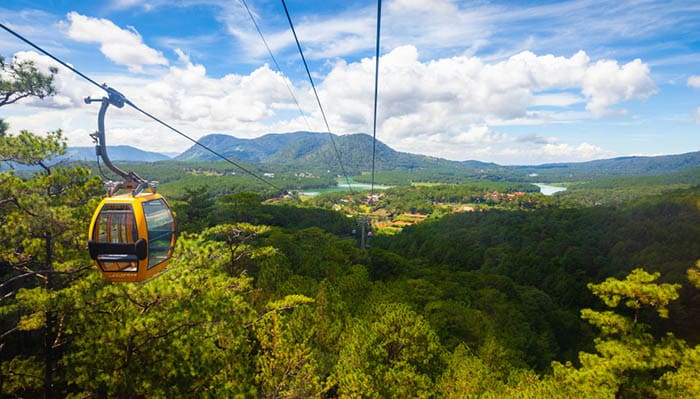 Cable Car Rides
Want to experience the best of Dalat's Central Highlands? Hop on a scenic cable car ride and let the breathtaking panoramic views sweep you off your feet. Gliding above lush greenery and rolling hills, this tranquil journey offers a unique perspective on the region's diverse landscapes. It's perfect for nature lovers and avid photographers alike.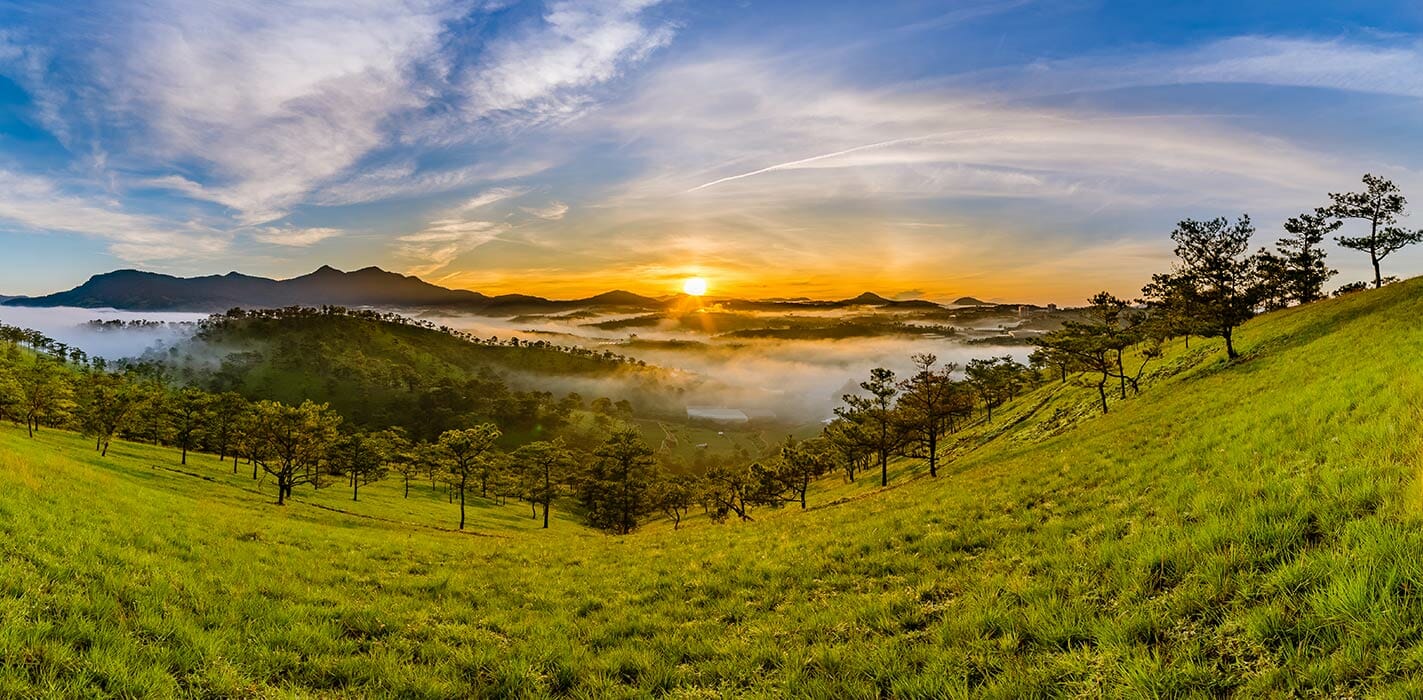 Trekking and Hiking
Dalat, with its verdant hills, lush forests, and misty valleys, is a dream come true for hiking enthusiasts. The Central Highlands are crisscrossed by numerous trails catering to all skill levels. Whether it's a leisurely walk through pine forests or a challenging ascent up Langbiang Mountain, you'll be rewarded with incredible views and a satisfying sense of achievement. Keep your eyes peeled for hidden waterfalls as you explore!
Exploring the Night Market
As the sun sets, Dalat's night market awakens, buzzing with excitement and bursting with colors, scents, and flavors. Dive into the lively atmosphere, browsing through stalls filled with unique handicrafts, aromatic spices, and vibrant textiles. Don't miss out on the delicious street food – be sure to try local favorites like grilled rice paper and sweet potato cakes. A trip to the night market offers a taste of Dalat's rich culture and cuisine, making it an experience you won't forget.
Getting to Dalat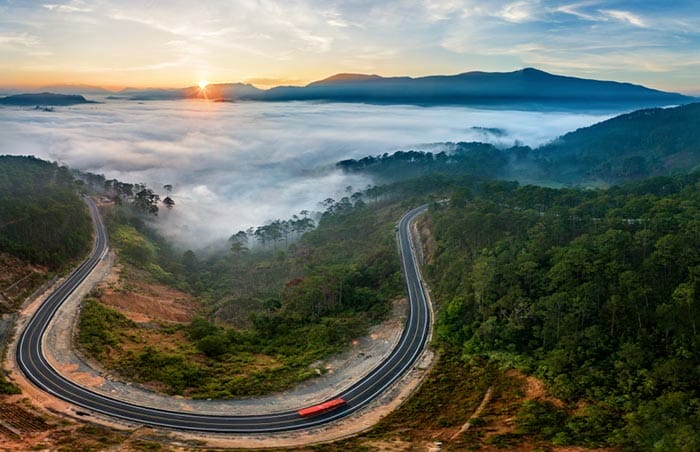 Nha trang to Dalat
Nha Trang, a bustling coastal resort city in Vietnam, offers a lively atmosphere with stunning beaches, diving sites, seafood restaurants, and beautiful temples. It's roughly 135 kilometers (84 miles) from Nha Trang to Dalat, and while the winding mountain roads make the journey longer than you might expect, there are a few convenient travel options available.
One popular way to reach Dalat is by bus, with companies like The Sinh Tourist and Hanh Café offering affordable and reliable service. Alternatively, you can opt for a private taxi or limousine service, which provides added flexibility, convenience, and potentially faster travel times. Although pricier than buses, taxis can be a great option for larger groups or families, as the cost can be divided among passengers. Read the detailed information about traveling from Nha Trang to Dalat.
While some tourists may choose to rent a motorbike or car, it's generally best to leave the driving to professionals so you can sit back, relax, and enjoy the stunning scenery on your journey from Nha Trang to Dalat.
Ho Chi Minh to Dalat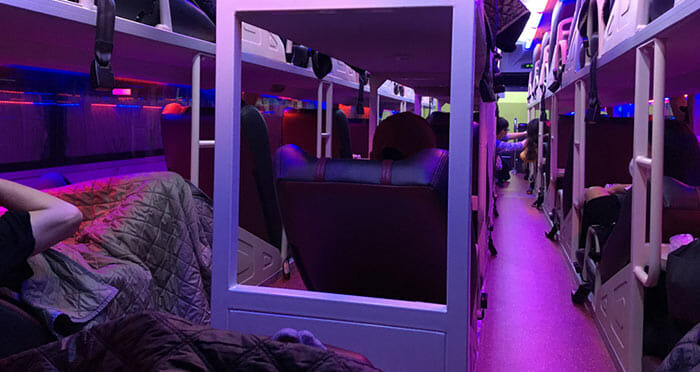 Experience a change of pace by traveling from the bustling Ho Chi Minh City to the peaceful city of Dalat, known as the City of Eternal Spring.
With a distance of about 190 miles (310 km), options for travel include buses, flights, or taxis.
Buses are the most economical choice, taking between 6 and 8 hours, and offering various levels of comfort with semi-sleepers and full sleepers.
Flights significantly reduce travel time to around 50 minutes but may require additional transfer time to and from the airports.
Taxis, although more expensive, provide door-to-door convenience and flexibility for stops along the way.
Read more about the travel options from Ho Chi Minh to Dalat here.
Travel from Dalat
After exploring the enchanting resort town of Dalat, with its unique blend of Vietnamese and European influences, it's time to embark on your next adventure. As a tourist, you have a plethora of exciting destinations to choose from, each offering their own distinct cultural experiences, scenic beauty, and attractions.
To make the most of your journey, consider researching various destinations that suit your interests and preferences. Regardless of your choice, be prepared to embrace new experiences, savor local cuisines, and immerse yourself in the vibrant cultures that await you. Don't forget to explore different transportation options to ensure a smooth and comfortable journey as you continue your unforgettable exploration of Vietnam.
Dalat to Mui Ne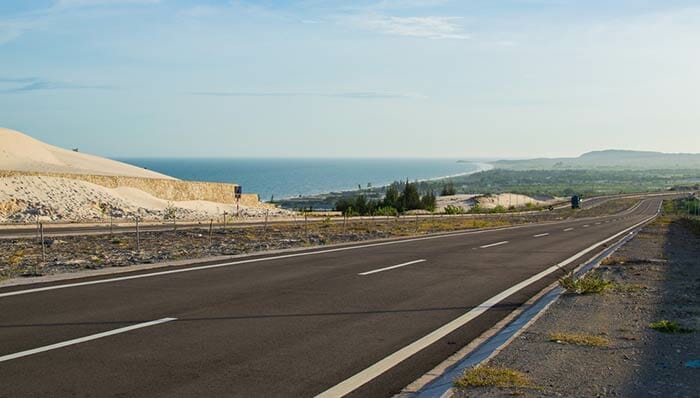 The two main options for traveling from Dalat to Mui Ne are by bus and taxi.
Buses are affordable and have regular departures, with The SinhTourist and Hanh Café being the two recommended companies. Traveling by bus takes 4 to 5 hours.
On the other hand, taxis provide flexibility and door-to-door convenience, potentially taking as little as 2.5 hours to reach Mui Ne. However, taxis are significantly more expensive than buses. Travelers can book both buses and taxis online. Read the detailed information about these transportation options and the journey between Dalat and Mui Ne.
Dalat to Hoi An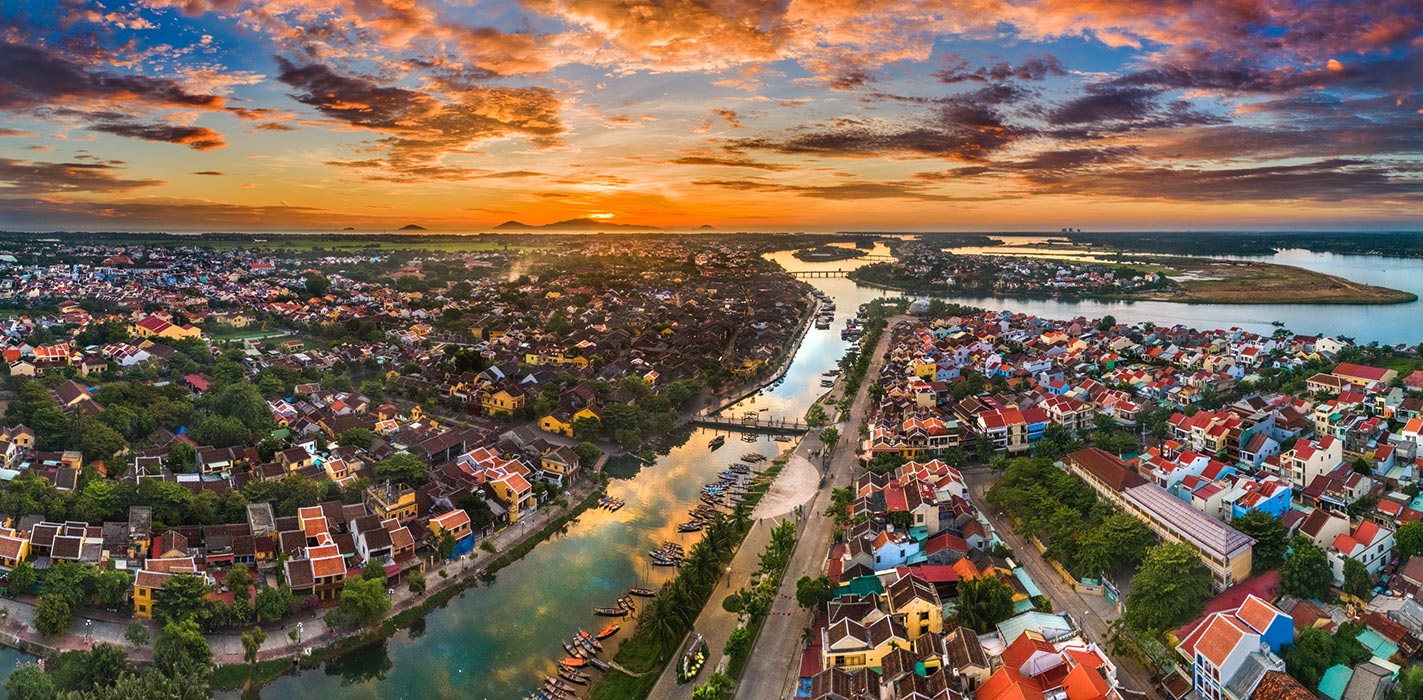 After exploring the picturesque city of Dalat, with its temperate climate, lakes, waterfalls, and French colonial influences, your next destination may be the coastal city of Hoi An. Known for its beautiful beaches, charming old town, UNESCO World Heritage Site, and rich French and Chinese cultural influences, Hoi An is a popular spot for travelers. Covering the distance of about 440 kilometers (275 miles) by air or 635 kilometers (397 miles) by road, there are a few options for getting from Dalat to Hoi An.
Flying is the quickest way to travel, with Vietnam Airlines operating a daily direct service, taking approximately an hour. However, this option can be expensive. Alternatively, you can take a more budget-friendly bus service with Hanh Café, which offers direct buses from Dalat to Hoi An, though this journey takes around 15 hours. Read the detailed information about traveling from Dalat to Hoi An.
For a more adventurous route, consider combining buses and trains by first taking a bus from Dalat to Nha Trang, followed by a train to Da Nang, and finally, a bus to Hoi An. While this option doesn't save time or money, it offers a unique travel experience.
Did you find this guide useful?
Click on a star to rate it!
Average rating: / 5. Vote count: