The distance from Bangkok to Hua Hin is approximately 200 kilometers (125 miles). Being only 3 hours away from urban Bangkok makes the beach resort a popular weekend escape. Even so, Hua Hin is a good deal, with cheap local transportation available on Songthaew buses. You get all the benefits of the beach; with the amenities you would expect from city life. The best travel options from Bangkok are Buses, Minivans, and Trains.
Read about:
• Bangkok to Hua Hin by Bus
• Bangkok to Hua Hin by Van
• Bangkok to Hua Hin by Train
• Bangkok to Hua Hin by Plane
Hua Hin is a beautiful place to spend some quality time, which is why it was so enticing to Thai royalty who began to build summer residences in the area in the 1920s. Phra Ratchawang Klai Kangwon (Far from Worries Palace) is still a royal residence today. If you want to follow in the Thai royalty's footsteps, let's go to Hua Hin! Our guide includes the travel options of bus, van, train, or plane, so time to find out which one suits you the best.
Travelling on the Bangkok to Hua Hin Bus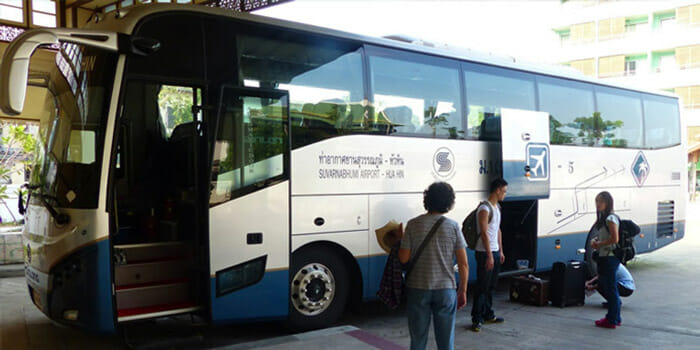 You can easily get to Hua Hin from either Suvarnabhumi Airport (the modern International Airport that serves Bangkok), or from the city of Bangkok itself.
From the Airport
If you are travelling directly from Suvarnabhumi Airport to Hua Hin, you can do so on a modern 24 seat coach. There are six departure times for these coaches each day, starting at 7a.m. Tickets for the coach can be booked at the counter on level 1 at gate 8. This is also the gathering point for anyone travelling on the bus. The cost of a seat on the Bangkok to Hua Hin bus is 305 baht.
It's important to note that there are restrictions to the amount of baggage you can take on the Hua Hin bus. You are allowed to take on board one piece of hand luggage that will fit into the overhead compartments. You are also allowed one other piece of luggage which weighs 20kgs or less. You are permitted to pay 50 baht for one additional piece of luggage weighing up to 20kgs. If you have any more luggage than this you need to speak to one of the members of staff onsite before you make any bookings. It's also worth mentioning that if you have larger items of baggage, such as a bicycle, you can be charged 200 baht per item.
The travel time from Suvarnabhumi Airport to Hua Hin is estimated at 3-4 hours but it can take longer at peak times. Traffic can become congested so you need to make sure you allow plenty of time to reach your destination.
From the City Centre
Sometimes the most challenging aspect of travelling from the centre of Bangkok to Hua Hin can be getting to the Southern Bus Terminal, or Sai Tai Mai. The terminus is located close to the Chao Phraya River and can be awkward to locate for visitors who are not familiar with the local public transport system. It's often easier to get a metered taxi to take you there; this costs approximately 120 baht from the old town. If you are staying in the Sukhumvit area it's possible to take the 515 line bus from Victory monument which costs just a few baht. The 511 bus line also runs from areas of the city centre, such as Petchaburi Road, to the Southern Bus Terminal.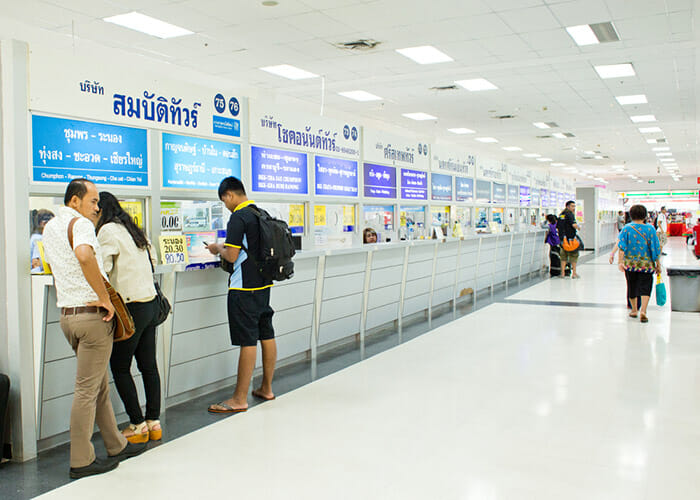 Once you have reached the terminal you can purchase a ticket for your journey. The price of the journey is approximately 200 baht and it's not normally necessary to book in advance. If you are travelling during a national holiday, or at other peak times it may be an idea to check if you should book before you travel. The Bangkok to Hua Hin bus departs every 20 minutes and the journey takes approximately 3.5 hours, although this can again depend on the amount of traffic congestion.
Getting from Bangkok to Hua Hin by Van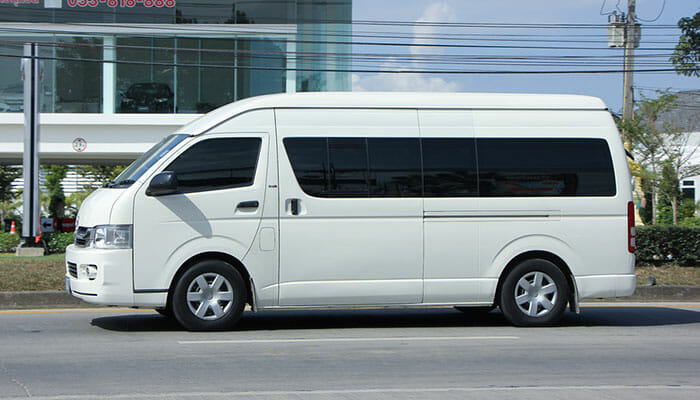 A good alternative to the buses is to travel by van. Going by van from Bangkok to Hua Hin can be even cheaper than going by bus, and the advantage is that, generally speaking, vans should get to Hua Hin a little faster. Quoted journey times are usually between 3.5 to 4 hours, so you're probably not going to save a whole heap of time by going by van. However, there are multiple tour companies to choose from on this route, and between them they have a number of different departure points, so this adds to the flexibility of traveling by van.
Departure points include Mochit New Van Terminal, the Southern Terminal, Khao San Road, and Ekkamai, so you may find it's easier to make your way to one of these points. Among the reputable tour companies operating vans from Bangkok to Hua Hin there is Nor Neane Transport, Mama Travel and Tour, JKP Mochit, and Win Poo Yai Piak. They all use vans that seat around 10 to 12 people, and have air conditioning. One drawback with traveling by van is that you may have less space than you would on a bus, and luggage space is often limited, so it's perhaps not a great idea if you have a lot of bags.
Travelling on the Bangkok to Hua Hin Train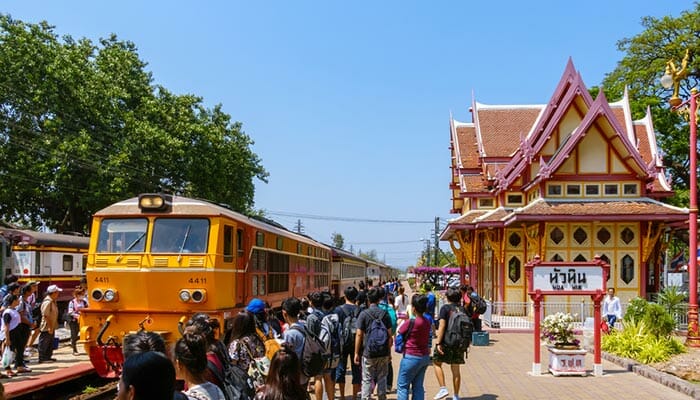 It's easy to travel by train from Bangkok to Hua Hin, with trains leaving the city's Hua Lamphong and Bang Sue railway stations on a regular basis during the day at periods between 8.05am to 22.50pm. It's not a quick journey though; even on an express train it takes approximately 4 hours. On a rapid train it takes approximately 4 hours 15 minutes. There is also one ordinary service per day which appears to take the same length of time as the rapid service. One of the main positives of travelling by train is arriving at Hua Hin station. It is one of the oldest in Thailand, and features the Royal Waiting Room where the King and his court used to be welcomed. The room was relocated from its original site at Sanamchan Palace in Nakom Pathom.
The fare structure for the Bangkok to Hua Hin train is a little complicated as there are three different classes. Fares vary greatly from 44 baht for third class to 202 baht for first class. You also have the option of paying extra for facilities such as an air-conditioned First Class Day & Night Coach which costs 1,522 baht if you want to pay for the entire room, and are travelling alone. Of course there are cheaper options if you are travelling overnight such as an air-conditioned Second Class Day & Night Coach which costs 572 baht for an upper bed. If you are looking to book a bed on a sleeper coach it's important to note that the top beds are smaller which is why they are always cheaper to book than the lower beds.
Third class tickets on the Bangkok to Hua Hin train have their advantages in that they are not pre bookable so should always be able to just turn up at the station and purchase one. Whichever ticket option you decide on it's recommended that you check prices for the Bangkok to Hua Hin train directly before travel as they are subject to fluctuation.
Travelling from Bangkok to Hua Hin by Plane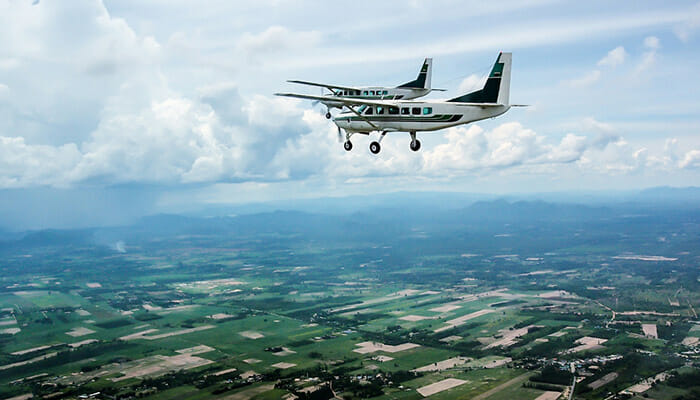 It's possible to travel from Bangkok to Hua Hin by plane but not on a conventional airline. Currently there are no regular commercial flights between the two destinations. There are airports at both destinations so it is possible to hire a charter flight to travel from Bangkok to Hua Hin by plane. However, as you can probably imagine this is not a cheap option! It costs approximately 2,200 baht to hire a very light jet for up to an hour, and the flight time from Bangkok to Hua Hin is 35 minutes.
Unless you are willing to pay a considerable amount of money, the best options for travelling from Bangkok to Hua Hin are bus or train. The Bangkok to Hua Hin bus is the slightly quicker option, and can be cheaper depending on the class of train travel you opt for. The Bangkok to Hua Hin train can take a longer time, and may not be air conditioned, again depending on what class of travel you choose, but you do benefit from arriving at a breathtakingly beautiful station in Hua Hin. You should also remember that, although it may take a while, travelling from Bangkok to Hua Hin by bus or train means you get to see some amazing sights, including rivers, mountains and several Thai temples along the way.
How useful was this post?
Click on a star to rate it!
Average rating / 5. Vote count: