Koh Samui, a hidden gem in Thailand, is an extraordinary destination that should be on every traveler's bucket list. This captivating island is home to some of the most stunning beaches, with inviting turquoise waters that beckon you for a rejuvenating swim. Whether you prefer an opulent resort or a laid-back atmosphere, Koh Samui caters to every taste.
Nature enthusiasts will adore Koh Samui's diverse landscape, featuring cascading waterfalls, dense jungles, and a rich array of marine life. Don't miss the iconic Big Buddha, and make sure to snorkel or scuba dive to discover the wonders beneath the waves. To experience authentic Thai culture, head over to Fisherman's Village, where traditional lifestyles are on display and mouth-watering seafood dishes awaits.
With its vibrant nightlife, rejuvenating spas, and wellness offerings like yoga retreats, Koh Samui ensures every visitor finds their perfect balance between relaxation and excitement. The island's culinary scene is also a delight, ranging from scrumptious street food to elegant fine dining, all featuring an enticing mix of international and local Thai flavors.
In summary, Koh Samui is a remarkable destination, seamlessly blending sun, sand, sea, and adventure. It's an unmissable experience for any globetrotters seeking a memorable getaway.
Famous places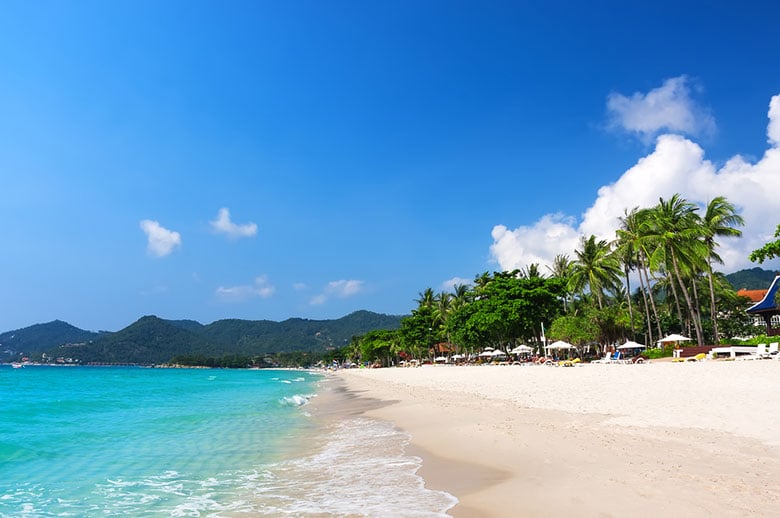 Chaweng Beach
Chaweng Beach is one of Koh Samui's most renowned and beloved stretches of sand and never fails to impress. Its pristine white sands and mesmerizing turquoise waters create an idyllic setting for a perfect beach day. Those seeking excitement will find plenty of activities. To name a few: snorkeling, surfing, and exploring the shops and eateries lining the shore. With its diverse appeal, Chaweng Beach offers something for every traveler.
This lively beach is also famous for its pulsating nightlife scene, featuring an abundance of bars, clubs, and restaurants that keep the party going until the early hours. Chaweng Beach is undoubtedly the go-to spot for a memorable night out on the island. So, whether you're in pursuit of adventure or relaxation, Chaweng Beach should be at the top of your Koh Samui itinerary.
Big Buddha
The Big Buddha, standing at an impressive 12 meters tall, is a landmark that cannot be missed by any visitor to Koh Samui. Not only is it one of the island's most important cultural and religious sites, but it also offers spectacular views from its peak – encompassing beaches and countryside alike. A must-visit for first-time explorers, the Big Buddha is a truly stunning sight.
Whether you're a history buff, spiritual seeker, or simply looking for a great photo opportunity, the Big Buddha is not to be missed. Take a stroll around the temple grounds, learn about the island's rich culture, or simply sit and enjoy the peaceful atmosphere. And, as the sun sets, the statue is illuminated, making for an unforgettable and stunning sight.
Fisherman's Village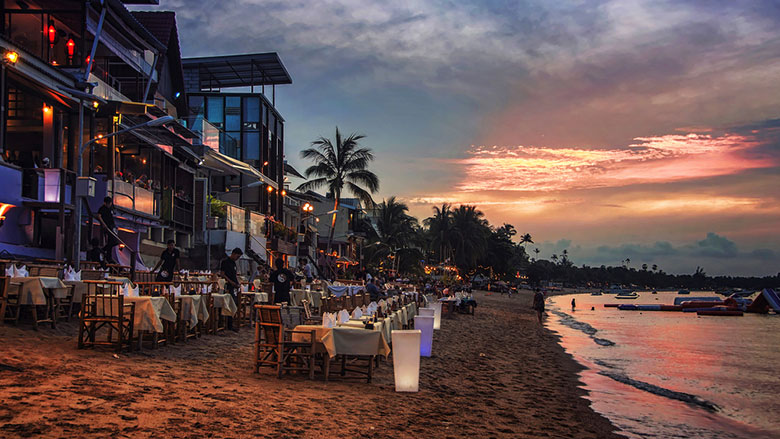 Fisherman's Village is a delightful beach town in the northern part of Koh Samui. Take a stroll along its narrow streets lined with wooden shophouses and explore the bustling market – it's an absolute must-visit for any traveler looking to experience the island's heritage, culture, and traditions. Don't forget to try out the fresh seafood available at the market!
The village is also home to several beautiful temples, such as Wat Plai Laem with its striking 18-armed statue of the Buddhist goddess Guanyin. Whether you're seeking adventure or simply looking to relax and take in the local culture, Fisherman's Village offers a one-of-a-kind and truly authentic Koh Samui experience.
Things to do in Koh Samui
Snorkeling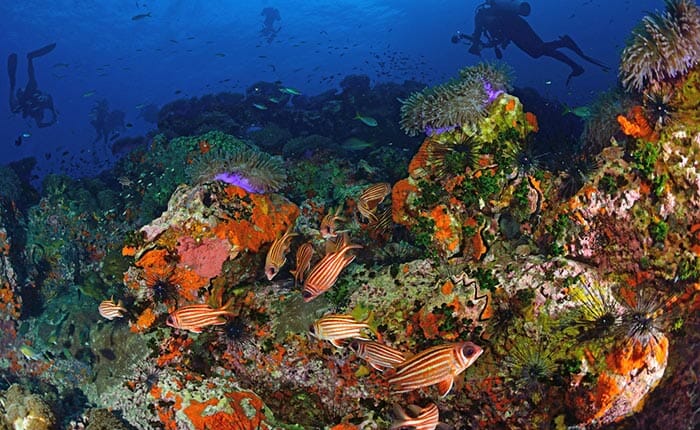 Koh Samui is a paradise for snorkelers, boasting some of the best spots in Thailand. Crystal clear waters and vibrant coral reefs provide the perfect backdrop for discovering an array of colorful tropical fish, sea turtles and even the occasional whale shark. With many snorkeling tours available to suit all different interests and experience levels, it's easy to find the perfect excursion. So don your mask and fins and embark on an unforgettable underwater adventure!
Yoga
Koh Samui is the perfect destination for those seeking inner peace and balance through yoga and mindfulness practices. With its lush tropical landscapes and serene beaches, this island offers a variety of experiences to suit all levels of practitioners. From sunrise yoga classes on the beach to intimate workshops in the jungle, Koh Samui provides an ideal backdrop for seasoned yogis and beginners alike to deepen their practice, relax and reconnect with nature.
Adventure Activities
For the thrill-seekers out there, Koh Samui has plenty of exciting adventure activities on offer. From ziplining through the jungle to rock climbing and kayaking, there's no shortage of ways to get your heart racing. Take a jungle tour to see some of the island's hidden waterfalls, or go for a scenic hike to enjoy the stunning views. With so many options available, you're sure to find the perfect adventure activity to suit your interests and adrenaline levels. So what are you waiting for? Get ready to explore the wild side of Koh Samui!
Getting to Koh Samui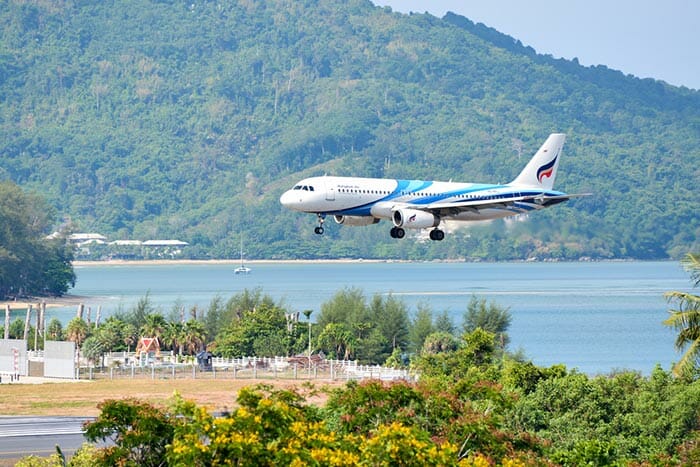 Bangkok to Koh Samui
Looking for a relaxing getaway from the bustling city of Bangkok? Koh Samui, an island in the Gulf of Thailand, offers idyllic beaches, mountainous rainforests, luxurious spas, and vibrant nightlife. To travel from Bangkok to Koh Samui, you have three options:
Flight: The quickest way is by airplane, with Bangkok Airways offering almost hourly direct flights. However, tickets can be expensive. Alternatively, fly to Surat Thani or Chumphon Airport on the mainland and take a ferry to Koh Samui to save money.
Train & Ferry: An affordable option is taking an overnight sleeper train from Bangkok's Krung Thep Aphiwat Train Station to Surat Thani, followed by a shuttle bus to Donsak Pier. From there, choose between a conventional ferry (90-minute journey) or a high-speed catamaran (45-minute journey) to Koh Samui.
Bus & Ferry: The final option involves taking a bus from Bangkok to Chumphon and then boarding a high-speed catamaran. This scenic route passes several islands but takes around 11 hours, half of which is on the boat.
Your choice will depend on your budget and time constraints. For more information and to book tickets, check the original article here.
Phuket to Koh Samui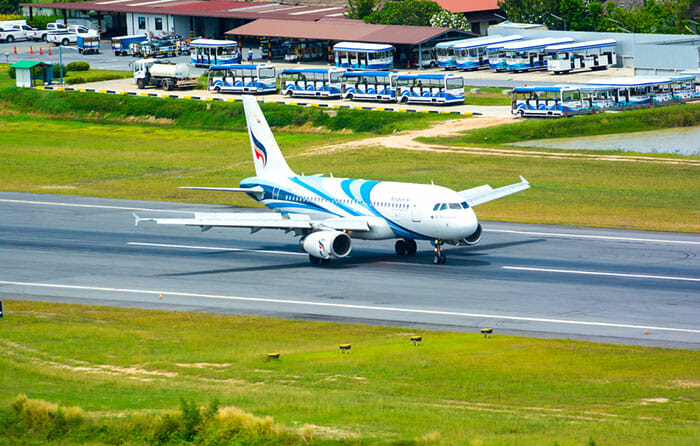 Thailand's beautiful coasts offer breathtaking scenery, and a visit to Phuket and Koh Samui allows you to experience the best of both worlds. To travel between these popular destinations, you have several options:
Flights: Bangkok Air operates multiple daily flights from Phuket to Koh Samui. While it's the quickest way to travel (under an hour), it can be expensive due to the lack of competition on this route.
Driving: Renting a car and driving the 350-kilometer route (about 6 hours) allows you to explore Thailand's stunning scenery at your leisure. You can also take your rental car onto a ferry at Raja Ferry Port to continue exploring Koh Samui.
Bus & Ferry: Choose between various bus and ferry options to suit your budget and comfort preferences. The cheapest option takes about 8-9 hours, while more luxurious options with high-speed ferries take around 6 hours 45 minutes. Some packages even include hotel transfers on Koh Samui for added convenience.
Ultimately, the choice of transportation depends on your budget, time constraints, and preferences. For more information and to book tickets, check the full Phuket to Koh Samui – Go by Bus or take a Flight? here.
Krabi to Koh Samui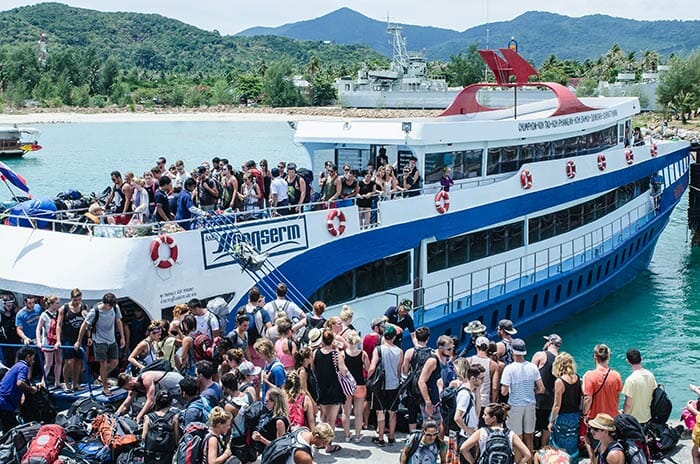 Take a break from Krabi's picturesque landscapes and visit Koh Samui, Thailand's second-largest island, known for its vibrant nightlife, stunning beaches, coconut groves, and rainforests. Travel options between Krabi and Koh Samui include flights and ferries.
Bangkok Airways operates a daily flight from Krabi to Koh Samui, taking less than an hour. Although quick, it's the most expensive option and requires additional time for check-in, security check, and luggage collection.
Ferries are a more affordable and popular choice. There are several ferry companies, such as Lomprayah, Seatran Discovery, and Songserm, offering different levels of comfort and journey times. Lomprayah operates high-speed catamaran ferries, taking around four hours, while Seatran Discovery's high-speed ferries are slightly slower. Songserm provides standard ferries with fewer amenities but at a lower cost.
Booking a combined bus and ferry ticket simplifies the journey, as a bus or minibus ride is always required since Krabi and Koh Samui are on opposite coasts. Travel agents and local offices can help with bookings, but purchasing tickets independently may save money. Pickups from Krabi Airport or your hotel can be arranged for added convenience.
For more information and to book tickets, check the original article here.
Other Travel Guides to Koh Samui
Traveling from Koh Samui
Once you have explored and experienced the beauty and charm of Koh Samui, it is time to move on to your next destination. Many options are available, whether you prefer to travel by air, over land, or by sea.
Koh Samui to Koh Phangan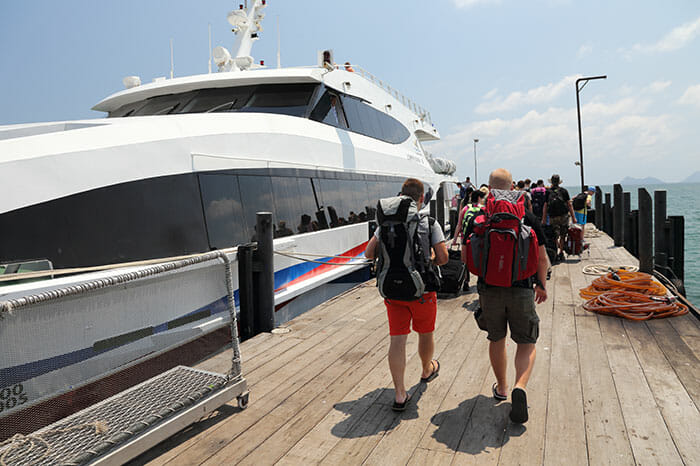 If you are looking to travel from Koh Samui to Koh Phangan, your options are limited to speedboats or ferries. With four different ferry companies to choose from, there are plenty of options for travelers, but what will influence your choice is where you are starting from and where you want to end up. The four ferry operators are Seatran, Lomprayah, Haad Rin Queen Passenger Ferry, and Raja Ferry.
Seatran operates a high-speed ferry that offers good comfort levels, including indoor and outdoor decks, air conditioning, toilets, and a store selling drinks and snacks. The ferries depart from the Bangrak Seatran Pier, Koh Samui, and arrive at Thong Sala Pier on Koh Phangan. Lomprayah operates a similar service with new catamarans that take just 20 minutes to get from Koh Samui to Koh Phangan. Lomprayah is often cheaper than Seatran and provides similar comfort levels, with air conditioning, toilets, and a shop. The catamarans travel from the Paralan Pier at Maenam and arrive at Thong Sala Pier on Koh Phangan.
Haad Rin Queen Passenger Ferry is popular among backpackers who are looking to save money. These ferries are known for being over-crowded and uncomfortable, but are still a popular choice among budget travelers heading to the Full Moon Party. The ferries depart from Sunset Pier near the airport and arrive at Haad Rin Pier on the southeast coast of Koh Phangan, which is the location of the Full Moon Party.
Raja Ferry operates two ferries per day from Lipa Noi to Koh Phangan, if you want to travel to Koh Samui's sister island.
Read more about your options for traveling between Koh Samui to Koh Phangan – Which Ferry is the Best?
Koh Samui to Koh Tao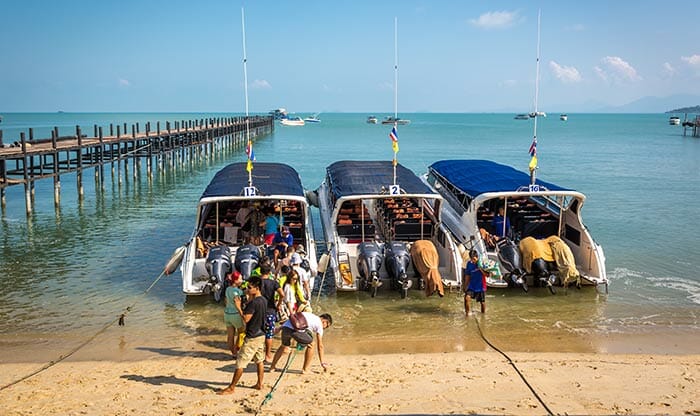 Koh Tao, meaning Turtle Island, is a small island located about 67 km (42 miles) from Koh Samui and is renowned for its scuba diving. It offers a mix of budget-friendly to luxurious accommodation options. Unlike Koh Samui, Koh Tao does not have a big nightlife scene and is a good destination for those seeking a quieter pace of life. The only way to get to Koh Tao from Koh Samui is by ferry or speedboat.
Ferries from Koh Samui to Koh Tao are operated by companies such as Lomprayah and Songserm and depart from various locations on Koh Samui. The journey by ferry takes around 1.5 to 2.5 hours and arrives at Mae Haad Pier on Koh Tao. A diving tour from Koh Samui to Koh Tao is a good option if you're planning to dive for a day without staying overnight on the island.
Lomprayah operates a high-speed catamaran ferry that takes 1.5 hours to reach Koh Tao. It has two daily departures at 8:30 AM and 12:30 PM from Paralan Pier at Maenam in Koh Samui and two daily departures from Na Thon Pier at 12:15 PM and 3:30 PM. Seatran ferry from Koh Samui to Koh Tao takes around 2 hours and departs from the Bangrak pier on Koh Samui.
For more information on the different options available for ferry travel from Koh Samui to Koh Tao, click here to read the detailed information.
Koh Samui to Bangkok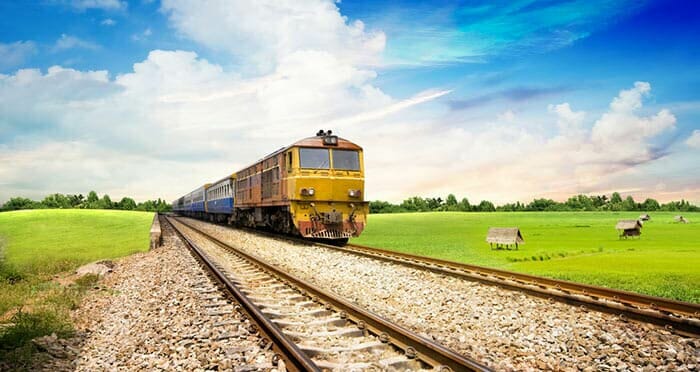 Koh Samui, Thailand's second-largest island, is famous for its beautiful beaches, luxurious spas, and breathtaking scenery, attracting about 2.5 million visitors annually. Traveling from Koh Samui to Bangkok, which is over 700 kilometers away, can be done via direct flights, ferries combined with buses or trains, and private taxis.
The quickest option is to fly with Bangkok Airways, which takes around 1 hour and 15 minutes. However, direct flights are expensive. A cheaper alternative includes flying from the nearby Airports in Surat Thani or Chumphon after taking a ferry from Koh Samui.
For a more scenic journey, consider taking a ferry, bus, and train combination. The trip takes just under 18 hours but offers a unique Thai train travel experience. You can purchase joint tickets for convenience, which covers all the travel segments.
The cheapest option is a bus and ferry combination, which takes between 12 and 16 hours depending on the ferry used. Several companies offer combined tickets, some of which include hotel pickup. Finally, if you're traveling in a group, a private taxi may be an affordable and convenient option, although a ferry crossing is still involved.
For more details on the available travel options, visit the original article.
Other Travel Guides from Koh Samui
Did you find this guide useful?
Click on a star to rate it!
Average rating: / 5. Vote count: