Ho Chi Minh City, or Saigon as it's still commonly known, is a fascinating destination that has a lot to offer. Rich in history and culture, this bustling metropolis is a melting pot of both the traditional and the modern. Its vibrant street life, delicious food, and friendly locals make it a city that should definitely be on your travel bucket list.
The city's history is a major draw for visitors. From the remnants of French colonial architecture to the significant role it played during the Vietnam War, Ho Chi Minh City has many captivating sites to explore. Key attractions include the War Remnants Museum, the Reunification Palace, and the Cu Chi Tunnels. Each of these sites provides a unique insight into the city's past and the resilience of the Vietnamese people.
Food is another reason why Ho Chi Minh City is worth a visit. The tantalizing array of street food on offer is sure to delight your taste buds. From piping hot bowls of pho to banh mi sandwiches and sizzling barbecues, the city has something for every palate. Don't miss the chance to sample dishes at the bustling Ben Thanh Market, where you can also shop for souvenirs and local crafts.
Finally, Ho Chi Minh City's nightlife is not to be missed. With an array of rooftop bars, lively clubs, and laid-back beer gardens, there's something for everyone to enjoy when the sun goes down. The city is also a great base for exploring the nearby Mekong Delta, with its lush landscapes, floating markets, and traditional villages. All in all, Ho Chi Minh City is a captivating destination that promises a memorable experience for any visitor.
Famous Places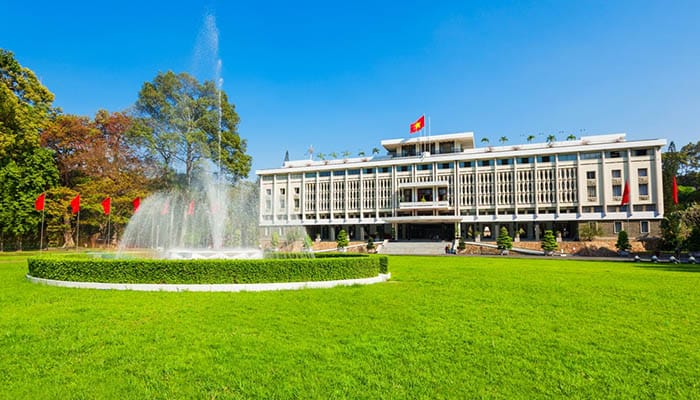 Reunification Palace
The Reunification Palace, once the home and workplace of the South Vietnamese president, is a symbol of the country's turbulent past. Its striking modernist architecture provides a unique backdrop for learning about the events that led to the end of the Vietnam War. As you explore the palace's well-preserved rooms, you'll get a glimpse into the lives of the leaders who once resided there.
A guided tour of the Reunification Palace will take you through its historical halls, including the president's office, the war command room, and even a hidden underground bunker. This fascinating place serves as a testament to the unification of Vietnam and offers a chance to better understand the nation's complex history.
Cu Chi Tunnels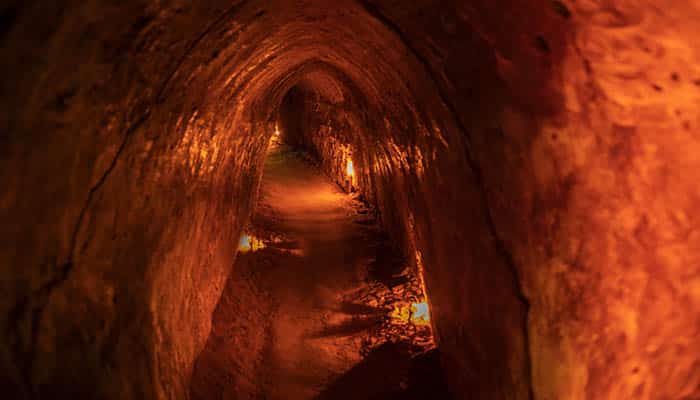 The Cu Chi Tunnels are a remarkable network of underground passageways that played a crucial role in the Vietnam War. Used by the Viet Cong as hiding spots, supply routes, and living quarters, these tunnels allowed them to move undetected and launch surprise attacks against enemy forces. A visit to the Cu Chi Tunnels offers an intriguing look into the resourcefulness and determination of the Vietnamese fighters.
During your tour of the tunnels, you'll have the opportunity to crawl through some of the narrow passages and learn about the ingenious traps and defenses that were used to protect the occupants. This immersive experience is not only an adventure but also an important lesson on the lengths people will go to in order to protect their homeland.
Notre-Dame Cathedral Basilica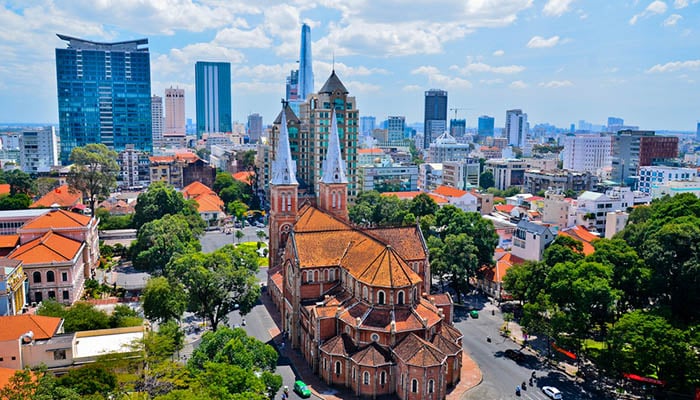 The Notre Dame Cathedral Basilica is an exquisite example of French colonial architecture. It stands today as a reminder of Vietnam's French colonial past. This iconic landmark with towering spires and beautiful stained-glass windows stands out in Ho Chi Minh. The cathedral's Neo-Romanesque style provides a striking contrast to the city's modern skyscrapers.
As you step inside the cathedral, you'll be captivated by its serene atmosphere and the intricate details of its design. While the Notre-Dame Cathedral Basilica is an active place of worship, it also serves as a testament to the city's diverse history and architectural heritage.
Things to do
Explore the Street Food Scene
Exploring Ho Chi Minh City's street food scene is a must for any traveler. Meandering through the bustling streets and alleyways, you'll find countless stalls and carts serving up a variety of delicious dishes. From the iconic banh mi sandwiches to steaming bowls of pho, there's always something new and delicious to try.
As you take in the unique flavors of Ho Chi Minh City, you'll also get an insight into the daily city life through conversations with its warm and welcoming locals. It's a great way to learn more about this vibrant destination while indulging your taste buds! So don't miss out on this gastronomic journey and let it be an integral part of your HCMC experience.
Enjoy the Nightlife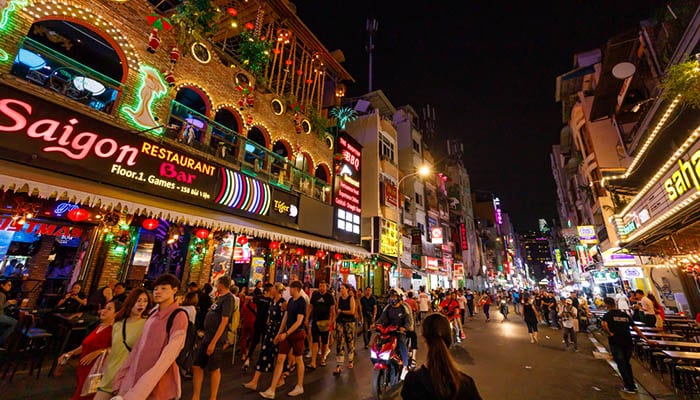 Ho Chi Minh City is renowned for its vibrant nightlife, with plenty of choices to suit all preferences. From luxurious rooftop bars showcasing spectacular views of the cityscape, to lively clubs where you can dance until dawn – there's no shortage of spots for an unforgettable evening out.
If you're looking for a more laid-back evening, Ho Chi Minh City has plenty of beer gardens and pubs where you can sip on local brews and enjoy excellent company. Whatever type of night out you crave, the city's vibrant nightlife is sure to provide an unforgettable experience.
Cruise the Mekong Delta
A trip to Ho Chi Minh City wouldn't be complete without a cruise through the nearby Mekong Delta. This lush, watery region is home to an array of charming villages, picturesque waterways, and vibrant floating markets. As you glide along the delta's meandering rivers and canals, you'll witness the daily life of the locals and get a glimpse of a different side of Vietnam.
Exploring the Mekong Delta is a must for any traveler to Ho Chi Minh City, offering an escape from the busy city life and a chance to admire Vietnam's rural scenery. Whether taking part in a guided tour or opting for a more relaxed private boat ride, cruising through the Mekong Delta is an experience not to be missed.
Traveling from Ho Chi Minh
Ho Chi Minh to Da Nang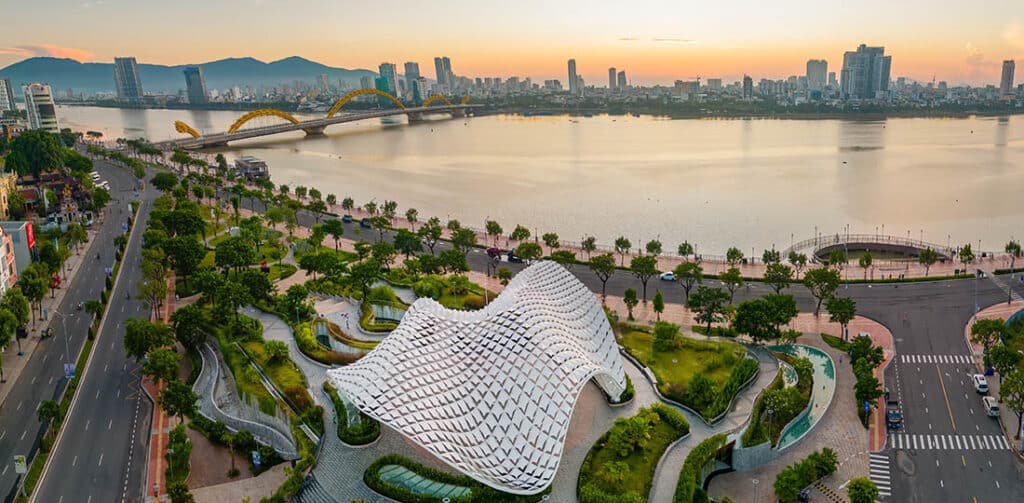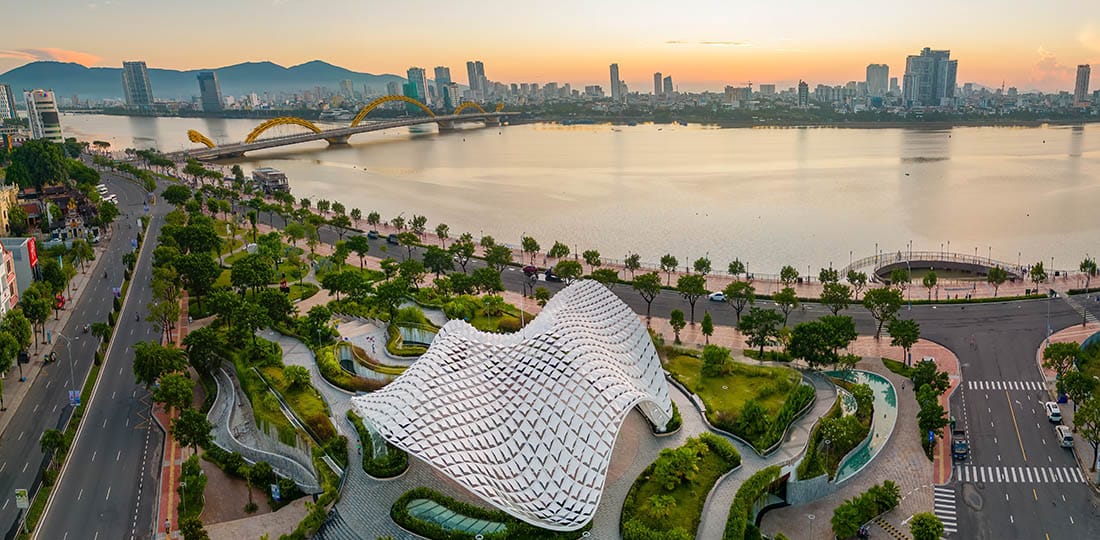 There are various ways to travel from Ho Chi Minh to Da Nang, including by train, bus, and flight.
The train route is popular, with five daily trains operated by Vietnam Railways. The journey takes between 16 and 19.5 hours, depending on the train you choose, and there are three ticket options available. Sleeper cabins are recommended for comfort.
Flying is the fastest option, with a flying time of 1 hour and 20 minutes. VietJet Air, Bamboo Airways, and Vietnam Airlines all offer regular flights between the two cities, with prices varying across the airlines.
Traveling by bus is the cheapest way to travel, but the journey takes around 20 hours, making it the slowest option.
Overall, the decision on how to travel from Ho Chi Minh to Da Nang will depend on your budget and time constraints. If you have the time, taking the train is recommended for the scenic route and cultural experience. If you need to get there quickly, flying is the best option, while traveling by bus is the cheapest option.
Read our full guide "Ho Chi Minh to Da Nang – Go by Train, Flight or Bus?" to get more extensive information.
Ho Chi Minh to Nha Trang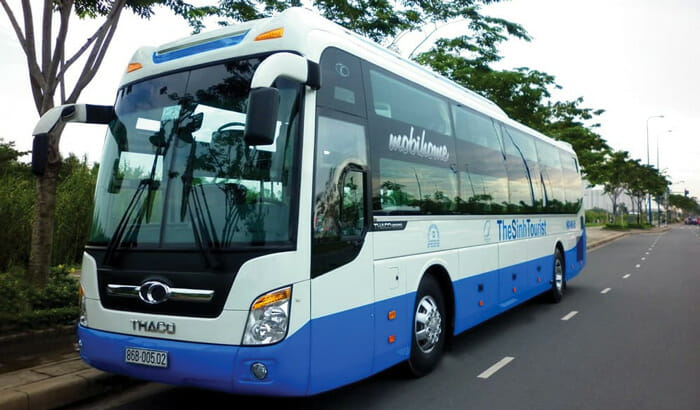 Ho Chi Minh City is a bustling and energetic city, offering culture, grand architecture, and plenty of activity. If you need a break, Nha Trang is a popular escape and the ideal place to relax on its gorgeous white sand beaches by day and soak up the nightlife by night.
The distance between Ho Chi Minh and Nha Trang is over 430 kilometers (about 270 miles), making the journey lengthy by road, with bus options taking somewhere between 9.5 to 11 hours.
The train is a faster option, taking between 7 and over 9 hours, but the duration of services varies.
Finally, the quickest way to travel is by a flight from Ho Chi Minh to Nha Trang, taking only around 1 hour. Flights are usually the cheapest with VietJet Air, although train sleeper cabins are cheaper than some flights.
Buses operated by Hanh Cafe are substantially more basic than those by The SinhTourist, only providing AC and standard seats, while The SinhTourist provides sleeper seats, TVs, steward and snack services, and onboard toilets. If you can easily sleep, overnight buses are a great idea as they add affordability, meaning you don't have to spend the night in a hotel.
When traveling from Ho Chi Minh City to Nha Trang, there are many different options available that suit various preferences and budgets. Read our full guide "Ho Chi Minh to Nha Trang – Go by Flight, Train or Bus?" to get more extensive information.
Ho Chi Minh to Siem Reap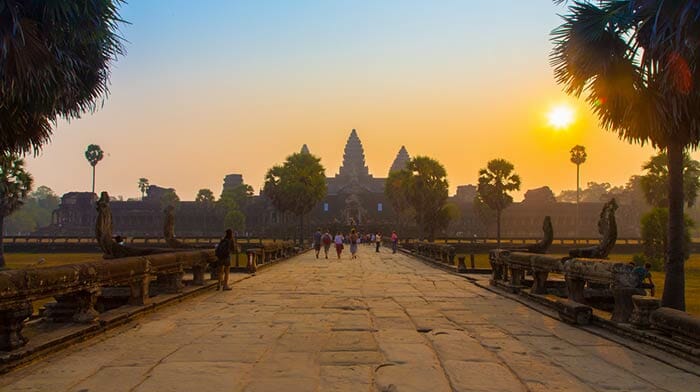 After experiencing the energy of Ho Chi Minh, many tourists head to Siem Reap, a Cambodian city known for its French-influenced architecture and as the gateway to the spectacular Angkor region. Though the distance between Ho Chi Minh and Siem Reap is significant, it is a popular tourist route with a variety of transport options available.
Traveling by road is one way to get from Ho Chi Minh to Siem Reap, but it is a lengthy journey of approximately 460 kilometers (290 miles) due to poor road conditions and crossing the border from Vietnam into Cambodia. There are, however, many buses that operate this route, with four different buses available to choose from each day.
Alternatively, a flight from Ho Chi Minh to Siem Reap takes less than 1.5 hours, and three airlines offer flights between the cities: Vietnam Airlines, Cambodia Angkor Air, and Lanmei Airlines. Though flying is significantly more expensive, it is the quickest and most comfortable option.
If you choose to travel by bus, the three tour bus companies you can choose from are: the SinhTourist, Mekong Express, and Kumho Samco. The journey by bus takes between 13 and 14 hours, including stops and having to change from one bus to another, usually in Phnom Penh.
Other Travel Guides From Ho Chi Minh
Getting to Ho Chi Minh
Hanoi to Ho Chi Minh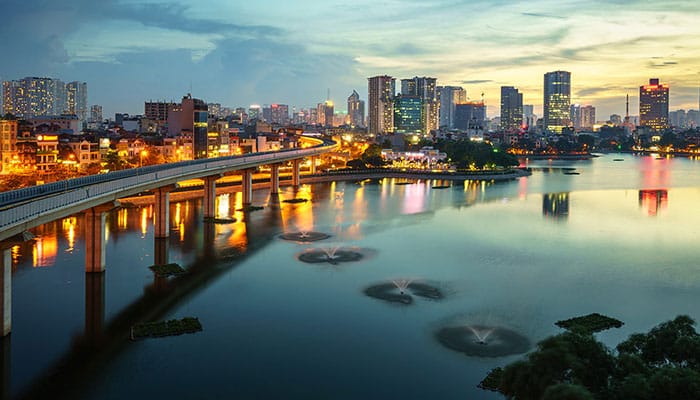 The Hanoi to Ho Chi Minh City route covers a distance of 1600 kilometers and is a great way to explore Vietnam. There are three transportation options to choose from: by air, by rail, or by road.
If time is of the essence, the quickest option is to travel by air with Jetstar Pacific, VietJet Air, or Vietnam Airlines. The flight duration is approximately two hours, making it the most time-efficient option.
Travelers who prefer to take the scenic route may opt to travel by train, where they can enjoy Vietnam's landscapes. The journey time ranges from 29.5 hours to 34 hours and 40 minutes, depending on which Vietnam Railways train you take. A sleeper cabin is available for travelers to rest during the overnight portion of the trip. Private cars such as the Violette Express Trains offer more luxurious accommodations at a higher price point.
The slowest option is by bus, where the journey time is approximately 37.5 hours, but it is an affordable option with beds, air conditioning, and stops for food and stretching. While flights offer a faster option, trains and buses provide more opportunities to see Vietnam's landscapes.
The main consideration when choosing transportation is the amount of time available for travel.
Did you find this guide useful?
Click on a star to rate it!
Average rating: / 5. Vote count: