With historic George Town as its capital, the Malaysian state of Penang may be the second smallest state in the country, but it's filled with attractions. Sitting on Penang Island, just off the coast of Peninsular Malaysia, George Town itself has plenty to see in the historic streets of its core, a UNESCO World Heritage Site, while the rest of the island is a beach-lover's paradise and quite rural by comparison, with its interior jungles and farms. Penang offers a great introduction to Malaysia, its history, culture and people. And, if cities are what you enjoy, travel north from here into Thailand, and visit Bangkok.
The Thai capital offers quite a contrast to George Town, being an incredibly large and busy city, but it's an amazing place to visit on any tour of Southeast Asia. Come for the temples, the parks, the cuisine, and the nightlife, and stay for the shopping and the vibrant atmosphere that are sure to get you hooked on Bangkok!
Read about:
• Flights from Penang to Bangkok
• Penang to Bangkok by Van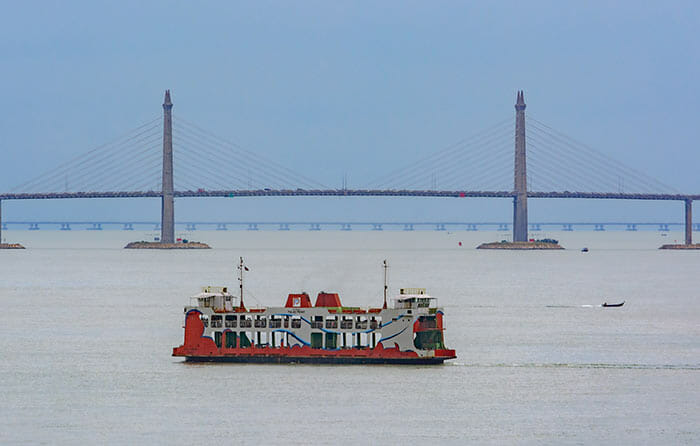 Options for Travel from Penang to Bangkok
With Peninsular Malaysia sitting just south of Thailand, on the same land mass, traveling between these two cities is really quite easy compared to some trips you might take in this part of the world! If you're starting from George Town, you'll have just one small stretch of water to cross right at the beginning of your journey, but with two bridges and several ferries connecting Penang Island to the mainland, even this water crossing is quick and easy! Because of this, traveling by road is possible. It's a long drive – about 1,160 kilometers (725 miles) – and you have to remember that you will be crossing an international border from Malaysia into Thailand. The good news is that traveling by van, if this is what you choose to do, is an affordable way to travel, so it's great if you're on a budget, and allows you to see some scenery along the way. Flying is a good option if you just want to get from Penang to Bangkok as fast as possible.
Flights from Penang to Bangkok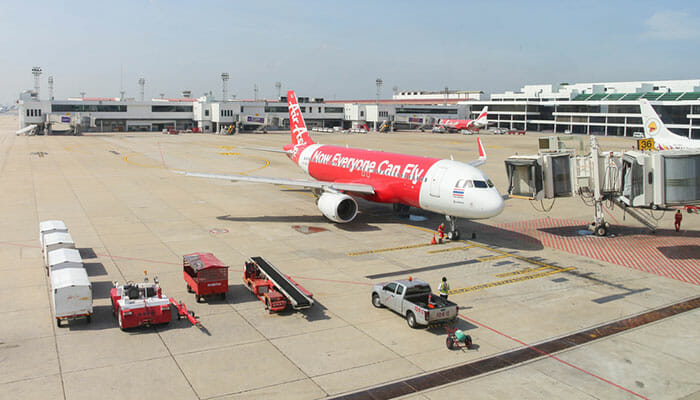 When you have such a long distance to cover, it's easy to see why many tourists choose to travel from Penang to Bangkok by flight. Flying drastically cuts down your journey time but it does cost more than other modes of transport, so you will have to weigh up the pros and cons yourself to decide whether the time saving is worth the extra cost. Saving time is a great idea if you're on vacation and only have a few weeks before going home. In this case, you will likely want to minimize your travel time so you can maximize your sightseeing time!
The good news is, there are several flights from Penang to Bangkok per day, so you have a few choices from two airlines. You also have the choice of which Bangkok airport you want to arrive at because Thai AirAsia flies to Bangkok's Don Mueang, while Thai Smile flies to Suvarnabhumi. Either way, the scheduled flying time will be around 1 hour and 50 minutes, but your transfer time into the city of Bangkok will vary depending on where you arrive. Do a little research before booking your flights so that you choose the airport that's best for you, or, if you're not too fussed on the transfers (which are readily available from both airports, by the way) you can simply make your choice based on which flights are cheapest. Flying to Don Mueang will tend to be cheaper, but you can get the best savings if you book as far in advance as possible.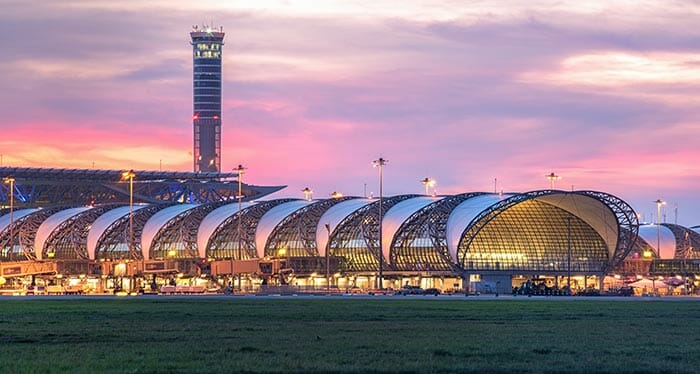 Flights can be easily booked online through the travel booking website, 12Go.asia, which will show you all the Penang to Bangkok flights that are available on your chosen date. You can also compare other modes of transport if you're interested in seeing what the price differences are.
From Penang, you'll be departing from the Penang International Airport which is on Penang Island, in the south near Bayan Lepas. There are buses from all over Penang Island to the airport, operated by Rapid Penang.
Penang to Bangkok by Van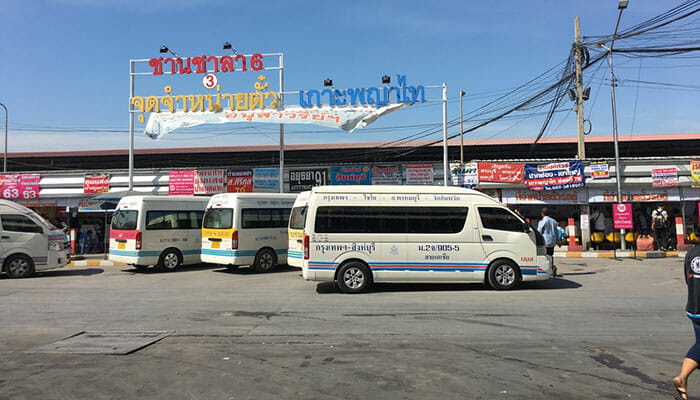 Going by road is going to save you a chunk of money, but it's going to cost you a lot of time. There are vans, operated by New Asian Travel, that will take you the entire way from Penang to Bangkok – a journey that will take somewhere around 18 hours in fairly cramped conditions. The vans are modern and while they would be comfortable enough for a shorter journey, spending 18 hours with up to 13 other passengers, may not be your idea of fun! You cannot recline the seats in these vans, and there's really no space to be able to get up and walk around, as there would be in a bus. This also means there are no facilities onboard, so you will have to wait for a scheduled stop if you do want to get off and stretch your legs or grab a bite to eat.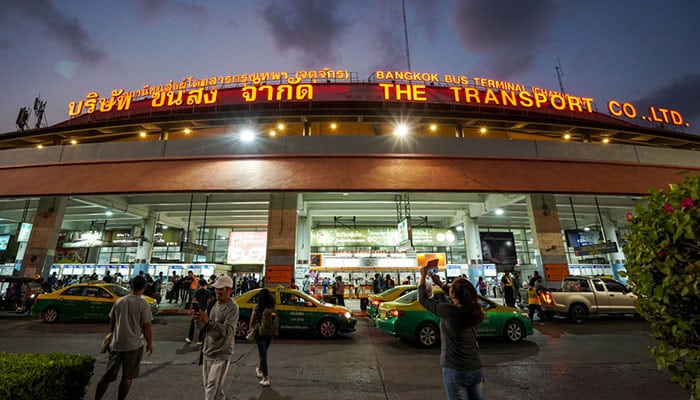 Despite all these drawbacks to traveling by van from Penang to Bangkok, many travelers will still go this way because of the cost saving. There are three vans per day, leaving from New Asian Travel at Komtar, in the center of George Town, traveling to Morchit Terminal in the north of Bangkok. These vans depart at 5am, 8:30am, and 12pm. The 5am bus gets you to Bangkok at 10pm the same day, while the 8:30am bus gets you there at 1:30am the following morning, so with these two vans you'll be traveling through the day and into the night. In certain respects this is nice because you get to see a lot of scenery along the way! The noon bus travels through part of the day and all night, making this a good option if you're able to sleep easily because you miss having to spend a night in a hotel, giving you additional cost savings.
The van from Penang to Bangkok can also be booked through 12Go, where you get instant confirmation of your booking; great for peace of mind. And you can check reviews from previous passengers before you decide whether you want to fly or take the van.
Did you find this guide useful?
Click on a star to rate it!
Average rating: / 5. Vote count: