Known as the Rose of the North, the city of Chiang Mai offers a very different experience to the hustle and bustle of Bangkok. While it is Thailand's fifth largest city it's considerably smaller than Bangkok and has a far more relaxed and laid back atmosphere. Rich in history, and surrounded by mountains, Chiang Mai is scenic and culturally important, and we highly recommend a visit.
Read about:
• Bangkok to Chiang Mai by Flight
• Bangkok to Chiang Mai by Train
• Bangkok to Chiang Mai by Bus
You'll need more than just a day to get to and explore Chiang Mai. It is 700 kilometres (435 miles) north of Bangkok and there are several options for travelling from Bangkok to Chiang Mai, including the bus, train or flights.
Flights from Bangkok to Chiang Mai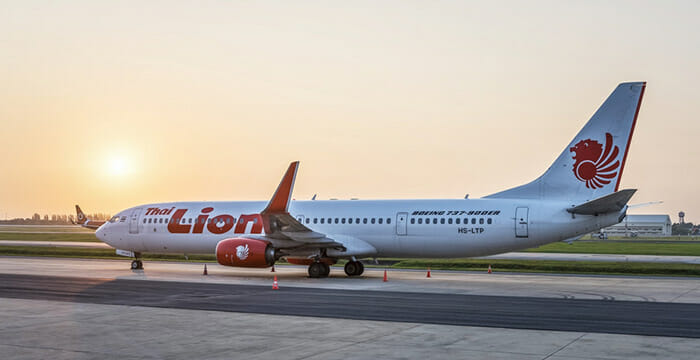 The large distance between these two cities tends to persuade many travellers to opt for a flight because it's so fast in comparison to buses and trains. Expect a direct flight from Bangkok to Chiang Mai to take around 60 to 70 minutes, and even when you factor in the time it takes to get to and from the airport at either end this is still considerably faster than the trains or buses. The drawback, of course, of travelling by air is the cost, but if you can get a flight on one of Thailand's low-fare airlines, even the cost doesn't seem that bad.
Air fares do vary considerably, so spend a little time researching the different airlines and the best times to travel on flights from Bangkok to Chiang Mai. Tickets will vary due to seasons, and you can get some great deals that will bring the cost down too. Expect the cheapest flights with promotions to cost around 1,000 baht on low cost airlines , all the way up to 5,000 baht and beyond for the most expensive flights. The prices varies greatly depending on public holidays like Songkran (Thai new year), Chinese New Year or high tourist season in general. Book your ticket as far in advance as possible for the best deals, and expect to pay a large premium if booking only a few days in advance.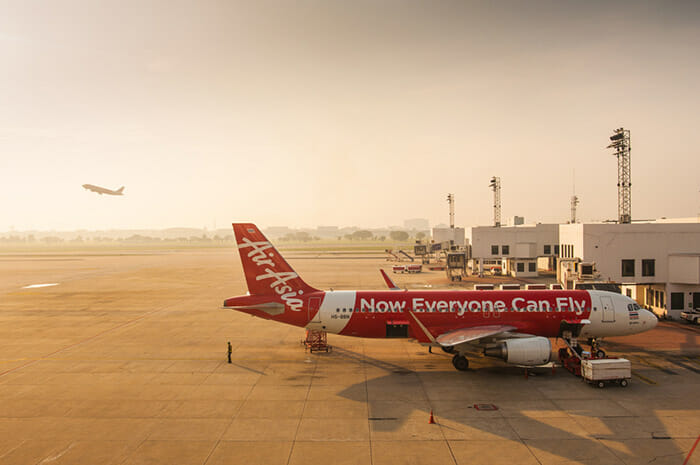 You might also want to consider which airport in Bangkok the airlines use when choosing who to fly with. Most airlines flying between Bangkok and Chiang Mai are low cost airlines operating from Don Muang International Airport. These airlines are Air Asia, Thai Lion Air and Nok Air. Air Asia have 14 flights daily to Chiang Mai, Lion Air has 4, Nok Air has 8. In the last few years the traffic have increased greatly from Don Muang International Airport to Chiang Mai.
Thai Smile Airways and Thai Vietjet Air are the two low cost airlines using Bangkok's main airport, Suvarnabhumi International Airport. At this date August 2023 Thai Smile has 5 daily flights to Chiang Mai and Thai Vietjet Air 11 flights from Suvarnabhumi Aiport to Chiang Mai.
Lastly Bangkok Airway is a regular airline using Suvarnabhumi International Airport. In August 2023 Bangkok Airways has 4 daily flights to Chiang Mai from Suvarnabhumi Aiport.
In Chiang Mai you'll be arriving at Chiang Mai International Airport which is just a short 10 to 15 minute drive outside the city centre. You can get into the city by taxi – the legal taxis charge a fixed 150 baht fee for up to 5 passengers (so consider ride sharing with fellow passengers!), and that will take you anywhere in the city. Metered taxis are cheaper, and the public bus (bus number 4) is cheaper still. If you arrange your accommodation in advance you may be able to have your hotel or guesthouse come and pick you up from the airport for free, or for a low price.
Bangkok to Chiang Mai Trains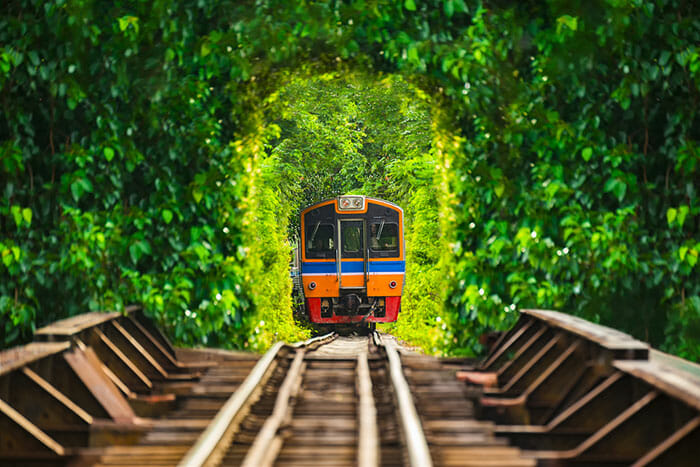 The train from Bangkok to Chiang Mai is surprisingly popular, despite the lengthy time it takes to get from one city to the other. What makes it so popular are the cheaper prices and the opportunity to experience some of Thailand's wonderful scenery as you make your way to the north. Journey times are considerable, but if you take the view that the journey is very much part of the whole tourism experience then you should enjoy taking the Bangkok to Chiang Mai train. Depending on the number of stops that your train makes, it takes between 10 and 14 hours.
| NR | BANGKOK | CHIANG MAI | TRAVEL TIME | TRAIN SERVICE |
| --- | --- | --- | --- | --- |
| 7 | 09:05 | 19:30 | 10 hrs 25 mins | Special Express |
| 109 | 14:15 | 04:05 | 13 hrs 50 mins | Rapid |
| 9 | 18:40 | 07:15 | 12 hrs 35 mins | Special Express |
| 13 | 20:05 | 08:40 | 12 hrs 35 mins | Special Express |
| 51 | 22:30 | 12:10 | 13 hrs 40 mins | Express |
There are 5 trains a day specifically from Krung Thep Aphiwat Central Terminal, which is now open and operational. So, there will be several options to choose from. However, even with this high number of trains they are very popular and can be full, so booking is highly recommended.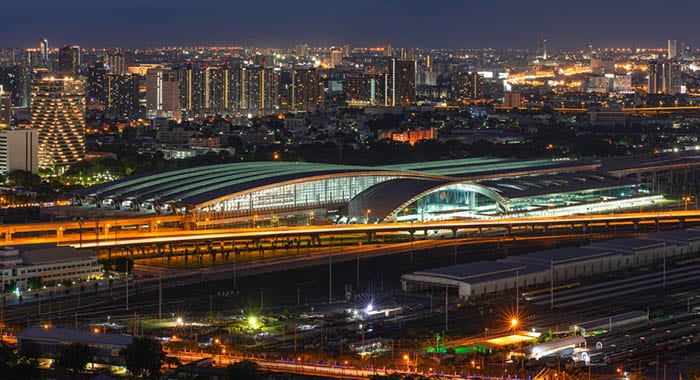 You can get very cheap tickets on a train from Bangkok to Chiang Mai, depending on which class of travel you choose. A 2nd class seat is a great option for backpackers and budget travelers as you can often find seats as cheap as 800 baht but without AC. The second class with AC tickets is a little more. For the full comfort experience, choose a first-class sleeper that will set you back somewhere in the region of 2000 baht.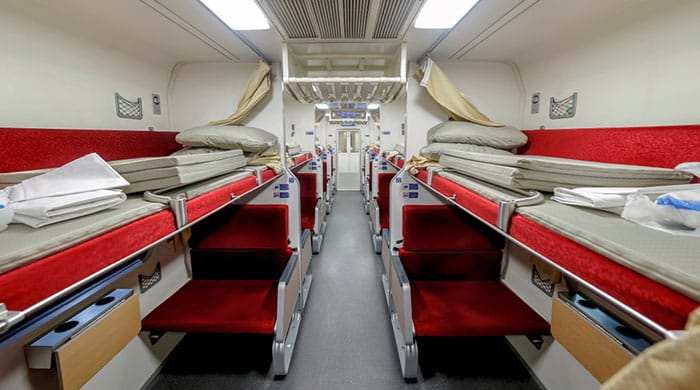 When departing from Krung Thep Aphiwat Central Terminal, long-distance trains to Northern and Northeastern Thailand depart from Platforms 1 and 2. Read more about how to get to Krung Thep Aphiwat Central Terminal.
Chiang Mai train station is just a few kilometres outside the city centre, and the drive by taxi or car is only around 10 minutes. Tuk-tuks and songthaews are also an option.
Buses from Bangkok to Chiang Mai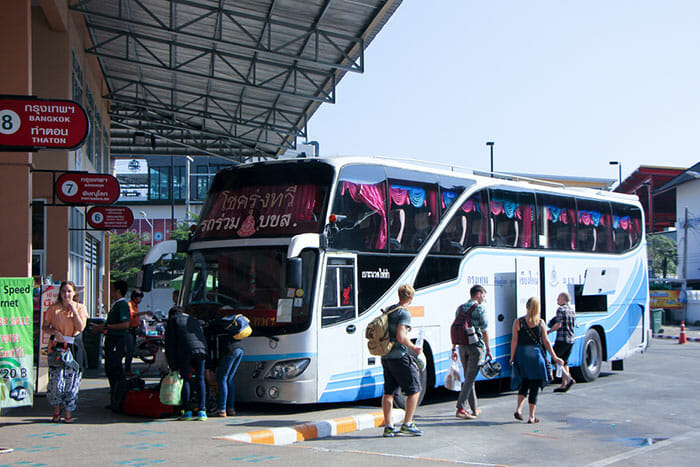 Travelling from Bangkok to Chiang Mai your final option for public transportation is the bus. Like the train, buses have the advantage of being an affordable option, though the disadvantage of taking a long time. You'll be looking at somewhere between 9 and 12 hours on the bus to Chiang Mai, and exact schedules and prices vary depending on which type of bus you opt for.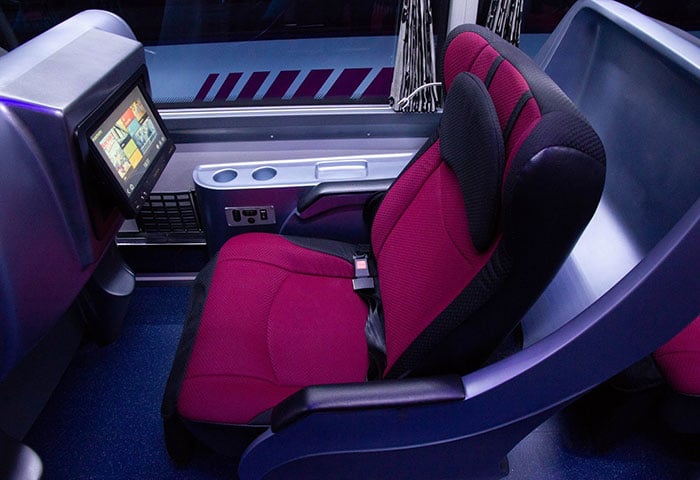 And there are a number of different options – public buses range from standard/express class to VIP. There are usually around 15-20 standard/express class buses each day and while they may be advertised as having air conditioning, don't rely on it working. Standard/express class buses will take about 10 to 11 hours and you can buy a ticket for around 700 baht. First class buses provide more of the creature comforts including air-con, that should be guaranteed to work. There are toilets, and the seats do recline a little. These will set you back about 100 baht more than standard/express. The VIP buses provide the best comfort and seats that recline more. There are two sizes of bus, and the price is somewhere between 800 and 1000 baht.
You can catch the government run buses to Chiang Mai from Bangkok's Northern and Northeastern bus terminal, called Mo Chit.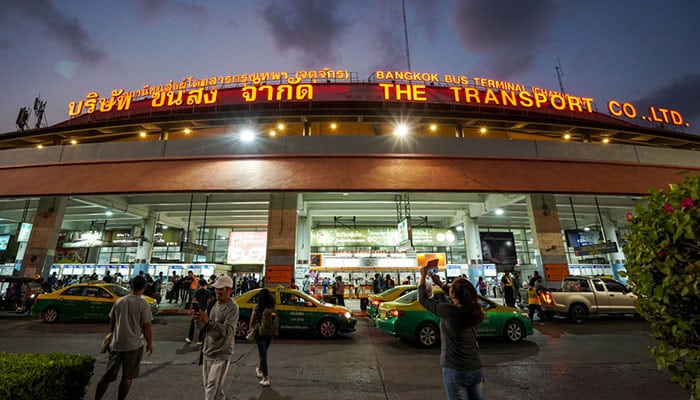 There are also a number of private tour companies that run regular buses from Bangkok to Chiang Mai. These can be more convenient than travelling up to Mo Chit to alight one of the government-run buses, as these private buses depart from various points around Bangkok. The price is comparable (between 700 baht) though private buses may not be as reliable as the public ones.
For convenience, many travellers are persuaded to buy tickets through travel agencies in the popular tourist areas of Bangkok. It may seem easier on the surface, but many travel agencies are renowned for upselling their tickets – promising reclining seats and air conditioning that works, when in reality they cannot guarantee these things. What looks like a cheaper ticket on the surface, may end up costing you more in extras so for peace of mind get your tickets through a private tour company or the government-run buses.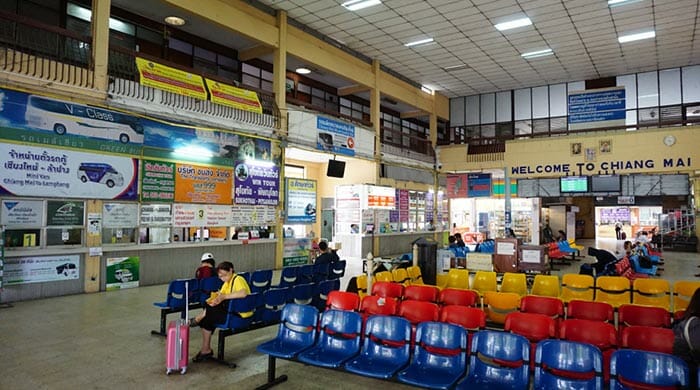 There are two bus terminals in Chiang Mai so be sure to get to the correct one for your return journey. The Arcade Bus Station, also known as New Terminal, handles buses that are travelling to and from destinations outside of Chiang Mai province.
So those are the three options for public transportation between Bangkok and Chiang Mai. Like many other things, whether you choose flights from Bangkok to Chiang Mai, the train, or the bus will come down to your personal budget and preferences. Take it fast or take it slow, the choice is yours!
Can you take a train from Bangkok to Chiang Mai?
Yes, Thai Railways operates trains through the day from Bangkok's Krung Thep Aphiwat Central Terminal to Chiang Mai. It's a long journey, but you can book sleeper berths and travel overnight, saving yourself the cost of another night in a hotel, and it's a very scenic journey when traveling in daylight. Compare ticket prices and berth options, then book the train online through 12Go.
How long is the bus ride from Bangkok to Chiang Mai?
It's about 690kms/431mi from Bangkok to Chiang Mai so traveling by bus takes a long time but you'll see plenty of beautiful scenery along the way. Schedules show a shortest journey time of 9.5 hours, up to 12 hours for some bus companies. Travel website, 12Go, sells tickets for Sombat Tour, Bangkok Busline, Lignite Tour, Budsarakham Tour, and Tara Tour, and you can choose from VIP or Express buses.
How much is the train from Bangkok to Chiang Mai?
The train journey from Bangkok to Chiang Mai is an amazing experience, providing you choose your tickets wisely! The cheapest are 2nd class seats for around 900 baht, but it's worth spending more and getting a Sleeper, to travel overnight and sleep. These tickets cost from around 1,000 baht to over 1,700 baht for a 1st class sleeper. Compare all prices and trains, and book online at 12Go.
How far is Chiang Mai from Bangkok?
It's about 700kms (435mi) from Bangkok to Chiang Mai, in Northern Thailand. By road or rail it's a long journey, with buses taking around 10 to 12 hours, while trains can take as much as 14 hours, both with overnight options. Book tickets through 12Go and compare all the prices; flights are much faster and can actually cost less than the train, while buses are usually cheapest.
Did you find this guide useful?
Click on a star to rate it!
Average rating: / 5. Vote count: