The wealthy city of Udon Thani, in the North East of Thailand, does not have many of its own tourist attractions but still attracts many travelers because of its position as a gateway to neighboring Laos, northern Vietnam and southern China. Located approximately 560 kilometers (350 miles) to the northeast of Bangkok, the route from Bangkok to Udon Thani is a popular one and there are plenty of different transportation options to get you from one city to the other.
Read about:
• Bangkok to Udon Thani by Flight
• Bangkok to Udon Thani by Train
• Bangkok to Udon Thani by Bus
Different Ways to Travel from Bangkok to Udon Thani
With no significant waterways to cross, travel from Bangkok to Udon Thani is really quite straightforward. There are no ferries involved, so your options include flights, trains, and buses, or even rental car if you're a little more adventurous and don't mind navigating the Thai roads! If you are taking public transport, try to book your tickets as far in advance as possible because this will give you the best choice for seats, and is usually cheaper than leaving it until the last minute, especially if flying.
Flights from Bangkok to Udon Thani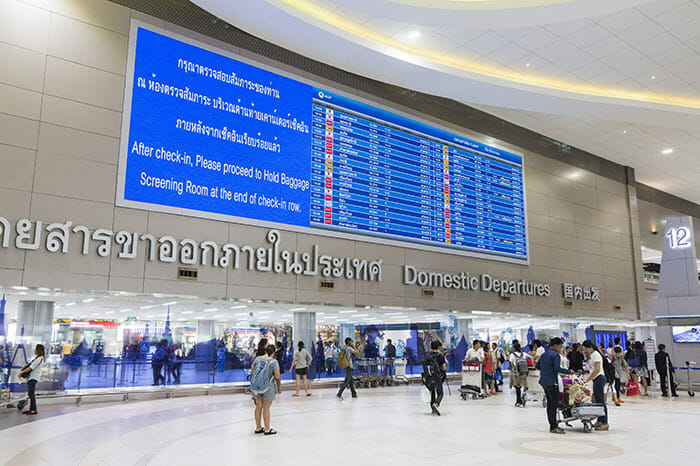 Flying always has the advantage of being fast, getting you to Udon Thani far quicker than any other form of transport. The disadvantage is usually the price, however, with several different airlines offering flights to Udon Thani from Bangkok there is more competition and hence plane tickets really aren't as expensive as you might expect. As mentioned above, you're more likely to get a cheaper ticket if you book in advance, and usually the early morning and late evening flights will be a little cheaper than those departing in the middle of the day.
There are four different airlines to choose from and three out of those four fly from Bangkok's Don Mueang Airport – Nok Air, Thai AirAsia, and Thai Lion Air, while Thai Smile flies from the Suvarnabhumi Airport in Bangkok. So, which airport you have an easier time getting to might dictate which of those airlines you ultimately choose.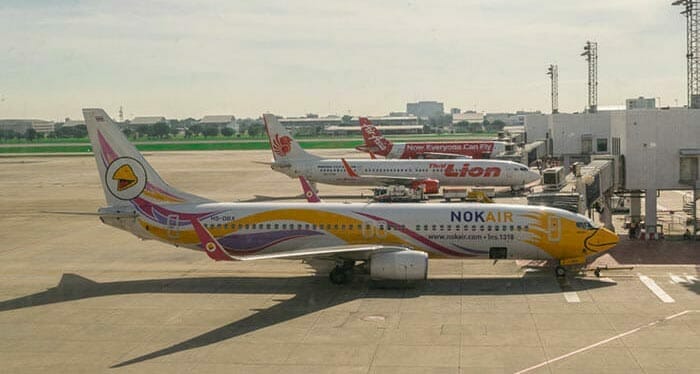 It's good that there are numerous flights to choose from each day so you can find the one that suits your schedule, and, with prices not too dissimilar to the train from Bangkok to Udon Thani, it makes sense to catch a flight when it only takes an hour. Bear in mind that you may be more restricted with how much luggage you can take on an airplane, and, while flights are fast you could be missing out on seeing some great scenery.
Take the Train from Bangkok to Udon Thani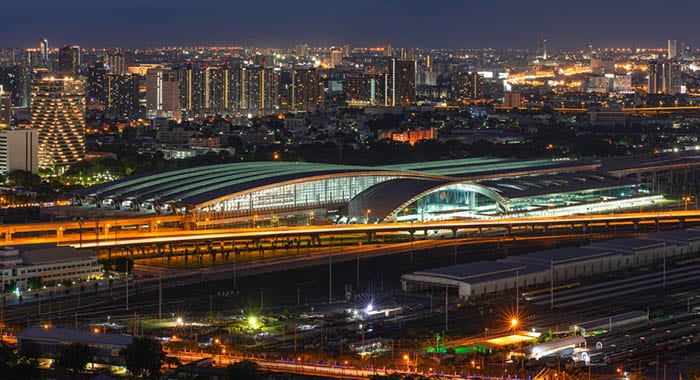 We've already touched on the train service a little above but if you know anything about trains in Thailand, you'll know that they can be excruciatingly slow! Considering you can fly from Bangkok to Udon Thani for roughly the same price, you may decide that spending somewhere between 8 and 9 hours on a train is just not worth the bother, however, it really depends on your priorities. Trains have the advantage of being quite a comfortable way to travel, and it's great that you get to see far more scenery, close up, than you would on a plane. Even so, most of the journey happens overnight so it's debatable as to how much of the passing scenery you would actually get to see. In our opinion, if you decided to take the train from Bangkok to Udon Thani, you'd probably be doing it for the experience above all else!
There are three daily trains, two overnight and one morning with Thai Railways, departing at 8:45, 20:25, and 21:25, with several different ticket options. The cheapest are standard third-class seats without air conditioning, but they have food service and toilets. If you want to take advantage of traveling overnight and get some sleep, opt for a sleeper cabin on the Special Express Train #25 at 20:25 – this could be a second-class sleeper, a Ladies Only sleeper, or for the most money, enjoy the comfort of a first-class sleeper.
Trains depart Bangkok from the new Krung Thep Aphiwat Central Terminal and arrive at Udon Thani Station which is pretty much in the center of the city. This gives trains an advantage over flying as you don't have to worry about the time or cost of getting to and from the airport at each end.
For a seamless travel experience, head directly to Gate 4 at Krung Thep Aphiwat. This is where you'll find the main ticket office, the food court, and the departure board. In addition to purchasing tickets at the station, you can conveniently buy train tickets online. Trains to Udon Thani (Northern Thailand) departs from Platforms 1 and 2.
The Bus from Bangkok to Udon Thani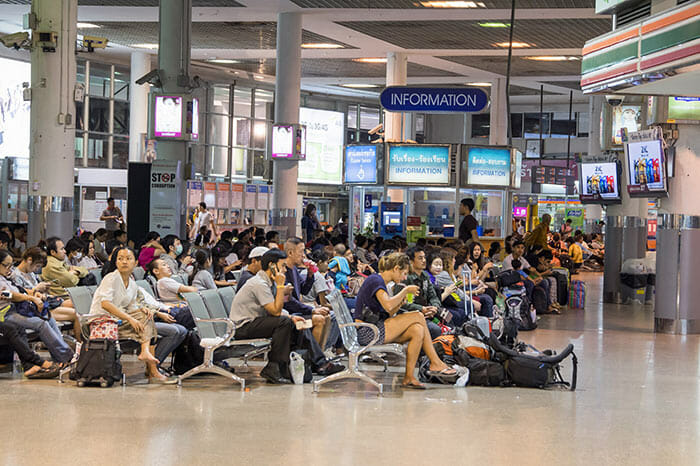 Traveling by bus from Bangkok to Udon Thani is a lengthy experience, taking around 7 hours to get from one city to the other. With Budsarakham Tour you'll be traveling by VIP bus and it travels overnight, arriving in Udon Thani before 7am. Although a long journey, this is the cheapest way to get from Bangkok to Udon Thani, and when you consider that this is a VIP bus it does have a variety of creature comforts including air conditioning, food and snacks, steward service, toilets, and even a TV.
Of course, you could always drive yourself from Bangkok to Udon Thani by renting a car. The route is quite easy to follow, however, if you're planning a trip around Songkran you should be aware that traffic will be very heavy and it will likely take even longer than the 10-hour bus ride.
So, traveling from Bangkok to Udon Thani there are lots of different options to choose from. This is one route where traveling by air is actually worth considering, even if you're on a budget, because the prices are comparable to trains. Flights are usually more reliable than other transport options; traveling by bus (or for that matter the train) is not the most reliable way to get around Thailand as the buses have been known to arrive several hours later than scheduled for the departure from Bangkok. This means you could be left waiting at the bus station for hours in the late evening, and end up arriving in Udon Thani much later than planned. If you're running to a tight schedule, and have to travel onwards from Udon Thani, then a flight might be a better option for you.
Did you find this guide useful?
Click on a star to rate it!
Average rating: / 5. Vote count: