Thailand has so many amazing places to see, but if you're visiting only for a quick vacation you should spend some time on one of its stunning beaches, and in the country's bustling capital city, Bangkok. There are so many beaches and islands to choose from but out of these Koh Phangan is a great choice. Home to the infamous Full Moon Party, this island attracts backpackers and partygoers but it's also gaining popularity as a family-friendly destination too. And once you've enjoyed your time relaxing on the beach, head north to Bangkok to explore its many sights and sounds, from palaces to splendid wats, parks, markets and great cuisine, Bangkok should not be missed.
Read about:
• Koh Phangan to Bangkok by Ferry, Bus and Flight
• Koh Phangan to Bangkok by Ferry and Bus
• Koh Phangan to Bangkok by Ferry, Bus and Train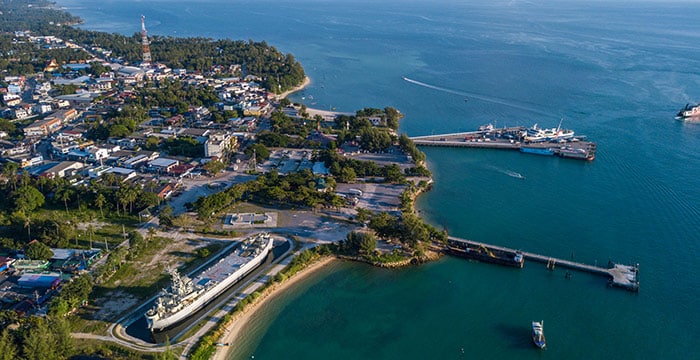 Options for Travel from Koh Phangan to Bangkok
The biggest drawback with traveling from Koh Phangan to Bangkok is the distance between these two destinations. Traveling by ferry and then road, you'll be covering a distance of around 770 kilometers (481 miles) and it will take a long time to make the trip. Luckily there is also the option to fly, but you'll be flying from the nearby island of Koh Samui, or from Surat Thani on the mainland as there's no airport on Koh Phangan. Flying can be expensive in comparison but saves you a lot of time, while another slower option is to take a ferry, then bus, then train if you like to spend time watching the scenery go by!
From Koh Phangan to Bangkok by Ferry, Bus and Flight
Yes, catching a flight from Koh Phangan to Bangkok is going to be the most expensive way to travel between these two places but it's easily the fastest. And, while it does cost more than a bus and ferry, or a train, relatively speaking flying is not as expensive as you might think. There are a few different options when it comes to flying as well, so you can shop around for the best deal.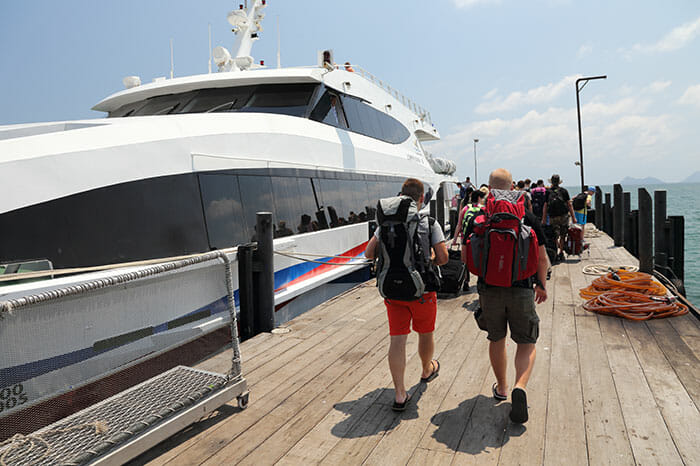 Your first option is to catch a ferry to nearby Koh Samui. The ferry crossing takes only about 30 minutes, so it's a nice quick ride and you'll arrive at the Big Buddha Pier which is close to the airport, making it easy to get to the terminal. The drawback of flying from Koh Samui is that Bangkok Airways has the monopoly on flights to Bangkok so there's no competition when it comes to ticket prices, meaning tickets can cost more than you'd want to pay. The advantage is a quick flight to Bangkok's Suvarnabhumi Airport, taking only about an hour. Add in the time it takes to get from the airport into the city, and any transfer times that you have to add in while waiting for the flight, and this trip should still only take about half a day.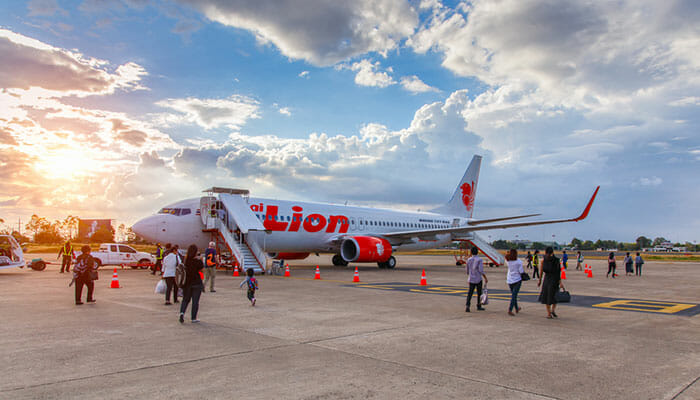 A second option is to avoid Koh Samui and fly from Surat Thani instead. From here you have more options for flights to Bangkok so you're likely to find a cheaper ticket, and you can choose whether to fly to Bangkok Don Mueang Airport, or to Suvarnabhumi. There is Nok Air, Thai AirAsia, Thai Smile, and Thai Lion Air. Now, while this route may be cheaper it's not especially fast so you'll have to weight up whether the extra cost is worth it considering the time it will take. First there's the ferry crossing. From Koh Phangan to Surat Thani traveling with Raja Ferry, the crossing takes 5 hours. Then you need to wait for your flight – depending on who you're flying with you may have a shorter layover time, so look into this when booking if it's important to you. Typically though, you could be waiting for 4 hours or more. Add the 1 hour 10 minutes flight time and transfer from the airport into the city, and your trip has taken most of the day.
If you're interested in traveling from Koh Phangan to Bangkok in this way, visit 12Go as you can buy a joint ticket through them that covers all aspects of this trip.
Koh Phangan to Bangkok by Ferry and Bus

The cheapest way to travel from Koh Phangan to Bangkok is by ferry and bus. As this is the cheapest it's usually the most popular way to get from A to B, and to be honest, it's probably the easiest and most straight forward way to go too. As always, the drawback is the time it takes, but again, when compared to flying from Surat Thani (which involves that long 5 hour ferry ride), catching a ferry from Koh Phangan and then getting a bus the rest of the way to Bangkok really isn't that much slower, depending on which company you use.
If you travel with Lomprayah you'll be on one of their new and comfortable high-speed catamarans that depart from Koh Phangan twice a day at 8:30am and 1pm. Then you'll transfer to an equally modern and comfortable bus to take you all the way to Bangkok. So there's only one transfer with this particular route and the whole trip will take around 12 hours. You can save more money by choosing to travel with Songserm. They do not have high-speed ferry options so this adds about 5 hours to the trip.
Ferry, Bus and Train from Koh Phangan to Bangkok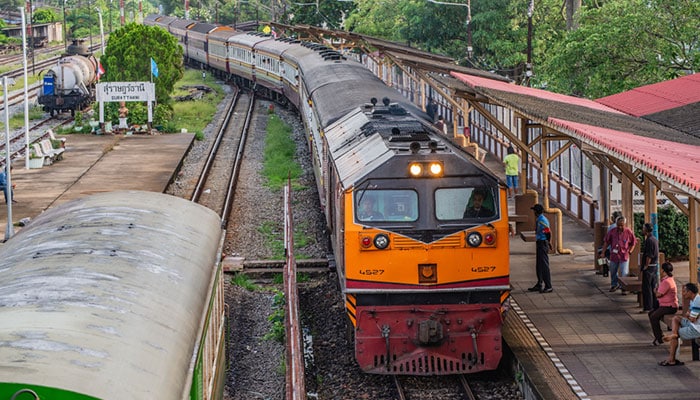 A final option for those of you who think that the journey is also a big part of the adventure, is to travel from Koh Phangan to Bangkok via ferry, bus and train. To go this route you first need to take a ferry to Surat Thani, and then use the bus to go to Surat Thani Train Station where you can finally board the train heading to Bangkok. This definitely is not an option for anyone in a hurry to get to the big city as the entire trip takes around 18.5 hours, but it's an experience. It is also not especially cheap if you're looking to save money as a joint ferry, bus and train ticket costs close to what a ferry and flight will cost, but there are some advantages. If you book a sleeper train (which we would highly recommend) you are traveling overnight and can get some sleep. This saves the cost of an extra night in a hotel. You can buy joint tickets that cover the ferry, bus and train from Koh Phangan to Bangkok through reputable travel websites like 12Go, making this an easy option to book.
So, there are three interesting options for your travel from Koh Phangan to Bangkok. Go cheap and get the ferry and bus, or go fastest and get the ferry and flight, or take your time and mosey up Thailand on a ferry, bus and train!
Can you fly from Koh Phangan to Bangkok?
As there is no airport on Koh Phangan, you cannot fly all the way to Bangkok, but there are other flight options. Do a search on the travel website, 12Go, and they will show you flights from Koh Samui, Surat Thani Airport, or Nakhon Si Thammarat Airport, making it easy to book a combined ticket for the ferry and then the bus and flight transfer over to Koh Phangan.
How do I get from Koh Phangan to Bangkok?
There are many different ways to travel from Koh Phangan to Bangkok, and you can see all the available options for your date of travel on the website, 12Go. Here, you can compare the different options: ferry and flight; ferry and bus; ferry, bus and train; or ferry and taxi, and book tickets for the entire journey, including transfers, through their website.
Is there an airport on Koh Phangan?
Koh Phangan does not have its own airport, but if you want to fly, there are options. Koh Samui is the closest airport and it's just a 30-minute ferry ride from there. You can also fly to Chumphon Airport or Surat Thani Airport, which may be cheaper but will involve a longer ferry ride. It's worth checking 12Go, as they sell combined tickets for flights and ferry.
Did you find this guide useful?
Click on a star to rate it!
Average rating: / 5. Vote count: