Thailand is a traveler's paradise, offering a wealth of experiences for everyone. From lush jungles to pristine beaches, it's no wonder why this stunning Southeast Asian country is such a popular vacation destination.
Read about:
• Discover the charm of Thailand
• Optimal time of the year to visit
• Top places to visit in Thailand
• Getting from one city to another
• Navigate inside Thailand's cities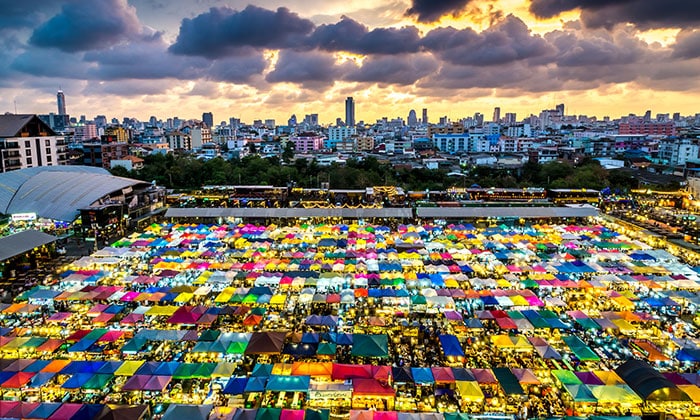 Discover the Charm of Thailand
The culture of Thailand is unique and captivating. Colorful festivals happen throughout the year, and the majestic temples are awe-inspiring. Delicious cuisine is also a major draw for visitors. Thai food has a variety of flavors and textures, from spicy curries to fresh seafood dishes.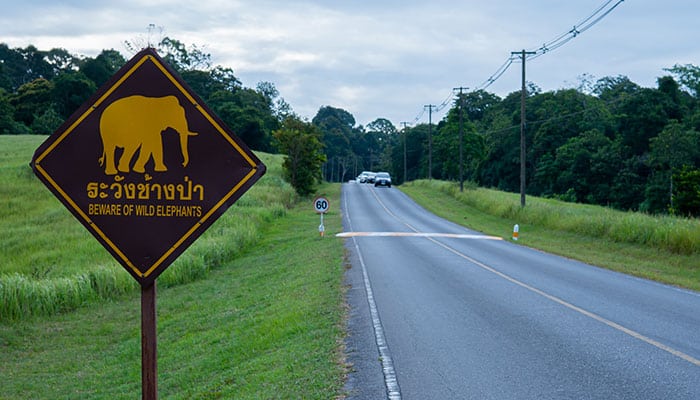 Nature lovers will find plenty of activities in Thailand, including exploring rainforests full of diverse wildlife and visiting elephant sanctuaries where you can observe these gentle giants up close. And if you're looking to relax, Thailand offers world-famous massages and spa treatments that can restore your mind and body after an exciting day of adventure.
Beaches are another highlight in Thailand, with their crystal clear waters contrasting perfectly with the white sand beneath your feet. Whether you're soaking up some sun or enjoying a beachside cocktail, spending time by the sea is a must when visiting this tropical destination.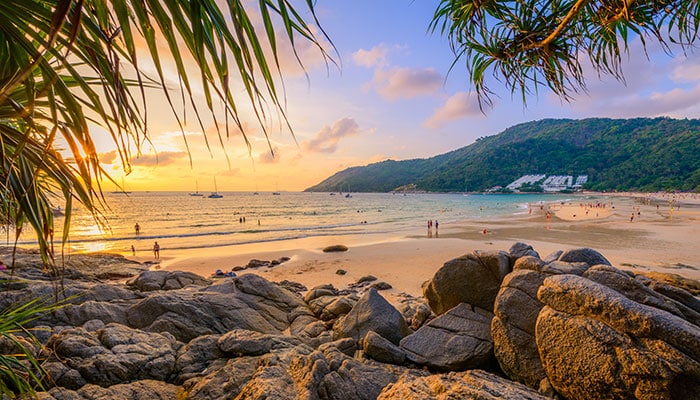 All in all, there's something for every kind of traveler in Thailand – whether it be cultural experiences, adventure activities or simply just relaxing on the beach. With its rich history and natural beauty, it's no surprise that so many people come back again and again!
Optimal Time to Visit Thailand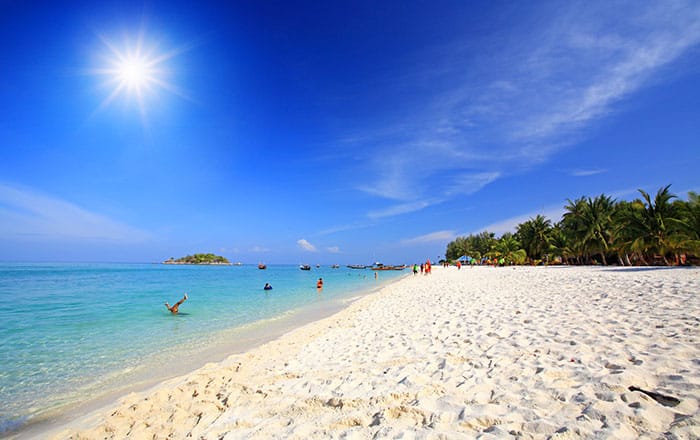 The yearly climate variations are a factor when deciding which month to visit Thailand. Thailand has a tropical climate with hot and humid weather year-round, but it also has distinct rainy and dry seasons. The wet season runs from May to October, with the heaviest rains falling in September and October. On the other hand, the driest weather occurs between December and February. Making December to February the most popular time to visit as temperatures are also less hot than in other months.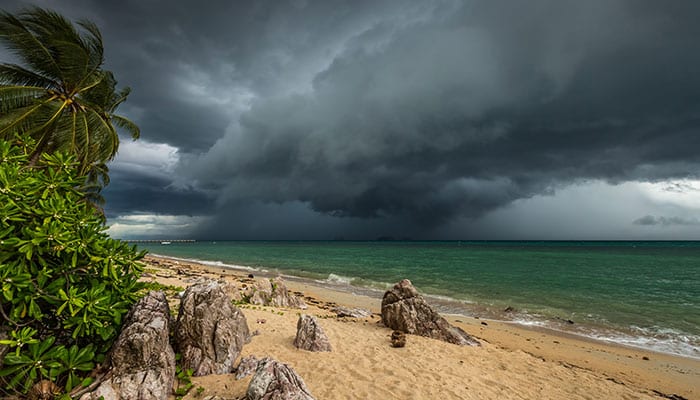 Thailand also offers many unique festivals throughout the year that some visitors want to plan their trips around. The Songkran Festival, or Thai New Year, is celebrated in April. Songkran offers water fights as well as religious ceremonies taking place all over the country. In November is the Loy Krathong Festival – a celebration of lights featuring lanterns released into rivers and streams – another timely opportunity for tourists to witness traditional Thai culture firsthand.
Whether you're looking for warm weather, cultural experiences, or both, there's always something special about visiting Thailand any time of year! When to visit Thailand depends on your personal preferences and interests. You can decide what's best suited for your needs with good planning and research.
Top Places to Visit in Thailand
The beauty of Thailand's various provinces is how unique they are in their own way, making the country an ideal tourism destination for those seeking a culturally enriching experience. From the tropical islands of Koh Tao to the mountainous region of Pai, Thailand has something for everyone.
There are so many magical destinations in Thailand that it would be impossible to mention them all, but here are some of my personal highlights.
Bangkok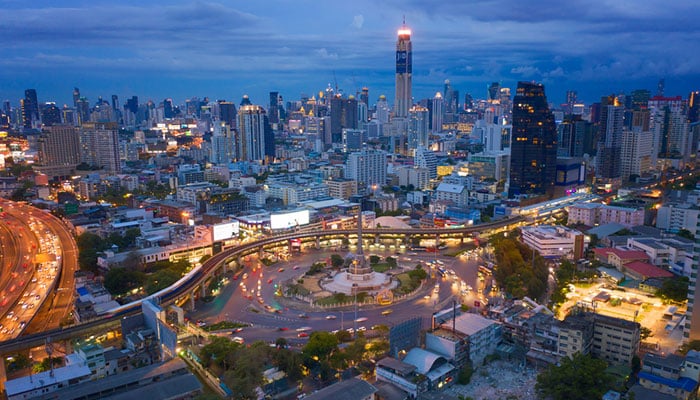 Bangkok is a vibrant city full of culture, history, and entertainment. It's the capital of Thailand and a popular destination for travelers looking to experience the hustle and bustle of city life. Whether you're looking for shopping malls, street markets, or temples, Bangkok has something for everyone. The famous Chatuchak Weekend Market is one of the most well-known spots in the city, offering an array of souvenirs, local street food vendors, and entertainment.
Chiang Mai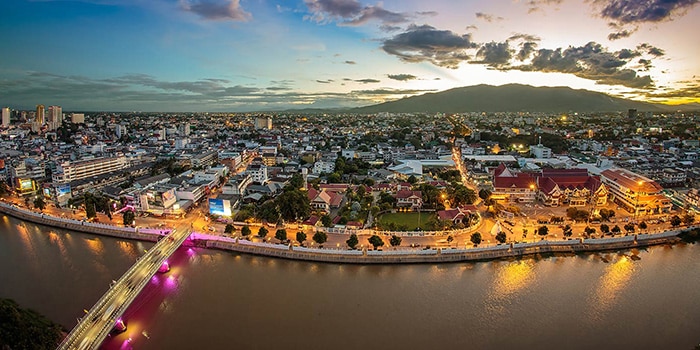 One hour's flight north of Bangkok lies Chiang Mai. This peaceful city is situated in the mountains of northern Thailand. Chiang Mai provides a tranquil retreat away from the bustle of the capital. Nature lovers will be delighted to explore its jungle surroundings, with waterfalls, elephant sanctuaries, and lush greenery abound. Temples like Wat Phra That Doi Suthep offer stunning views over Chiang Mai City in the valley below.
Chiang Rai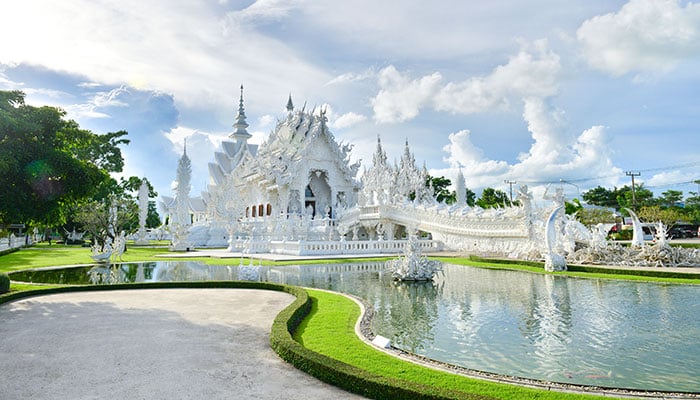 Travelers looking to go off the beaten path should consider visiting Chiang Rai in northern Thailand. This quiet little city provides breathtaking scenery, including picturesque rice paddies and dense jungle surroundings. Visit the White Temple – an iconic site that shouldn't be missed in Chiang Rai.
Hua Hin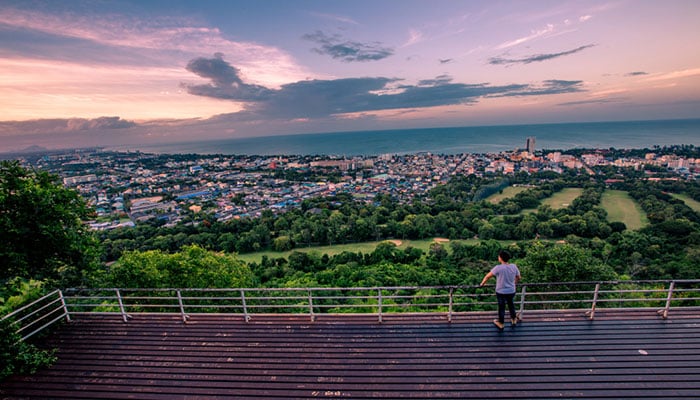 Those looking for a city beach escape will find it in Hua Hin along the central coast of Thailand. This charming beachside destination offers golden sand beaches, which are great for swimming or sunbathing. Here are golf courses if you're feeling active. There are also many temples around town, such as Wat Khao Takiab – where visitors can take in stunning views over Hua Hin city with the ocean behind.
Khao Yai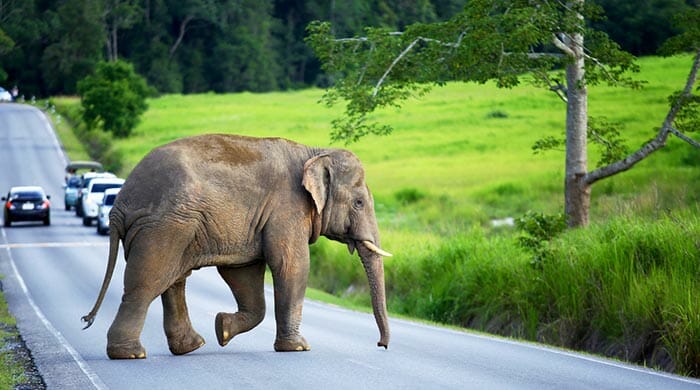 Khao Yai is one of Thailand's most picturesque national parks. Just a few hours' drive from Bangkok. Khao Yai offers visitors the opportunity to get away from the big city life and reconnect with nature. The park boasts sprawling forests, cascading waterfalls, breathtaking vistas, and abundant wildlife. Visitors have choices of many resorts and lodges nestled just outside the national park, allowing them to explore the natural beauty without sacrificing any comfort.
Koh Phangan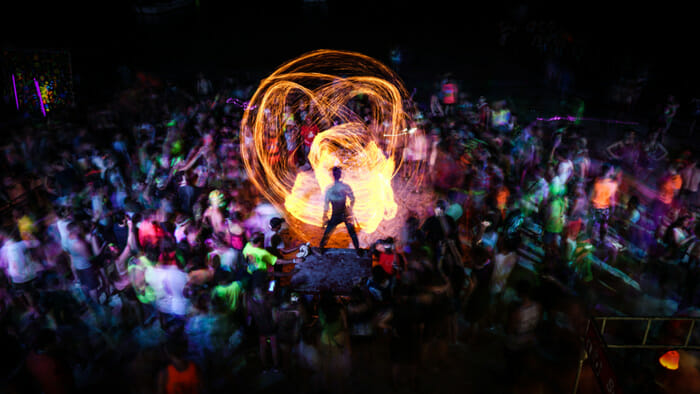 Koh Phangan is a small island located in the Gulf of Thailand. Known for its white-sand beaches, turquoise waters, and relaxed atmosphere. Koh Phangan is an ideal destination for backpackers looking for an escape from the stresses of everyday life. Every month on the full moon, thousands of people flock to Koh Phangan to attend the famous Full Moon Party – a legendary beach celebration filled with music, dancing, and revelry that's not to be missed!
Koh Phi Phi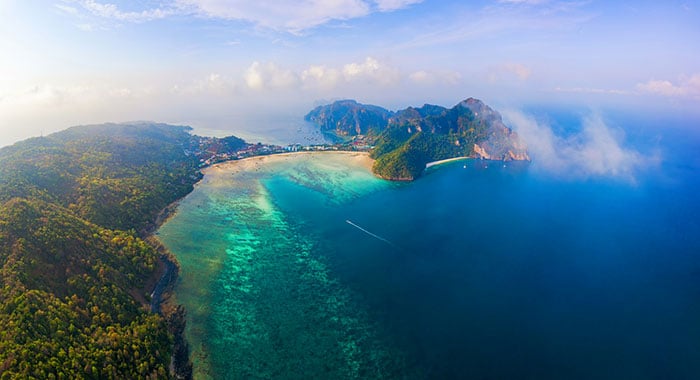 Koh Phi Phi is another stunning archipelago in the Andaman Sea. This group of six islands boasts incredible scenery, including postcard-worthy beaches backed by limestone cliffs.
Koh Phi Phi has clear waters teeming with coral reefs and fish. It makes them popular among divers due to their rich marine life and array of dive sites. Phi Phi islands are known for their laid-back atmosphere and relaxing beach holiday vibes.
Lastly, Koh Phi Phi is home to Maya Bay – made famous by Leonardo DiCaprio's classic film "The Beach" – which has become one of Thailand's most iconic attractions.
Koh Samui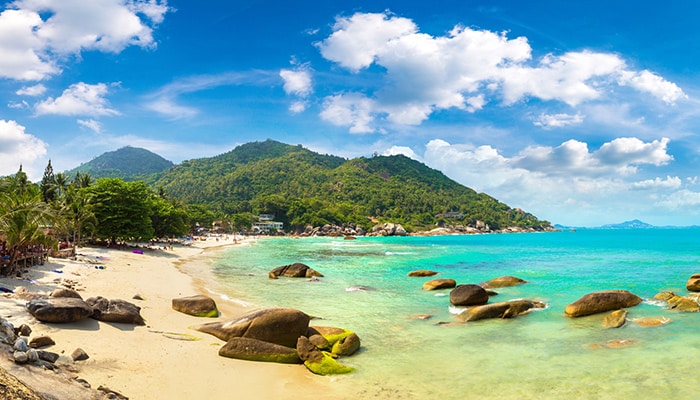 Just off the coast of mainland Thailand lies Koh Samui – a large island renowned for its picture-perfect beaches and azure waters. Koh Samui has plenty of accommodation options, from luxury hotels to family-run guesthouses and hostels. This tropical paradise Island caters to all types of travelers – whether you're looking for an adventurous break or want some rest and relaxation away from it all!
Koh Samui also houses several famous temples, including Wat Phra Yai – where visitors can pay homage to an 18 m-tall gold Buddha statue that stands proudly atop a hill overlooking Chaweng Beach.
Koh Tao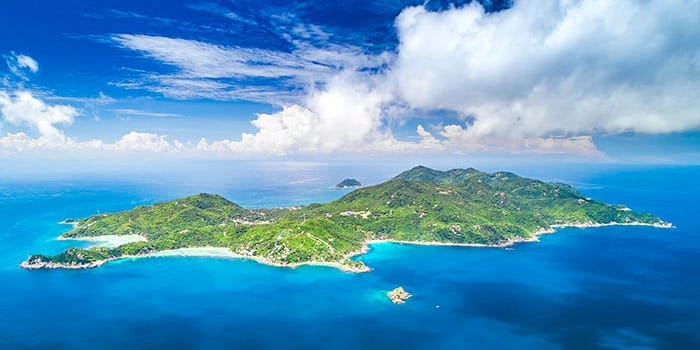 Koh Tao is a small yet beautiful island located in the Gulf of Thailand. It's renowned for its captivating dive sites and many temples with sacred Buddhist relics like Wat Koh Tao. The island is often visited by divers, and it offers an unforgettable underwater experience.
Krabi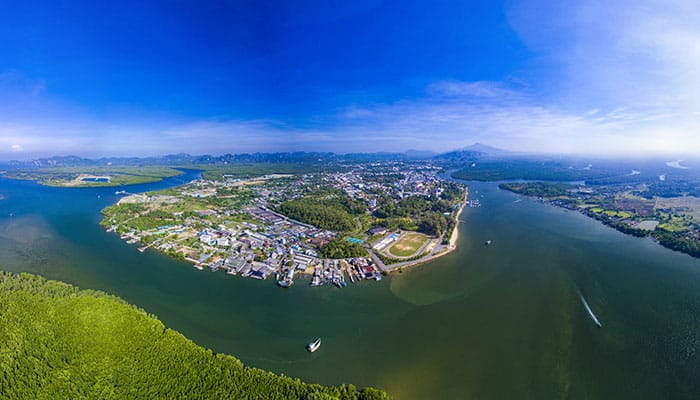 Krabi is a gorgeous province on the west coast of Thailand, boasting close by national parks like Khao Sok National Park. Here visitors can explore stunning waterfalls and the diverse wildlife that inhabits them. The area is also a must-visit for activities like rock climbing and sea kayaking.
Pai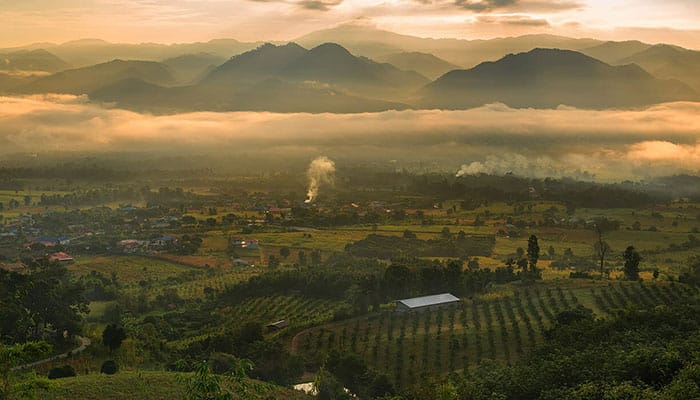 Pai is a quaint little town in a valley next to the Pai River. Pai is surrounded by mountainous terrain with lush jungles, rice paddies, and cascading waterfalls with hot springs. Pai is a friendly and lively little place with its own Walking Street featuring food stalls and handicraft shops. Nearby there's the traditional Chinese village of Baan Santichon. The temple Wat Phra That Mae Yen provides breathtaking views from atop the town.
Pattaya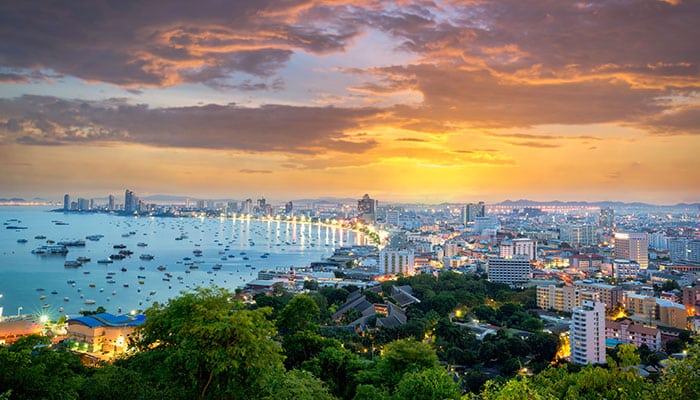 Pattaya lies on the eastern coast of Thailand, offering plenty of things to do, such as shopping centers, street markets, and waterparks. There are plenty of tennis courts and golf courses for some exercise opportunities.
Pattaya also offers tasty restaurants for reasonable prices. During the night, take in the vibrant and famous nightlife scene.
Phuket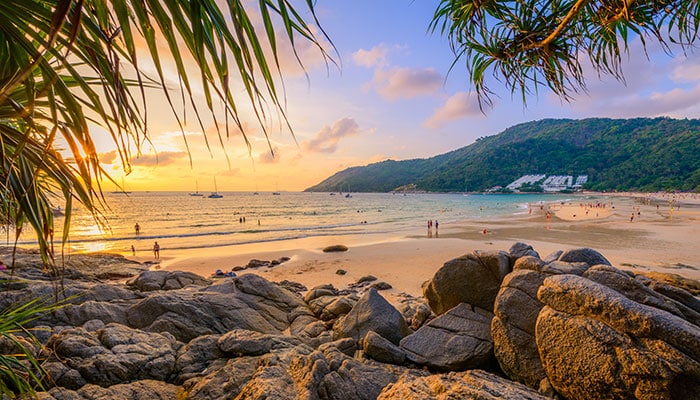 Phuket is an idyllic destination located on Thailand's western coast, perfect for those seeking watersports like scuba diving or snorkeling alongside some incredible temples like Wat Chalong.
Phuket has long been the country's top beach destination, with countless beautiful beaches all over the island. Phuket also has a lively nightlife scene with beaches like Patong.
Surat Thani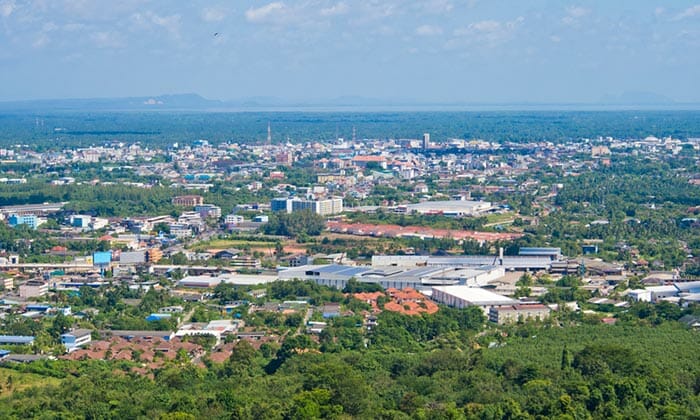 Surat Thani is another stunning province in southern Thailand featuring national parks like Khao Sok National Park, where you can follow waterfall trails through exotic wildlife habitats. Surat Thani is also famous as a transportation hub for the region, serving as a departure point for some of Thailand's most beautiful and best-known islands: Koh Samui, Koh Phangan, and Koh Tao, to name a few.
Other destinations in Thailand
Getting From One City to Another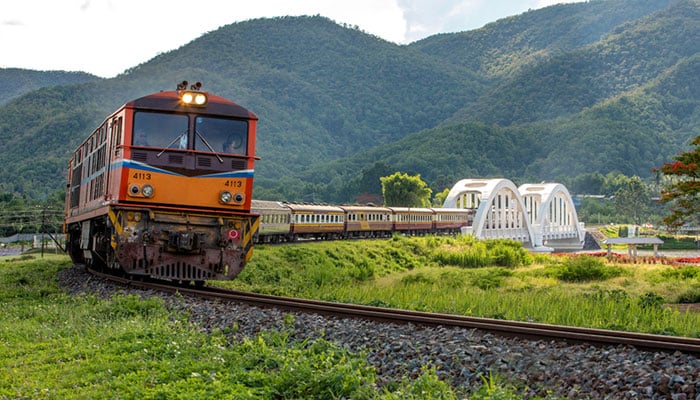 Traveling between Thailand's cities is easy and there are many options available to suit your budget and timeframe.
Air travel is the quickest way, with domestic airports offering flights between major cities like Bangkok, Chiang Mai, Phuket, Surat Thani, and Koh Samui. While faster than other travel methods, it can also be the most expensive.

Buses are a great way to get around the country; they're popular and there's a variety of classes available – from luxury 3-seat-per-row air-conditioned VIP buses to simpler local buses.
Trains offer slower but more comfortable journeys through Thailand's picturesque countryside. They link up the main cities and towns across the country.
Ferries are also a viable option for those wanting to explore multiple islands during their stay in Thailand. Slow ferries take longer but offer more comfort, with seating and food provided onboard, while "speedboats" are smaller and faster but may be less comfortable due to their size. The type you choose depends on your budget and the time you have at your disposal.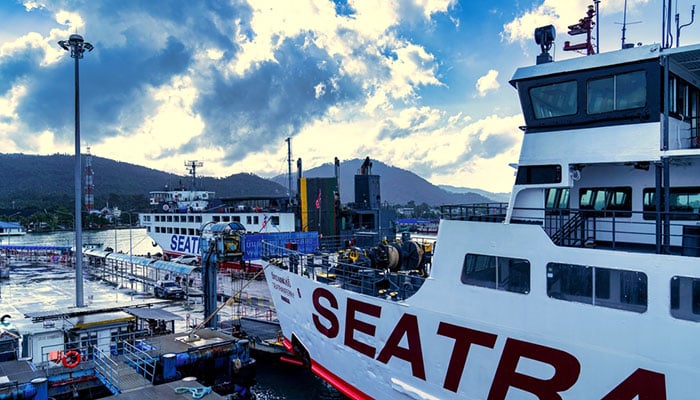 Finally, if you have a driver's license and feel confident behind the wheel in Thailand, then driving yourself is an attractive option too; allowing you greater freedom to explore off the beaten path at your own leisurely pace.
No matter which method you choose when traveling between cities in Thailand, consider each option basis its advantages – whether that be cost efficiency or speed – against your personal requirements before making any decisions.
Navigate inside Thailand's Cities
So, now you know how to move between the cities, but how about traveling inside them?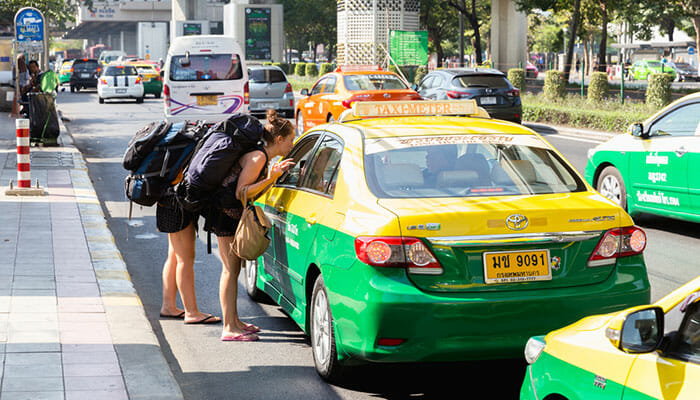 Taxis are a preferred mode of transportation in Thailand, and they come in two main varieties – metered taxis and tuk-tuks. Metered taxis typically cost less, are more reliable, and offer a smoother ride. Tuk-tuks, on the other hand, can be chaotic and uncomfortable; it is also important to agree on a price before getting in. Otherwise, the driver can come with a very high price that you can't really argue against.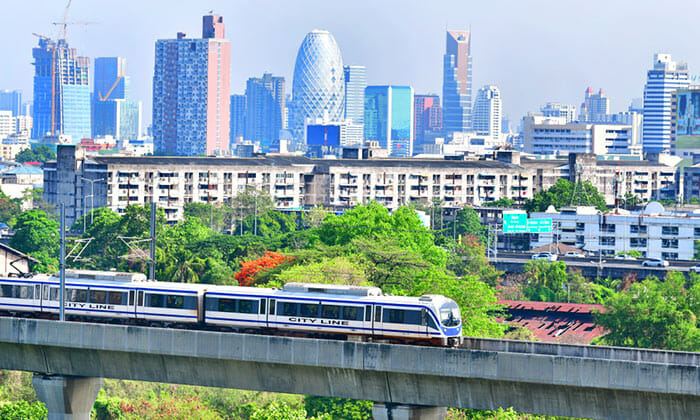 Bangkok has an efficient Skytrain network that is fast, air-conditioned, and a great way to avoid the city's traffic jams.
Many Thai cities also have bus networks. They consist of local buses that are inexpensive but can become crowded and uncomfortable during rush hours.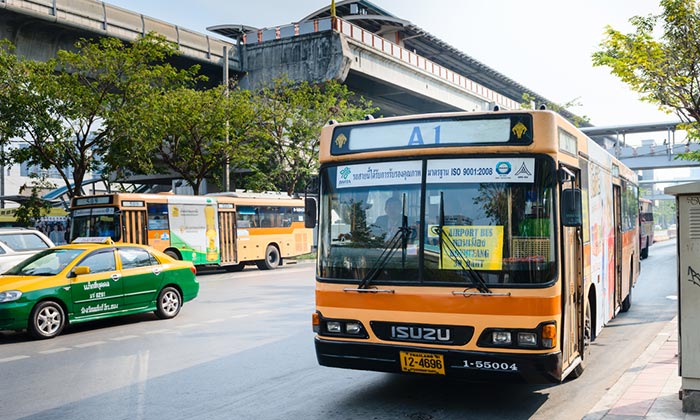 Outside of rush hour, comfortable air-conditioned buses offer good commuting inside Bangkok. But it depends on the roads and area how good the traffic is. The Skytrain is faster but much more expensive and is not available in all locations.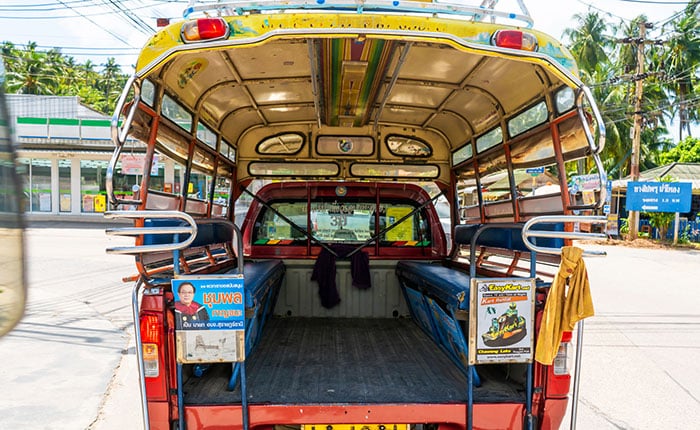 Another popular form of transport in Thailand is songthaews – pickup trucks or mini-buses with bench seating along the sides of the truck bed. Songthaews are usually cheap and convenient and provide travelers with a unique experience of local transportation. You can either flag one down from the side of the road or go to a designated pickup spot to get on.
Finally, motorbike taxis are popular in large cities where cars and buses move slowly in congested areas. Motorbike taxis are affordable and convenient, but they can be dangerous. Therefore it is not always recommended to use them.
Did you find this guide useful?
Click on a star to rate it!
Average rating: / 5. Vote count: