Koh Phangan is a true tropical paradise, renowned for its stunning beaches, vibrant nightlife and unique culture. This island in Thailand is a must-visit for anyone looking to escape the hustle and bustle of everyday life and experience the ultimate island life. With breathtaking scenery, crystal clear waters and lush jungle, Koh Phangan is a true nature lover's dream. Whether you're into diving, yoga, or just soaking up the sun on the sandy shores, you'll find something to suit your taste.
The Full Moon Party is one of Koh Phangan's biggest draws, attracting travelers from all over the world to the vibrant beach of Haad Rin. But Koh Phangan has much more to offer than just wild parties. You'll find plenty of opportunities for meditation and mindfulness, with yoga retreats and wellness centers scattered throughout the island. The local culture is rich and vibrant, and there's plenty to explore, from traditional Thai temples to hilltop viewpoints offering panoramic views of the island.
Koh Phangan is a perfect destination for travelers of all kinds, from adventurous backpackers to those seeking luxurious accommodations. From wild activities to tranquil escapes, there is something for everyone! Regardless of budget or desired experience, the island has an array of top-notch options that are sure to satisfy. So come explore Koh Phangan and all it has to offer!
Famous places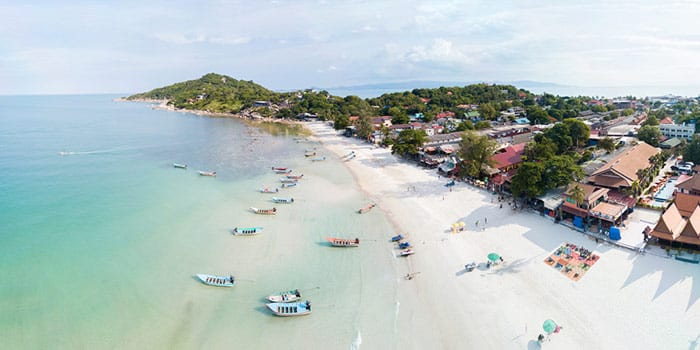 Haad Rin Beach
Haad Rin Beach, located on the southern tip of Koh Phangan, is famous for its legendary Full Moon Party. This vibrant beach is a top destination for travelers looking for a wild and unforgettable experience. With its crystal-clear waters and white sand, Haad Rin Beach is a perfect spot for swimming, sunbathing and soaking up the island vibe.
The Full Moon Party at Haad Rin Beach is a renowned event, drawing vibrant crowds of travelers from far and wide. Taking place on the night of the full moon each month, it's an all-night affair with pulsing music and dancing that lasts until morning. Whether you're looking to add some energy to your holiday or are a new to the scene, Haad Rin Beach is an essential stop during your time in Koh Phangan. Don't miss it!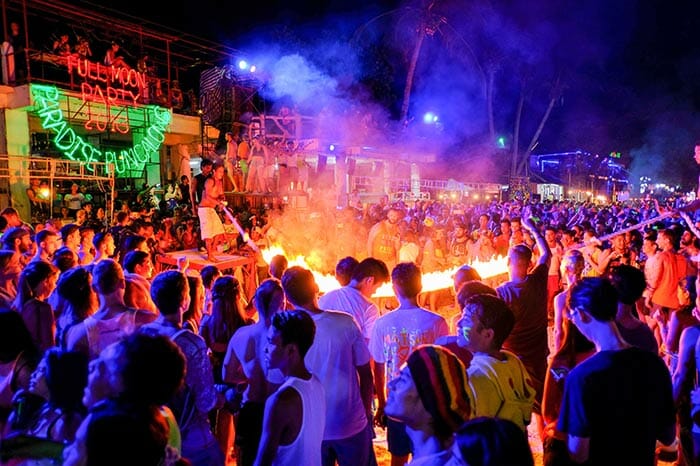 Thong Nai Pan Noi and Yai Beach
Thong Nai Pan Noi and Yai Beaches in Koh Phangan – what a sight! Soft white sand, dazzling crystalline waters, and tropical palm trees; it's like something out of a dream. But don't just come here to lounge around – there's plenty to do! Take a dip in the tranquil sea or explore the vibrant underwater life with some snorkeling. And when hunger strikes, you'll find cozy beachside restaurants where you can enjoy delicious local cuisine. So go ahead, pack up your bags, and head over – it will be an unforgettable experience!
Than Sadet Waterfall
Than Sadet Waterfall is a breathtaking natural wonder located on the eastern coast of Koh Phangan. Surrounded by lush jungle, this waterfall is a must-visit for anyone looking to explore the island's many wonders. The steep and rocky path leading up to it makes it an ideal spot for swimming, picnicking and even cliff jumping – offering something for everyone. With its crystal clear waters and peaceful atmosphere, a trip to Than Sadet Waterfall is sure to be a memorable experience. Whether you're looking for an adrenaline rush or a tranquil escape, this waterfall should not be missed during your visit to Koh Phangan.
Things to do in Koh Phangan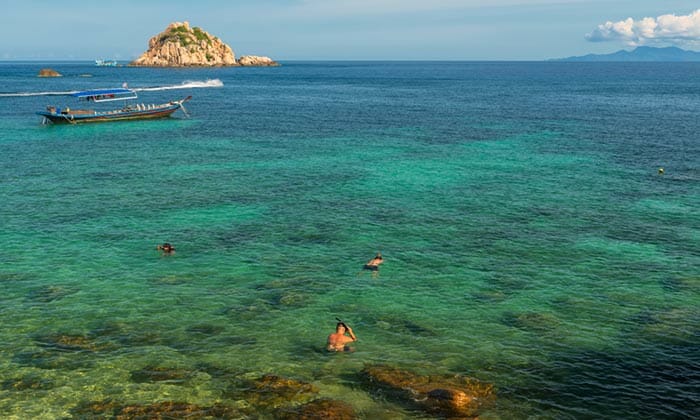 Diving and Snorkeling
Dive into the magical underwater world of Koh Phangan, with sites suitable for all levels. Explore the colorful coral reefs, vibrant fish and other fascinating marine life just off the coast or take a boat out to secluded coves or Sailrock dive site. If you're feeling adventurous, try a day trip to nearby Ang Thong National Marine Park; a paradise for lovers of the ocean. There's something for everyone in this vibrant underwater kingdom. So come and join us in experiencing the wonders of Koh Phangan!
Yoga and Wellness
Koh Phangan is a top destination for yoga and wellness, offering a range of retreats, studios, and workshops. From sunrise yoga classes to full-day wellness programs, you'll find plenty of opportunities to connect with your mind and body. With its tranquil surroundings and spiritual atmosphere, Koh Phangan is the perfect place to practice yoga and find inner peace.
Adventure Sports
For an adrenaline-pumping experience, Koh Phangan is the perfect destination. Rock climbing, kayaking and jungle trekking are just some of the exciting adventure sports on offer – all set against a backdrop of stunning scenery and unique landscapes. Explore the lush jungle, scale towering cliffs or navigate the coastline – no matter what you choose to do, you are guaranteed to get your heart racing. Koh Phangan is truly a paradise for adventure-seekers.
Getting to Koh Phangan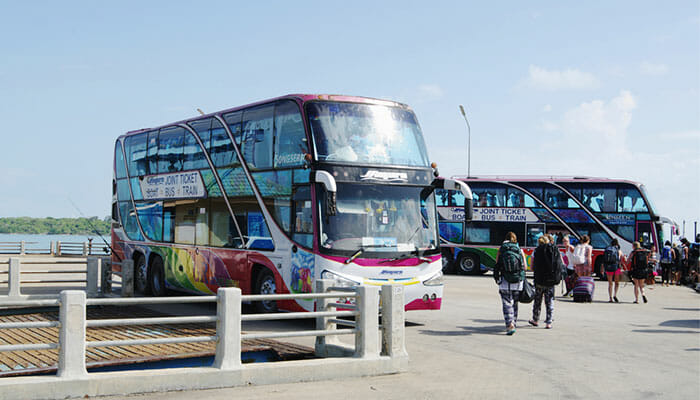 Bangkok to Koh Phangan
To reach Koh Phangan from Bangkok, the quickest method is flying to neighboring island Koh Samui and taking a 30-minute ferry. Bangkok Airways offers almost hourly flights from Suvarnabhumi Airport. However, this option can be expensive.
More budget-friendly options include combined bus and ferry tickets offered by Lomprayah and Seatran. These journeys take 10-14 hours but are comfortable and reliable. Alternatively, take a night train from Bangkok to Surat Thani, then a bus to the ferry pier, and finally a ferry to Koh Phangan. Combined train, bus, and ferry tickets are available and make the journey less of a hassle. Night trains offer sleeper tickets in first and second class, with first class providing more comfort.
Other options include booking through travel agents around Khoa San Road but beware of potential issues such as missing luggage or poorly maintained buses. Always book tickets in advance, especially during Full Moon Party season, to avoid travel delays.
Koh Samui to Koh Phangan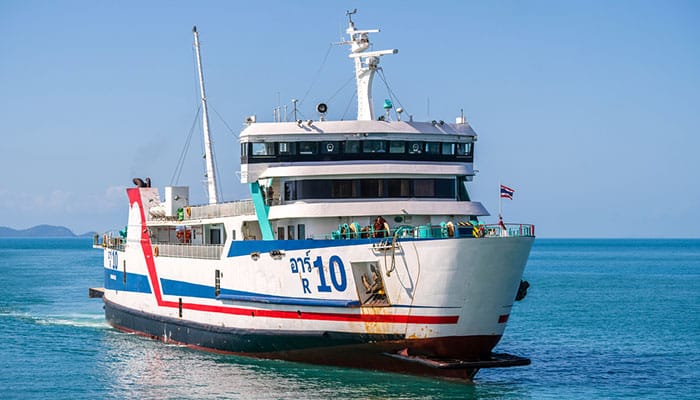 Traveling between Koh Samui and Koh Phangan is an easy and convenient experience with two modes of transportation: speedboats and ferries. There are several ferry operators including Seatran, Lomprayah, Haad Rin Queen, and Raja Ferry, which provide varying levels of comfort and speed, and connect various piers on both islands.
Seatran and Lomprayah offer comfortable and fast services with air conditioning, toilets, and shops on board. Haad Rin Queen is a budget option, and is often crowded, with basic seating arrangements, but is a convenient option for party-goers heading to the Full Moon Party. Raja Ferry travels between Lipa Noi in Koh Samui and Koh Phangan, and is a great option for those who want to explore the scenic Koh Samui.
For detailed information on traveling between Koh Samui and Koh Phangan, click here.
Phuket to Koh Phangan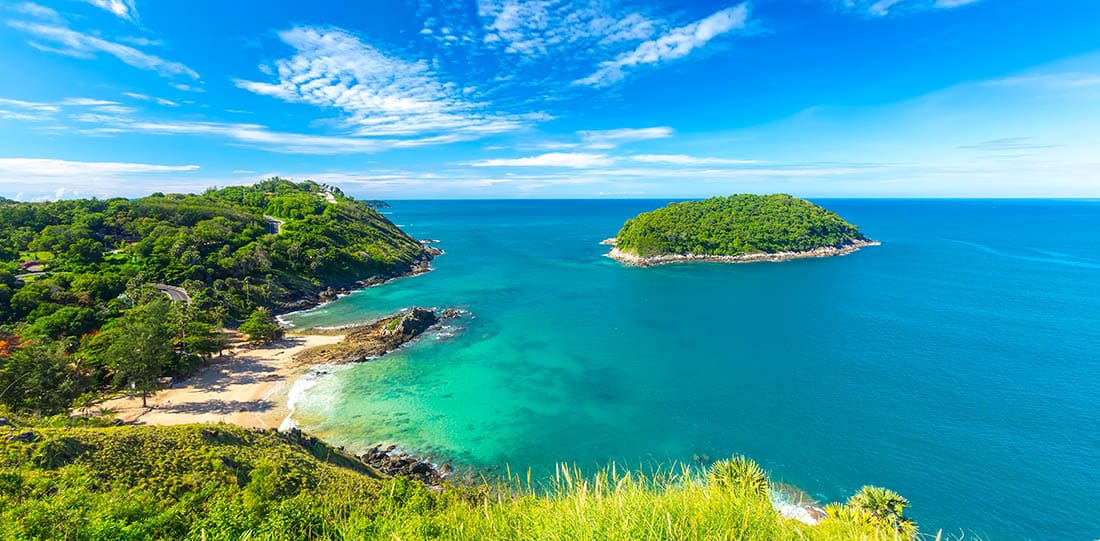 Traveling from Phuket to Koh Phangan can be quite a hike, as the distance by road is around 340 kilometers (212 miles), and Koh Phangan is not connected to the mainland. Although flights are available, they're expensive and require a layover on Koh Samui, followed by a ferry to Koh Phangan.
A more affordable option is a combined bus and ferry ticket. Lomprayah, a well-known Thai travel company, offers two departures daily from Phuket, with a total journey time of around 7.5 hours. The trip includes a bus ride from Phuket Town to Surat Thani and a high-speed ferry to Koh Phangan. Alternatively, Seatran Discovery and Phantip offer combined tickets with varying journey times and prices.
Booking a combined ticket through a reputable agent is recommended, as it simplifies travel plans and ensures peace of mind. Traveling independently via Surat Thani may save money, but it could result in spending a night in Surat Thani before continuing to Koh Phangan.
Other Routes to Koh Phangan
Traveling from Koh Phangan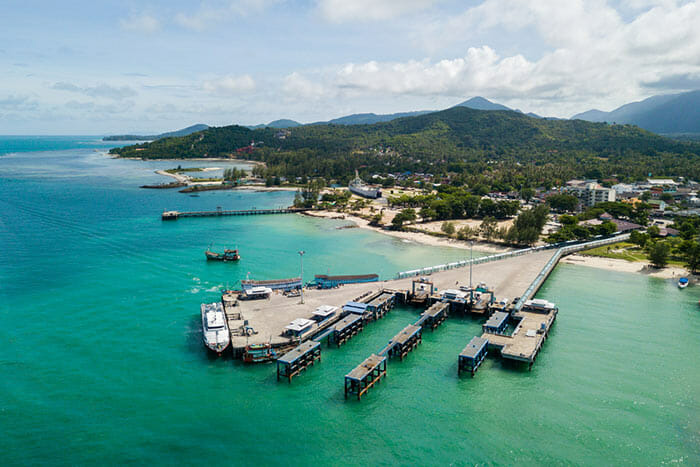 Koh Phangan to Koh Tao
There are three options for traveling from Koh Phangan to Koh Tao, all of which are ferry services. Lomprayah High Speed Catamaran is the fastest option, taking only 1 hour, but it is also the most expensive. Seatran Discovery is a high-speed ferry that takes around 90 minutes and is slightly less expensive than Lomprayah. Songserm Ferry is the slowest option, taking 2 hours, but is the cheapest option.
Each company operates different schedules, with Seatran Discovery having three sailings per day, Lomprayah having two with a possibility of a third, and Songserm having only one sailing per day. All of the boats are considered to be comfortable and safe, but the level of comfort and facilities varies between each of them.
Discover More About Koh Phangan to Koh Tao Options.
Koh Phangan to Koh Samui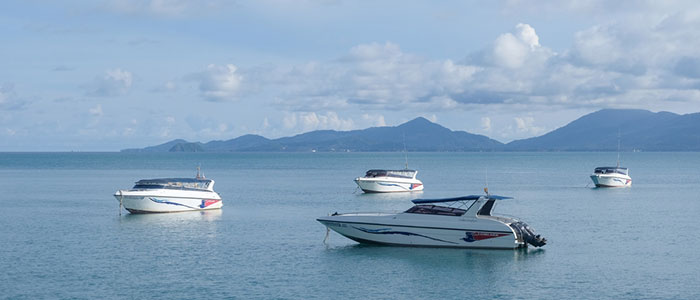 Traveling from Koh Phangan to Koh Samui is a popular route and there are several options available to get there. You can take a fast ferry, a slow ferry, or a speedboat.
The fast ferry is the most popular option, and there are several reputable companies such as Lomprayah and Seatran Discovery, which operate comfortable boats with good safety records and services on board. These crossings only take 30 minutes and tickets usually cost about the same.
On the other hand, the slow ferry, such as Raja Ferry, takes 90 minutes and is a cost-effective option. However, the ferry is older and has fewer services on board.
Finally, the speedboat is a more expensive but flexible option, as you can depart and arrive at most points on both islands. You can compare the times and prices of all three options on Koh Phangan to Koh Samui – Which Ferry is the Best?
Koh Phangan to Surat Thani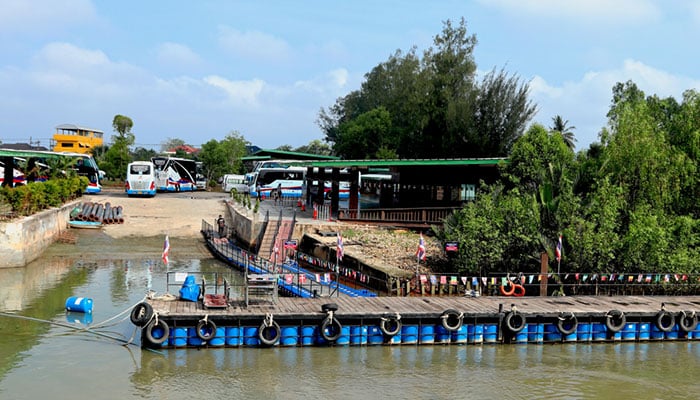 After an unforgettable stay on the beautiful island of Koh Phangan, you may need to head back to the mainland. Most transport options from the island go via Surat Thani and there are several options for the journey, including speedboats and ferries. When looking at transport options, consider where exactly you want to go in Surat Thani, as there are ferry piers at Donsak and there are also boats that take you directly to the city center of Surat Thani.
Lomprayah is a well-known company that operates speedboats and high-speed catamarans from Koh Phangan to Surat Thani. The daily speedboat departure from Thong Sala Pier on the west coast of the island arrives at the Donsak Pier at 12:45, or you can stay on the boat until it reaches the Tapee Pier in Surat Thani, arriving at 2pm. Tickets for the speedboat, or for an all-inclusive ticket that includes the transfer, can be booked through the Lomprayah website or through travel websites such as 12go.
There are also several ferry companies that run multiple departures from Koh Phangan to Surat Thani every day, including Seatran, Raja Ferry and Phantip. Read the full post about getting from Koh Phangan to Surat Thani here.
Other Routes from Koh Phangan
Did you find this guide useful?
Click on a star to rate it!
Average rating: / 5. Vote count: