The gateway to Southern Thailand proper, Chumphon is located on the Royal Coast of Thailand and provides easy access to the Gulf's beautiful and popular islands including Koh Tao, Koh Phangan and Koh Samui. As Chumphon has risen in popularity so too have your transportation options. Today, if you want to travel from Bangkok to Chumphon there are plenty of ways to do it, suitable for all different budgets and desired levels of luxury.
Read about:
• Bangkok to Chumphon by Flight
• Bangkok to Chumphon by Private Taxi
• Bangkok to Chumphon by Train
• Bangkok to Chumphon by Bus
What are the Transport Options for Bangkok to Chumphon?
With so many thousands of tourists, and for that matter locals, choosing to travel from Bangkok to Chumphon each year, you'll never be short of a way to get to this gateway to Southern Thailand! When time is of the essence, a flight can be a quick and hassle-free way to travel, but it's costly too. For budget travelers you can never go wrong with a bus, although trains from Bangkok to Chumphon are extremely popular too. Read on to find out more about all these different options.
Flights from Bangkok to Chumphon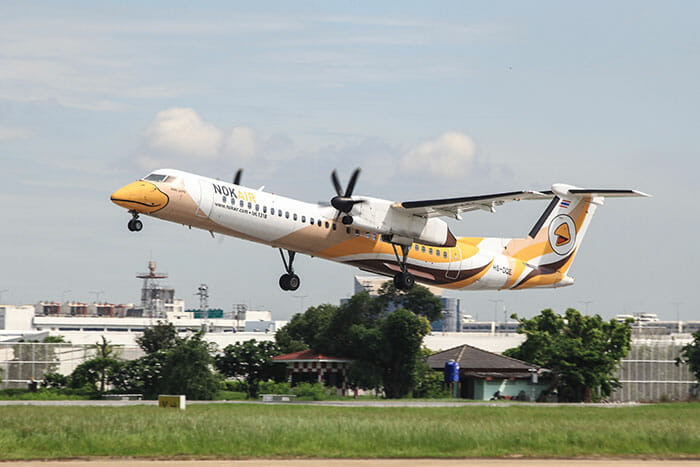 Usually considered the most expensive way to travel from A to B, flights from Bangkok to Chumphon are more expensive than some transport options but actually not as pricey as you might expect. Nok Air is the only airline offering flights between the two cities, and they depart twice per day – once in the early morning, and again in the evening. Of course, the greatest advantage with flying is that it's quick. Driving to Chumphon would take at least 6 hours while the train journey is even longer. A flight takes only about one hour, and, even when you add in the time it takes to check in and get through security, this still easily beats all the other options.
The drawback with flying to Chumphon Airport is that the airport is about 35 kilometers (22 miles) north of the town so you would have to find some way to get from the airport. Usually this would not be an issue as there are plenty of services from companies such as Lomprayah.
Private Taxi from Bangkok to Chumphon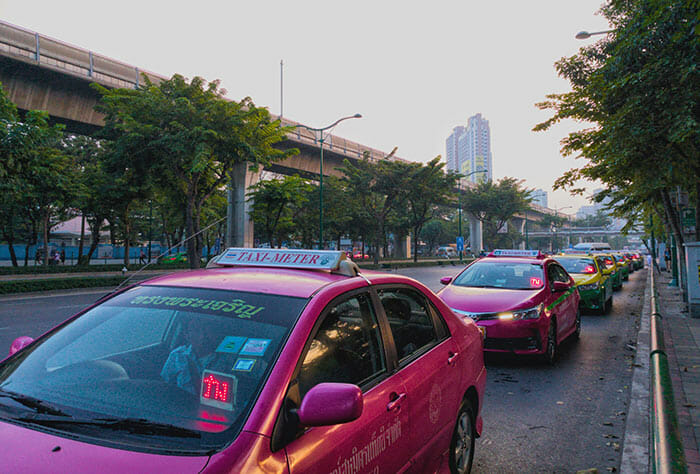 For those of you who have the money, sit back and relax in the comfort of a luxurious car or minivan that will take you direct to your hotel in Chumphon. Private taxis are a great way to travel if you don't wish to share your transportation with a bunch of strangers, and it's the ultimate in convenience as they will take you right to the door of your hotel so you don't have to worry about transfers or getting lost! With such convenience and comfort comes a high price – private taxis from Bangkok to Chumphon are the most expensive way to travel between these two cities, but if you're traveling with family or a group of friends you can split the cost between you and then it actually makes financial sense. A minivan can hold 7 passengers while a van can hold up to 9, so divide the cost between you and it's not as bad as it first sounds. There are several different companies offering this private taxi service, including BangkokTaxi24, PGS, and Axara Travel, and, depending on where exactly in Bangkok you are headed, the drive should take anywhere from 5.5 to 6.5 hours.
From Bangkok to Chumphon by Train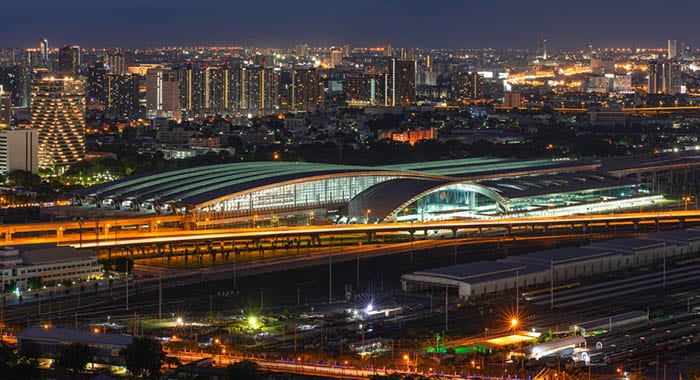 In some countries, traveling by train would be one of the fastest ways to get from A to B, however, that's not the case here in Thailand! The advantage with the train is that it's an affordable way to travel, can be comfortable, and despite the journey taking a long time it can actually save you time on your vacation if you travel overnight. Thai Railways has a number of different trains from Bangkok to Chumphon, traveling by day or by night, and the journey will take between 7 hours and close to 10 hours. Another drawback with the trains is that they often depart late – we don't mean just by a few minutes, but often by several hours, so be prepared for this, and it's also worth us pointing out that the trains are usually close to or completely full (especially the sleeper trains) so you do need to get your ticket booked in advance if you want to be sure of seat or a bed.
All this aside, Bangkok to Chumphon by train is reasonably priced and there are different options depending on your budget and on what level of comfort you would like. You could opt for a standard seat, but if you're traveling overnight, a sleeper cabin would be better. Choose from a second-class sleeper with fan, second class sleeper with AC, or a first-class sleeper which has AC.
Trains depart from the new Krung Thep Aphiwat Central Terminal. It is in the Chatuchak area of Bangkok and connects to long-distance trains, SRT, MRT, airport, and bus links. With an elevated walkway to Mochit Bus Terminal and an underground passage to Bang Sue MRT Station, accessibility has been a major factor in its design.
For a seamless travel experience at Krung Thep Aphiwat, head to Gate 4. This is where you'll find the main ticket office, the food court, and the departure board. In addition to purchasing tickets at the station, you can conveniently buy train tickets online. Trains to Chumphon (Southern Thailand) depart from Platforms 7 and 8.
Bus from Bangkok to Chumphon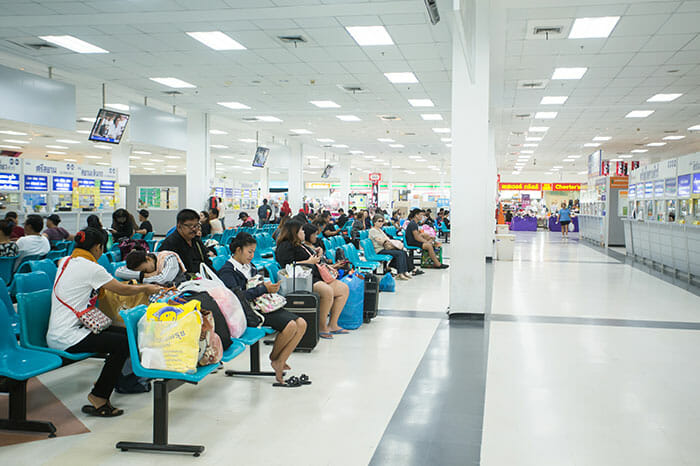 The cheapest way to travel from Bangkok to Chumphon is by bus. Buses are, believe it or not, faster than trains, and an express service with Suwannatee Tour is relatively comfortable thanks to air conditioning, a steward service, snacks, and a toilet onboard. From the Southern Terminal in Bangkok, the journey time is around 6 hours and 20 minutes to the Suwannatee Station in Chumphon, and there are several services each day including a morning, early afternoon, and an overnight service which gets you into Bangkok at an unsociable 03:30. The good thing with this schedule is that you're mostly traveling through the night so you're not losing any daylight hours out of your vacation.
So, there are the options for the best way to travel from Bangkok to Chumphon. Go on a bus for a fairly comfortable and very affordable option, or take the train if you want a little more space to move around. A private taxi is perfect for larger families and groups of friends traveling together because you can split the cost, while taking a flight from Bangkok to Chumphon will get you there the fastest.
Did you find this guide useful?
Click on a star to rate it!
Average rating: / 5. Vote count: