Thailand's capital city, Bangkok, is sure to overwhelm your senses with its hectic atmosphere and always busy streets, yet it's a city you need to visit at least once in your life! Whether you want to see its amazing sights – the temples, the palaces, the markets – or you're searching for some new nightlife, Bangkok has a little, and a lot, of everything! There's no getting away from the fact that this is a crazily busy city though, and once you've spent a little time in Bangkok you may be seeking somewhere more tranquil. Just a short distance to the north of Bangkok is the amazing national park of Khao Yai. The first national park in Thailand, Khao Yai is popular but still surprisingly quiet. It's a beautiful place of waterfalls, wildlife, tropical forests and grasslands, and is the third largest national park in the country.
Read about:
• Bangkok to Khao Yai by Private Taxi
• Bangkok to Khao Yai by Bus or Minivan
• Bangkok to Khao Yai by Train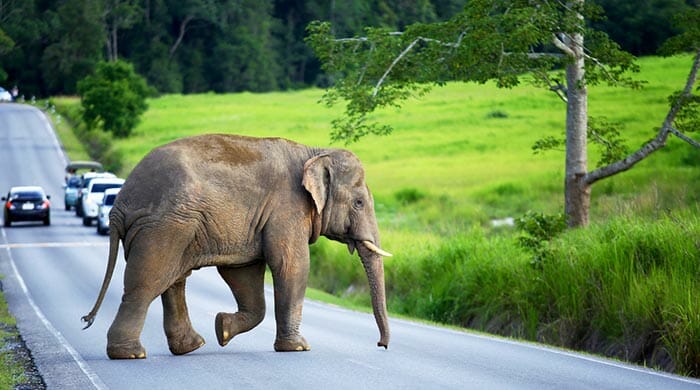 Options for Travel from Bangkok to Khao Yai
As distances go in Thailand, it's really not very far to get from Bangkok to Khao Yai with the shortest road distance being around 125 kilometers (78 miles). That being said, it's still not an especially fast trip due partly to the amount of traffic in and around Bangkok, and because once you're outside of the cities the roads aren't always in the best shape. Traveling by bus is an option, or you can go by minibus, or traveling by private taxi is a popular way to go from Bangkok to Khao Yai, albeit more expensive. Trains are also another option, although these won't save you time or money over traveling by bus.
Bangkok to Khao Yai by Private Taxi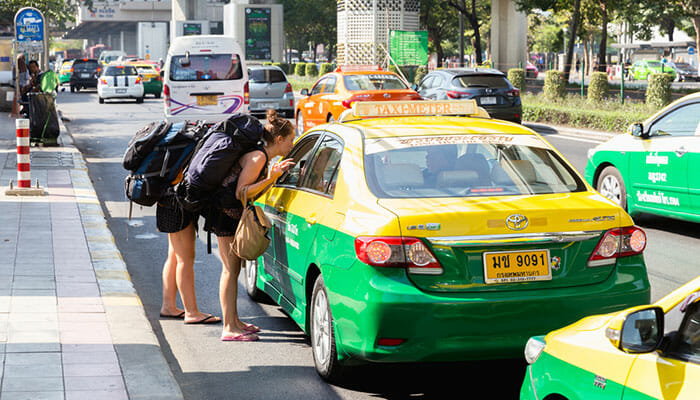 Although going by private taxi from Bangkok to Khao Yai is the most expensive way to travel, it is also the most flexible and the fastest. With these benefits, you could argue that the additional cost is well worth it, as you get to Khao Yai National Park faster and more comfortably when traveling by private taxi.
The benefits begin right at the booking stage. You can book private taxis operated by several different companies, all through the travel website, 12Go.asia. On this website you can see the variety of options, including prices, types of vehicle, and pickup and drop off options. So, you can easily compare the different taxis, and then book online with instant confirmation available with most of these operators, as well as the option for refund should your plans change nearer the date of travel.
Taxis are so flexible because you can book them to pick you up from any hotel within Bangkok city, or even from Bangkok's Don Mueang Airport. And, when you book, you specify the time of day or night that you would like the taxi to come for you. This is great if you have a fixed schedule and want transport options to work for you, rather than the other way around. You don't have to worry about getting to a bus station, waiting for a bus, or dealing with delays, and only being able to travel from Bangkok to Khao Yai at the time that the bus leaves. This may not work well for any existing schedule, whereas going by taxi allows you to plan exactly when you want to leave.
On 12Go there are quite a few different taxi companies to choose from. Their prices are very similar so that they remain competitive, but you will see differences in price according to the size and type of vehicle. The cheapest options are Comfort and Economy cars that are really only designed to have two passengers, but, if you pay a little more you can get a larger SUV that is suitable for up to 4 passengers, or you can go for a 9-passenger van. These are both great options if you're traveling with another couple, or with family or friends as the private taxis become a very affordable option when divided by more passengers.
Traveling from Bangkok to Khao Yai by taxi should take in the region of 3 hours, so this is the quickest way to get there too.
Bangkok to Khao Yai by Bus or Minivan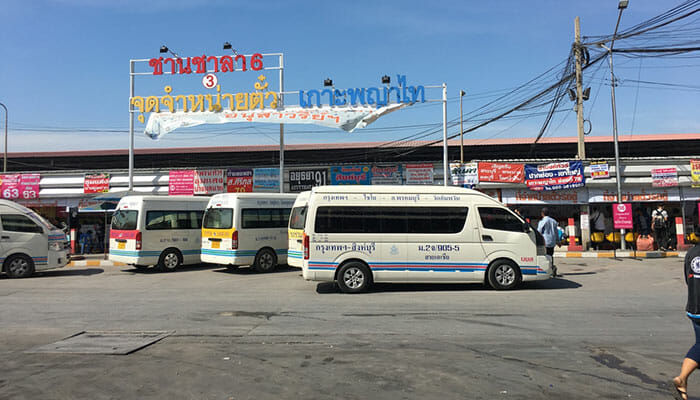 You can save yourself a lot of money if you're traveling alone, by opting for a minivan or bus from Bangkok to Khao Yai. For independent or budget travelers, this is a popular way to travel because it's so cheap, and minivans are always readily available for trips like this.
There are drawbacks, of course, that come with the cheaper cost. First is the lack of flexibility – you're tied to leaving Bangkok depending on the bus schedule. There will be a few different operators to choose from, but generally they keep to a similar schedule offering roughly four departures every day. The next drawback is that these minivans will not take you all the way to Khao Yai National Park, instead arriving at the nearest town of Pak Chong. From here you'll have to take another van or a taxi to the national park itself. This adds time and an element of hassle to the trip, not to mention the fact that you have to get yourself to Mochit New Van Terminal in Bangkok before you can go anywhere!
Bangkok to Khao Yai by Train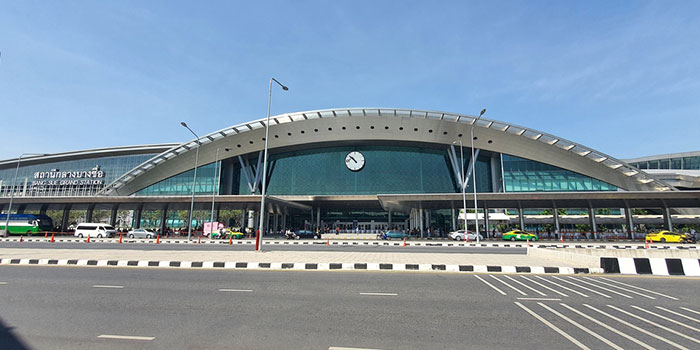 Going by train from Bangkok to Khao Yai is one more option you could consider, however, as mentioned above, the trains won't actually save you any time or money compared to the buses, and when you add in a taxi transfer – which will be required from the train station to Khao Yai – you're getting into prices that could even be comparable to traveling by private taxi.
Having said this, traveling by train in Thailand is something that you do for the experience more so than cost or time savings! There are two different train options. You can travel all the way to Pak Chong on the train. This gets you closer to Khao Yai but takes longer; roughly 3 hours from Bangkok's Krung Thep Aphiwat Central Terminal. The second option is to get a train from Phaya Thai Station in Bangkok to Pak Phli. This takes only about 2 to 2.5 hours, but you then have a longer taxi journey from here to Khao Yai. It will take another 70 minutes or so, and add to the cost.
Minivans, buses and trains are all viable options, but for their flexibility and speed, traveling by private taxi from Bangkok to Khao Yai is a great idea and is even quite economical if you're traveling with several other people and can share the cost!
Did you find this guide useful?
Click on a star to rate it!
Average rating: / 5. Vote count: