Koh Phi Phi is the ideal destination for relaxing days on a gorgeous beach, surrounded by the stunning limestone karst scenery and lush inland jungles, which the islands are famous for. By night there's quite a vibrant nightlife if you want to party the night away, but there are still some quiet parts if you're coming to Koh Phi Phi to chill and take it easy.
If you fancy getting up close to nature, there are plenty of opportunities for scuba diving and snorkeling to explore its vivid coral reefs, or rock climbing to take in the incredible views. Maya Bay is a must-visit, made famous by the movie "The Beach". Don't forget to relax on Long Beach or visit Monkey Beach with its mischievous primates! And when it's time for refreshment – indulge in delicious Thai cuisine. Visit Koh Phi Phi now and create memories that will last a lifetime!
Famous places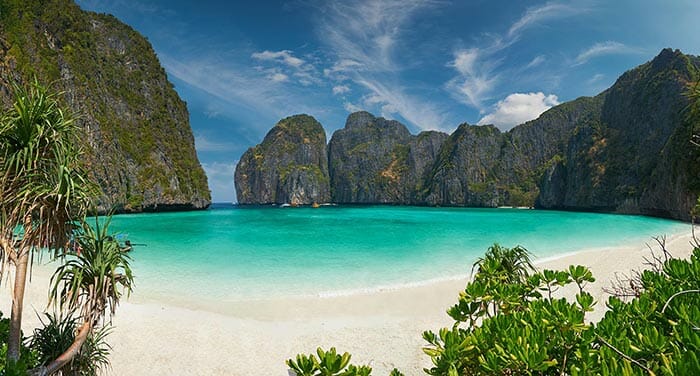 Maya Bay
Maya Bay, a stunningly beautiful gem on Koh Phi Phi, boasts crystal-clear turquoise waters, pristine white sands, and lush limestone cliffs. Made famous by the movie "The Beach," this tropical paradise attracts visitors looking to immerse themselves in its breathtaking scenery. Recently opened up after being closed for ecological restoration, Maya Bay remains a bucket-list destination for travelers seeking the ultimate island experience.
Long Beach
Long Beach, situated on Koh Phi Phi's eastern coast, is a picturesque stretch of powdery white sand and shimmering turquoise waters. This serene beach is ideal for sun-seekers wanting to unwind, while its vibrant coral reefs draw snorkelers and divers from across the globe.
Long Beach is renowned for its laid-back atmosphere, beachfront bars and cozy bungalows, creating a wonderful mix of relaxation and entertainment – making it an unmissable destination when exploring Thailand's Andaman coast.
Monkey Beach
Monkey Beach in Koh Phi Phi offers an unforgettable experience, perfect for those wishing to snorkel, scuba dive or just soak up some sun. Its vibrant and friendly monkey community is a magnificent sight to behold, giving you the chance to observe their behaviour and get close to these affectionate creatures. Don't forget to take in the stunning vistas from this magical place – you won't be disappointed!
Things to do in Koh Phi Phi
There are plenty of exciting things to do in Koh Phi Phi! Here are three activities that are a must-do while you're there:
Scuba diving and snorkeling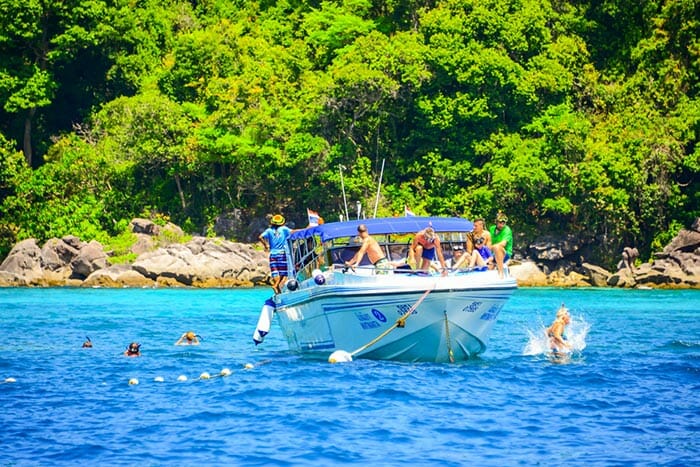 Koh Phi Phi's waters are a diver's paradise, boasting an abundance of vibrant marine life and exquisite coral reefs. Experienced divers and novices alike can experience the underwater world in all its glory here, with crystal-clear waters offering unparalleled visibility and close encounters with a plethora of fascinating creatures. From stunning coral formations to diverse fish species, Koh Phi Phi's vibrant and captivating beauty will leave you enchanted. Don't miss out on the chance to explore its aquatic wonders!
Rock climbing
For those seeking a thrilling experience, rock climbing in Koh Phi Phi is an absolute must. Its towering cliffs and stunning panoramas make it a go-to destination for climbers of all skill levels – from beginners to experts. You'll have the chance to test your abilities, push yourself to the limit and enjoy the breathtaking views from the summit. Make sure to take on the challenge and conquer Koh Phi Phi!
Eco-tourism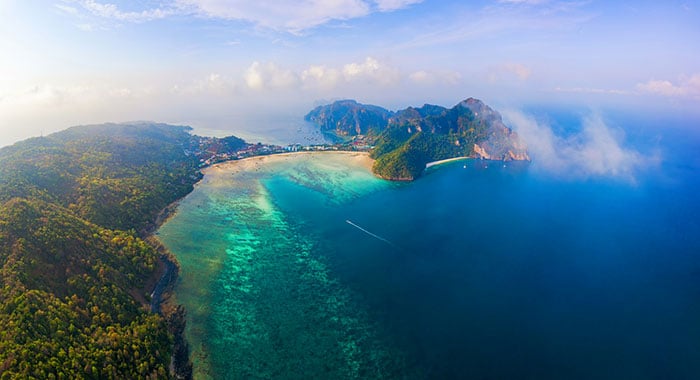 Koh Phi Phi is an ideal destination for eco-tourism, boasting lush vegetation, diverse ecosystems and stunning landscapes. From hiking through the jungle to bird watching or learning about the local flora and fauna, there's something here for everyone. Let yourself be immersed in nature as you explore this National Park and discover its unique ecology. It's an opportunity to learn and appreciate the environment, so come and experience it for yourself!
Whether you're seeking adventure, relaxation or knowledge, you won't want to miss the chance to experience this incredible island and all it has to offer!
Getting to Koh Phi Phi
Phuket to Koh Phi Phi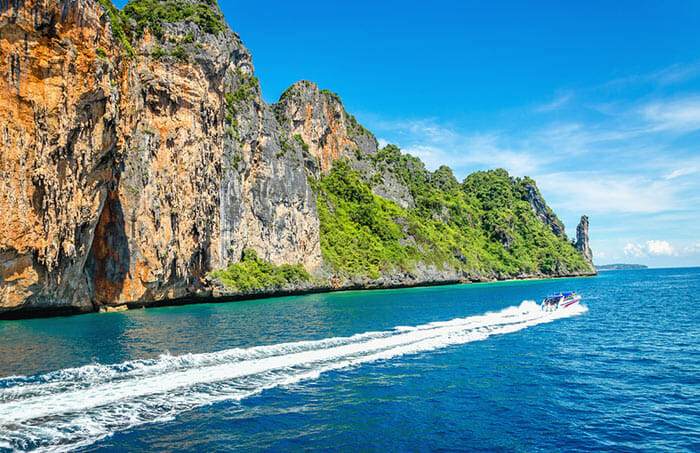 Traveling from Phuket to Koh Phi Phi is a popular excursion for tourists visiting the region. There are three main travel options to get from Phuket to Koh Phi Phi: all-inclusive tours, speedboats, and ferries.
The all-inclusive tours are the most expensive option but offer the most convenience and inclusions, such as hotel pickup, lunch, stops of interest along the way, and snorkeling opportunities. The tours can be booked for either a half-day or full-day and can range from large groups to more intimate and exclusive experiences.
Speedboats can be taken directly from some of the beaches on Phuket and can be booked in advance. Private speedboat charters are also available for those who want more flexibility and who are traveling with a larger group.
Lastly, ferries are the most affordable option and are frequent and can be found departing from two terminals on Phuket. The ferry ride takes between 1.5 and 2 hours and offers a budget-friendly alternative for travelers. Read more about the Phuket to Koh Phi Phi Travel Options.
Krabi to Koh Phi Phi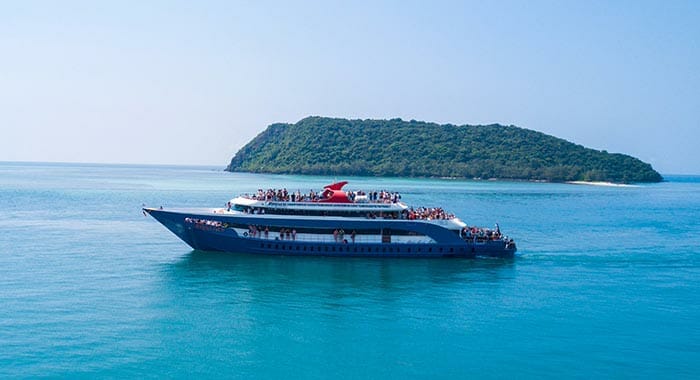 Krabi, Thailand is a popular gateway town to the idyllic Phi Phi Islands. To get to Phi Phi Islands, you have to take a ferry or speedboat as there is no airport on the archipelago. The ferry terminal is about 30 minutes drive from Krabi Airport, with ferries departing from Klong Jilad Pier, located 3 kilometers south of the town center. Ferries depart three times a day and the journey is approximately 1.5 hours, with tickets costing around 550 baht. Booking tickets online in advance can save up to 100 baht per ticket.
For a more exciting option, travelers can take a speedboat tour from Krabi to Phi Phi. The tour is all-inclusive and includes transfers, lunch, snorkeling gear, and a tour guide. However, there is an extra National Park fee that is not included in the tour price. Speedboat tours are not recommended for those prone to seasickness or with back problems due to the choppiness of the water. The tour will take you to all the major sights of the Phi Phi Islands and provide plenty of opportunities for relaxing on the beaches and snorkeling.
To read more details, read "Krabi to Phi Phi by Ferry & Speedboat"
Bangkok to Koh Phi Phi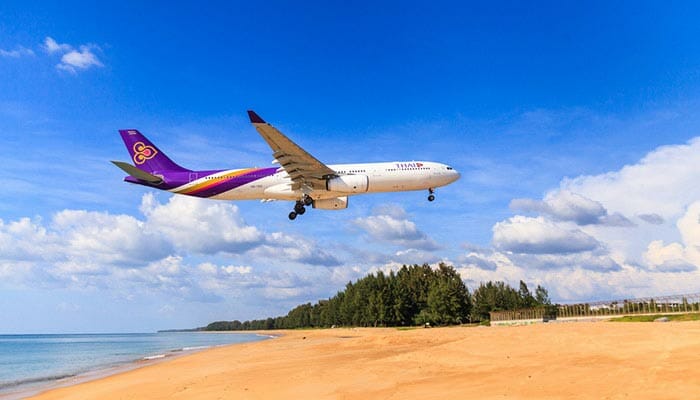 To reach Koh Phi Phi from Bangkok, you can choose from several travel options. One option is to take a flight to Krabi or Phuket, then a ferry to Koh Phi Phi. This is the fastest but also the most expensive choice, as you will need to account for transfer times and costs.
Another option is to book a combined train, bus, and ferry ticket. This journey begins at Bangkok's Krung Thep Aphiwat central terminal and takes you south to Surat Thani. From there, you'll transfer to a bus to the pier and finally board a ferry to Koh Phi Phi. This trip takes about 19 hours, but it offers a chance to enjoy the passing scenery and towns.
A simpler alternative is to take a direct bus from Bangkok to the ferry pier and then board a ferry to Koh Phi Phi. The total journey time for this option ranges from 15.5 to 17.5 hours.
To read more details, read "Bangkok to Koh Phi Phi – Which way is quick and priceworthy?"
Other Routes to Koh Phi Phi
Traveling from Koh Phi Phi
Exploring the beauty of Koh Phi Phi, with its beaches and stunning landscapes, is only one part of an adventurous journey. From here, tourists can choose from a variety of options to travel onward – each providing its own unique experiences and opportunities. So why not start planning your next leg of the trip today?
Koh Phi Phi to Koh Lanta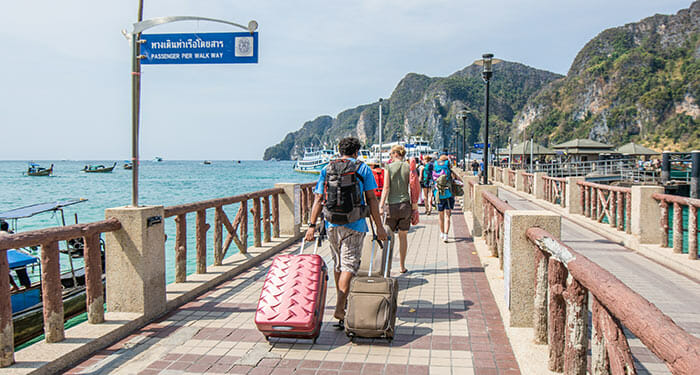 To get from Koh Phi Phi to Koh Lanta, the only option is by boat. The ferry journey takes about an hour, but it may take longer depending on the sea conditions. There are several ferry companies operating this route, with prices being relatively similar.
Traveling by ferry during the peak season (November to March) is reliable, with regular crossings and a journey time of around an hour. However, during the low season (April to November), there are fewer ferries and the journey time may be longer. It's recommended to book in advance and travel light, as some ferries may have limited space for luggage.
Koh Phi Phi to Koh Lanta Ferry: Detailed Information
Koh Phi Phi to Phuket

The Phi Phi Islands, situated in the Andaman Sea, are composed of six small islands with limited infrastructure. To travel from Phi Phi to Phuket, the only available mode of transportation is by boat. There are a variety of options, including ferries and speedboats, with some offering transfers to hotels in Phuket or the airport.
Ferries are abundant, with several companies operating between Phi Phi and Phuket, such as Chaokoh Travel Center, Phi Phi Cruiser, and Andaman Wave Master. Schedules and journey times vary. Note that the number of ferries operating can change based on the season and weather conditions.
Speedboats offer a faster alternative, taking only an hour to reach Phuket. Multiple companies operate speedboat services, such as PP Sabai Marine, Seatran Phuket, Phi Phi Kanichta Tour, and Bundhaya Speed Boat.
For those seeking convenience, combined ferry and taxi options are available, providing transfers to hotels or Phuket Airport.
In summary, there are several boat options to suit different budgets and preferences when traveling from Phi Phi to Phuket. For more details, visit the original article here.
Koh Phi Phi to Krabi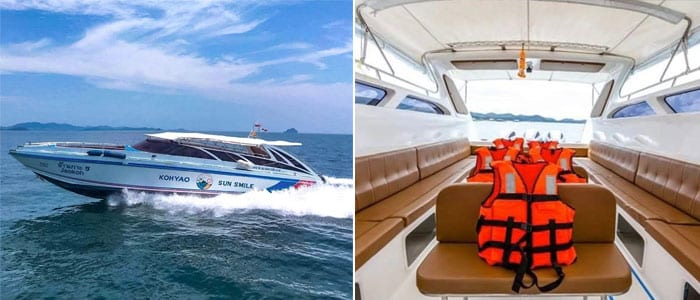 Traveling from Koh Phi Phi to Krabi requires taking a boat as there is no airport on the islands. Visitors have the option of taking a ferry or a speedboat, with four different companies operating services between the two destinations.
The ferry operated by Ao Nang Travel and Tour departs once per day and has two arrival options, East Railay Floating Pier or Nopparat Thara Pier.
The three companies operating speedboats from Koh Phi Phi to Krabi are Koh Yao Sun Smile, Chaokoh Travel Center, and Phi Phi Kanichta Tour, with tickets roughly costing double the price of a ferry ticket but offering a faster journey. Speedboats take around 45 minutes compared to the 2 hours on a ferry but the ride can be bumpy due to faster speeds and smaller boats.
Krabi to Phi Phi – Go by Ferry or Speedboat? for detailed information about the travel options.
Did you find this guide useful?
Click on a star to rate it!
Average rating: / 5. Vote count: