Nha Trang is a hidden gem, just waiting to be discovered. With crystal-clear waters and gorgeous beaches, it's the perfect spot for swimming and snorkeling. For those looking for a real adventure, scuba diving at Hon Mun Island is not to be missed – you'll feel like you've found Nemo all over again!
For more fun out of the water, Vinpearl Land offers everything from amusement parks to resorts and water parks, promising hours of entertainment until late in the evening. But Nha Trang isn't simply about leisure – there's plenty of history and culture too. Check out the Po Nagar Cham Towers or Long Son Pagoda for an insight into another time period; visit the Alexandre Yersin Museum, dedicated to the famous scientist's life and work; or feast on fresh seafood.
And if you need some serious relaxation, indulge in a mud bath and let your worries melt away. Remember to visit Ba Ho Waterfalls as well – it is the perfect finishing touch in this has-it-all destination! So what are you waiting for? Come explore all that Nha Trang has to offer!
Famous Places
Vinpearl Land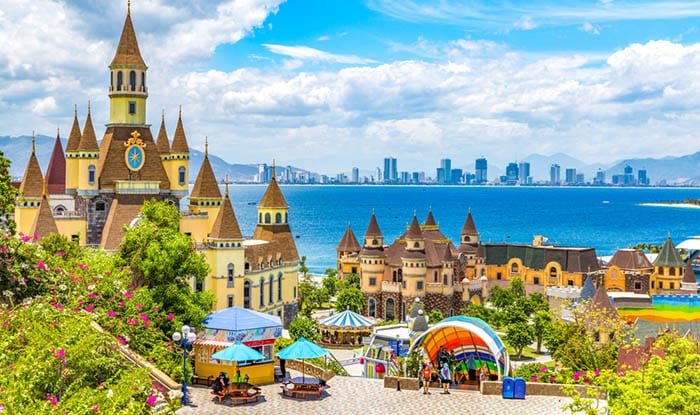 Welcome to Vinpearl Land, an amusement park paradise for thrill-seekers and adventure-lovers! Nestled on a lush island, this sprawling wonderland is jam-packed with wild rides and water slides for folks of all ages. But that's not all – you can also kick back and relax in top-notch accommodations with delectable cuisine and unparalleled views of Nha Trang's beaches.
Po Nagar Cham Towers
For some ancient history, take a trip to the Po Nagar Cham Towers, built by the Cham civilization between the 7th and 12th centuries. Marvel at their intricate craftsmanship as you wander through these grand temples and revel in the breathtaking panoramic views of the surrounding area.
Hon Mun Island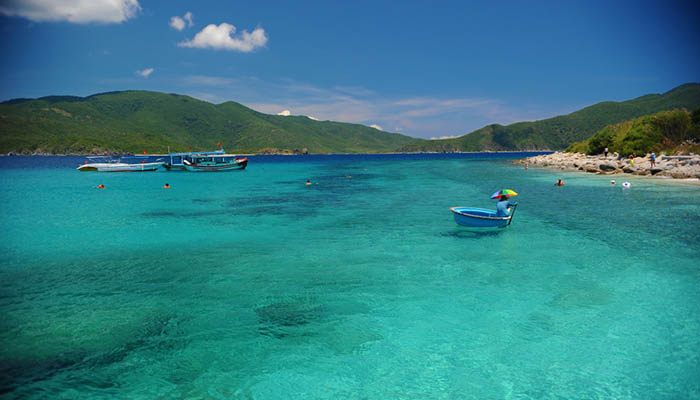 And don't forget about Hon Mun Island – a scuba diving and snorkeling mecca just off the coast of Nha Trang. Plunge into its crystal-clear waters to explore a vibrant world beneath the waves, brimming with marine life in an array of colors. Dive shops and experienced instructors make this underwater journey accessible for all levels.
Things to do
Scuba Diving and Snorkeling
Head down to Nha Trang's underwater paradise and explore the wonders of scuba diving and snorkeling! The crystal clear waters provide an abundance of marine life and vibrant coral reefs, just waiting for you to uncover. Whether you're a seasoned diver or a first-timer, there are plenty of spots that offer the perfect opportunity to explore what lies beneath the waves. Dive shops and instructors abound, so you'll be well prepared when embarking on your aquatic adventure. Don't miss out- come experience up close all that the deep blue sea has to offer!
Mud Baths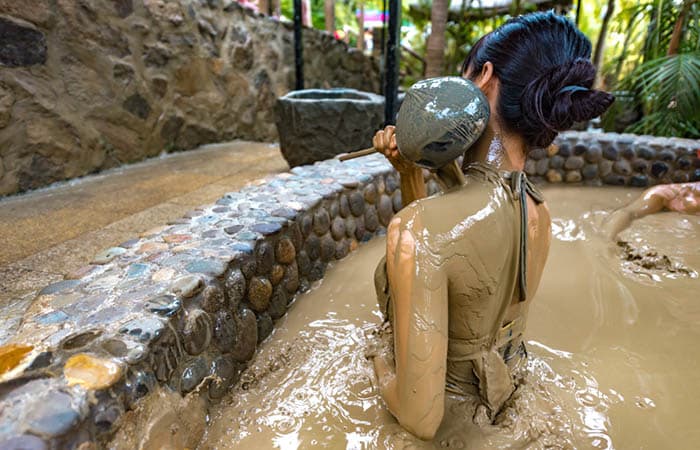 Take a break and indulge in a luxurious mud bath – Nha Trang's renowned baths are renowned for their restorative powers, thanks to the mineral-rich mud they contain. Slather yourself in this natural remedy and let your tensions drift away as you relax in Mother Earth's comforting embrace. Whether it be after a day of exploration or simply to unwind, you'll leave feeling refreshed, invigorated and ready for whatever comes next. Pamper yourself with this unique experience – it's sure to make all your worries disappear!
Sampling Seafood
In Nha Trang, you'll find some of the freshest and most flavorsome seafood around. The city's proximity to the coast means there's an abundance of restaurants offering up a variety of delicious dishes – from succulent shrimp and tender squid to juicy crab and mouthwatering fish. So why not roll up your sleeves and dive into this smorgasbord of deliciousness? Your taste buds are sure to be dancing with every bite!
Exploring the Nightlife
When the sun goes down, Nha Trang's nightlife scene comes alive, like a phoenix risin' from the ashes. From lively bars and nightclubs to laid-back beachfront lounges, there's a spot for every night owl in this bustling city. Sip on tropical cocktails as you groove to the beat of live music, or simply soak up the atmosphere with good company and good vibes. The night is young, and the possibilities are endless – so put on your dancin' shoes and paint the town red!
Traveling to Nha Trang
Ho Chi Minh to Nha Trang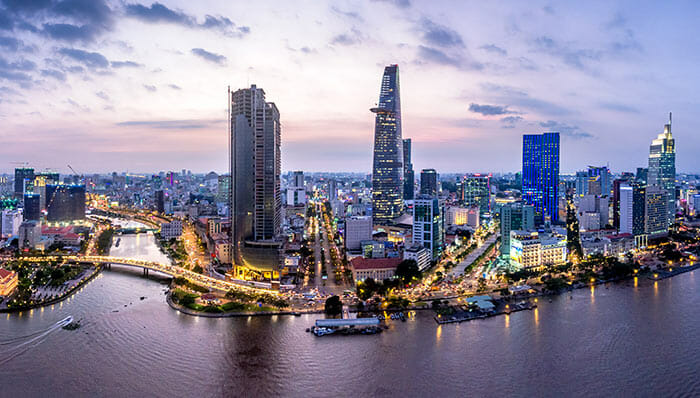 Traveling from Ho Chi Minh to Nha Trang, Vietnam's premier beach destination, offers three main options: by flight, train, or bus. Flights are the fastest and can be surprisingly affordable, with airlines like Vietnam Airlines, VietJet Air, and Jetstar Pacific Airlines flying between Tan Son Nhat International Airport in Ho Chi Minh City and Cam Ranh International Airport in Nha Trang. The flight takes about an hour, allowing you to reach Nha Trang quickly and enjoy more time at the destination.
Trains offer a more scenic journey, with plenty of services operating between the two cities. Vietnam Railways provides various options, from 2nd class seats to sleeper cabins. Private operators like Saigon Golden Train and Livitrans Express offer more luxurious and comfortable sleepers for a higher cost. Traveling by train allows you to enjoy the passing scenery, especially during daytime journeys.
The cheapest and often slowest option is taking a bus from Ho Chi Minh to Nha Trang. Hanh Cafe and The SinhTourist are two major companies providing bus services between the cities. The SinhTourist offers more comfortable sleeper seats and additional amenities for a slightly higher price. Overnight buses can help save on accommodation costs, making this option more affordable for budget travelers. Read more about Ho Chi Minh to Nha Trang travel options.
Da Nang to Nha Trang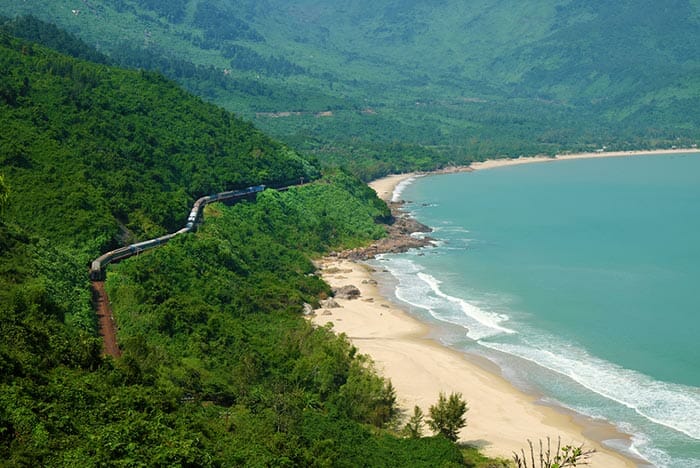 At 530 kilometers (331 miles), the journey between Da Nang and Nha Trang is an extended one. For those wanting to get there quickly, flights with carriers such as VietJet Air and Vietnam Airlines can have you in Nha Trang in under an hour and a half – even more surprisingly, often for cheaper than some train options. Alternatively, take the scenic route by train. Six different services are available every day with sleeper cabins on offer for added comfort if desired; private companies like Violette Express also provide luxury experiences, while VIP Cabins feature in general carriages. The trip takes anywhere between 8.5 and 11 hours. And, for the budget-conscious traveler, buses are the cheapest option albeit lacking in comfort – Hanh Café operates standard buses with air conditioning, taking approximately 11 hours to reach Nha Trang (read more here).
Traveling from Nha Trang
Ah, you've had such a wonderful time in Nha Trang! But all good journeys must come to an end – it's now time to venture out and explore the world beyond this seaside paradise. With your travel guide and trusty bags in tow, let your wanderlust take the lead. Whether you're looking for bustling cities, quaint villages or wild nature, there is always somewhere new waiting to be discovered. Take comfort in knowing that the memories from Nha Trang will last a lifetime – propelling you ever forward on your never-ending quest to explore our great big world. ​​​​
Nha Trang to Dalat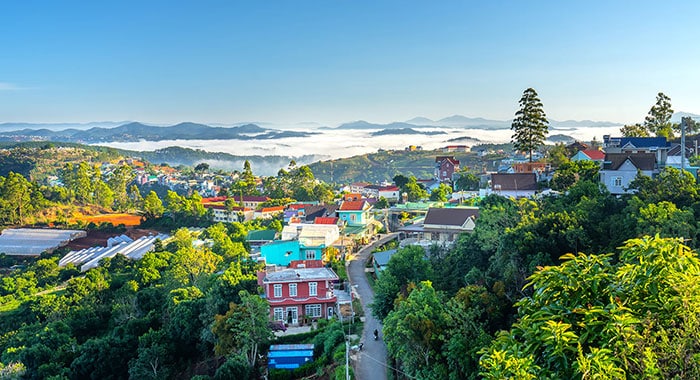 Heading to Dalat from Nha Trang? You're in for a treat! This city offers a laid-back vibe and breathtaking landscape of pine-forested hills, lakes and waterfalls – just a short ride away. You have plenty of options to get there – take the bus or taxi through the winding mountain roads with reliable operators such as The Sinh Tourist or Hanh Café; both are affordable and offer a comfortable ride. Or try out door-to-door convenience with a private taxi if you want more flexibility – though it's pricier than the bus, it'll save time too. So buckle up and get ready for your next Vietnamese adventure!
Read more in our full travel guide: Nha Trang to Dalat – Go by Bus or Taxi?
Nha Trang to Mui Ne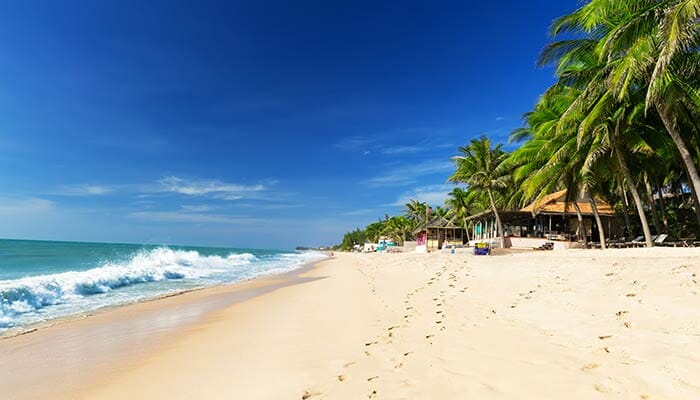 From the bustling coastal city of Nha Trang, you might want to visit the quieter beach resort town of Mui Ne, known for its palm-lined beach, water sports, sand dunes, and Fairy Springs. Covering a distance of about 220 kilometers (137 miles), the most affordable way to travel between these two destinations is by bus, with two reputable companies, Hanh Café and The SinhTourist, offering regular services. You can choose between morning and evening departures, with a journey time of around 4.5 hours.
If you prefer a more flexible and convenient option, private taxis can be booked online, allowing you to choose your departure time and enjoy door-to-door service. While more expensive than the bus, taxis can be a cost-effective choice for families or groups Nha Trang to Mui Ne by Taxi. Alternatively, you can take a train from Nha Trang to Binh Thuan, the closest station to Mui Ne, followed by a taxi ride. While this option takes longer and can be more expensive, it offers a unique and comfortable travel experience.
Read more about Nha Trang to Mui Ne travel options.
Nha Trang to Hoi An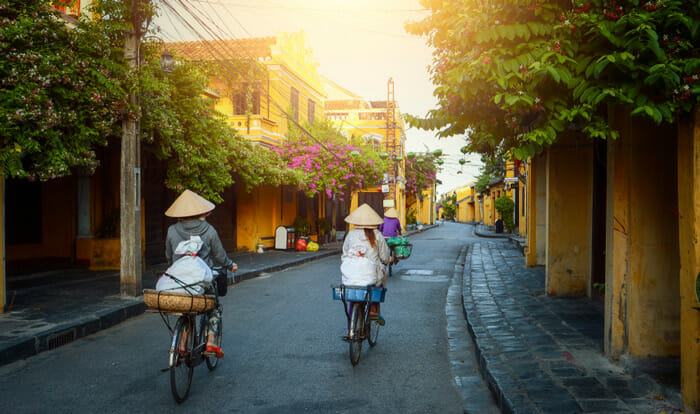 Nha Trang and Hoi An are both popular destinations in Vietnam, each offering unique experiences. To travel from Nha Trang to Hoi An, there are two main options: by bus or by flight. Buses are an affordable choice, allowing you to see the scenic landscape along the way, but the journey can take around 11 hours. Two reputable bus companies, The Sinh Tourist and Hanh Café, offer services between the cities. The Sinh Tourist provides semi-sleeper buses for a slightly higher cost, offering more comfort and space for sleeping during the overnight trip.
On the other hand, flights from Nha Trang to Hoi An can save time, taking only about an hour. Vietnam Airlines and VietJet Air offer flights between Cam Ranh International Airport (south of Nha Trang) and Da Nang Airport (north of Hoi An). Prices are reasonable, with Vietnam Airlines including a 20kg checked baggage allowance. Keep in mind that airport transfers are needed, but even with these added times, flying is still a faster option than taking the bus. Read more about Nha Trang to Hoi An travel options.
Did you find this guide useful?
Click on a star to rate it!
Average rating: / 5. Vote count: