Krabi is a truly special destination that's definitely worth a visit! From its stunning beaches and islands in the Andaman Sea to its limestone cliffs, hot springs, and Mu Ko Phi Phi National Park, there's so much to explore. Ao Nang and Railay Beach are especially popular destinations, offering relaxing days by the water as well as opportunities for sea kayaking, rock climbing, and snorkeling. Not to mention the Tiger Cave Temple and its magnificent mangrove forests. All this makes Krabi an unforgettable experience you won't want to miss.
Famous places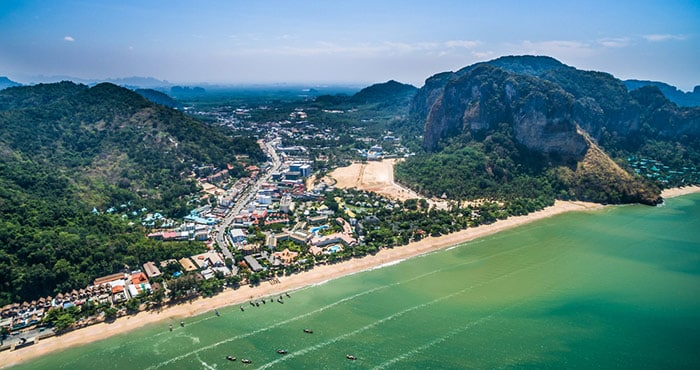 Ao Nang is a stunning beach paradise located in Krabi, Thailand. This picturesque area is known for its powder-soft sand, crystal clear waters, and limestone cliffs that seem to rise from the sea. It's the perfect place to spend a day enjoying the sun and admiring the beautiful views. Ao Nang also offers plenty of opportunities for activities, such as sea kayaking, rock climbing, and snorkeling. Visitors can also explore the surrounding islands, shop in the local markets, or simply relax in one of the many beachside bars.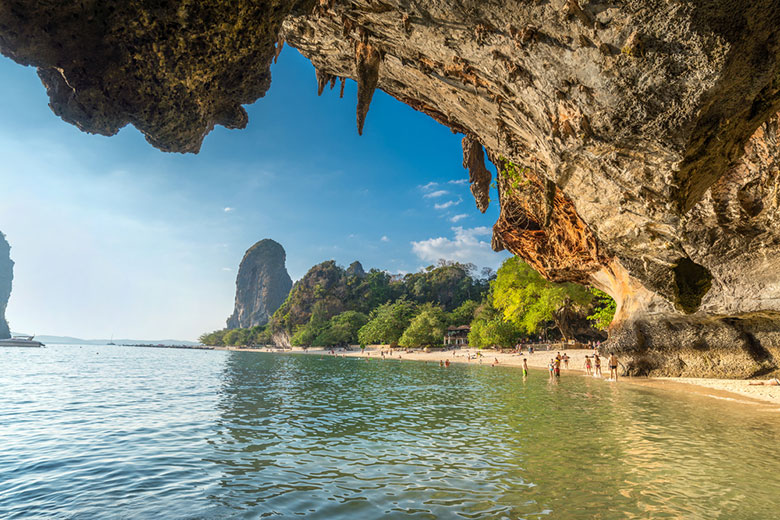 Railay Beach is also located in Krabi and is just a short boat ride away from Ao Nang. Here, visitors can discover even more opportunities for snorkeling and rock climbing that are sure to be a thrill-seeking adventure. The limestone cliffs in Railay Beach offer some of the most breathtaking views found anywhere in Thailand, and they make a great backdrop for photos! Visitors can also take part in other activities such as fishing, swimming, and even bird-watching.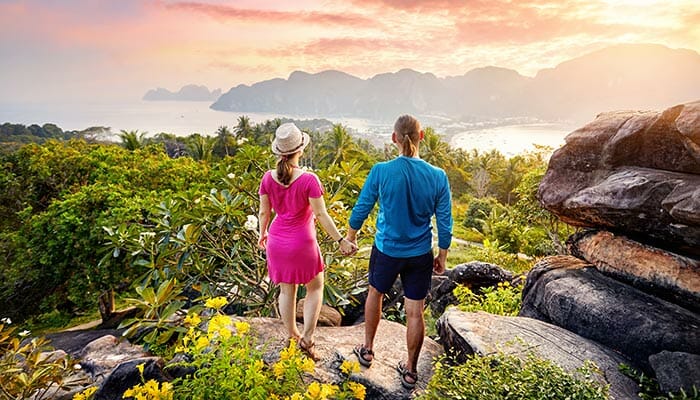 Mu Ko Phi Phi National Park is another must-see destination in Krabi. This majestic park is home to mangrove forests as well as the famous Tiger Cave Temple which is known for its spiritual side. Visitors can explore the various sites within the park and get an up close look at some of its unique wildlife. Mu Ko Phi Phi National Park also offers some of the best snorkeling spots in Krabi with its coral reefs teeming with colorful fish and sea life.
Things to do in Krabi
Krabi is a destination brimming with exciting activities for visitors to indulge in. Here are three top things to do when in Krabi.
Rock climbing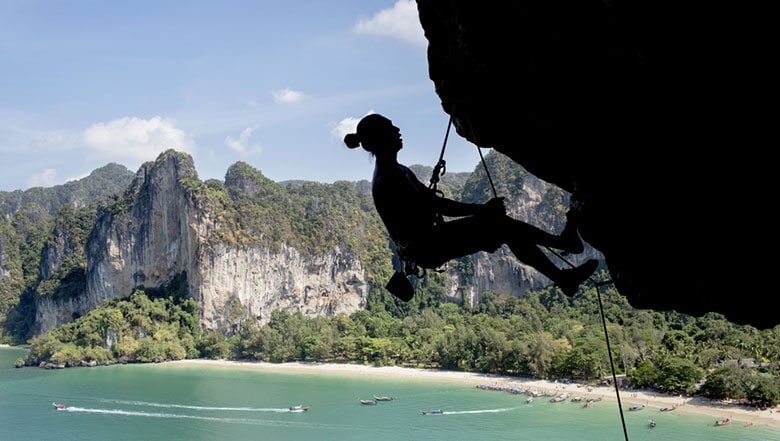 Rock climbing is a popular activity in Krabi, with its unique limestone cliffs attracting both professional climbers and beginners. The area offers various routes, ranging from easy climbs to more challenging adventures, ensuring an exhilarating experience for everyone.
Snorkeling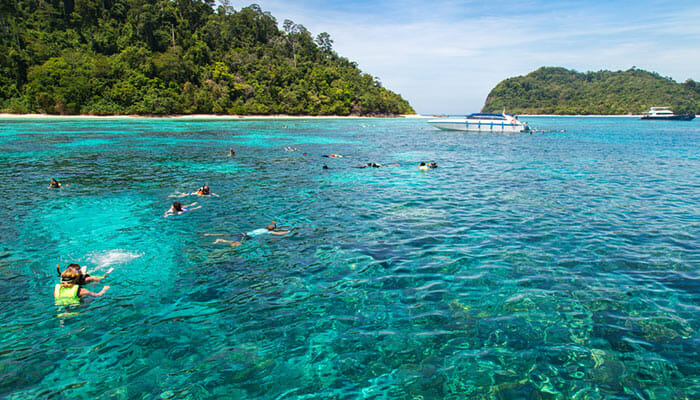 Snorkeling is another favorite pastime in Krabi, as its crystal-clear waters are home to a vibrant marine ecosystem. Numerous snorkeling tours provide equipment and guides, ensuring visitors have an unforgettable underwater experience. From mesmerizing coral reefs to diverse schools of tropical fish, there's always something new to discover beneath the waves!
Islands Hopping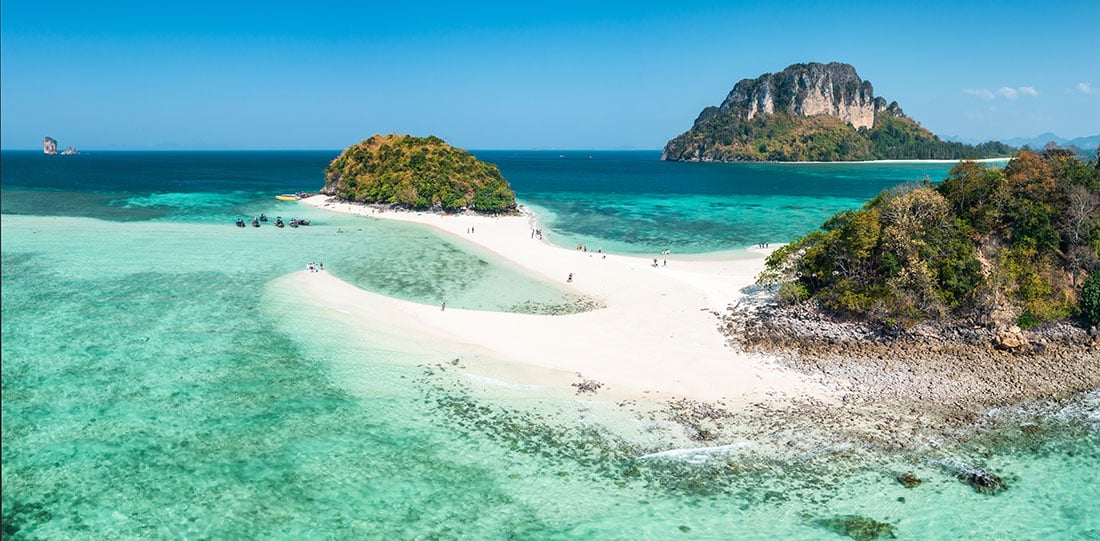 Finally, exploring the islands surrounding Krabi is a fantastic way to immerse yourself in the region's beauty. Boat trips around the Andaman Sea allow visitors to discover numerous small islands, each offering breathtaking views, natural wonders, and ample opportunities for swimming or sunbathing in the inviting waters.
Getting to Krabi
Phuket to Krabi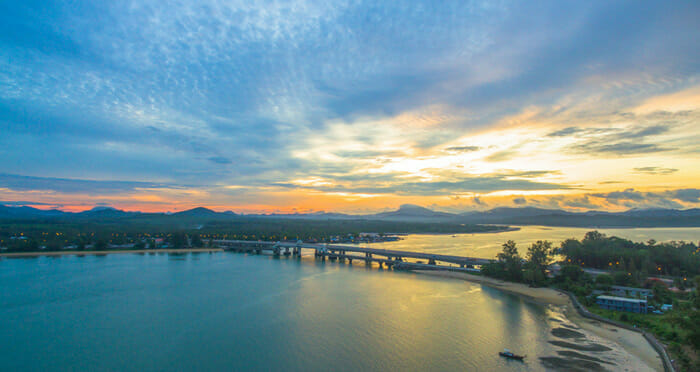 Phuket and Krabi are two top tourist destinations in Southern Thailand, each with its unique atmosphere. Traveling between these two locations is a scenic and easy journey, taking between 2 and 3 hours depending on the mode of transportation. There are various options to choose from, including ferries, speedboats, buses, minibusses, and taxis.
The ferry from Phuket to Krabi is a comfortable and scenic option but takes about 8.5 hours, with a 5-hour stopover on Phi Phi Island. Speedboats, on the other hand, are the quickest option but terminate in Ao Nang, about 19 kilometers from Krabi Town. Buses are the cheapest and most common choice, with frequent departures and journey times around 3 hours. Minibusses offer door-to-door convenience but have less legroom, while taxis provide the most comfort and flexibility but are the most expensive.
To learn more about the various travel options from Phuket to Krabi, you can read the original article.
Bangkok to Krabi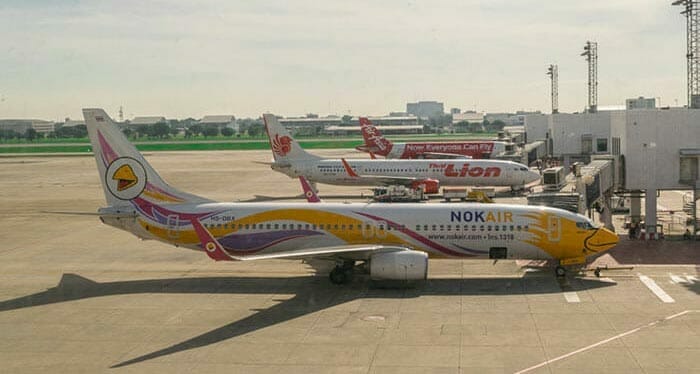 Krabi is approximately 770 kilometers (482 miles) from Bangkok, but the journey is worth the effort. Travel options include flights, a combination of train and bus, or taking a direct bus from Bangkok.
Flights from Bangkok to Krabi are the quickest option, taking around 1 hour and 30 minutes. Domestic airlines such as Air Asia, Bangkok Airways, Thai Airways, Thai Lion Air, and Nok Air offer regular flights between the two cities. Some airlines use Don Muang International Airport, while others operate from Suvarnabhumi Airport in Bangkok.
If you prefer to travel by train, there is no direct Bangkok to Krabi train, but you can take a train to Surat Thani and then continue by bus. The journey involves boarding at Krung Thep Aphiwat central terminal in Bangkok and alighting at Surat Thani station. From there, a shuttle takes you to the bus station for the three-hour bus ride to Krabi. Combined train and bus tickets can be booked in advance.
Alternatively, you can take a direct bus from Bangkok to Krabi. Buses depart from the Southern Bus Terminal (Sai Tai Mai) in the evening and take about 12 hours to reach Krabi.
Whichever mode of transportation you choose, Krabi's stunning views from Tiger Cave Temple and its pristine white sand beaches are worth the trip. Read the full original article here
Koh Samui to Krabi

To get from Koh Samui to Krabi, travelers will need to take a ferry from Koh Samui to the mainland and then transfer to a bus, minivan, or minibus to Krabi. The first step is to take the Lomprayah High Speed Ferry from Koh Samui's Nathon Pier to Donsak Pier on the mainland. This ferry departs several times a day and takes about 1.5 hours.
Once you have arrived at Donsak pier, you will need to take a taxi or minibus for about 40 minutes to the Surat Thani Bus Station. Here, you can catch a bus or minibus that will take you directly to Krabi Town. The journey usually takes around 3-4 hours depending on traffic.
Other Routes to Krabi
Traveling from Krabi
Leaving Krabi can be a bittersweet experience, as there's so much to explore and discover in this amazing destination. But if you're ready to continue your journey, there are plenty of options available. There's something special waiting for you in every corner of Thailand – from bustling cities to secluded beaches – so don't be afraid to take a chance and explore the beauty of the country.
Krabi to Phuket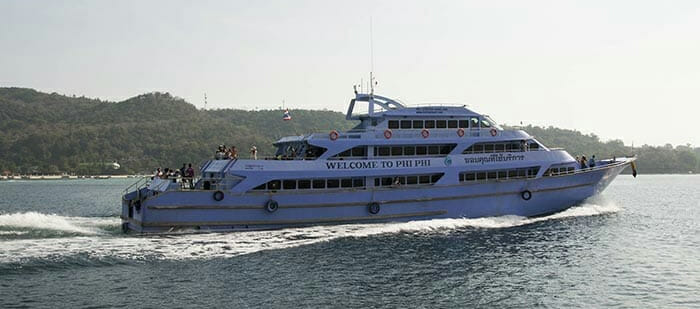 Krabi Town, often overlooked as a hub for nearby beach resorts, offers a genuine glimpse into local culture. Many tourists travel from Krabi to Phuket for its lively nightlife and beaches. There are multiple options for this 165-kilometer journey, including bus, minibus, taxi, ferry, and speedboat.
Buses are the most popular choice due to low prices and high frequency. Minibusses are another popular option, offering pick-up services from different locations. Minbusses tho, might be cramped and have a reputation for fast and reckless driving.
Taxis provide a true door-to-door service with plenty of comforts but can be expensive.
Ferries offer an alternative to road travel, with stunning scenery and more space, but the Andaman Sea can be rough. Regular ferries stop at Koh Phi Phi, extending the journey, while direct boats are available from Ao Nang during high season.
Speedboats are the fastest and most expensive option, departing from Railay and taking about 45 minutes to reach Phuket. The choice of transport depends on your budget, schedule, and preferences.
Read the full article here.
Krabi to Koh Samui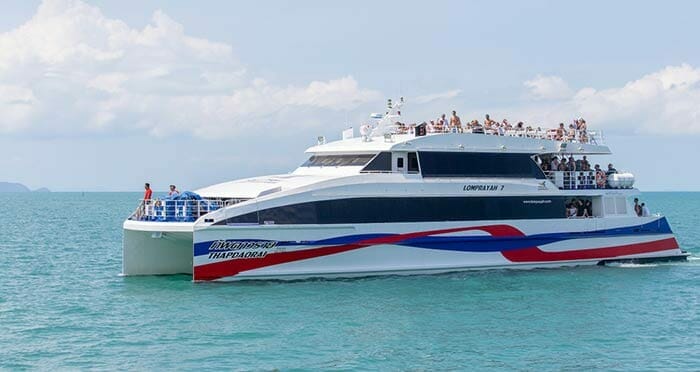 To travel from Krabi to Koh Samui, you have several options catering to different budgets and schedules. The quickest but most expensive choice is to fly with Bangkok Airways, which operates a daily flight from Krabi to Koh Samui. The journey takes less than an hour, but remember to factor in time for check-in, security, and luggage collection.
If you're not in a rush and want to save money, join the majority of tourists who opt for a combined bus and ferry journey. Numerous ferry companies operate this route, providing flexibility in terms of schedules and budgets.
Lomprayah, a highly reputable company, offers high-speed catamaran services with comfortable seating and onboard amenities. Seatran Discovery is another popular choice, providing a similar level of comfort and facilities, but with a slightly longer travel time. Songserm, on the other hand, operates standard ferries that take longer and offer fewer amenities but come at a lower cost.
Regardless of the ferry company, a bus or minibus ride is always necessary to travel across the country, as Krabi is on Thailand's west coast while Koh Samui is off the east coast. Travel agents in Krabi can help with arrangements, but booking independently and securing a combined bus and ferry ticket can save you money and streamline your trip.
Ultimately, whether you choose to fly or travel by bus and ferry, Koh Samui's breathtaking beauty and vibrant atmosphere are well worth the journey.
For more information on the route and how to book, check out our blog post: "Krabi to Koh Samui – Go by Ferry or take a Flight?"
Krabi to Koh Lanta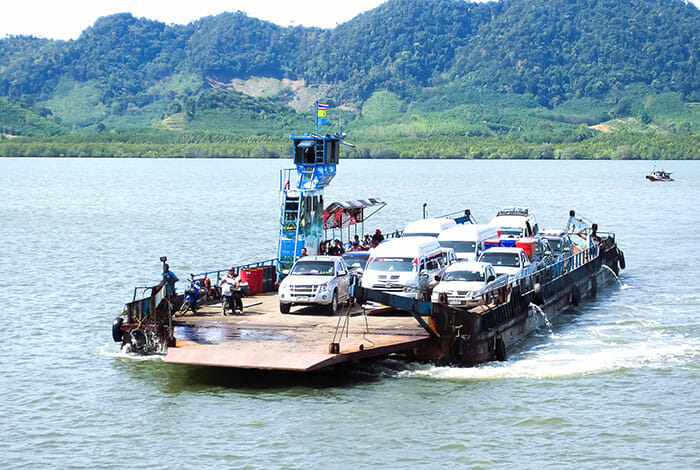 Koh Lanta is a group of islands near the mainland of Thailand, known for its beautiful beaches, limestone outcrops, and rainforests. Whether you're in Krabi Town, at Krabi Airport, or one of the coastal beach towns in Krabi Province. Going from Krabi to Koh Lanta, there are several travel options available.
Travel by Road: Rent a car for flexibility, and utilize the car ferry to reach the island.
Taxi: Hire a private minivan or a standard taxi for comfortable, direct travel from Krabi Airport or your hotel to Koh Lanta.
Shared Minivan/Minibus: Book a shared minivan for cheaper travel, but expect crowded conditions and possible luggage space issues.
Ferries: Seasonal ferries (November-April) offer scenic travel from Krabi Town or Ao Nang, taking around 2 hours.
Express Speedboat: The fastest option available during the high season, with a combined ticket that includes pick-up from Krabi Airport, a speedboat ride, and transfer to your Koh Lanta hotel.
Keep in mind, some options are not available during the low season (May to late October) due to rough seas. For more details: Krabi to Koh Lanta – Go by Road, Ferry or Speedboat?
Other Destinations From Krabi
Did you find this guide useful?
Click on a star to rate it!
Average rating: / 5. Vote count: