Manila, the heart of the Philippines, is a city that'll sweep you off your feet. With its rich history, showcased in landmarks like Intramuros and Fort Santiago, it's a goldmine for history buffs. Spanish architecture and quaint cobbled streets transport you back in time, while the buzz of jeepneys zipping through the streets brings you right back to the present.
Now, let's talk food. Manila's street food scene is out of this world! From the delectable 'balut' to the mouth-watering 'isaw,' your taste buds are in for a rollercoaster ride. And if shopping's your thing, brace yourself for Divisoria Market, where bargains galore await.
But that's not all! Stroll through the lush greenery of Rizal Park or Luneta Park, and you'll be smitten by the city's natural charm. And don't forget to pay a visit to the iconic Quiapo Church, a spiritual haven in the midst of chaos.
Manila is also home to the colossal SM Mall of Asia, a shopper's paradise, and the Pasig River, which offers a unique perspective on the city's pulse. So, pack your bags and get ready for an unforgettable adventure in this one-of-a-kind metropolis!
Famous places
Intramuros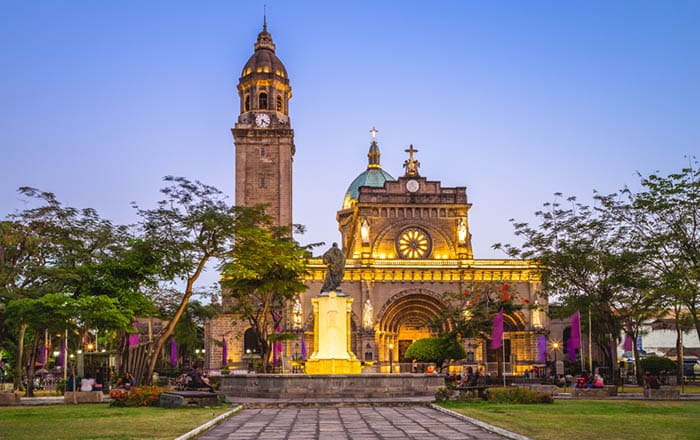 Ah, Intramuros! A walled city within Manila that's steeped in history and adorned with Spanish architecture. This remarkable gem is a testament to the Philippines' rich colonial past, encapsulating centuries of stories within its walls. As you walk along the cobbled streets, you'll feel as if you've been transported back in time, surrounded by centuries-old buildings and churches that whisper tales of a bygone era.
Now, within Intramuros, you'll stumble upon the magnificent Fort Santiago, a citadel that once protected the city from invaders. Here, you can follow in the footsteps of the Philippines' national hero, Dr. Jose Rizal, as he took his final walk before his execution. The fort's dungeons, ramparts, and the Rizal Shrine are bound to captivate you, as you unravel the secrets of Manila's storied past.
Visit the Intramuros Administration website for more information on this historical site.
Rizal Park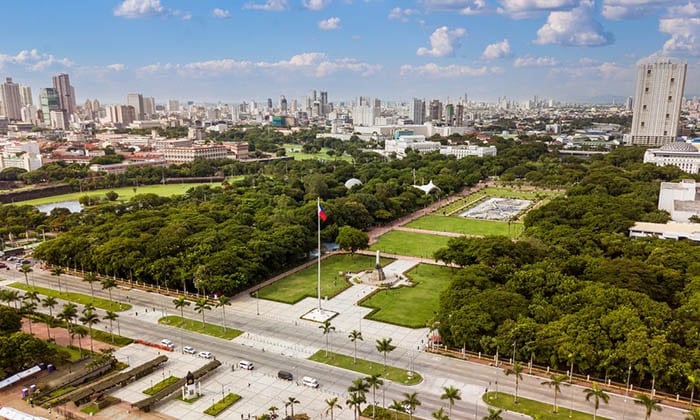 Next, we have Rizal Park, which is also called Luneta Park. This large green area is ideal for relaxing and getting away from the busy streets of Manila. The park is named after Dr. Jose Rizal and has a monument in his honor. This is also the location of his execution. Rizal Park has a peaceful environment for quiet thought, with many sculptures, gardens, and fountains creating a calming setting.
Not only that, but Rizal Park is also home to various museums, a planetarium, and even a dancing fountain show that lights up the night sky. It's the ideal place for families and friends to gather, enjoy picnics, and engage in leisurely activities while basking in the city's rich history and natural beauty. Check out the National Museum of the Philippines website for more information on the museums located within the park.
Fort Santiago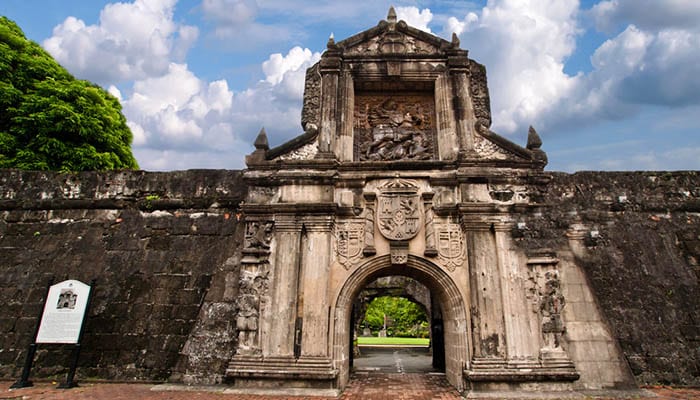 Fort Santiago, nestled within the confines of Intramuros, is a fortress that's played a significant role in Manila's history. With its strategic location along the Pasig River, the fort has been a crucial defense structure since the days of the Spanish colonization. The walls of Fort Santiago have witnessed countless battles, and it's where national hero Dr. Jose Rizal was imprisoned before his execution.
As you explore Fort Santiago, delve into its rich historical tapestry as you visit the dungeons that were once home to prisoners, marvel at the Rizal Shrine which commemorates a local hero's life and take in the beauty of Plaza Moriones, a manicured park within the fort grounds. This is an essential stop for anyone wishing to learn more about Manila's past and gain insight into the people who shaped its destiny.
To learn more about cultural events happening in the city, check out the Cultural Center of the Philippines website.
Things to do
Shopping at Divisoria Market
For the shopaholics and bargain hunters out there, Divisoria Market is a treasure trove of affordable finds. This bustling marketplace is known for its dizzying array of products, ranging from clothes and accessories to toys and home decor. Hone your haggling skills as you navigate the labyrinth of stalls, and you might just walk away with some fantastic deals. Divisoria Market is not only a shopper's paradise but also a vibrant showcase of Manila's energetic spirit.
Riding a Jeepney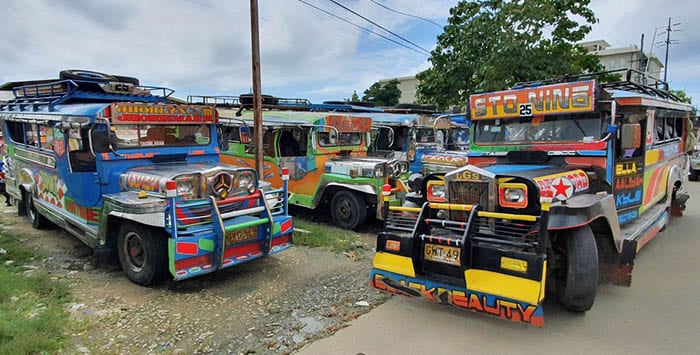 No trip to Manila is complete without hitching a ride on a jeepney, the city's iconic public transport. These colorful, flamboyant vehicles, originally made from surplus US military jeeps, are as much a part of Manila's identity as its historical landmarks. Take a jeepney ride and explore the city as a local would, interacting with other passengers while traveling through the busy streets. Riding a jeepney is not only an affordable way to get around, but it's also a quintessential Manila experience that you won't want to miss.
Cruising the Pasig River
Discover Manila from a different perspective by embarking on a Pasig River cruise. This meandering waterway, which flows through the heart of the city, offers a unique vantage point for observing the contrasting landscapes of Manila. As you glide along the river, you'll encounter a mix of modern skyscrapers and historical landmarks, while witnessing the daily lives of locals who call the riverside their home. A Pasig River cruise is not only a relaxing way to see the sights but also a chance to gain a deeper understanding of Manila's rich and diverse character.
Travel from Manila
Cebu to Manila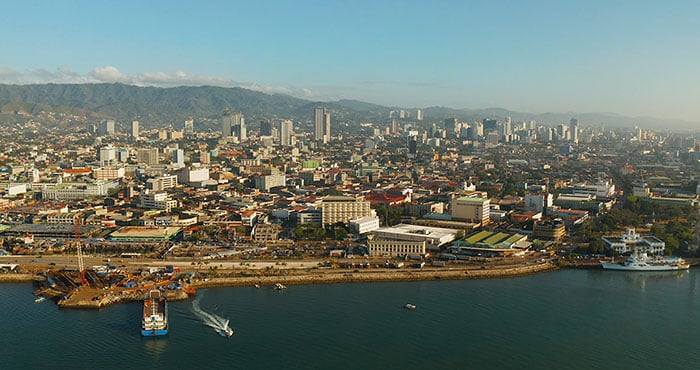 Traveling from Cebu to Manila is an unforgettable experience, full of excitement and breathtaking scenery. Both cities are steeped in history and culture, offering visitors a wide range of experiences. By journeying between them you can appreciate the unique contrasts and similarities that make the Philippines so captivating. When embarking on this journey it's important to consider all the transportation options available – from flying to taking the ferry – each with its own benefits.
Taking a flight is a popular choice for those looking for convenience and speed. There are many airlines operating regular routes between both cities. For a slower-paced, more scenic ride you can choose to board a ferry, allowing you to soak up the tranquil beauty of the Philippine seas while sailing towards Manila. Whichever mode of transportation you choose, the journey between Cebu and Manila is sure to be an incredible adventure.
Travel from Manila
Leave behind Manila's busy atmosphere, as more adventures are waiting for you in the Philippines! This country offers numerous natural attractions, cultural treasures, and memorable experiences to explore. So, pack your bags and let your desire to travel lead you through the nation's fascinating islands. Enjoy sunny beaches, lush landscapes, and lively cities – there's something for everyone. Find hidden wonders and experience unique features that will impress even experienced travelers. From Manila to the most remote parts of this paradise, prepare for an extraordinary journey! Have a great trip!
Manila to Palawan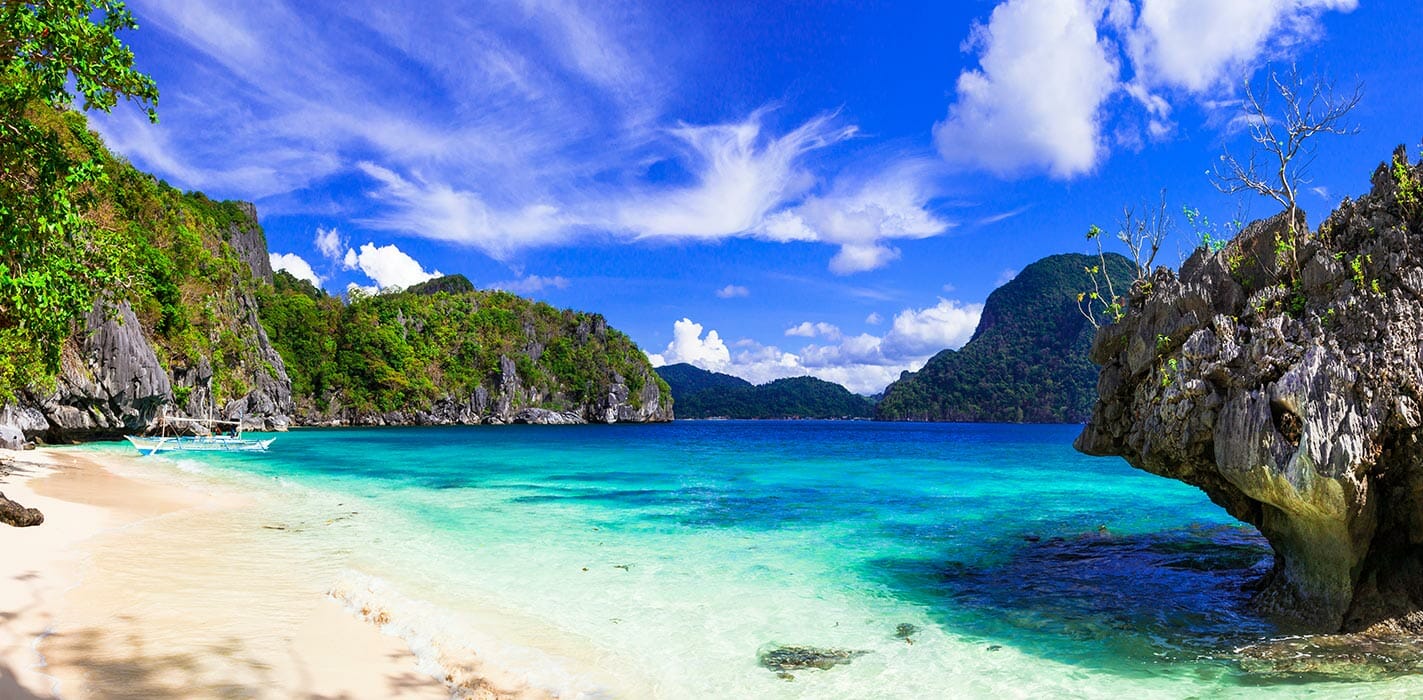 If you're in search of a tranquil escape from the hustle and bustle of Manila, then Palawan is an ideal destination. This picturesque collection of islands, known for its crystal-clear waters, pristine beaches, and incredible diving opportunities, provides a stunning contrast to city life. Although the journey between Manila and Palawan may seem lengthy at first glance, there are several ways to make the trip – each with its own special experience to enjoy! So if you're ready for some rest and relaxation, don't hesitate any longer – head off on your adventure to Palawan today!
For those looking for a leisurely journey and the opportunity to take in stunning views along the way, taking a ferry is an affordable and popular. However, this journey takes around 24 hours and only departs once a week, so might not be suitable for everyone. Alternatively, you can take a flight which will have you in Palawan within just 90 minutes; with several flights available per day, it provides more flexibility than the ferry.
For comprehensive information on ticket prices, schedules, and tips for traveling from Manila to Palawan, read our Complete Guide: Manila to Palawan – Go by Ferry or by Flight?
Manila to Boracay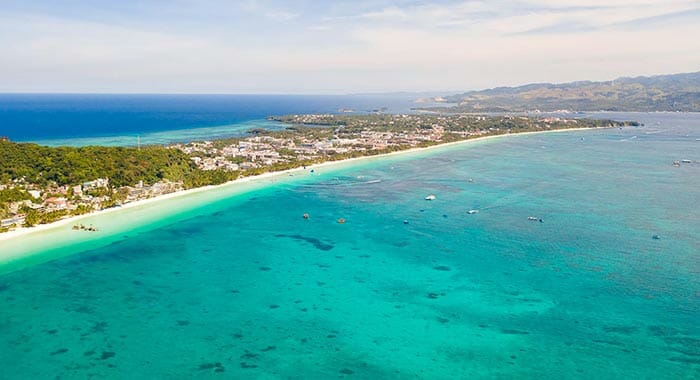 After exploring the bustling city of Manila, a trip to the beautiful island of Boracay provides a perfect opportunity to relax on palm-fringed white sand beaches and indulge in water sports or simply unwind at friendly bars and restaurants. To get from Manila to Boracay, there are two main options: flying or taking a ferry.
The fastest and most convenient option is to catch a flight from Manila to Boracay. The journey takes just around an hour, and flights depart from Manila's Ninoy Aquino International Airport to either Caticlan (Boracay Airport) or Kalibo International Airport. Various airlines, including Cebu Pacific, Philippines Airlines, Philippines AirAsia, CebGo, and SkyJet, offer a good choice of flights.
Alternatively, you can embark on a more adventurous journey by taking a ferry from Manila to Boracay. First, you'll need to get to the ferry terminal in Batangas, about 100 kilometers south of Manila, which can be easily reached by booking a combined taxi and ferry ticket. The ferry journey itself takes around 10.5 hours, and you can choose from various ticket classes to suit your budget and comfort preferences. Although it takes longer than flying, traveling by ferry offers an unforgettable experience and stunning scenery along the way.
Manila to Baguio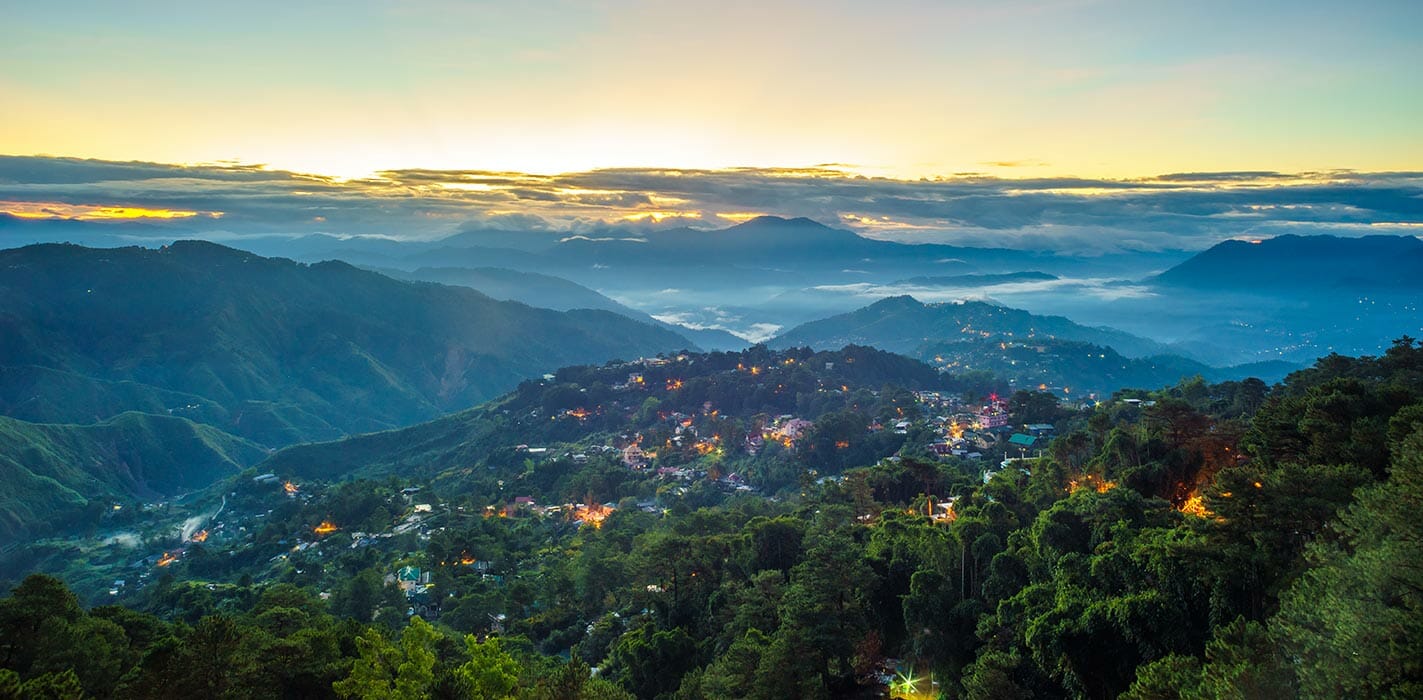 Escape the hustle and bustle of Manila and head to the scenic city of Baguio, known as the Summer Capital of the Philippines. Popular for its cooler weather and attractions such as parks and architecture, Baguio also serves as a gateway to the backpacker-friendly northern areas. To travel from Manila to Baguio, choose between affordable buses and more expensive taxis, as there are currently no commercial flights available.
Buses provide a budget-friendly option to get you from Manila to Baguio. Companies such as Victory Liner offer this service, with journeys taking between 4 and 5 hours. For convenience, book your bus tickets through 12Go.asia and compare schedules and departure points before choosing the best journey for you. Alternatively, taking a private taxi can be faster and more cost-effective if travelling in a group. Anis Transport is just one of several companies available on 12Go.asia that offer door-to-door private taxi services from Manila to Baguio. To sum up, buses or taxis are both great options for getting from Manila to Baguio!
Other Destinations From Manila
More travel guides from Manila:
• Manila to Iloilo
• Manila to Naga
• Manila to Puerto Princesa
• Manila to Tacloban
• Manila to Zambales
Did you find this guide useful?
Click on a star to rate it!
Average rating: / 5. Vote count: