El Nido is an absolute island paradise in Palawan that you just can't miss! With its astonishing limestone cliffs and white-sand beaches, you'll be swept off your feet the moment you lay eyes on the island. The turquoise waters of Bacuit Archipelago beckon you to explore its many lagoons, coral reefs, and eco-tourism hotspots.
When it comes to adventure, you're in for a treat! Island hopping in El Nido is a must-do activity, taking you to hidden coves, secret beaches, and those Instagram-worthy spots that'll make your friends green with envy. And, oh boy, the snorkeling and scuba diving here is just out of this world! You'll be swimming alongside curious sea turtles, vibrant fish, and maybe even the enigmatic reef sharks.
So, pack your bags, grab your sunscreen, and get ready to dive headfirst into the extraordinary world of El Nido. Trust me, it's worth every minute and every penny!
Famous places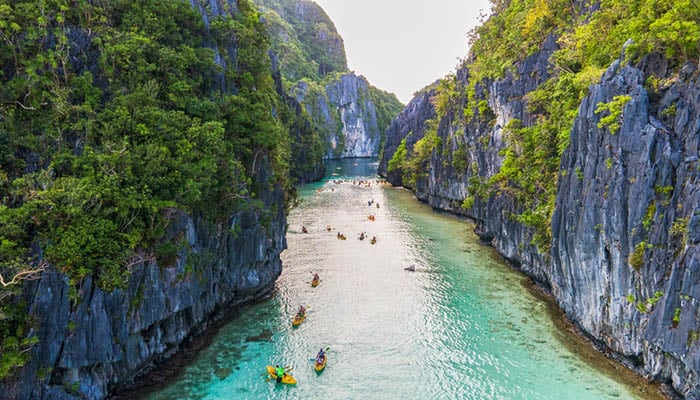 Big Lagoon
When visiting Palawan, the Big Lagoon is an absolute must-see. The paradise of turquoise waters surrounded by towering limestone cliffs makes this area an idyllic spot for kayaking and a captivating sight to behold. Marvel at its crystal-clear waters as you explore its idyllic haven and bask in Mother Nature's magnificent surroundings.
The Big Lagoon is also perfect for snorkeling, with its vibrant marine life providing an unforgettable underwater world of diverse corals and exotic fish. Take in the serenity of this captivating lagoon – it's truly a once-in-a-lifetime experience! So don't miss out on the opportunity to visit this true gem of El Nido.
Small Lagoon
Tucked away within the limestone karst formations, the Small Lagoon is an enchanting oasis that offers an intimate escape from the bustling world. As you paddle your kayak through the narrow opening, you'll be greeted by an emerald green wonderland, where the tranquility and beauty of nature are on full display.
The Small Lagoon's calm waters are perfect for swimming, as well as snorkeling among the vibrant marine life inhabiting its depths. With its breathtaking scenery and peaceful ambiance, the Small Lagoon is an absolute must-visit destination in El Nido that'll leave you in awe of its stunning natural charm.
Nacpan Beach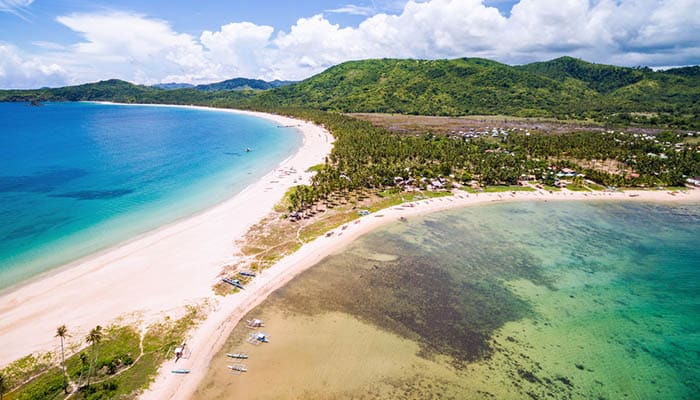 Behold the picturesque beauty of Nacpan Beach, a stunning stretch of white sand and crystal-clear waters that will take your breath away. This magnificent beach is known for its unspoiled beauty and laid-back atmosphere, making it the perfect spot to relax and enjoy the sun.
Take a peaceful walk along the shoreline, feeling the gentle waves lapping at your feet or dive into the inviting waters for an invigorating swim. As night falls, witness a stunning sunset with vibrant hues painting the sky and reflecting off the tranquil surroundings. Don't miss this heavenly slice of paradise – come experience Nacpan Beach today!
Things to do
Island Hopping
One of the most popular activities in El Nido is island hopping, an exhilarating journey that takes you on a voyage of discovery through the stunning archipelago. Hop aboard a traditional Filipino boat, known as a banca, and navigate the turquoise waters as you explore the breathtaking islands, each with its unique charm and beauty. From hidden beaches and lagoons to vibrant coral reefs and teeming marine life, island hopping offers an unforgettable adventure for those who crave the excitement of exploring new and captivating destinations. It's a fantastic way to make the most of El Nido's natural wonders while creating memories to last a lifetime.
Trekking
For those who prefer to keep their feet on solid ground, El Nido offers an array of trekking opportunities that showcase the region's breathtaking landscapes. Embark on a challenging hike up the rugged cliffs to the towering Taraw Peak, where you'll be rewarded with panoramic views of El Nido town and the surrounding seascape. Trek through dense jungle to reach hidden waterfalls, such as the enchanting Nagkalit-kalit Falls, where you can take a refreshing dip in the cool waters. El Nido's trekking trails offer an invigorating way to connect with nature and experience the awe-inspiring beauty of Palawan's wilderness.
Ziplining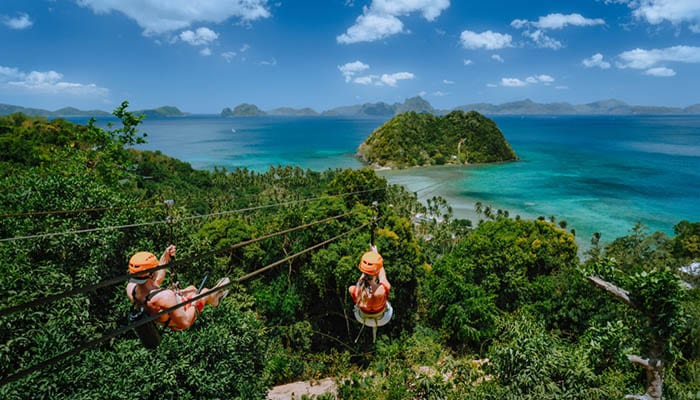 Get your adrenaline pumping with an exhilarating zipline experience in El Nido. Soar above the lush canopy and breathtaking coastal scenery as you glide between limestone cliffs, with the wind in your hair and the stunning vistas unfolding before your eyes. One of the most popular zipline spots is the Las Cabanas Beach Zipline, where you'll be treated to a thrilling ride with unparalleled views of the sparkling turquoise sea below. Ziplining in El Nido is an exciting and unforgettable way to explore the region's remarkable landscapes from a unique, bird's-eye perspective.
Traveling to El Nido
Manila to El Nido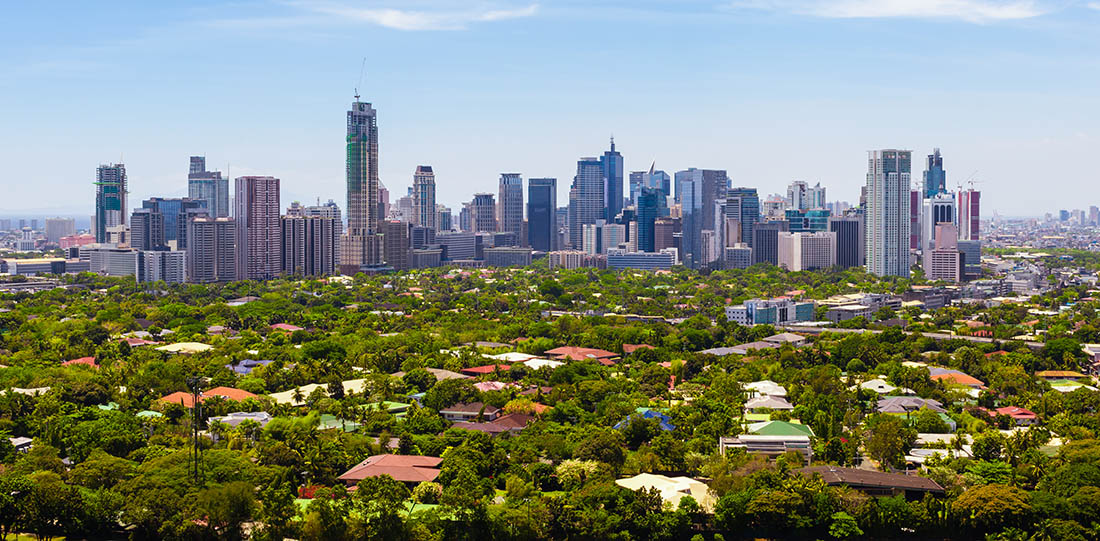 Traveling from Manila to El Nido offers two main options: flying or taking a ferry. Flying is the quickest and most convenient choice, with AirSWIFT providing around six direct flights per day from Manila to El Nido Airport. The flight takes approximately 1 hour and 15 minutes, and the prices are quite reasonable. Another option is flying to Puerto Princesa with a larger airline and then taking a connecting bus or minivan to El Nido, which makes the total travel time much longer.
Taking a ferry from Manila to El Nido is slower than flying but more adventurous. You'll need to take two ferries, one from Manila to Coron and another from Coron to El Nido. This journey takes around 21 hours in total and you can purchase the tickets together on travel booking website. If you'd like further information on the pros and cons, head over to our full article for a more detailed comparison.
Puerto Princesa to El Nido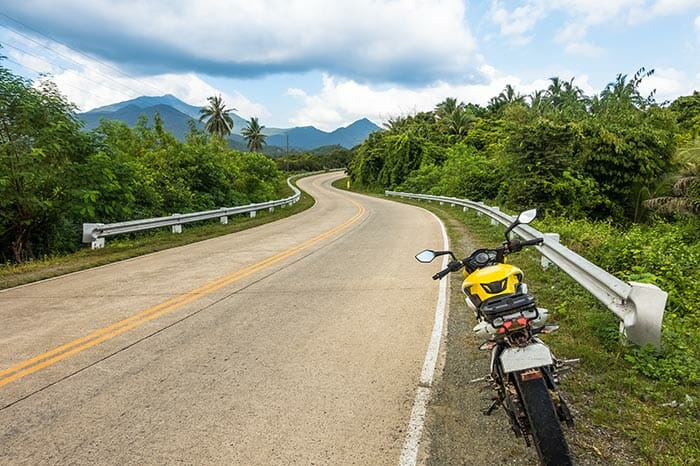 Traveling from Puerto Princesa to El Nido is relatively easy and affordable by road, with the distance between the two cities being approximately 230 kilometers (144 miles). The two main transportation options available are public buses and minivans.
Buses are the cheaper option, with modern and safe buses like Cherry Bus featuring onboard Wi-Fi, TVs, and air conditioning. The journey can take anywhere from 6 to 9 hours depending on traffic and the time of day. Buses depart from the San Jose Bus Terminal every two hours during the day, with the first bus leaving around 4 am and the last around 10 pm.
The second option, minivans, is often considered the preferred method for tourists due to the shorter travel time, averaging around 5 hours. There are multiple minivan companies offering this route, which allows for flexible departure times. Some companies even provide free hotel pickups in Puerto Princesa, adding convenience to your journey. However, keep in mind that if you're taking a minivan from the airport, it may not depart until it's nearly full, which could delay your departure.
For a more in-depth comparison of these travel options, read the full blog post here.
Traveling From El Nido
As you take your final goodbye to the stunning views of El Nido, you may find yourself feeling the pull to explore more of the Philippines. Whether by boat or plane, the country's archipelago is full of untapped treasures and gems that are just waiting to be discovered. Take the chance to blaze your own trail through its intricate network of islands, and make lifelong memories as you do. The promise of adventure in the unknown will always draw you closer to uncovering the explore the captivating beauty of the Philippines.
El Nido to Coron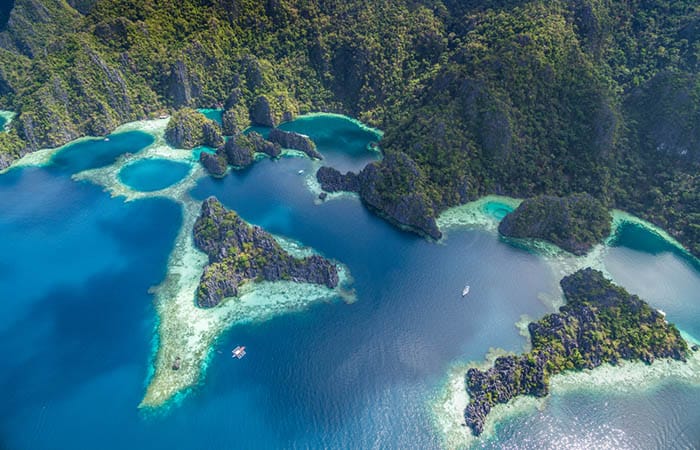 Going from El Nido to Coron introduces travelers to another breathtaking island destination, known for its stunning dive sites and captivating natural beauty. You'll find a variety of options for travel, including flights and ferries, to suit both your budget and schedule. The fastest option is a 40-minute flight with AirSWIFT, but keep in mind the additional time needed for airport procedures.
Alternatively, you can opt for the fast ferry service operated by Montenegro Lines, which takes around 3.5 to 4 hours to reach Coron. This ferry offers a comfortable ride with air-conditioned seating and even a TV inside. However, be prepared for an early departure, usually around 6 or 6:30 am. If you're seeking a more budget-friendly option, you can choose the slow ferry, which takes anywhere from 6 to 9 hours, depending on sea conditions. These wooden longboats, or bangkas, provide a more rustic experience, but keep in mind that the journey may be rougher due to their smaller size and closer proximity to the water.
SEO title El Nido: A Comprehensive Guide to the Philippines' Natural Wonder
Meta description: Discover El Nido's breathtaking beauty, from its lush lagoons to stunning beaches. Experience adventure, relaxation, and connection with nature in this paradise.
Did you find this guide useful?
Click on a star to rate it!
Average rating: / 5. Vote count: