Da Nang, a coastal gem nestled in central Vietnam, has a unique allure that captivates the hearts of visitors. Its stunning beaches, such as My Khe Beach and Non Nuoc Beach, are a haven for sun-seekers and water sports enthusiasts. The soft, golden sands and the clear, azure waters provide the perfect backdrop for a day of relaxation or adventure.
The surrounding natural wonders of Da Nang are not to be missed either. Venture to the Marble Mountains, a group of limestone hills with secret caves, centuries-old pagodas, and sweeping views of the city. And, of course, the awe-inspiring Golden Bridge in the Ba Na Hills is an architectural feat that's bound to leave you speechless as you stroll across its unique structure.
When it comes to food, Da Nang is a melting pot of flavors. With a rich culinary heritage, the city offers a variety of mouth-watering dishes that you simply must try. Don't miss out on local delicacies like Mi Quang, a scrumptious noodle dish, or Banh Xeo, a delectable Vietnamese pancake. Strolling through the bustling markets and sampling the fare from street food vendors is an experience you'll cherish.
Beyond its natural beauty and culinary delights, Da Nang's warm, welcoming locals and fascinating cultural history make it a truly exceptional destination. As you explore the city, you'll find traces of its French colonial past, and the ancient Champa Kingdom's influence evident in the nearby My Son Sanctuary (UNESCO World Heritage Centre). In essence, Da Nang is a diverse, enchanting, and unforgettable city that promises a remarkable adventure for every visitor.
Famous places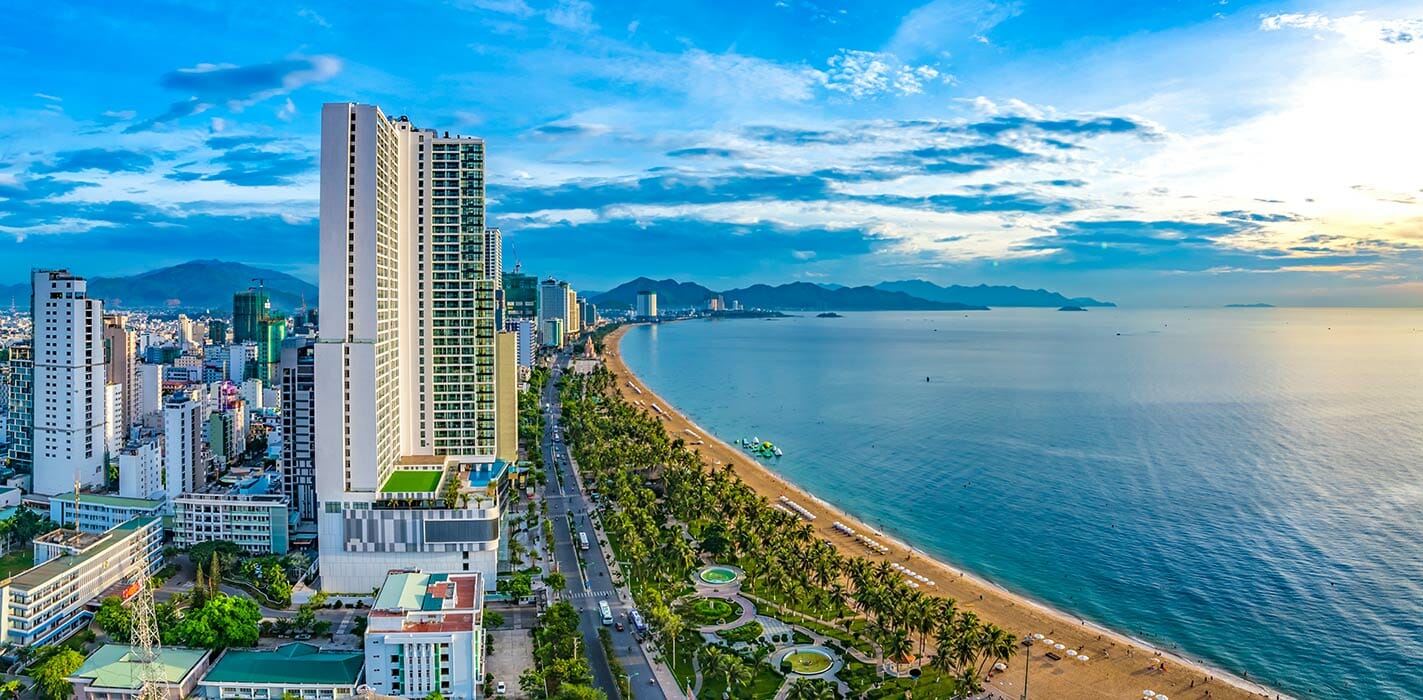 My Khe Beach
Discover the sun-soaked paradise of My Khe Beach, Vietnam's coastal gem! This pristine stretch of white sand and crystal-clear waters beckons sun-seekers and adventure enthusiasts alike. Picture yourself lounging under swaying palm trees, sipping on a refreshing tropical drink while basking in the warm embrace of the sun. Jump into the welcoming blue-green waters, ideal for swimming, surfing, and having fun in the waves!
My Khe Beach isn't just about relaxation; it's also a hub for thrill-seekers! Rent a jet ski, embark on a parasailing journey, or join a beach volleyball match with newfound friends. As the day winds down, the beach transforms into a vibrant social scene. Try delicious local dishes at restaurants by the beach or enjoy yourself at bustling bars.
So pack your sunscreen, shades, and flip-flops, and head to My Khe Beach for an unforgettable getaway where golden sands and unforgettable memories await!
Marble Mountains
Embark on an enchanting adventure to the mystical Marble Mountains, a hidden treasure in Vietnam's heartland! This extraordinary cluster of five marble and limestone hills, each representing an element—earth, water, fire, wood, and metal—invites you to explore a captivating world of natural beauty and cultural wonder.
Wander through the labyrinth of caves, where the sunlight dances on ancient stalactites and stalagmites, revealing secret chambers and sacred shrines. Ascend the steps to pagodas nestled among lush foliage, offering panoramic vistas of the mesmerizing landscape. Feel the gentle whisper of history as you marvel at exquisite Buddhist and Hindu carvings etched into the rock face.
The Marble Mountains' allure doesn't end there! Unearth the legends of these enigmatic peaks, and witness skilled artisans transforming raw marble into intricate masterpieces at nearby workshops. Don't miss the chance to experience the magic of Ngu Hanh Son—a timeless journey that will leave you spellbound!
Dragon Bridge (Cau Rong)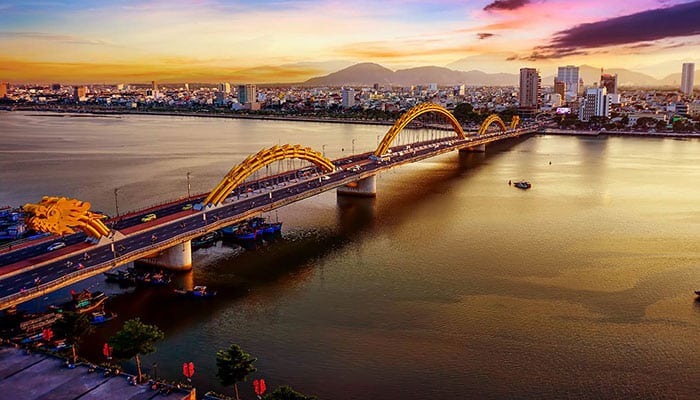 Get ready for a fiery spectacle at Da Nang's awe-inspiring Dragon Bridge, where architectural prowess meets mythical charm! Spanning the Han River, this engineering marvel features a colossal, serpentine dragon that weaves its way along the 666-meter-long bridge, symbolizing prosperity and good fortune.
By day, the Dragon Bridge dazzles with its vibrant colors and bold design, but it's after dusk when the real magic unfolds. When night falls, the bridge changes into a display of twinkling lights, making a magical setting for a relaxed walk by the river. On weekends and holidays, prepare to be mesmerized as the dragon releases a roaring display of fire and water, thrilling onlookers and igniting the night sky.
Don't miss the chance to experience the spellbinding allure of Dragon Bridge, a truly unforgettable fusion of culture, legend, and modern ingenuity. Snap a picture, make a wish, and let the dragon's fiery breath ignite your imagination!
Things to do in Da Nang
Take a trip to Ba Na Hills
Ascend to Ba Na Hills, a whimsical wonderland perched high above Vietnam's lush landscape! Glide skyward on a cable car, then stroll across the iconic Golden Bridge, held aloft by giant stone hands. Revel in the enchanting blend of European charm and thrilling attractions, all nestled amid a breathtaking panorama. Don't miss this unforgettable fusion of nature, culture, and adventure at Ba Na Hills!
Stroll along the Da Nang Riverfront
Discover the mesmerizing beauty of Da Nang's Riverfront! Stroll along the picturesque Han River, where vibrant cityscapes meet serene waters. Witness the dazzling dance of illuminated bridges, savor enticing riverside eateries, and capture unforgettable snapshots of your journey. Whether by foot or bicycle, the Da Nang Riverfront is the perfect blend of urban charm and natural tranquility.
Shop at Han Market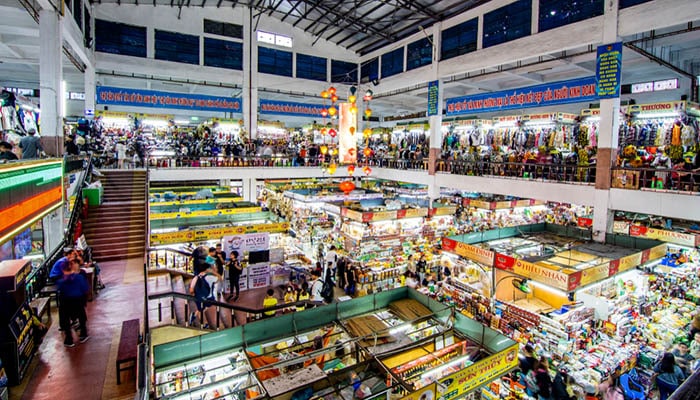 Dive into the bustling heart of Da Nang at Han Market! Navigate vibrant stalls teeming with local treasures, from exotic spices to handcrafted souvenirs. Satisfy your taste buds with scrumptious street food, and hone your bargaining skills as you mingle with friendly vendors. Immerse yourself in this authentic Vietnamese shopping experience and bring home memories that last a lifetime!
Getting to Da Nang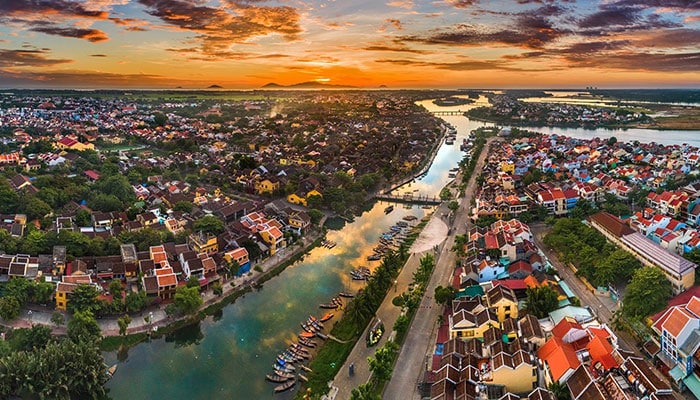 Da Nang to Hoi An
There are various transportation options for traveling from Da Nang to Hoi An, including public buses, tour company buses, private or shared taxis, and renting a car or motorbike.
The public bus is the cheapest and most popular option, offering an authentic cultural experience. The bright yellow Number 1 bus departs every 20 minutes between 5:30 am and 6 pm, with the journey taking around 70-80 minutes. Alternatively, the Sinh Tourist Bus offers air-conditioned comfort for a slightly higher price, taking around 90 minutes to reach Hoi An.
Private or shared taxis offer a more luxurious and flexible option, with companies like Dichung Taxi and Tiim Charter providing pick-ups from the airport or the city center. Prices are reasonable, especially when shared with other passengers. The quoted journey time is one hour but may vary depending on pick-ups and starting locations.
For those arriving at Da Nang Airport and heading straight to Hoi An, Hoi An Express, Dichung Taxi, and Tiim Charter offer large, modern minivans that can be shared or booked privately. These options are affordable and safe for travelers.
Da Nang to Nha Trang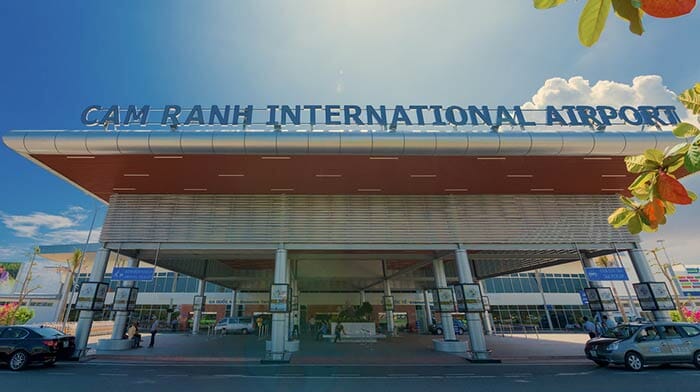 To travel the 530 kilometers (331 miles) between the two cities, tourists can choose between flights, trains, and buses.
Flights from Da Nang to Nha Trang are the quickest option, taking less than 1.5 hours. VietJet Air offers reasonable prices, sometimes even cheaper than train tickets. Alternatively, travelers can opt for Vietnam Airlines, which is more expensive but includes a 20kg baggage allowance. Remember to factor in the time spent traveling to and from the airports.
Trains are another option, with around six services per day along the North-South Railway. The journey takes between 8.5 and 11 hours, depending on the train. Travelers can choose from 2nd class air-conditioned sleepers, 1st class sleepers, privately-operated Violette Express carriages, or VIP cabins for added comfort.
Buses are the cheapest option, but also the least comfortable. Hanh Café operates standard air-conditioned buses, with the journey taking around 11 hours. While the bus is budget-friendly, the limited space and lack of mobility may not suit all travelers.
For the full article, click here.
Da Nang to Hue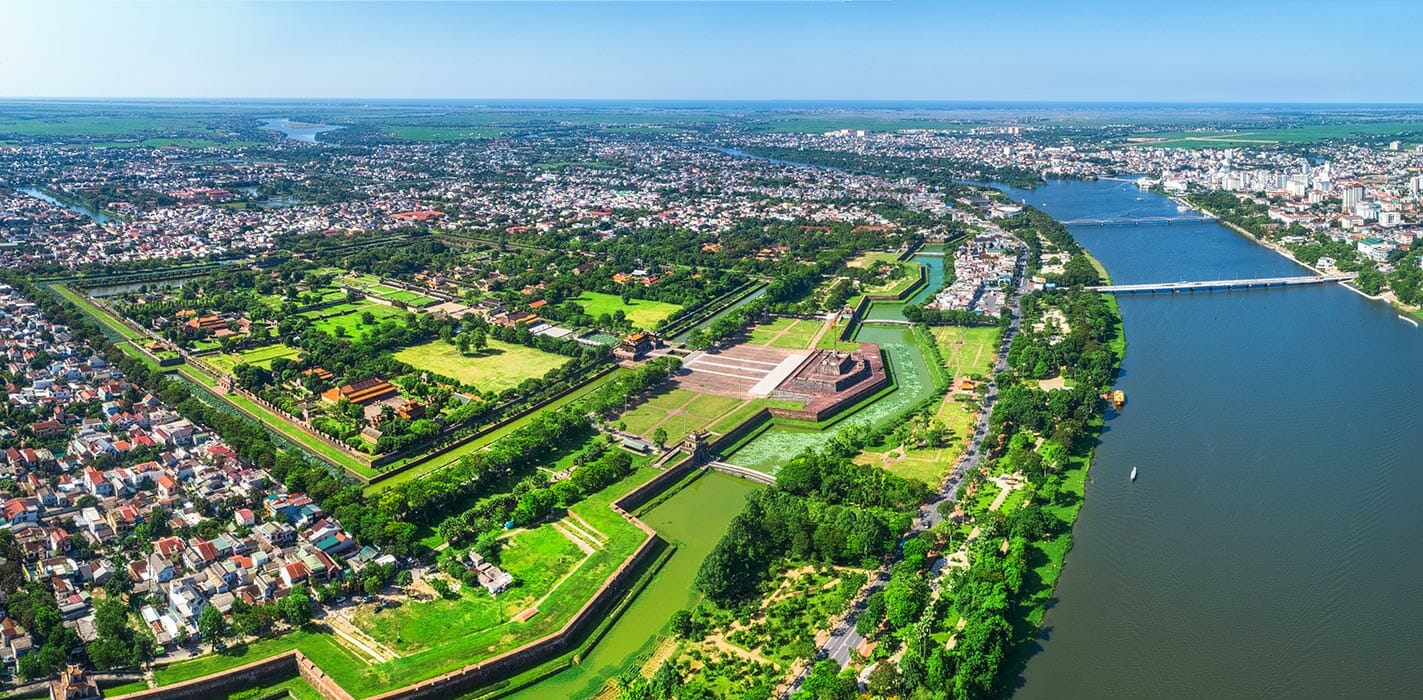 One of the top destinations from Da Nang is Hue, known for its 19th-century citadel, the Imperial City, and the Forbidden Purple City. The cities are approximately 100 kilometers (62.5 miles) apart and can be visited in a day trip, though spending more time in Hue is recommended to explore all the major sights.
There are several ways to get from Da Nang to Hue, including trains, buses, and taxis. Trains are an affordable and comfortable option, taking between 2.5 and 3 hours, with various seating choices from hard seats to soft seats and cabins. Traveling by train offers scenic views and onboard services such as toilets, snacks, and air conditioning.
Buses are the cheapest option, taking around 3 hours and 15 minutes to reach Hue. While slower than trains, VIP buses from Hoang Long tour company or The SinhTourist offer comfortable sleeper seats, toilets, TVs, and stewards. There are multiple departures daily from Da Nang to Hue.
Taxis are the most expensive option but can be more affordable if splitting the cost among a group. The journey takes about 1.5 hours and offers the most flexibility and door-to-door service.
To read the full article, click here.
Travel to Da Nang
Hanoi to Da Nang
Traveling from Hanoi to Da Nang can be an exciting journey, as you have various transportation options to choose from. You can opt for a flight, train, or bus ride, each offering a different experience and travel time. Flying is the quickest option, with several airlines like Vietnam Airlines, VietJet Air, and Bamboo Airways operating daily flights between the two cities. The flight typically takes about 1 hour and 20 minutes, allowing you to reach Da Nang in no time.
For a more scenic and leisurely journey, consider taking the train. The journey from Hanoi to Da Nang by train allows you to appreciate the picturesque Vietnamese countryside and coastal views along the way. The trip takes around 14 to 17 hours, depending on the train you choose. Overnight sleeper trains are available, providing you with a comfortable night's rest while en route.
Ho Chi Minh to Da Nang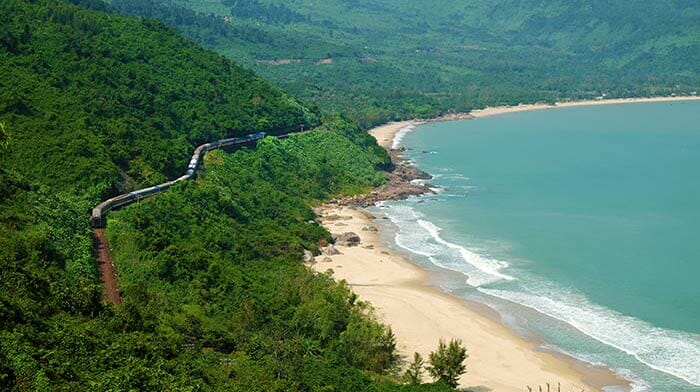 Ho Chi Minh City, known for its French colonial architecture and vibrant street life, is a popular starting point for travelers heading to Da Nang. There are several options for traveling the 850 to 965 km (530 to 600 miles) between the cities, including train, flight, and bus.
The train from Ho Chi Minh to Da Nang, operated by Vietnam Railways, offers a scenic journey and a chance to experience Vietnamese culture. With five daily trains, the journey takes between 16 and 19.5 hours.
If speed is a priority, flights from Ho Chi Minh to Da Nang take only 1 hour and 20 minutes. VietJet Air, Bamboo Airways, and Vietnam Airlines all offer regular flights, with prices varying across the three airlines. Early morning and late evening flights are usually cheaper.
For budget travelers, buses from Ho Chi Minh to Da Nang offer the cheapest option. The 20-hour journey can be uncomfortable, but some companies, like Hoang Long, offer sleeper-style buses for added comfort. Buses are equipped with washrooms, TVs, air conditioning, and snacks, with several stops along the way.
In summary, the train is recommended for those with time to spare, while a flight is ideal for a faster journey. The bus is the cheapest option but may be less comfortable for long-distance travel.
Read the full article: Ho Chi Minh to Da Nang – Go by Train, Flight or Bus?
Did you find this guide useful?
Click on a star to rate it!
Average rating: / 5. Vote count: