While Bangkok has many impressive temples and wats to visit, a popular side-trip from the Thai capital is into the neighboring country of Cambodia, to the spectacular Angkor Wat. The journey will take about a day (by road) but if you're interested in seeing the largest religious monument in the world, the trip is well worth it. Angkor Wat was originally constructed as a Hindu temple of the god Vishnu, for the Khmer Empire from the 12th century, and, towards the end of that century it was gradually transformed into a Buddhist temple. Today, Angkor Wat remains a very important temple complex, famous for its Khmer architecture. It is the main tourist attraction for the country and appears on Cambodia's national flag, so if you have the opportunity to travel from Bangkok to Angkor Wat, we highly recommend it.
Read about:
• Flights from Bangkok to Angkor Wat
• Bangkok to Angkor Wat by Bus
• Train and Bus combination from Bangkok to Angkor Wat
• Getting from Siem Reap to Angkor Wat
In the past, there's been a lot of talk about tourists being scammed when trying to travel from Bangkok to Angkor Wat. Today there have been improvements though and if you follow our tips below, you shouldn't have any trouble.
Flights from Bangkok to Angkor Wat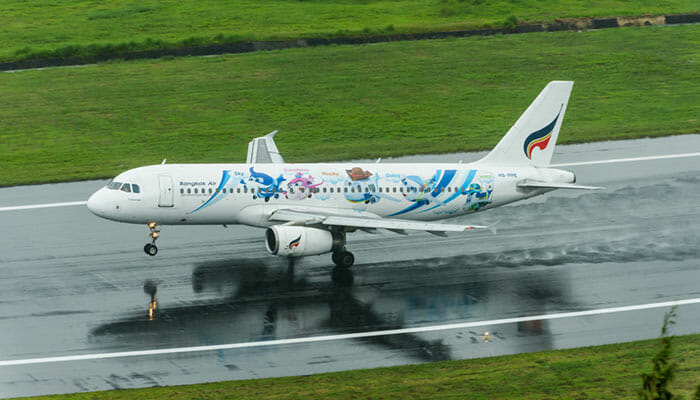 As you would expect, there is not an airport at Angkor Wat itself but the good news is that the city of Siem Reap and its international airport are only a short distance away. You'll need to stay in Siem Reap anyway, as there is no accommodation within the World Heritage Site. The city of Siem Reap is only 6 kms (4 miles) from Angkor Wat, while the city is about 7 kms (4.3 miles) from the airport, so transferring from one to the other is quick and easy.
There's no doubt that a flight from Bangkok to Angkor Wat is the easiest way to get from A to B but you'll be paying a lot more for the privilege. At least there are now several different airlines who offer flights between Bangkok and Siem Reap, so there's a little bit of competition between the airlines and hence the opportunity to find a better deal on your ticket price. Bangkok Airways is arguably the main carrier between the two; they fly from the newer Suvarnabhumi Airport. Thai AirAsia is the other option, although they fly from Bangkok's Don Mueang Airport.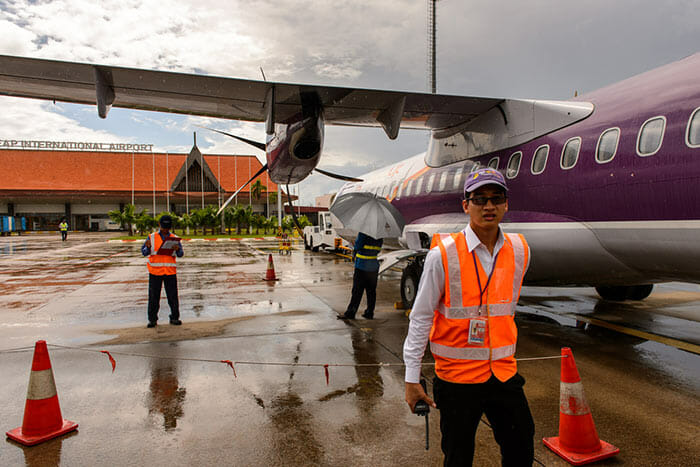 When you're looking at flights from Bangkok to Angkor Wat you should first decide which Bangkok airport would be best for you, depending on where you are in Bangkok. Next, look at ticket prices but also bear in mind what the different airlines charge for baggage as this can vary greatly. Thai AirAsia is the cheapest for flights from Bangkok to Angkor Wat, and the earlier you book, the better the deal.
The flight takes only about an hour so this is definitely the quickest way to go, and once you arrive at Siem Reap International Airport you can purchase a Cambodia tourist visa.
Taking the Bus from Bangkok to Angkor Wat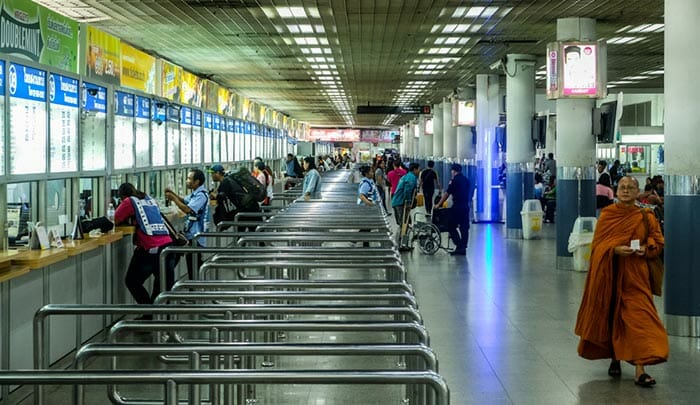 If you'd done a search on the internet just a few years ago you probably would have found many horror stories about bus journeys from Bangkok to Angkor Wat. The truth was, the bus companies often conned tourists and the journey was long and tiresome, especially considering the state of the roads in Cambodia. However, it's not like that anymore. Yes, there will always be some unscrupulous operators but you should be able to steer clear of them, and the roads in Cambodia have been drastically improved in recent years so the bus ride is now quicker and more comfortable.
The downside with buses still is that they do take a long time but, on the plus side they are reliable and very affordable, especially compared to a flight. Direct buses from Bangkok depart from the Morchit Northern bus terminal and the two morning departures go all the way to Siem Reap. However, you are crossing an international border so you will have to get off the bus and buy your entry visa once you arrive at the border with Cambodia. The bus staff can help by letting you know where you need to go; just remember to leave your baggage on the bus but take your valuables and passport with you.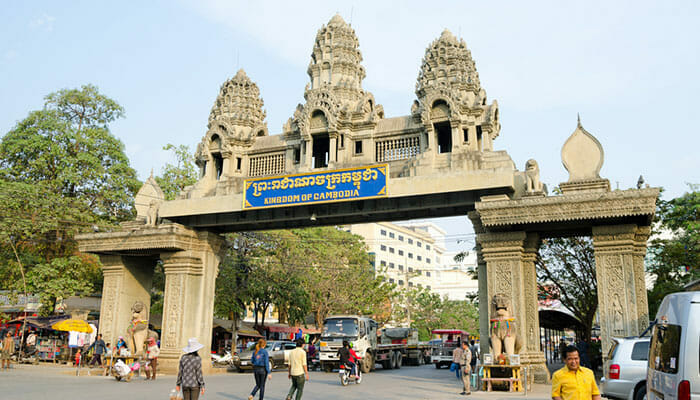 Once across the border you're in the town of Poipet and the bus you took from Bangkok will be waiting for you, ready to drive on to Siem Reap. We would recommend that you have a hotel booked for the night so you can make an early start to Angkor Wat and enjoy a full day there the following day.
This direct bus is the easiest way to travel by bus from Bangkok to the Angkor Wat area though for ease and convenience it does cost a little more. Other options are available that take you just as far as the border, and from there you make your own way by bus or taxi.
Train and Bus combination from Bangkok to Angkor Wat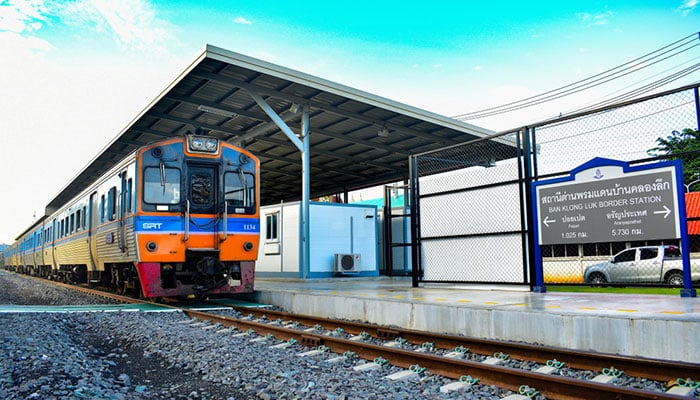 This final option is a combination of train and bus. It's affordable but is the slowest way to get from Bangkok to Angkor Wat. Even so, the train is a great option if you like taking your time and enjoying the scenery as you go. It takes around 6 hours to get you to the Cambodian border, and once there you will need to leave the train and make your own way to Angkor Wat by bus or taxi.
Getting from Siem Reap to Angkor Wat
As mentioned above, the city of Siem Reap is only a short distance from Angkor Wat and with hundreds of tourists traveling between the two places every day there are lots of options for getting from your hotel to the temple complex. Because the temple complex is so large you may want to consider taking a guided tour which you can book through your hotel. Tour buses, private cars with drivers, tuk tuks, motorbikes and bicycles are just some of the different options available to you!
How do I get from Bangkok to Angkor Wat?
It's around 400 kilometers (250 miles) from Bangkok to Angkor Wat, and you'll be crossing from Thailand into Cambodia. The quickest way is to fly from Bangkok to Siem Reap, the closest city to Angkor, but this is also the most expensive way. Take a look at the 12Go website to see all the flights, plus direct buses and private taxi options, then book your tickets online.
How do I get from Bangkok to Siem Reap?
It's about 400 kms from Bangkok to Siem Reap so flying is the quickest way to get there but going by bus is much cheaper. Take a look at 12Go as they sell tickets for lots of different bus companies and airlines so you can compare costs and schedules easily online. Buses take at least 8 hours whereas a flight is only around an hour, plus airport transfer times.
How long is the bus ride from Bangkok to Siem Reap?
Buy tickets for bus travel from Bangkok to Siem Reap through 12Go. This travel agent sells tickets for Virak Buntham Express, Travel Mart, Giant Ibis, and Transport Co with journey times ranging between 7.5 hours to 9 hours 45 minutes. Remember that you'll be crossing into Cambodia so travel times can be impacted if there's a delay at the border, and you'll need to figure out visa requirements upfront.
Is there a night bus from Bangkok to Siem Reap?
It takes between 7.5 and 10 hours to travel by bus from Bangkok to Siem Reap, depending on traffic conditions and any delays crossing the border into Cambodia. There are night buses departing from Bangkok with Travel Mart, leaving at 00:45, or with Virek Buntham Express departing at 01:00, but for more choice, look at daytime buses too. All options can be easily booked through 12Go.
Is there a train from Bangkok to Siem Reap?
You can travel over half way from Bangkok to Siem Reap by train, but unfortunately not the full distance. Trains depart Bangkok and take you to the border crossing with Cambodia at Ban Klong Luk, and from here it's a few minutes walk to Poipet, where you'll catch a bus to Siem Reap. On 12Go you can compare prices, schedules, and book online for trains, buses and flights.
Did you find this guide useful?
Click on a star to rate it!
Average rating: / 5. Vote count: