This wonderful city in the center of the Philippines is full of reasons to come and visit. Cebu City has a rich history as the oldest city in the nation and the first place where Spanish settlers arrived. There are interesting historical locations such as Magellan's Cross and Fort San Pedro, which show the deep colonial history.
Let's discuss food! Cebu has a delicious and diverse cuisine, with a roast pig as the main highlight. Believe me, you must taste this juicy and flavorful dish.
Those who enjoy nature will love exploring Cebu's beautiful landscapes, like the stunning Kawasan Falls or the green Osmena Peak. For adventurous people, there's canyoneering in Badian or swimming with whale sharks in Oslob. There are so many choices!
People in Cebu are known for their warm hospitality. You will be welcomed with friendly smiles and sincere kindness, making you feel at home in this tropical haven.
Top 3 Must-Visit Destinations in Cebu
Kawasan Falls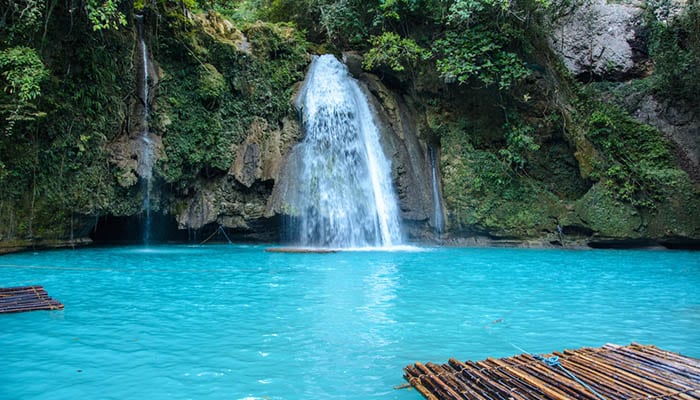 Tucked away in the lush Badian jungle, Kawasan Falls is a must-see for nature lovers and adventurers alike. This stunning cascade of crystal-clear water is a true paradise, with its turquoise pools surrounded by verdant foliage. Take a refreshing dip in the cool waters or simply sit back and marvel at the beauty of this magnificent natural wonder. The area also offers canyoneering activities, providing adrenaline junkies with the thrill of rappelling, jumping, and swimming through the canyon.
Bantayan Island
If you love clean white beaches and clear water, you should add Bantayan Island to your Cebu trip plan. This peaceful island is perfect for relaxing and enjoying a calm environment. Discover colorful underwater creatures by snorkeling or scuba diving around the island, or visit small fishing towns to experience local traditions. Remember to watch the beautiful sunsets that fill the sky with captivating colors every night.
Oslob Whale Shark Watching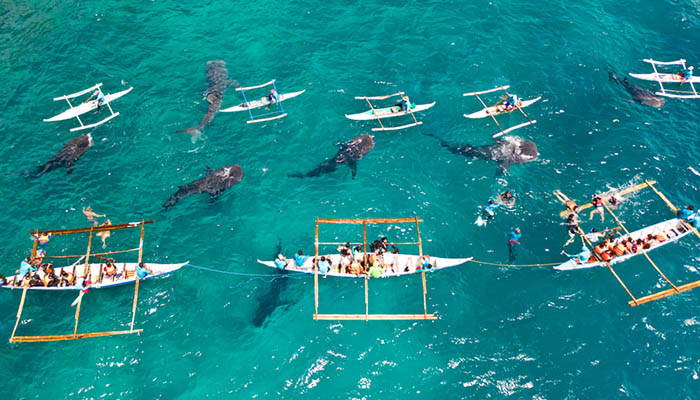 For a special and memorable activity, visit Oslob to see whale sharks. See these calm, large fish up close as they swim in the water, eating small organisms near the surface. Watch their impressive appearance and learn about their interesting behaviors from local specialists. Make sure to follow the rules and be a responsible visitor to protect these amazing animals and keep the activity sustainable for the coming years.
Top Things to Do in Cebu
Canyoneering Adventure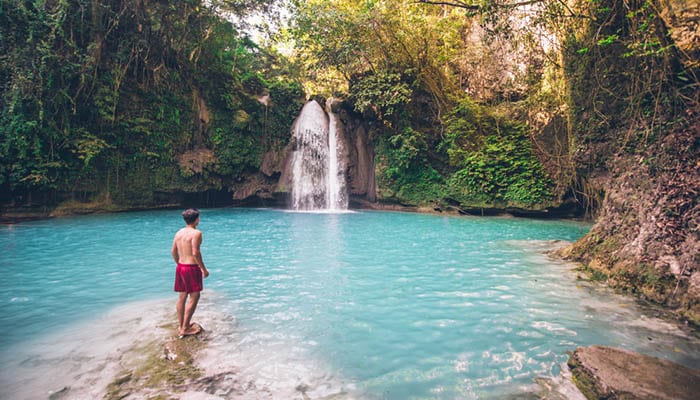 If you want excitement during your Cebu visit, canyoneering is a thrilling activity that makes your heart beat faster. This adventure usually starts at the Alegria-Badian border and takes you through many canyons. You'll jump, swim, and go down waterfalls using ropes. The stunning nature and excitement of moving through the canyons create an unforgettable experience. Make sure to choose a trustworthy guide and follow safety measures for a fun and secure adventure.
Cebuano Food Experience
No trip to Cebu would be complete without indulging in the island's mouthwatering local cuisine. Sample the famous Cebuano lechon, a slow-roasted suckling pig with crispy skin and tender meat, a delicacy that's been praised by renowned chefs and food critics alike. Head to the bustling Larsian food market for a taste of street food, or visit a traditional Cebuano eatery to try dishes like sinuglaw, a mix of grilled pork belly and raw fish marinated in vinegar. Don't forget to satisfy your sweet tooth with local desserts like leche flan and halo-halo.
Explore Cebu's Heritage Sites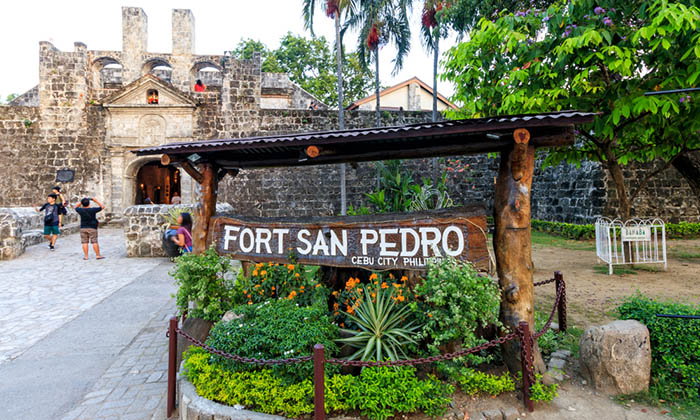 Cebu is a living repository of heritage sites that offer an interesting glimpse into the island's fascinating past and culture. Explore Carcar, a well-preserved Spanish-era town with colonial houses and the beautiful St. Catherine of Alexandria Church. In Cebu City, discover Fort San Pedro, a 16th-century military defense structure which now serves as a tranquil park and museum. Visit Mactan Island to witness the Lapu-Lapu Shrine – an homage to Datu Lapu-Lapu who fought in the historic Battle of Mactan. Get ready to be amazed!
Travel to Cebu
Manila to Cebu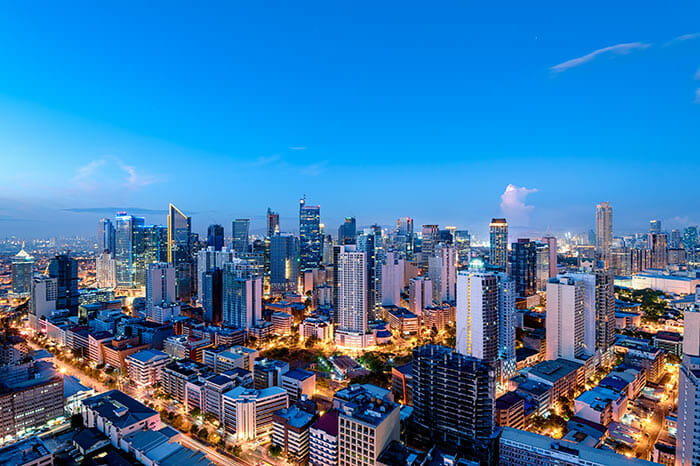 Going from Manila to Cebu, travelers have two options: flying or taking a ferry. Flights are the quickest and most direct route, with a variety of airlines offering daily services from both Ninoy Aquino International Airport and Clark International Airport. To get the best deals, always book in advance! Ferries provide a leisurely journey, operated by 2GO Travel and lasting 22 hours. From budget-friendly bunk beds to private cabins, there's something for everyone.
If you'd like more information about traveling between Manila and Cebu – such as airline details, ferry options, and booking tips – check out our article: Manila to Cebu – Go by Flight or by Ferry? for an in-depth guide.
Travel from Cebu
After taking in all the beauty and culture that Cebu has to offer, it's time for your next adventure! With over 7,000 islands making up the Philippines archipelago, there are plenty of options for you to explore. From stunning beaches to lush mountains and bustling cities – no matter what experience you're seeking, the country can deliver. As you plan your onward journey, don't be afraid to get off the beaten path. Immerse yourself in local culture, sample regional cuisine and make unforgettable memories on your exciting expedition through this wonderful nation.
Cebu to Siquijor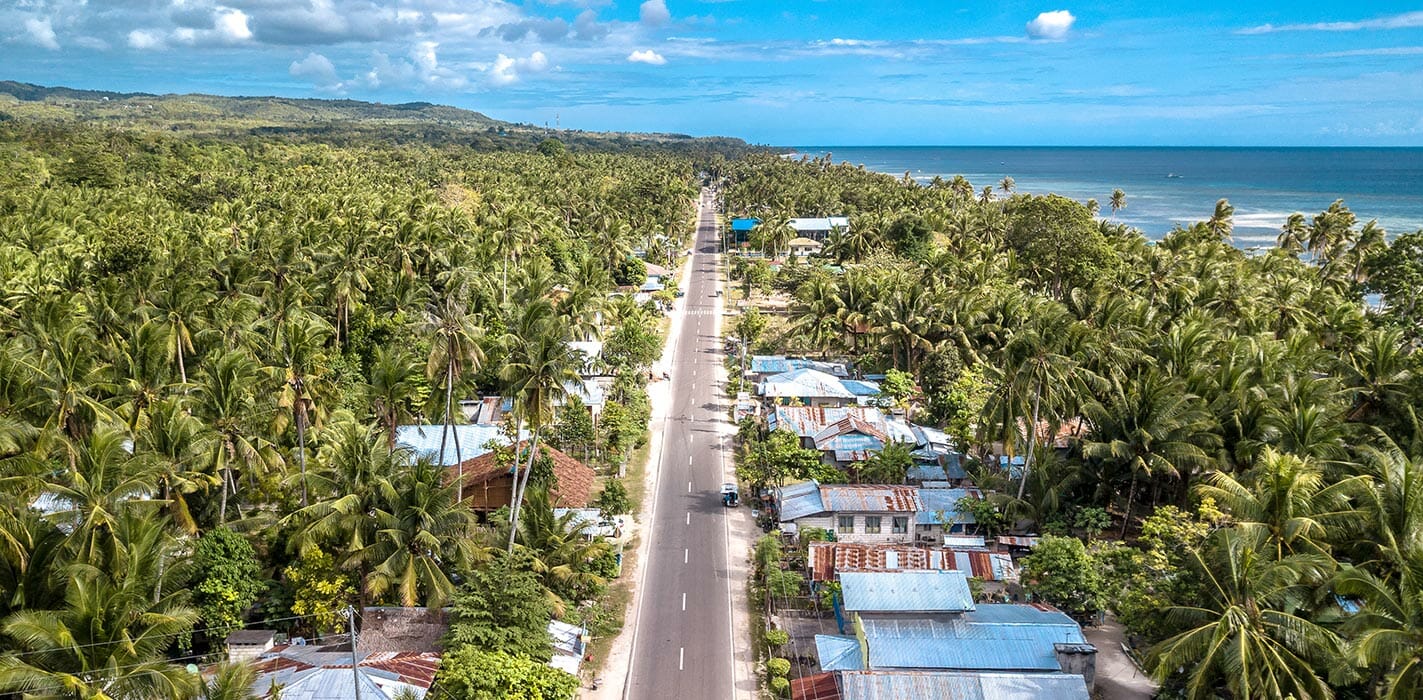 Traveling from Cebu to the enchanting island of Siquijor, known for its pristine beaches, caves, waterfalls, and vibrant marine life, requires crossing the sea. There are several options to choose from: direct or indirect flights, ferry rides, or a combination of bus and ferry. While direct flights operated by Air Juan have been unreliable, you can consider flying to Dumaguete Airport with CebGo and then taking a ferry to Siquijor. However, this adds extra time and expense to the journey.
A more popular choice is to take a ferry. While there are no direct ferries from Cebu to Siquijor, it is relatively easy and affordable to travel via ferry. Oceanjet offers combined tickets for both legs of the journey, with a transfer at Tagbilaran Pier on Bohol. Alternatively, you can opt for the cheapest method, which involves taking a Ceres Liner bus from Cebu South Bus Terminal to Dumaguete and then an Ocean Jet ferry to Siquijor. Keep in mind that this option will take longer than the others. For a detailed breakdown of all travel options and booking tips, check out our article: Cebu to Siquijor – Go by a Flight, Ferry or Bus?
Cebu to Bohol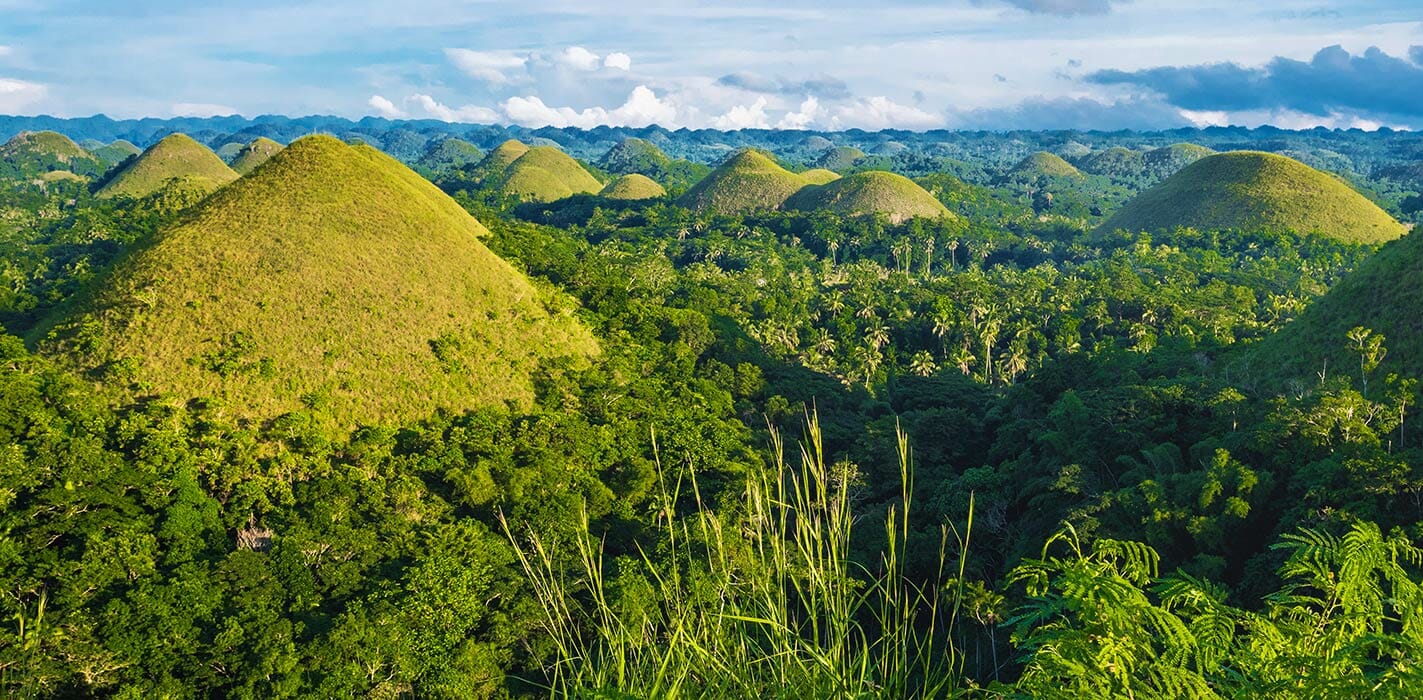 For those seeking to explore the beautiful island of Bohol from Cebu, there are various travel options available. The most popular and convenient choice is taking a fast ferry across the Cebu Strait. With multiple daily departures and a crossing time of around 2 hours, fast ferries offer a comfortable and efficient way to reach Bohol's capital, Tagbilaran. Several ferry companies operate this route, including OceanJet, which can be booked online. They offer different ticket options depending on your budget and preferences, ranging from Open-Air to Business Class.
Alternatively, you can opt for a slow ferry, which is more budget-friendly but takes significantly longer, around 4 to 5 hours. Companies like Trans-Asia Shipping Lines, Lite Shipping Corporation, and F.J. Palacio Lines Incorporated offer different ticket classes for this journey. Be mindful of the popularity of slow ferries among locals during high season and holidays, so book your tickets early if traveling during these times. Remember that during the typhoon season, ferry delays or cancellations are possible, especially between September and February.
Cebu to Dumaguete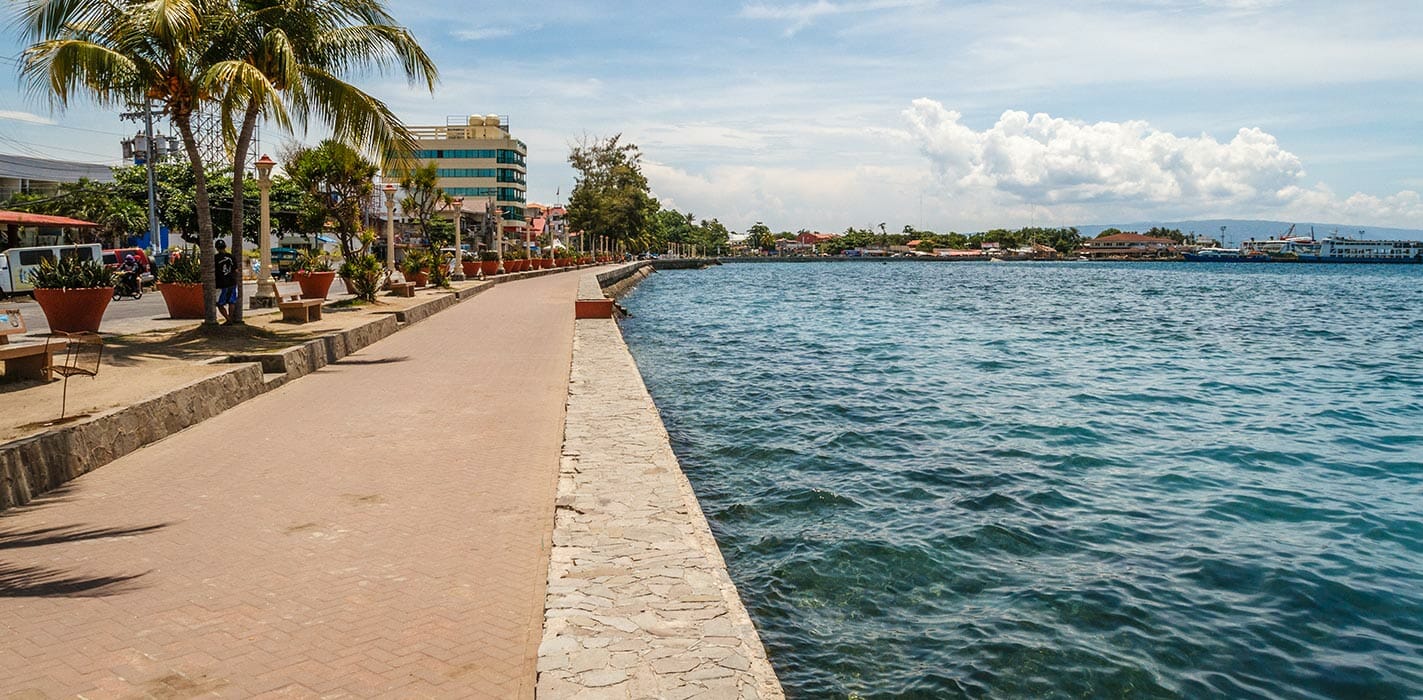 Dumaguete, a coastal city located south of Cebu City, is known for its natural parks and great diving destinations. Traveling from Cebu to Dumaguete is easy and quick, with flight, ferry, and bus options available. The flight option with CebGo is a quick and affordable choice, taking only 50 minutes. The ferry option involves taking two ferries and waiting for about 50 minutes, but it can be booked in advance with OceanJet. The direct bus option with Ceres Liner is the cheapest but takes around 6 hours. Travelers looking for more flexibility can take separate bus and ferry tickets. All transport options are discussed in detail on the blog post Cebu to Dumaguete.
Did you find this guide useful?
Click on a star to rate it!
Average rating: / 5. Vote count: