Surat Thani is a major city in Southern Thailand near the mouth of the River Tapi on the Gulf of Thailand. Despite its prime location, the city doesn't offer much in the way of tourist attractions. Even so, it still has many tourists passing through its streets because Surat Thani is a major gateway to the beautiful nearby island of Koh Samui. If you're heading south from Bangkok, the chances are you will come through Surat Thani at some point in your journey. Especially if the beaches of Koh Samui are calling you! Travel from Surat Thani to Koh Samui is easy and affordable because there are plenty of different transport options…
Read about:
• Ferry from Surat Thani to Koh Samui
• Which Ferry Company to Use
• Surat Thani Ferry Departure Points
• The Night Ferry from Surat Thani to Koh Samui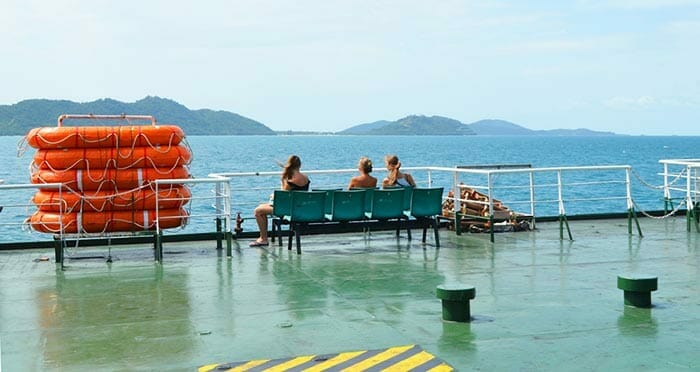 Travel options from Surat Thani to Koh Samui
There's a selection of different routes to get you to Koh Samui, and they all involve a ferry ride. While there is an airport in Surat Thani and one in Koh Samui, no airline offers a flight between these two airports. That's because they are so close together – only about 35 kilometers (22 miles) separate them.
If you want to fly to Koh Samui, you'd have to first go to a different city, such as Bangkok. But with so many ferry companies offering seats, a flight would be costly, and not necessarily a quicker alternative.
One other option is to make your own way with a rental car. Two ferry operators have car ferries from Surat Thani to Koh Samui (Raja Ferries and Seatran). So if you already have a rental car and enjoy the convenience, you should consider taking a car ferry over to the island.
Take the Ferry from Surat Thani to Koh Samui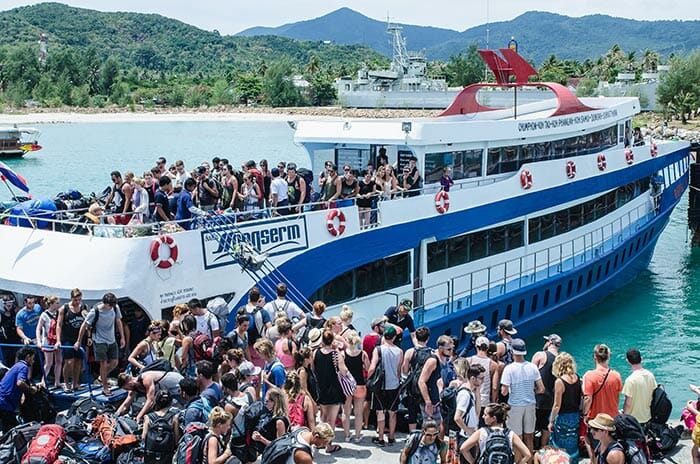 Ferries are the recommended way to travel between these two places. And there are many different ferries to choose from. Select a ticket for a ferry that best suits where you want to go from. All the operators offer combined bus and ferry tickets. You don't have to worry about making your way to a ferry terminal far away! If you've just arrived at Surat Thani Airport, you can get to Koh Samui from there, or there's an option from Surat Thani Train Station if you come by train. You can also travel from right in the heart of Surat Thani, which is great if you've stayed in the city overnight. This option is even more convenient if you add a hotel pickup to your ticket. Then you don't even have to worry about making your way to a pick-up point.
Which Ferry Company to Use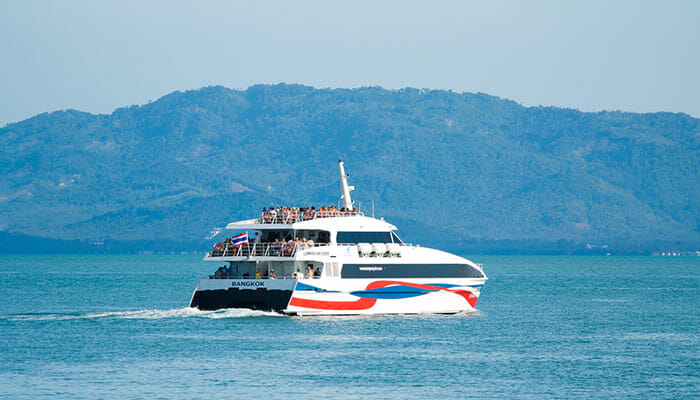 Four ferry companies are covering this route: Songserm, Lomprayah, Seatran, and Raja Ferry. As mentioned above, the different companies offer different pickups and departure points. Which one you choose to travel by will likely depend upon where in Surat Thani you are, to begin with. An important thing to remember is that combined bus and ferry tickets are always available. These are not necessarily cheaper than buying separate tickets. But it adds to the convenience and gives you one less thing to worry about. You can also go one step further with a combined ticket and buy one that also covers you once you arrive in Koh Samui. This ticket will transfer you to your Koh Samui hotel if you love to take advantage of door-to-door service.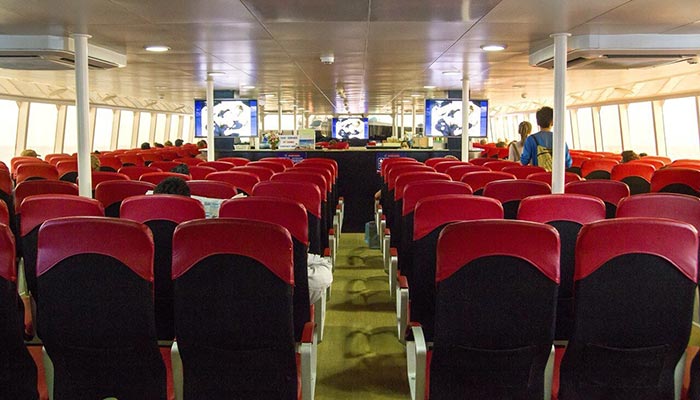 If comfort is important to you, you'll be interested to hear that the ferries do vary. The high-speed ferries tend to be newer and better equipped than the car ferries operated by Raja Ferries. The journey time (ferry crossing) is around 90 minutes and the seating is comfortable enough for this duration. However, the other facilities may not be up to the standards of discerning travelers!
Surat Thani Ferry Departure Points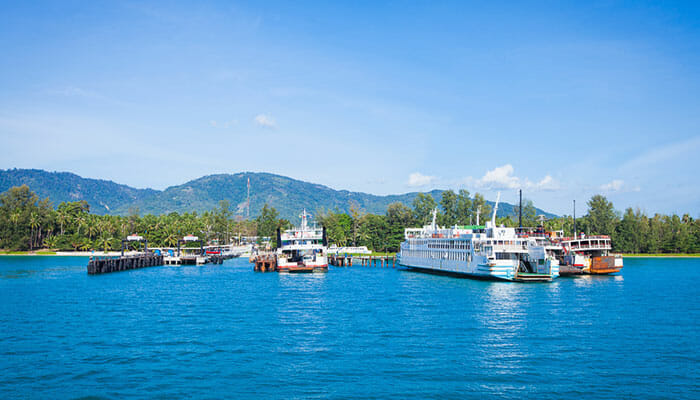 There are several different ports from Surat Thani, depending on which ferry operator you choose. In turn, these also arrive in a couple different places once at Koh Samui. So again, deciding which one to use may be influenced by where in Koh Samui you are heading. If you have booked accommodation in advance, check which port is nearest to avoid a long journey to your hotel.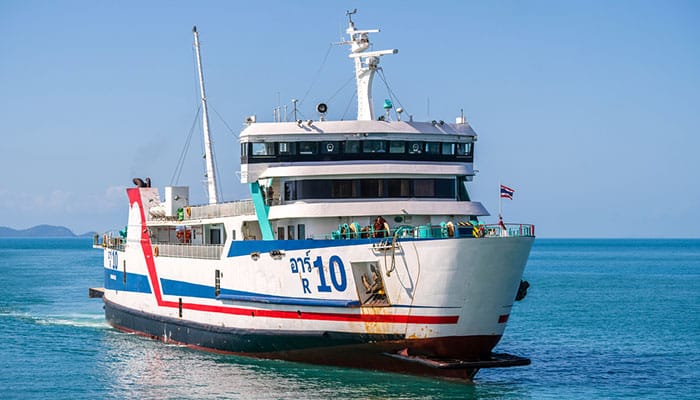 The main Surat Thani ferry port is actually at Don Sak, which is about 60 kilometers (37 miles) going by road. Therefore transfers from the city to this port can take a while. From Donsak Pier, the two companies Songserm and Seatran travel to Nathon Pier on Koh Samui. There is also the Raja Ferry port at Donsak, and these ferries terminate at Lipa Noi Pier, just a few kilometers south of Nathon in Koh Samui. Lastly, Lomprayah's departure from Lomprayah Tapee Pier is only 8 kilometers (5 miles) from Surat Thani city. This ferry arrives at Nathon Pier on Koh Samui.
The Night Ferry from Surat Thani to Koh Samui
There is one final ferry option from Surat Thani to Koh Samui. The night ferry. It departs from the Ban Don pier in downtown Surat Thani. This is the only overnight travel option. It is a good option if you've arrived in the city later than expected and don't want to pay for a hotel room in Surat Thani. These ferries are basic, don't expect a great space to sleep in. If you prefer to travel overnight and want to arrive in Koh Samui early the next day, this is a good option. The ferry departs at 10pm and arrives at Nathon pier on Koh Samui at 4am.
How long does it take to go from Surat Thani Airport to Koh Samui?
Depending on what ferry you choose, the journey time is from 2 hours 45 minutes to 6 hours 15 minutes. Combined tickets can be purchased to cover the bus from the airport to the pier plus the ferry itself and even a minivan transfer to your hotel. Travel time varies with ferry types, but you can compare different transport companies, see schedules and book online at 12Go.
How long does the ferry take from Surat Thani to Koh Samui?
If you're departing from Surat Thani city, a catamaran with Lomprayah takes around 1 hour and 45 minutes from Tapee Pier. Lomprayah, Seatran, Raja Ferry, and Songserm also have ferry routes. They depart from other ports close to Surat Thani, and tickets can include transfers to the pier which adds to the travel time but is very convenient.
How do I get from Surat Thani to Koh Samui?
Flying isn't an option, but being such a popular route, there are lots of ferries. Make your way to the pier at Surat Thani for an hour and 45 minutes ferry crossing, or buy joint tickets for pickup by bus in Surat Thani that includes the ferry as well as drop-off at your Koh Samui hotel. This very affordable and convenient option is available for booking through 12Go.
How do you get to Koh Samui?
Thailand's second largest island has its own airport, so getting to Koh Samui is really easy from cities like Bangkok, Phuket, Chiang Mai, etc. Flights can be pricey, but you can save money by catching a ferry from the mainland. If you look at 12Go, they give search results for flights and ferries as well as transfers from multiple departure points.
How many ferry piers are there in Koh Samui?
There are four main ferry piers on Koh Samui, staggered at different points around the coast of the island: Pralan Pier, Nathon Pier, Lipa Noi Pier, and Big Buddha Pier. Plus there are many smaller piers for charters and tour boats. Research where your ferry will arrive and choose your accommodation accordingly to avoid a long transfer.
Did you find this guide useful?
Click on a star to rate it!
Average rating: / 5. Vote count: