Home to some of Thailand's most popular and best known beaches, the island province of Phuket has long been one of the top beach and party destinations of Thailand. With plenty of high-end resorts and restaurants, Phuket is not just a place for backpackers and partiers. In fact, its beautiful scenery that includes mountainous rainforest, attracts visitors from all over the world. While many other islands are within easy reach, Koh Lanta is a highly recommended stop after visiting Phuket. Its limestone outcrops contrast with the lush green of its rainforests, and several of its numerous islands are covered under the Mu Ko Lanta National Park. Savor the best of Thailand by traveling from Phuket to Koh Lanta. We'll show you how!
Read about:
• From Phuket to Koh Lanta by Ferry
• From Phuket to Koh Lanta by Speedboat
• From Phuket to Koh Lanta by High Speed Ferry
• From Phuket to Koh Lanta by Bus, Van or Taxi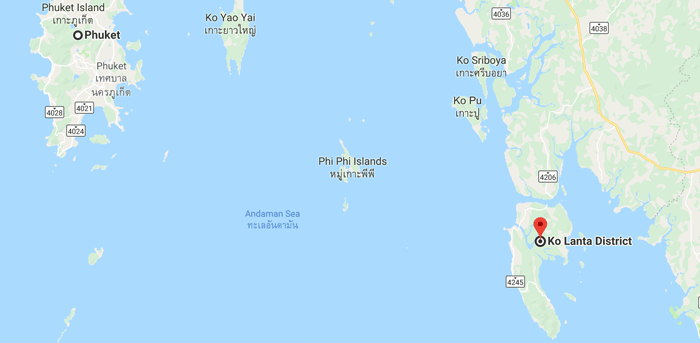 Options for Travel from Phuket to Koh Lanta
In a straight line it's only about 90 kilometers (56 miles) between Phuket and Koh Lanta, but as these two destinations are both islands the journey will take longer than you would expect. You can travel by land on one of the many vans, buses or taxis that are available; Phuket is connected to the mainland via a bridge so traveling by road is not as complicated as you might think. However, Koh Lanta does not have the benefit of a bridge to the mainland, so at some point you're going to have to travel across a stretch of water. The problem with going mainly by land is the distance – because you cannot travel in a straight line, the journey from Phuket to Koh Lanta actually ends up being more like 240 kilometers (150 miles), so from one destination to the other you're looking at a journey time of between 4 and 6 hours. For this reason, many tourists decide that the ferries are the best option, but, these aren't without their own drawbacks.
From Phuket to Koh Lanta by Ferry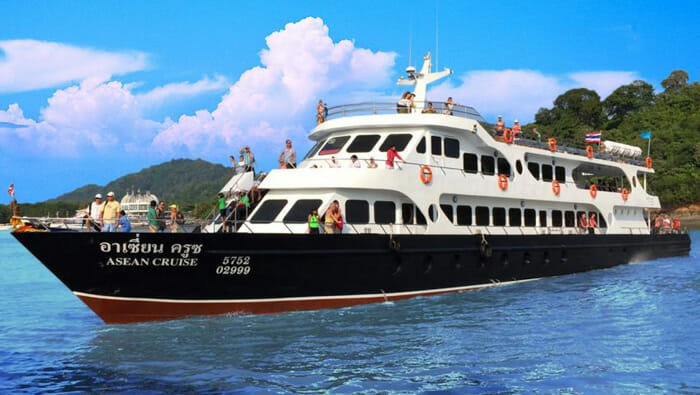 Traveling by ferry from Phuket to Koh Lanta is usually the most popular way to get from A to B. And there's not just one ferry type or company to choose from as several different ferries operate on this route. There are also two different departure points, so when considering your options bear this in mind as one may be a lot closer to where you're staying than the other. You can choose to travel on a standard ferry that will take it's time getting from Phuket to Koh Lanta, or there are high speed ferries and even speedboats.
As mentioned above though, traveling the entire distance by water is not without its drawbacks as ferries, particularly the high-speed ones and speedboats, can be greatly affected by the weather. If the water is deemed to be too rough, the sailing may not happen, or could be hugely delayed. Following on, the high-speed ferries only operate during the high season, when the weather is usually more predictable, so if you're visiting during the low season you'd be better off traveling by bus, van or taxi and then getting a ferry across from the mainland direct to Koh Lanta.
Having said this, during high season and if the weather is behaving itself, traveling by ferry is far more recommended than taking the road route. The ferries are relatively comfortable, and, depending on which service you choose, they're fast too.
The standard ferry takes the longest time but this is because it does not travel directly to Koh Lanta; it goes via Koh Phi Phi. From Phuket it's about two hours to Phi Phi, then there's an hour wait on that island, then another one and a half hours from Phi Phi to Koh Lanta. Combined tickets are available that include pick up from your hotel, but be aware that pick-up can often be later than advised and you may end up on a later scheduled ferry than you had expected. Phi Phi Cruiser sell combined tickets, if you're interested.
Speedboat from Phuket to Koh Lanta

The Satun Pakbara Club speedboat is a fun way to travel from Phuket to Koh Lanta – it departs from Rassada Pier two times per day: 8:30am and 12:30pm, getting you to Koh Lanta a mere one and a half hours later. Satun Pakbara also offers combined tickets via 12Go.asia that include pick-up from your hotel in Phuket. This will add to the price of your ticket, and to the overall journey time, but you'll have to get yourself to the pier one way or the other!
High Speed Ferry from Phuket to Koh Lanta
The third option is the high-speed ferry. Travel time on this ferry is somewhere in-between the other two options, but the price is roughly the same as the price of a speedboat ticket so you wont necessarily be saving any money by taking this option. However, if you're someone who generally doesn't like traveling by water, the speedboat is not a recommended option and you may even find that the high-speed ferry is too turbulent for you, so bear this in mind too.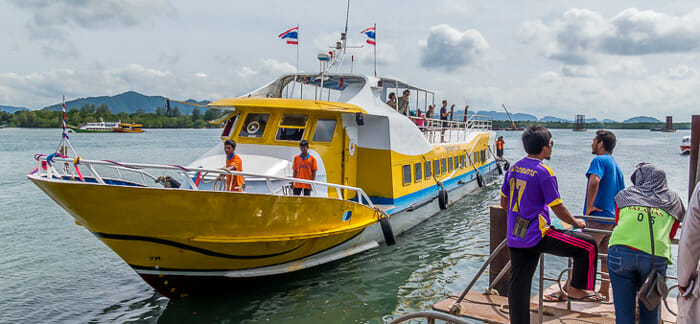 With Tigerline Travel you can again get a combined ticket that includes pick-up from the Phuket hotel, or, if you're just arriving into Phuket Airport and wish to travel directly to Koh Lanta, there are also pick-up options from the airport which are very convenient. These ferries can take up to two hours to make the trip from Phuket to Koh Lanta.
Bus, Van or Taxi from Phuket to Koh Lanta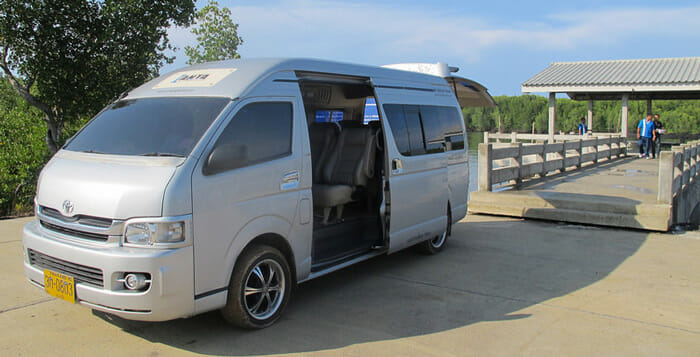 Although we would always recommend the ferry over traveling by land, it's not always going to be possible, or you may be someone who gets sea sick and doesn't want to consider the ferries anyway. There are several other options which are more viable during the low season when speedboats and high-speed ferries don't even operate. Tour companies provide private cars and 9-passenger vans for this route, and you should expect the journey to take somewhere between four and five hours. If you're traveling with a group, the multi-passenger vans are an affordable way to go as it's a fixed rate for the vehicle which you can divide between all the passengers.
Whichever method of travel from Phuket to Koh Lanta you choose, book your tickets through a reputable travel website as you can then easily buy combined tickets and you have often have options for refunds, changes, and cancellations should you need to.
How far is it from Phuket to Koh Lanta?
It's roughly 75kms (46mi) from Phuket to Koh Lanta, crossing the Andaman Sea, and a lot further if you travel by land, around Phang Nga Bay. Tickets for speedboats and fast ferries can vary in price substantially, so it pays to compare options at 12Go. Here you can see the different schedules, costs, and customer reviews before deciding to book, and add transfers to your booking too.
How long is the ferry from Phuket to Koh Lanta?
A ferry from Phuket to Koh Lanta will take between 1 hour 30 minutes and 5 hours, depending on which pier you depart from, and which ferry company you use. Check 12Go to compare the prices and services, and book online. You can depart from Ao Por Pier with Tigerline travel, or for more choice, opt for a Rassada Pier departure.
How do you get to Koh Lanta?
The islands of Koh Lanta are just off the coast of Southern Thailand, in the Andaman Sea. Close to both Krabi and Trang, you can buy combined tickets to Koh Lanta for airport pickup by van or taxi if you search online at 12Go. Enter your departure point and you'll see results for many different ways you can get to Koh Lanta, then book easily on their website.
Did you find this guide useful?
Click on a star to rate it!
Average rating: / 5. Vote count: