Chiang Mai, the largest city in Northern Thailand, is nestled 720 kilometers (450 miles) north of Bangkok in a mountainous region along the Ping River. Soaked in history, Chiang Mai is a great city to get a sense of Thailand's culture and tradition. Visitors can delve into ancient ruins, enjoy the dynamic nightlife, learn about unique hill tribe people, and sample delicious dishes at the local markets or in the many restaurants in the city.
Outdoor adventurers can explore the region's beauty by venturing out on treks, mountain biking trails, and kayaking excursions. Additionally, Chiang Mai offers an array of shopping experiences, ranging from traditional markets to contemporary malls.
One of the highlights of visiting Chiang Mai is its exquisite cuisine, which can be found in local markets and numerous restaurants. The Khantoke dinner, a traditional celebratory meal with centuries-old origins, is a must-try experience at the Lanna Cultural Center. Chiang Mai is also an ideal base for exploring Thailand's breathtaking natural scenery, with three nearby national parks offering hill trekking by foot or on elephants. This unique aspect of Thailand sets Chiang Mai apart from its bustling capital, Bangkok.
Whether seeking relaxation or an adrenaline-fueled escapade, Chiang Mai is an ideal destination.
Famous places
Wat Phra That Doi Kham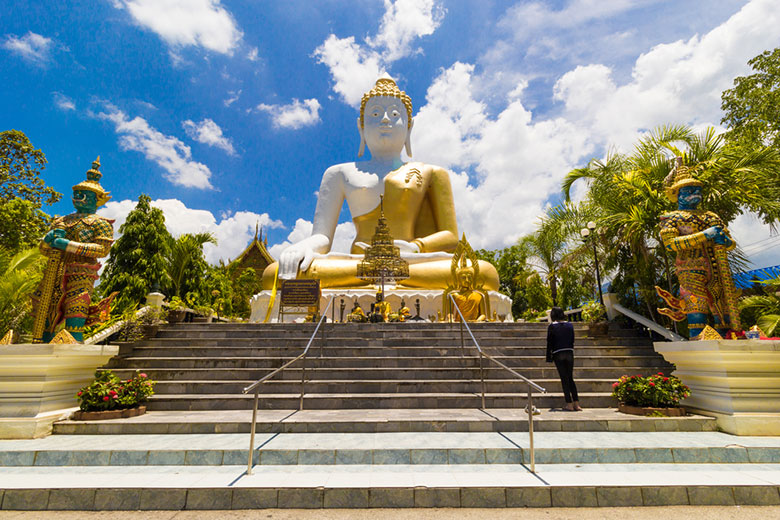 Wat Phra That Doi Kham houses an impressive 55-foot Buddha image. Located on a hill outside the city, this 7th-century temple features a chedi built in 687, similar to the renowned Wat Phra That Doi Suthep. Enjoy the tranquility, admire the Naga-guarded pagoda stairs, and explore the courtyard with its green pillars. Don't miss striking the large bells and gongs, making it one of Chiang Mai's most beautiful attractions.
Huay Tung Tao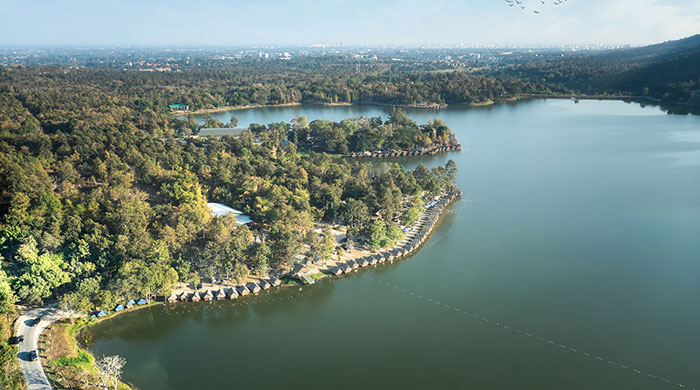 Huay Tung Tao Lake offers breathtaking views with its serene waters and striking mountains. A must-visit in Chiang Mai, it provides ample photo opportunities and paddle boat exploration. Mingle with Thai families, relax, or partake in lakeside activities. Enjoy food from the numerous lakefront restaurants, offering a picnic-like ambiance. Huay Tung Tao Lake is the perfect destination for relaxation amid stunning scenery.
Saturday Night Market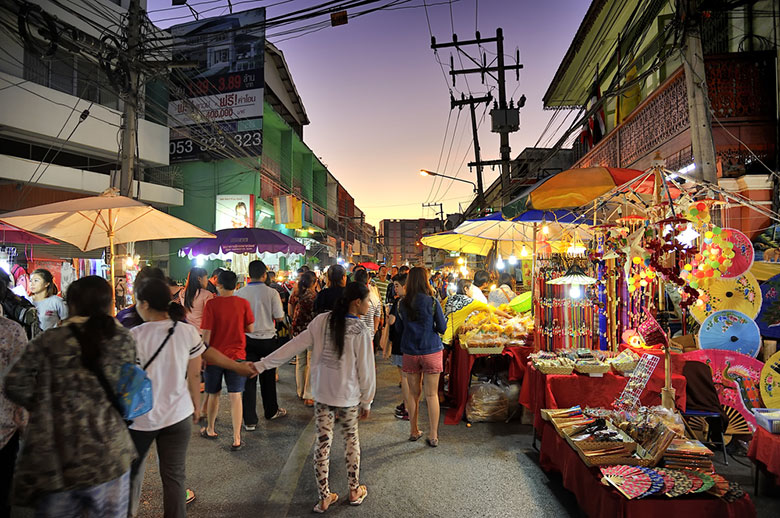 After you've spent some time exploring the temples in Chiang Mai, you may want to visit the Saturday Night Market Walking Street – Wua Lai Road, for something a little different. It's a fun experience that starts late in the afternoon and continues until 10:30 at night. The market does not get too crowded, which is always appreciated. The busiest time is usually around sunset.
You can buy many traditional craft items. And there are plenty of less traditional souvenirs for sale too. You'll probably also be tempted by the delicious snacks you can pick up and savor. Eating a few snacks gives you the energy to keep going and explore all the stalls in view. If you want to pay a visit to the market you can easily get dropped here by tuk tuk, at its location is close to the old city walls. It should only take an hour or two to stroll around the market, but you can stay as long as you want, soaking up the atmosphere.
Things to do in Chiang Mai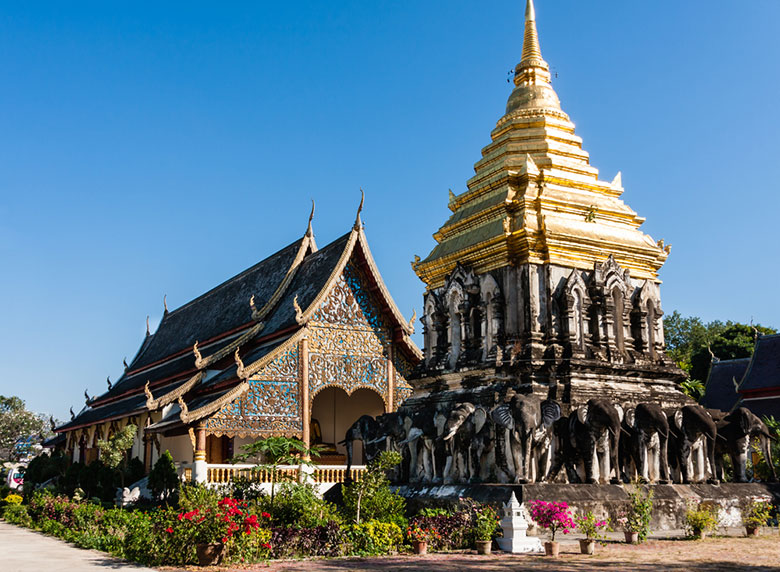 Chiang Mai, a cultural hub in Northern Thailand, offers a diverse array of attractions to explore. The city is home to numerous ancient temples such as Wat Phra That Doi Kham, a 7th-century temple featuring a 55-foot high Buddha image, and Wat Chiang Man, the oldest temple in Chiang Mai. Another historically significant site, Wat Chedi Luang, was once the tallest building in the city and now hosts daily Monk Chats. For a more serene experience, visit Huay Tung Tao Lake, where you can enjoy the picturesque landscape or rent a paddle boat to explore the water. Alternatively, escape the city's buzz by visiting the stunning Bua Thong Waterfalls, located in the Mae Taeng National Forest Reserves.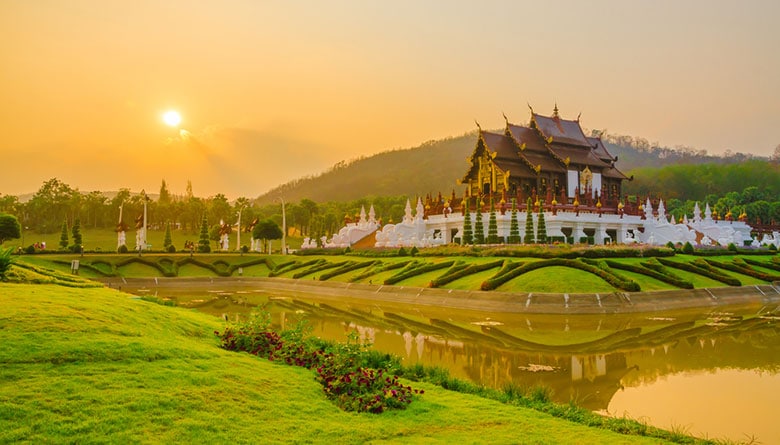 Aside from its natural beauty and historic sites, Chiang Mai also boasts fascinating museums and unique attractions. The quirky Museum of World Insects and Natural Wonders showcases insects, arachnids, crustaceans, fossils, fish, shells, stones, and wood. Art enthusiasts can enjoy the Art in Paradise, Chiang Mai 3D Art Museum, which features interactive illusionary exhibits created by Korean artists. For a more immersive experience in nature, Royal Park Rajapruek offers beautifully maintained gardens with diverse tropical plants.
The lively markets of Chiang Mai provide a taste of local life and delicious food. The Saturday Night Market Walking Street on Wua Lai Road is a bustling spot where you can shop and snack until late at night. Warorot Market (Kad Luang), popular among locals, offers a chance to sample the delicious food on offer and experience Thai lifestyle. Both markets provide visitors with a unique and authentic glimpse into Chiang Mai's vibrant culture.
Getting to Chiang Mai
Bangkok to Chiang Mai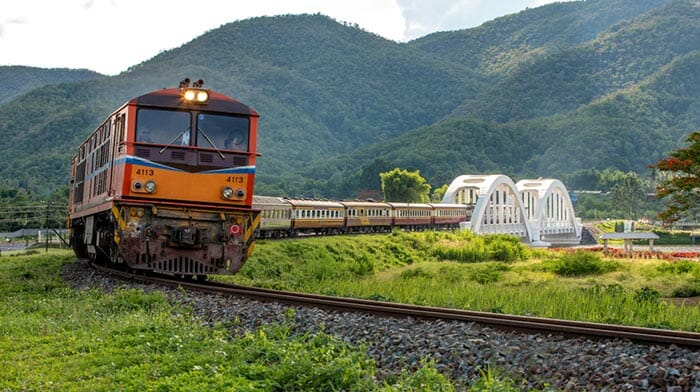 Chiang Mai is 700 km north of Bangkok, and you can get there by flight, train, or bus.
Expect a direct flight from Bangkok to Chiang Mai to take around 60 to 70 minutes. The drawback, of course, of traveling by air is the cost, but if you can get a flight on one of Thailand's low-fare airlines, the price isn't that bad. Book in advance for better deals. Low-cost airlines, such as Air Asia, Thai Lion Air, and Nok Air, operate out of Don Muang International Airport. Thai Smile Airways, Thai Vietjet Air, Bangkok Airways, and Thai Airways fly from Suvarnabhumi International Airport.
The train from Bangkok to Chiang Mai is surprisingly popular, despite the lengthy time it takes to get from one city to the other. Chiang Mai train station is just a few kilometers outside the city center, and the drive by taxi or car is only around 10 minutes.
Buses from Bangkok to Chiang Mai take 9-12 hours, with ticket prices varying based on the type of bus. Choose VIP or Express buses based on your budget and preferences.
Check out our guide on "How to Get from Bangkok to Chiang Mai". This article will provide you with all the information you need for your journey to the beautiful northern city of Chiang Mai.
Phuket to Chiang Mai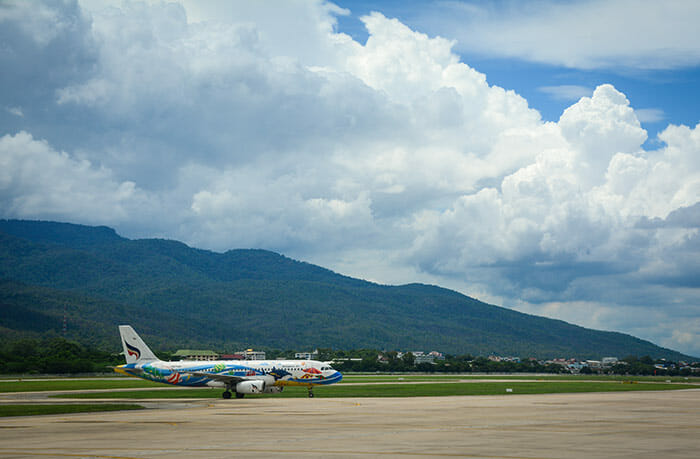 While the bus is cheaper, it takes almost 24 hours to travel the 1500 kilometers, making it a grueling journey for anyone who doesn't enjoy cramped spaces or has young children to travel with.
On the other hand, catching a flight from Chiang Mai to Phuket takes only two hours and provides a significantly faster option for those who don't want to spend an entire day on a bus. With three airlines to choose from, travelers can usually find a good deal by booking their flight tickets in advance and being flexible with the day and time of their travel. Phuket International Airport has recently undergone an expansion and renovation, allowing it to handle almost double the number of passengers.
Overall, if you're looking to save money and see more of Thailand's countryside, taking the bus is the best option. A flight may cost about double, but considering that it only takes 2 hours, many travelers agree that it's worth spending the extra and getting to Phuket much faster!
Ayutthaya to Chiang Mai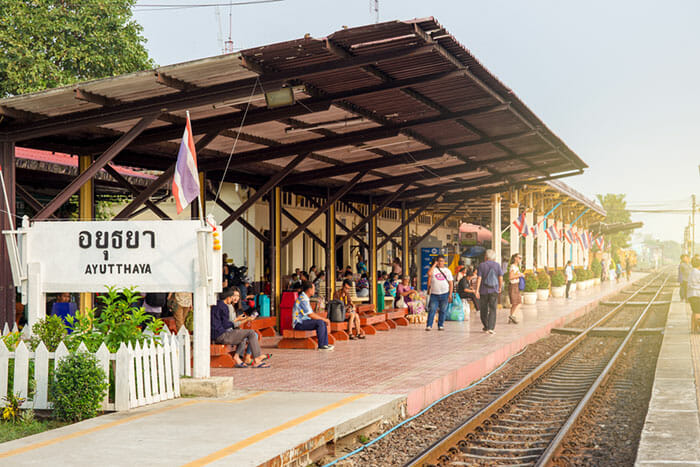 From Ayutthaya to Chiang Mai is a journey of approximately 500km and can take up to 10 hours by car. There are various options for traveling between these two cities, including bus, train, or hiring a private driver.
Going by bus is the most affordable option, with many companies offering direct routes from Ayutthaya to Chiang Mai. Bus tickets cost around 700-1000 baht and offer comfortable seats with air conditioning. The bus journey takes about 10 hours with a few stops for meals, rest, and toilet breaks.
For those who want a more comfortable journey, taking the train is an ideal option. Trains from Ayutthaya to Chiang Mai leave regularly and take about 12 hours, with several classes of service offered, including air-conditioned sleeper cabins.
Exploring Thailand by this route is a fantastic way to discover its beautiful landscape. To learn more, you can check out our post on "Getting from Ayutthaya to Chiang Mai" for more detailed information on the various ways to travel between the two cities.
Traveling from Chiang Mai
If you've seen all that Chiang Mai has to offer, it's time to move on to the next destination. Whether you're looking to explore the beaches, experience the hustle and bustle of city life, or explore the countryside, the options are endless.
Chiang Mai to Pai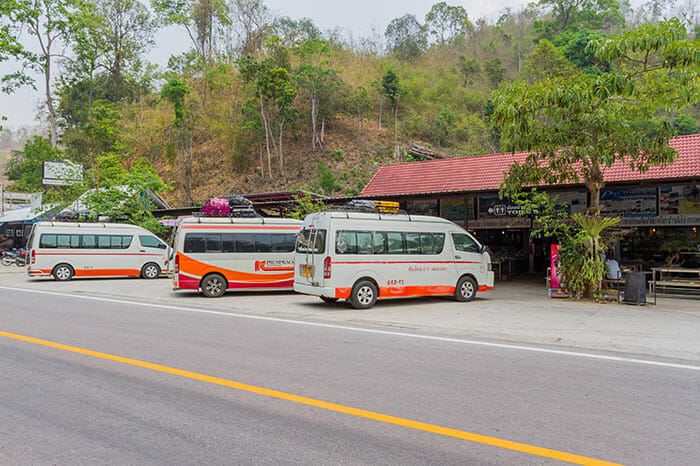 Despite being only 150 km apart, the road from Chiang Mai to Pai involves driving over mountains with never-ending road bends. But it is a scenic road. The options to travel between these two towns include minivans, public buses, taxis, and flights.
Minivans are affordable, but motion sickness can be an issue, while public buses are the cheapest but not the most comfortable. Taxis offer a private tour experience and stop at attractions, but they are expensive.
Ultimately, the choice of how to get from Chiang Mai to Pai depends on personal preferences, but taking a minivan is recommended for those who want to appreciate the beautiful scenery along the way.
Chiang Mai to Chiang Rai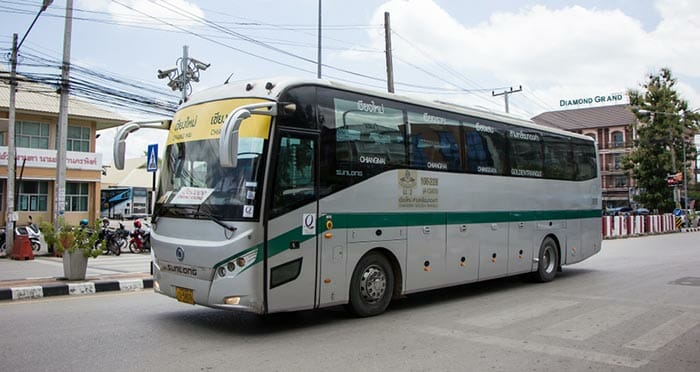 From Chiang Mai to Chiang Rai you're limited to traveling by private car, taxi, van, or bus. Most tourists will go by bus because it's affordable, convenient, and reliable.
There is basically just one bus company to talk about for a bus from Chiang Mai to Chiang Rai and that's the Greenbus Company (Read our Greenbus Review). They have a good reputation for affordability, comfort, and reliability, and they use modern buses with air conditioning, so this isn't an old wooden seated bus packed full of passengers if that's the image you have in mind for Thai buses!
Chiang Mai to Bangkok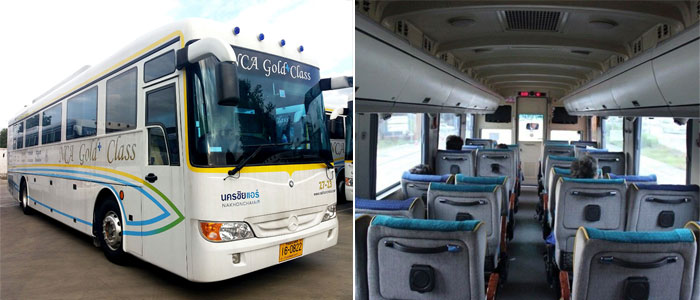 Travel options from Chiang Mai to Bangkok include flying, taking a train, or a bus.
Flights are the quickest option but are more expensive and lack scenic views.
Trains take around 13 hours for overnight journeys and up to 15 hours for daytime trips. There are several carriage options with prices varying accordingly, and trains provide a great way to experience Thai culture.
Buses are the cheapest option, taking around 10-11 hours and providing both overnight and daytime travel options. Prices are comparable to trains or a little less.
If you have plenty of time and like to take things slow, the train is recommended. If you need to get there in record time, flying is the best option, and if you need to save money, take the bus.
For more information on the different modes of transport from Chiang Mai to Bangkok, see our post "Getting from Chiang Mai to Bangkok"
Other Destinations From Chiang Mai
Did you find this guide useful?
Click on a star to rate it!
Average rating: / 5. Vote count: