Situated just 15 kilometers (9 miles) north of Koh Samui, close to the western shore of the Gulf of Thailand, is the beautiful island of Koh Phangan. Though smaller than the famous Koh Samui, Koh Phangan has its own reputation as a great place to visit – for backpackers it is one of the top destinations in Thailand and each month the island is home to the infamous Full Moon Party, but this isn't just a place for clubbing and partying, Koh Phangan also has some great family attractions and of course, beautiful beaches and scenery to enjoy too.
Read about:
• The Cheapest Ferry from Surat Thani to Koh Phangan
• The Quickest Way to Travel from Surat Thani to Koh Phangan
• Getting to Koh Phangan from Surat Thani Airport
Surat Thani is a popular gateway for travel to Koh Phangan, so if you're considering a trip to this island paradise, read on for information on the various ways to get from Surat Thani to Koh Phangan.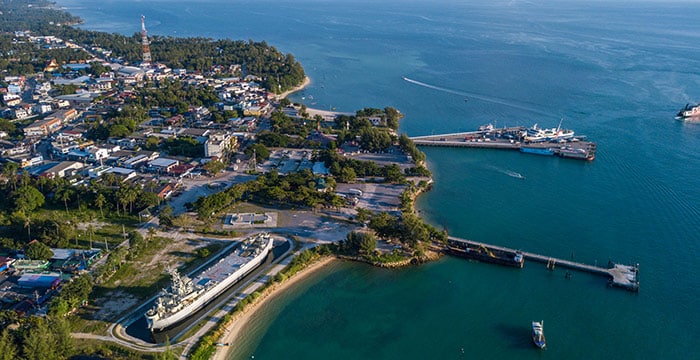 Ways you can Travel from Surat Thani to Koh Phangan
Koh Phangan is an island so obviously you cannot get there by land, but, with no airport on the island either, the only way to reach it is by water. The good news is that this is a very popular route so there are plenty of different tour and ferry companies offering trips from Surat Thani to Koh Phangan, so finding one to suit your schedule and budget should never be a problem. Having said this, if you're planning to travel to Koh Phangan for the Full Moon Party, you should always book your travel arrangements as far in advance as possible, including a place to stay once you arrive, as the ferries and accommodation do get booked up during this time of the month.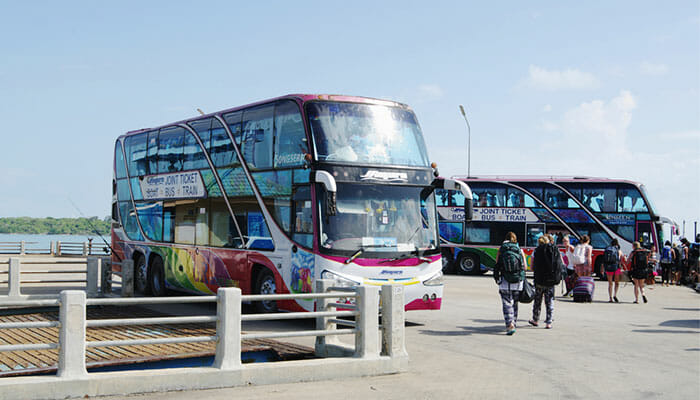 Getting to Koh Phangan from Surat Thani by ferry you'll find many different options. You can catch a ferry from right in Surat Thani town, or you can head out to the larger ferry piers at Don Sak. Donsak is about 60 kilometers (37.5 miles) to the east of Surat Thani, which is a drive of about 90 minutes. However, while you can make your own way, all of the operators offer combined tickets that include the bus and the ferry, so whether you're going to Koh Phangan from Surat Thani Airport, from the town itself, or from the train station, there are always combined tickets available to buy for your entire journey.
The Cheapest Ferry from Surat Thani to Koh Phangan
If you're a backpacker or you just need to travel on a tight budget, you're probably going to be looking for the cheapest way to travel from Surat Thani to Koh Phangan. The good news is that whichever particular route you choose, all of the crossings over to the island are reasonably priced so it's not going to cost you a fortune. Having said this, there is one service that will save you quite a few dollars over the others, and that's with Raja Ferry. Their ticket includes a bus transfer from the town, at the intersection of Si Wichan Road and Soi 16 Si Wichai, and they depart three times per day, all around the middle of the day to early afternoon.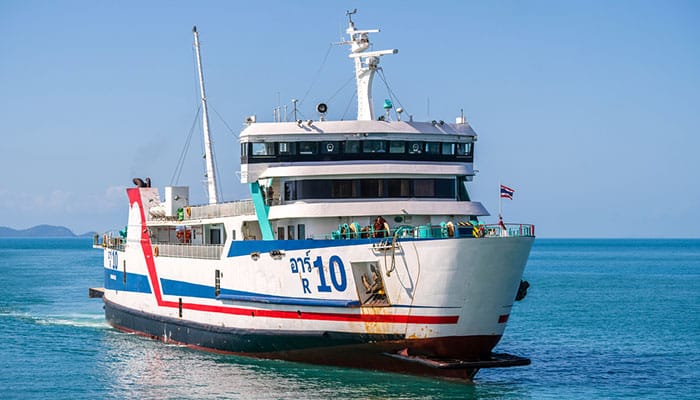 You'll travel by van to the Raja Ferry port at Donsak, then board a large car ferry to the island. These ferries are older and slightly less comfortable than others, and they have basic facilities, but for the price and the travel time (the ferry takes about 90 minutes) it can't be beaten.
If the departure times from the town don't fit in with your travel plans, there are multiple Raya Ferry departures each day from Donsak. You can either make your own way to the ferry port and get on one of the ferries that depart every even hour between 6am and 6pm, or you can get a combined ticket and travel from Surat Thani Airport or Surat Thani Train Station with Raja Ferry.
The Quickest Way to Travel from Surat Thani to Koh Phangan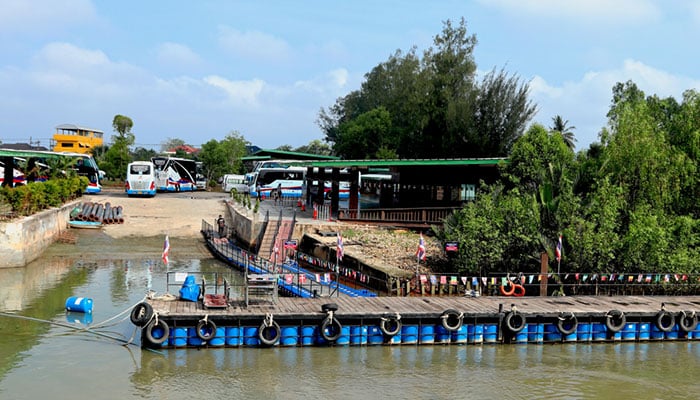 If you're pushed for time and want to get over to Koh Phangan to start relaxing as soon as possible, read on to discover which is the quickest way to get there. This route works best if you're already in the Surat Thani area, especially if you're a little north-east of the town, in the Tapee neighborhood.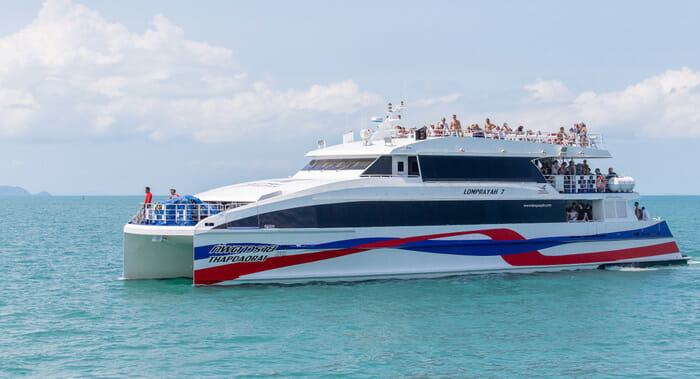 Reputable tour company, Lomprayah, has a pier at Tapee from which their high-speed ferry departs. This ferry is much newer, more comfortable, and faster than the Raja Ferries, and it has services onboard such as air conditioning, snacks, toilets, and stewards. It is more expensive than Raja Ferry but you're paying more for speed, comfort, and convenience. The ferry takes about 2 and a half hours, and travels directly from Tapee Pier to Thong Sala on Koh Phangan, and because it departs from Surat Thani you don't have to worry about long bus transfers. There are three sailings per day, usually around 9am, 11:30am, and 3:30pm.
Getting to Koh Phangan from Surat Thani Airport
If you've been traveling around Thailand, it's quite possible you will have arrived on a plane to Surat Thani International Airport. As the airport is situated about 30 kilometers (19 miles) from Surat Thani by road, and it's to the west of the city, this can add a fair chunk to your travel time. Luckily there are a number of different companies who all offer combined tickets to get you all the way from the airport to Koh Phangan.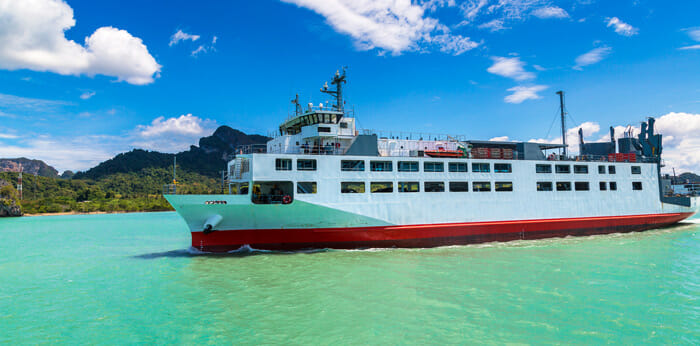 Lomprayah is one of those companies – their tickets are usually the most expensive, and their journey times the fastest; taking around 3 and a half hours. Seatran is a little cheaper but because they depart from Donsak the journey time is longer. Songserm is cheaper still, and faster than Seatran. Raja Ferry, as mentioned above, has a bus from the airport to their ferry, and the cheapest option for getting from Surath Thani Airport to Koh Phangan is with Phantip.
Traveling from Surat Thani Train Station you basically have the same options for companies: Phantip, Songserm, Lomprayah, and Raja Ferry, and again, prices vary and schedules vary too so you can pick whichever suits you best.
How do I get from Surat Thani to Koh Phangan?
Booking through the travel agent, 12Go, you have loads of options for getting from Surat Thani to Koh Phangan, departing from the airport, city hotels, the railway station, or city center as they sell combined tickets for the bus and ferry from all of those departure points. Depending on whether you take a high-speed ferry or a regular one, the journey will be between 2.5 and 6 hours.
How long does it take from Surat Thani to Koh Phangan?
The fastest route from Surat Thani to Koh Phangan takes just 2.5 hours, leaving from the Tapee Pier just outside the center of town, with Lomprayah, while the longest journey is 5.5 hours. Travel time varies with departure point and ferry companies. You can add transfers from the airport, hotels, train station etc and buy a combined ticket for added convenience. All these options can be purchased through 12Go.
How do you get to Koh Phangan Full Moon Party?
Koh Phangan's monthly Full Moon Party attracts hundreds of extra visitors to the island, making it challenging at times to find boats. Because of this, it's best to book your seat in advance, and you can do this at 12Go. They sell tickets for many different ferry companies, from numerous departure points, including pickups from hotels or airports on joint tickets, so your whole journey is taken care of.
How do you get to Koh Phangan?
Being such a popular island, it's easy to get to Koh Phangan. You can take a ferry from Koh Samui, or there are loads of ferries departing from the mainland (Surat Thani or Chumphon). Visit 12Go and enter your departure point for detailed search results and the opportunity to buy combined tickets for your entire journey, including the ferry with transfers by trains, buses, flights from places like Bangkok.
Did you find this guide useful?
Click on a star to rate it!
Average rating: / 5. Vote count: