The lure of Thailand's capital and largest city is hard to resist! Busy and hectic, Bangkok pulsates with energy, and is an amazing place to visit. Whether you enjoy exploring temples and palaces, strolling through parks, or just soaking in the atmosphere and wandering through the markets, Bangkok has something for everyone! But, after a few days in the city, it's nice to escape to somewhere far more serene and scenic. Koh Phi Phi is one such place. Stunningly beautiful, the Phi Phi Islands feature some of the world's most spectacular beaches and small bays surrounded by limestone cliffs. Tourism has impacted the islands, but it's still a haven of tranquility when compared to Bangkok!
Read about:
• Bangkok to Koh Phi Phi by Flight and Ferry
• Bangkok to Koh Phi Phi by Train, Bus and Ferry
• Bangkok to Koh Phi Phi by Bus and Ferry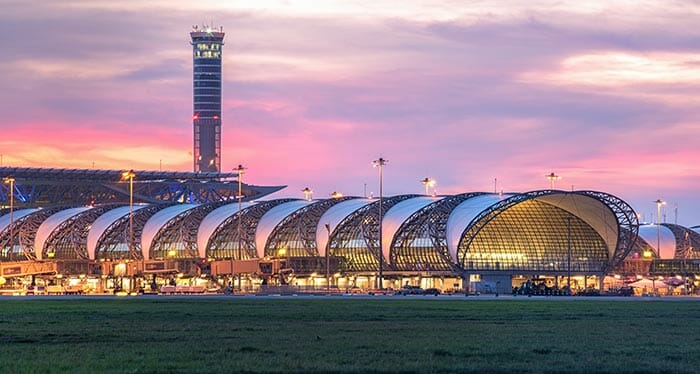 Options for Travel from Bangkok to Koh Phi Phi
Getting from Bangkok to Koh Phi Phi is a long journey, unless you're flying! It's about 830 kilometers (520 miles) between these two destinations so flying makes the most sense if you want to get to Koh Phi Phi quickly and start spending time relaxing on the beach. However, you cannot fly all the way to Koh Phi Phi as there's no airport on the island so you'd still need to take a ferry at some point. Other options for travel from Bangkok to Koh Phi Phi include taking several different forms of transport such as the train, bus and ferry, or just a bus and ferry. If this all seems like too much hassle, don't worry, we have all the information you will need on each of these different options.
Flight and Ferry from Bangkok to Koh Phi Phi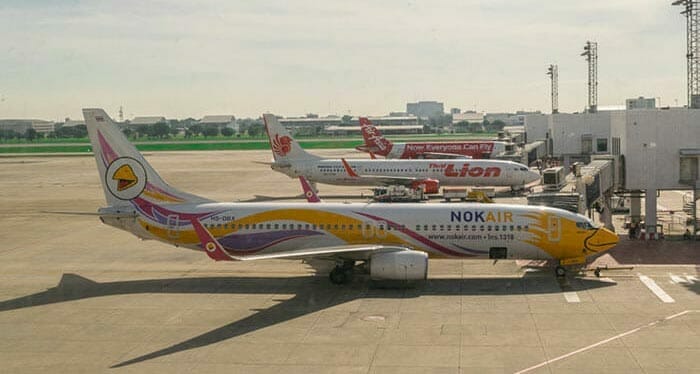 As we mentioned above, you can't get a flight all the way from Bangkok to Koh Phi Phi, but you can get one most of the way. There are actually several options for flights, depending on where you would like to travel via. You could catch a flight from Bangkok to Krabi with airlines Bangkok Air, Thai Smile, Thai Airways, Thai Lion Air or Nok Air. The flight will take around 90 minutes and you should definitely shop around across those airlines, as some will be considerably cheaper than others. Do be sure to check what's included in the cost of the ticket though, as the cheaper airlines often don't include any checked baggage allowances.
Once you arrive in Krabi Airport you should make your way to Krabi Town by taxi or shared minivan. It's only about 12 kilometers (7.5 miles) to the town but the journey can take a little while if you're in a shared taxi or minivan as they will make additional stops. Finally, once in Krabi Town you can head to the pier and catch a ferry to Koh Phi Phi. This leg of the journey will take between 1.5 to 2.5 hours, depending on the company and whether it's a high-speed ferry.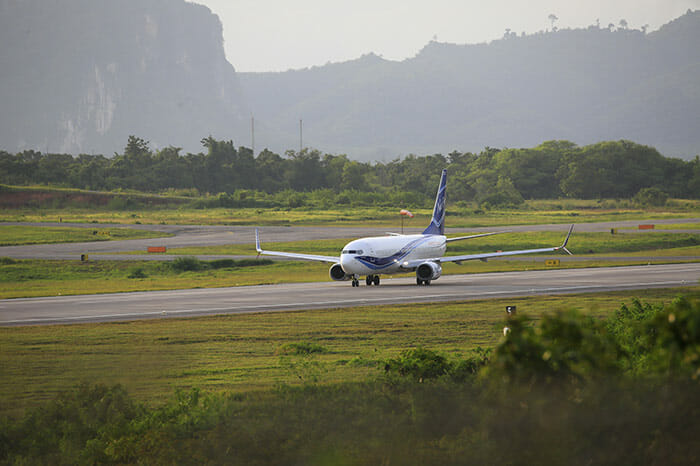 You could also catch a flight to Phuket and then take a ferry from there. The flight itself takes about the same amount of time as to Krabi, but transferring from the airport and catching a ferry should be faster. You can get a transfer from the airport directly to the ferry pier, and from there the ferry will take between 1.5 to 3 hours, again depending on which company you use.
While a flight does seem to be the fastest way to travel from Bangkok to Koh Phi Phi, you should consider it carefully as the trip time does add up with all the different sections, including getting to the airport in Bangkok in the first place. With flights usually being more expensive than other forms of transport, you'll probably find that this is the most expensive way to go too.
From Bangkok to Koh Phi Phi by Train, Bus and Ferry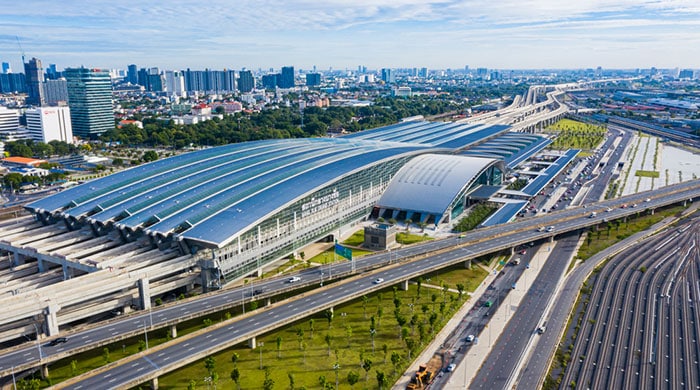 If you like having adventures on your travels, then we'd recommend you get a train, bus and ferry from Bangkok to Koh Phi Phi! It's a long trip, but it's definitely an adventure, giving you the chance to see plenty of passing scenery and towns which you would not have seen if you caught a flight. The downside is the amount of time it will take to get to Koh Phi Phi as this is a significantly long journey.
The good news is that you can book a combined ticket for all sections of the journey by using a reputable online tour operator such as 12Go.asia. Their search engine will give you results for lots of different transport combinations, allowing you to book a ticket that covers the entire trip. This is great for peace of mind as you know you have everything sorted out before you even leave Bangkok.
You will catch a train from Bangkok's brand new Krung Thep Aphiwat Central Terminal and travel south to Surat Thani Train Station. This is the closest railway station to Koh Phi Phi. The train ride takes around 11.5 hours and there are sleeper trains available so you can book a sleeper cabin and get some sleep along the way. Once at Surat Thani you will be met by a bus that takes you to the pier, but there is a wait involved of around 3.5 hours before catching the ferry to cross to Koh Phi Phi. Add this to the 4 hours it will take from Surat Thani to Koh Phi Phi and you have a very long journey of approximately 19 hours.
From Bangkok to Koh Phi Phi by Bus and Ferry

A simpler journey involves catching a bus from Bangkok and driving all the way to the south, then getting a ferry across to the island. The combined journey time is less than the train, bus, ferry combination, but will still take somewhere between 15.5 to 17.5 hours, depending on the operator. You can book these combined tickets through 12Go as well, and when you search you will find a few different companies to choose from. Songserm, for example, is very reputable and they have a couple of different pick-up points in Bangkok, to make it easier, including from Hua Lamphong Train Station, or from their office on Khao San Road.
So, while there are three main options for travel from Bangkok to Koh Phi Phi, you can see that within those three options there are several other choices you could make! Whichever way you choose to travel, getting from Bangkok to Koh Phi Phi is not the cheapest, but you can shop around to save money on your tickets when you use a website like 12Go.
Leaving Phi Phi ?
Did you find this guide useful?
Click on a star to rate it!
Average rating: / 5. Vote count: