How do you travel from Suvarnabhumi Airport, the 21st busiest airport in the world, to central Bangkok, Thailand?
Getting to the city center can be overwhelming if you're new to Bangkok.
This piece offers an exhaustive guide on transportation from Suvarnabhumi Airport to Bangkok, encompassing ticket prices, timings, and how to reserve tickets online. The airport, recognized as the primary base for Bangkok Airways, Thai Smile Airways, and Thai Airways International, serves flights across Thailand and internationally. If you're jetting into Bangkok from abroad, you will most likely land at Suvarnabhumi Airport.
Read about:
• Airport Rail Link from Suvarnabhumi Airport to Bangkok
• Taxi from Suvarnabhumi Airport to Bangkok
• Public Bus or Van from Suvarnabhumi Airport to Bangkok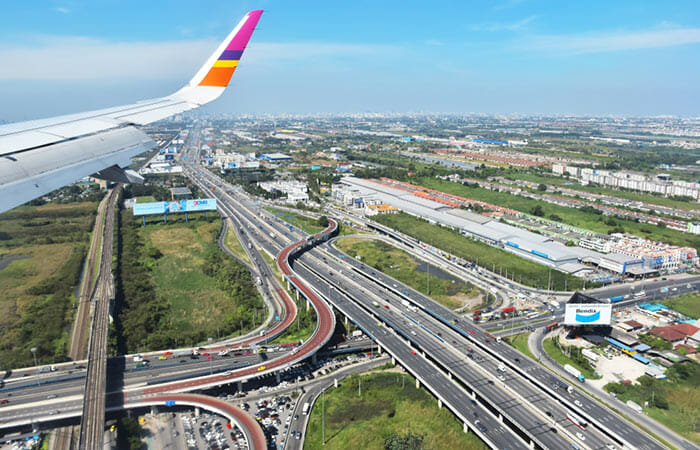 Options for Travel from Suvarnabhumi Airport to Bangkok
Also known simply as Bangkok Airport, Suvarnabhumi Airport is about 25 kilometers (16 miles) to the east of the center of Bangkok. As this is the major gateway into the city, getting from Suvarnabhumi Airport to Bangkok is easy and there are several different transport options to choose from. The airport is linked to Bangkok via the modern Motorway 7, if you like to travel by road. Regular taxis are always readily available if you want to walk out of the terminal and step right into a taxi, or there are private taxis that you can arrange in advance. There are also public buses and public vans, but perhaps the most convenient and preferred way to travel from Suvarnabhumi Airport to Bangkok is on the Airport Rail Link.
Airport Rail Link from Suvarnabhumi Airport to Bangkok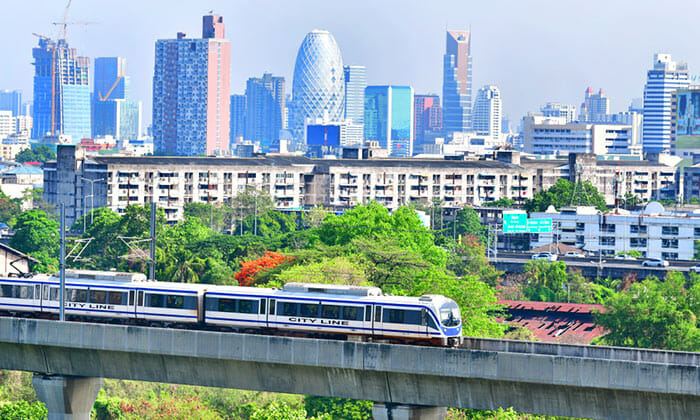 When the Airport Rail Link (or ARL) opened in 2010, it quickly became a popular way to travel from Suvarnabhumi Airport to Bangkok. This modern line runs a total of 28.6 kilometers (17.8 miles) and takes you directly into the heart of Bangkok where there are two interchange station stops that link you with Bangkok's MRT underground and BTS Skytrain, giving you incredibly easy access to the whole city.
And it's an interesting journey on the train as the line was built to be mainly elevated, running above regional rail lines and parallel to Motorway 7 and Si Rat Expressway, so it's an above ground line that allows you to see the approaching city.
Unlike road traffic that can be delayed by heavy traffic and incidents, the ARL is very reliable. It takes just 25 to 30 minutes to get you from Suvarnabhumi Airport to Bangkok, depending on which station you get off at, and they run most of the day and night, starting operations at 6am and finishing at midnight, so most flight arrivals should be catered for unless you're arriving in the very early hours of the morning.
The train is cheap too. Prices are comparable to public vans and only slightly more expensive than the public buses, so the ARL really does offer great value for money as well as convenience as it's easy to find. Just head down to Basement B of the passenger terminal and you'll be there – there is no need to get on shuttle buses, or walk for miles to reach the train. The schedule is also great because you'll never have to wait long for a train to arrive; they depart every 12 minutes, and during peak times (6am to 9:30am, and 4:30pm to 8:30pm Monday to Friday) they go every 10 minutes.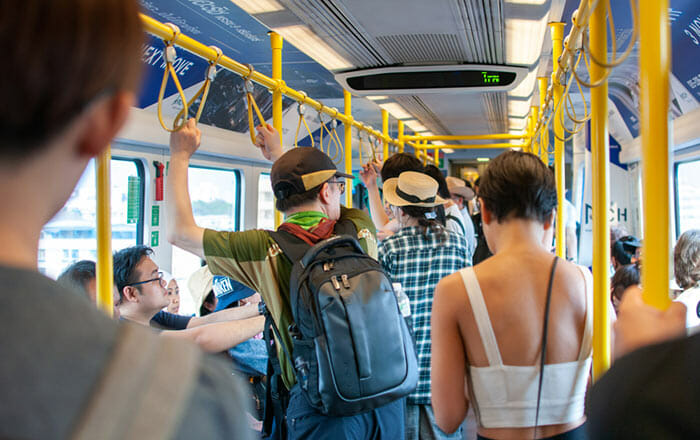 Bear in mind that the trains get very crowded especially during rush hour with commuters travelling to work. Since Suvarnabhumi Airport is the first station on the line, it is usually easy to get on the train tho, but it will fill up with people on the way to the city center.
Suvarnabhumi Airport to Bangkok by Taxi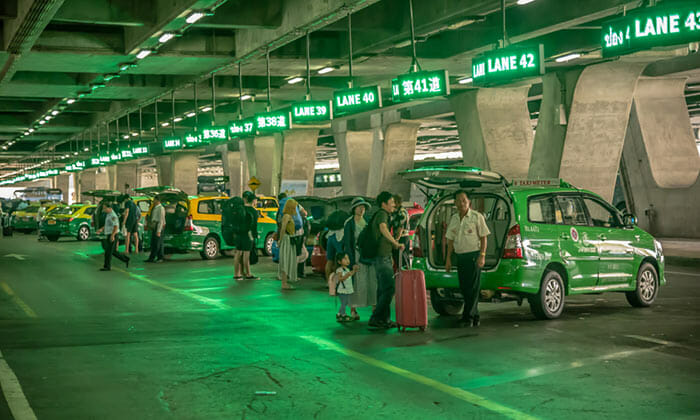 While the train is convenient, nothing beats the door to door service that you get from riding on a taxi from Suvarnabhumi Airport to Bangkok. Taxis have the benefit of taking you right to the front door of your hotel, so you don't have to worry about changing trains or buses, or walking a long way with your luggage, and they are even more flexible than the trains as you can get a taxi 24 hours a day, at whatever time you need it.
Getting from Suvarnabhumi Airport to Bangkok you have two main taxi options – there are the public taxis that you'll find sitting outside the terminal, and then there are the private taxis which are best if booked in advance. You can book private taxis online using the reputable travel website, 12Go.asia. They offer taxi transfer services from around eight different companies, so there are always plenty of different options to choose from. Their search results will give you vehicle type and price, and many of the companies have instant confirmation when you book as well as options for refunds if your plans change.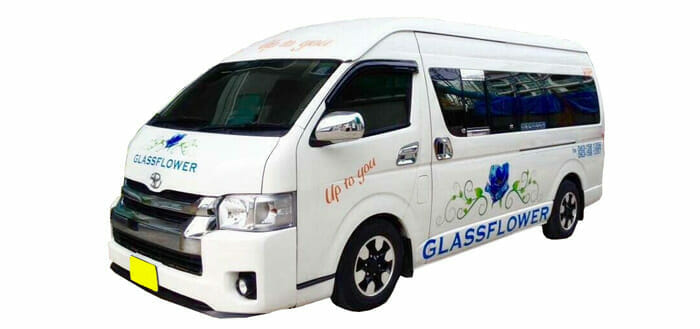 While the private taxis will cost more than the public ones, they are recommended if you're traveling with more than one or two other people as there are numerous sized vehicles you can book. For example, you could book a 9-passenger van, or a 4-passenger SUV, and split the cost between you, saving money over the cost of several public taxis and even working out cheaper than tickets for the train if there are multiple people in your group. Using a private taxi service that you have pre-booked is also better for peace of mind because you know you've already paid for the service, and the driver will know in advance where he needs to take you, eliminating any communication problems with a taxi driver who doesn't understand much English!
Public Bus or Van from Suvarnabhumi Airport to Bangkok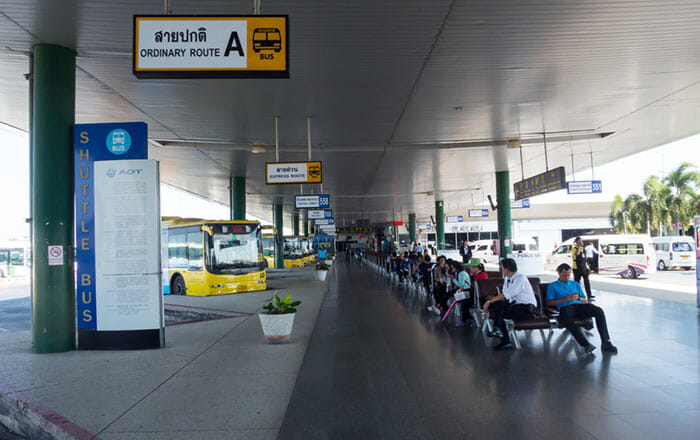 With several other great options for getting from Suvarnabhumi Airport to Bangkok, the public bus service doesn't really offer a good alternative. For a start, you will need to catch the free shuttle bus to take you from the terminal to the Transport Center, so this adds time to your journey. Once at the Transport Center you will need to figure out which bus to take, depending on where in Bangkok you are heading. While buses are cheap, the journey will likely be the longest, and even once you get off the bus you may have to walk, or get on another bus to get to where you want to be.
Public vans from Suvarnabhumi Airport to Bangkok are another option that are slightly more convenient and only a touch more expensive than the buses. Leaving from Gates 1 and 8 of the Arrival Terminal, the vans depart every 20 minutes, shortening to as much as every 5 minutes during peak times. The van takes about 45 to 55 minutes to get to Victory Monument, a major transportation hub from where you can get on the BTS Skytrain or catch another van or bus elsewhere.
So, there are multiple good options for getting from Suvarnabhumi Airport to Bangkok. For ease of booking, peace of mind, and affordability if you're traveling in a group, private taxis that are bookable through 12Go are a great option, or if you're traveling alone or with one other person, the ARL train from Suvarnabhumi Airport to Bangkok could be your best bet.
Did you find this guide useful?
Click on a star to rate it!
Average rating: / 5. Vote count: