Want to get away from the bustling streets of Bangkok? You might like to consider traveling down to Koh Chang. Tempting you with the allure of turquoise waters and powdery soft white sand. This beautiful island is Thailand's second-largest, and it's set on the eastern edge of the Gulf of Thailand. It's filled with lush forests and small villages. While not as well developed with tourist resorts and tourist facilities as Koh Samui or Phuket. Koh Chang is the place if you're looking for a quieter Thai beach experience.
Read about:
• Bangkok to Koh Chang by Flight
• Taxi from Bangkok to Koh Chang
• Bangkok to Koh Chang by Bus
Koh Chang has not developed much, and the reason is that it's not an easy place to get to: being an island has its challenges. There's no airport on the island, so access is only by boat. But there are several options to get you from Bangkok down to the ferry terminal. Read on to find the different ways to travel from Bangkok to Koh Chang.
Take a Flight from Bangkok to Koh Chang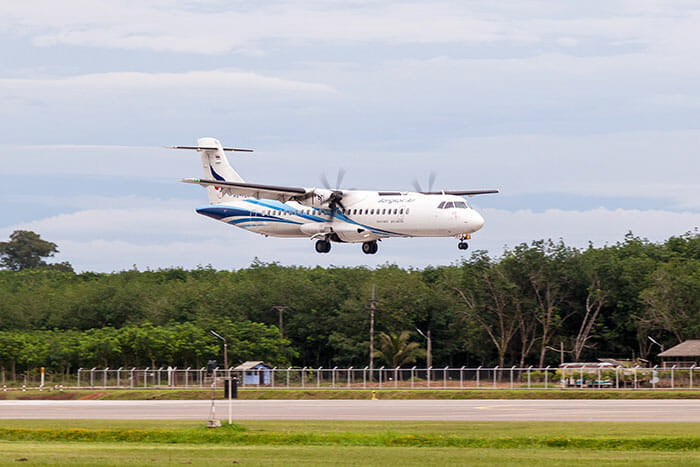 As mentioned above, there's no airport on the island. There is an option to catch a flight from Bangkok that will take you down to Trat, on the mainland. As of now, there is only one airline that flies this route, and that's Bangkok Airways. They offer only two flights per day: 11:40 AM and 3.00 PM. The flight time is exactly one hour, departing from Bangkok's Suvarnabhumi Airport. As Bangkok Airways is one of Thailand's premier airlines their ticket prices can be a shock if you're trying to travel on a budget. But the convenience and speed of flying most of the way from Bangkok to Koh Chang do mean that this will always cost more than the other travel options.
Once you arrive at the compact Trat Airport there are a couple of options for travel from the airport to Koh Chang. You can opt for a shared minibus which includes the ferry ticket within the price (around 650 THB per person). The great thing with these shared minibusses is that they travel over to the island and will drop you right at your hotel. This is convenient, but remember that you will share it with other passengers. And if you are dropped off last, you will have a long wait to reach your own hotel once on the island.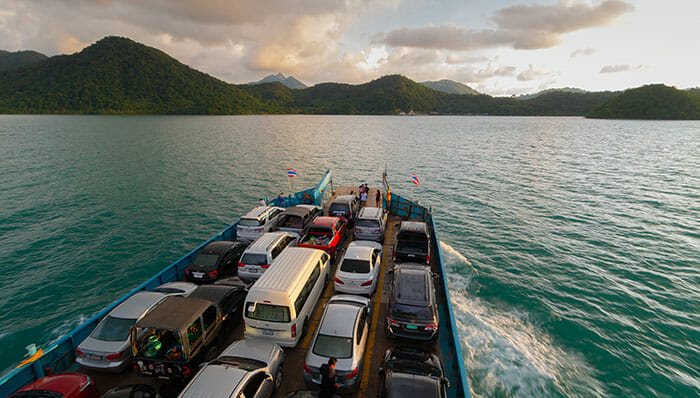 You can also arrange for a private transfer which can be cost-effective if you're traveling with a group. Hotels on Koh Chang also offer private transfers and will have a driver pick you up at Trat Airport. This door-to-door service is the most convenient if you've already booked your hotel. But you're going to end up paying over the odds for this convenient option.
Finally, you could make your own way to the ferry terminal at Trat from the airport. However, usually, there are never any taxis waiting at the airport so you would need to walk out to the main road and hope you can hitch. This isn't really a good idea considering it's about a half-hour drive from the airport to the ferry terminal, so we wouldn't recommend this option.
Go by Taxi from Bangkok to Koh Chang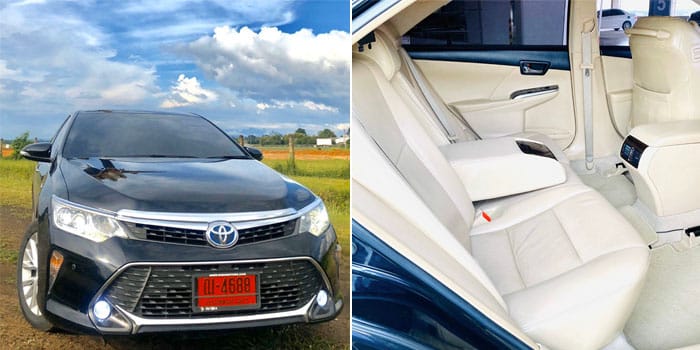 A taxi transfer may sound like an expensive option but in reality, it's really quite cost-effective. A great advantage of taxi rides is that they are entirely door-to-door. Get picked up from your hotel in the center of Bangkok or from the airport. Then you get dropped off at the door of your hotel in Koh Chang.
Another advantage of traveling by taxi from Bangkok to Koh Chang is that you only have to pay once. And you don't have to think about transferring from one vehicle to another. Just dump your bags in the trunk and leave everything else to the driver! Of course, the only downside is the time it takes. Driving from Bangkok Airport down to Trat (to catch the ferry) can take between 4 and 4.5 hours. If you're coming from a hotel in central Bangkok, this may add up to 45 minutes to the journey time. Then you have the ferry crossing (approximately 40 minutes) and finally the drive to your hotel.
Public Bus and Minibus from Bangkok to Koh Chang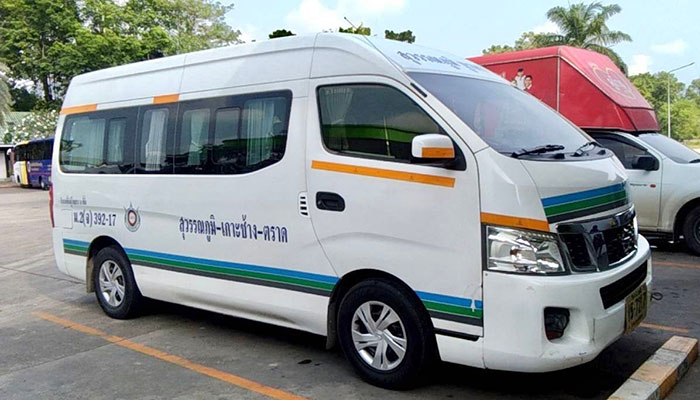 The final two options we're going to recommend you consider are going by public bus and minibus. These two have the advantage of being the cheapest options to travel from Bangkok to Koh Chang. But for a low price, you will sacrifice a certain amount of comfort, and these two options are usually the slowest way of getting to the island.
Public buses cost about half the price of a shared minibus, and the price includes the ferry ticket. You can depart from Khao San Road for convenience, or catch a bus from one of the bus terminals or from Suvarnabhumi Airport.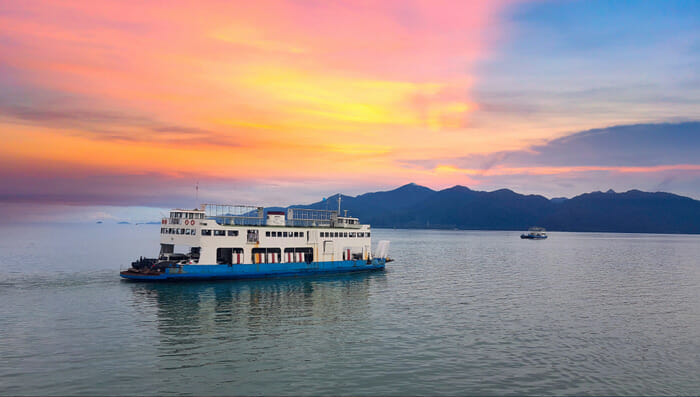 The shared minibus may be double the price, but it's certainly more convenient. Traveling from hotel door-to-door so, as with taxi transfers, you don't have to worry about changing from one vehicle to another. The other nice thing about these shared minibusses is that they're more sociable. You'll be sitting in your minibus for many hours but it's a great opportunity to get to know your fellow passengers!
As you can see, whichever way you choose to travel from Bangkok to Koh Chang your journey will always include a ferry crossing. The crossing is always the same and takes around 40 minutes. So you only need to decide how and how expensively you'd like to get down to Trat.
Can you fly from Bangkok to Koh Chang?
You cannot fly from Bangkok to Koh Chang, as the island does not have an airport. But you can fly to Trat, on the mainland, and catch a ferry from there. Search for Bangkok to Koh Chang using the travel website 12Go. They sell flight tickets as well as the transfer from the airport to the ferry, and the ferry crossing itself.
How do you get from Bangkok to Koh Chang?
The fastest way to get from Bangkok to Koh Chang is to fly down to Trat Airport. But this is expensive, and you also have to find a transfer to the pier to catch a ferry to the island. You can save money traveling by bus or minivan from Bangkok – various pickup points are available. Buy a joint ticket (including the ferry) online through 12Go to cover the entire journey.
How much does it cost to travel from Bangkok to Koh Chang?
It's very affordable to travel from Bangkok to Koh Chang, with some transport options costing less than others. Expect to pay 450 baht to go by van and ferry on a combined ticket. They are available from the travel website 12Go, where buses, taxis, and flight tickets can also be bought. Larger, more comfortable buses will add at least 150 baht extra to the price, while flights cost about 2,000 baht, depending on the airline.
How much is a taxi from Bangkok to Koh Chang?
For multiple passengers, the best value is a 9-passenger minivan starting at around 4,700 baht. A comfort sedan for 4 passengers starts at around 4,000 baht. It pays to compare prices, some companies will charge several thousand more. The best way to take a taxi from Bangkok is to book a private taxi company in advance through the travel website 12Go. Which offers many pick-up points and vehicle types.
Did you find this guide useful?
Click on a star to rate it!
Average rating: / 5. Vote count: