With its bustling streets and markets, Bangkok is one of the world's most vibrant cities with so much to see and do. After spending a few days in this hectic environment, you'll probably be ready to hit the beach and relax in a place that's completely different to Bangkok, and Koh Lipe is that place! There are many amazing islands and beaches in Thailand, but for a real change of pace from Bangkok, Koh Lipe hits the mark. This small island in the Strait of Malacca, off of Thailand's west coast, is renowned for its amazing white beaches and crystal clear waters, making this a great destination for snorkeling, or simply for just relaxing on the beach.
Read about:
• Bangkok to Koh Lipe by Flight, Van and Ferry
• Bangkok to Koh Lipe by Train, Van and Ferry
• Bangkok to Koh Lipe by Bus and Ferry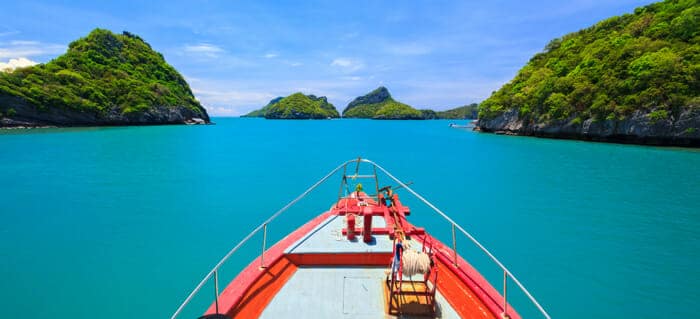 Options for Travel from Bangkok to Koh Lipe
It's a long way from Bangkok to Koh Lipe. Traveling as the crow flies it's around 820 kilometers (512 miles) between the two, but your actual journey will be quite a bit more than this, depending on how you choose to travel. Catching a flight would be the quickest way to get to Koh Lipe, but being that this is only a small island, Koh Lipe does not have its own airport so you would need to transfer onto a boat for the last part of the trip. There are a few other options as well, including traveling by train, then van, then ferry, or you could take a bus and ferry. There are pros and cons to each different mode of transport, and we'll discuss them all below.
Flight, Van and Ferry from Bangkok to Koh Lipe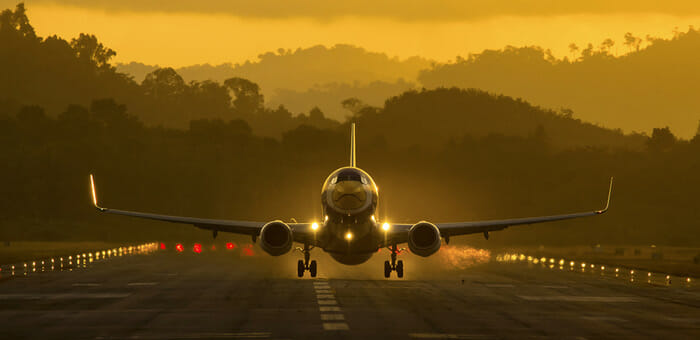 As mentioned above, Koh Lipe is not large enough to have its own airport so you will have to fly from Bangkok to an airport on the mainland, and then take a boat from there. There are a few different options for this too: you could fly to Trang Airport and go from there, or you could fly a little further south to Hat Yai International Airport. The latter of the two gets you closer to Koh Lipe so your onward journey time to the island should be a bit quicker, and there are a few different airlines flying the route from Bangkok so you have options there.
To Trang Airport you could fly with Nok Air, Thai AirAsia, or Thai Lion Air. All three of these airlines have flights from Bangkok's Don Mueang Airport. And to Hat Yai Airport it's a similar situation, with Nok Air. Thai AirAsia, and Thai Lion Air providing flights from Don Mueang, plus there's an option to fly with Thai Smile from Bangkok's Suvarnabhumi Airport. Prices between the different airlines, and whether you choose to fly to Trang or Hat Yai, should be very similar, but do check around for good deals and try to book your tickets as far in advance as you can do for the best prices.
Remember that when you fly you then have to transfer onto a van or bus to the pier, and then get on a ferry to Koh Lipe. If you like to have everything organized in advance, take a look at the travel website 12Go.asia. They offer joint tickets for flights from Bangkok to Koh Lipe, so you'll get tickets for the flight, the transfer by van to the ferry pier, and then the ferry itself. With this option, you fly with Nok Air and there are two different departure times. Depending on which one you opt for, the total journey time could be 6 hours 10 minutes, or 7.5 hours. This may sound like a lot, but compared to the other options for travel from Bangkok to Koh Lipe, it's actually very fast!
Of course, the main drawback with catching a flight is the cost. Flying is the most expensive way to get from Bangkok to Koh Lipe, but although taking a train is cheaper some train options are not substantially cheaper than flying.
Take the Train, Van and Ferry from Bangkok to Koh Lipe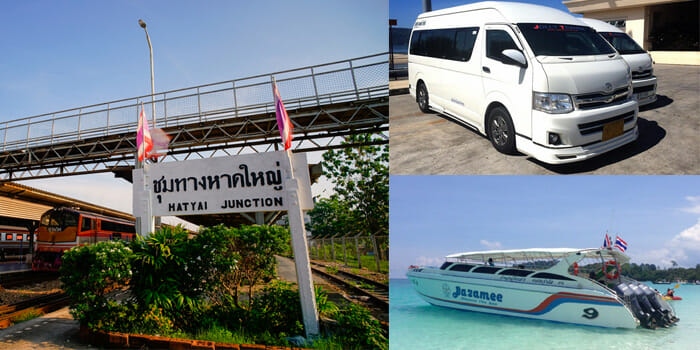 With the train, van and ferry from Bangkok to Koh Lipe you'll get quite a different travel experience compared to flying. For a start, traveling by train in Thailand is a relaxing way to go as the trains are relatively slow and they allow you to see some great scenery along the way. The train section of this trip will take around 16 hours and you'll be traveling overnight so you can't see the passing scenery all of the time, but booking a ticket for a sleeper berth does allow you to get some sleep as well.
Trains depart Bangkok from Krung Thep Aphiwat Central Terminal in the afternoon and you arrive at Hat Yai in the early morning. You can choose 1st or 2nd class sleepers, but bear in mind that the 1st class sleepers are considerably more expensive. Of course, for the extra money you get a more comfortable and private ride than you would in the 2nd class section of the train where you will be in amongst many other people and won't have such a comfortable bed.
Once at Hat Yai you'll have a short wait for your van which will take you to the pier, and then you're onto the high-speed ferry for the last part of your travel to Koh Lipe. Combined tickets that cover all three modes of transport for this trip are available through 12Go so you can easily book everything together, safe in the knowledge that all your connections should work out!
From Bangkok to Koh Lipe by Bus and Ferry

A final option you could consider is to take a bus and ferry from Bangkok to Koh Lipe. This is usually the cheapest way to get to Koh Lipe, and although it may surprise you to hear, it is quicker than traveling by train. The journey time varies with different bus companies as some stop in more places than others, so it could be anywhere from 13 to 20 hours. As with the other options, you can also buy combined tickets for the bus, transfer to the pier, and the ferry, using companies like Jolly Travel out of Khao San Road, or you can pick a bus company and travel directly from the Southern Bangkok Bus Terminal. With the latter you would then have to find your own way to the pier.
For many travelers, spending the extra on a flight is preferable because it's so much faster, and when you buy a joint ticket through 12Go you have everything arranged in advance including the transfer and the ferry. While buses are the cheapest way to travel they are also the least comfortable as you have little room compared to trains, and you will be on the bus for a long time!
How do I get from Bangkok to Koh Lipe?
The fastest way to travel the long distance from Bangkok to Koh Lipe is to fly, but, without an airport on Koh Lipe itself, you'll need to fly to Trang or Hat Yai and then take a ferry from there. You can buy combined tickets that include the transfers through travel website, 12Go, as well as see the other transport options: bus and ferry, or train, van and ferry.
How long does it take from Hat Yai to Koh Lipe?
From Hat Yai you'll have to take a van, bus or taxi across to the ferry pier on the west coast of the Thai mainland. There are pickup points from the Hat Yai's airport, railway and bus stations, and hotels available when you buy combined tickets through 12Go. The entire journey takes between 4.5 and 5.5 hours, including the speedboat to Koh Lipe.
How do you get to Koh Lipe?
Situated in the Andaman Sea in Southern Thailand, Koh Lipe is a very small island that's accessible only by boat. In the high season there are ferries and speedboats arriving from places like Trang, Phi Phi, Pak Bara, and even Langkawi in Malaysia. In low season there is only a speedboat from Pak Bara. All of these options can be booked online through 12Go.
How do I get from Hat Yai Airport to Koh Lipe?
To get from Hat Yai Airport to Koh Lipe you'll need to take a van or bus and then a ferry. You can get tickets for these independently, but the best choice is to book through 12Go as they sell combined tickets that include the transfer to the pier and then the ferry, with guaranteed connections. Journey times vary from 3.5 to 5.5 hours.
Did you find this guide useful?
Click on a star to rate it!
Average rating: / 5. Vote count: